Six New Audis To Be Unveiled By End Of 2019 And All Are RS!
---
Audi has released a teaser image of six new RS models it plans to unveil before the end of the year. What are they and are any of them India-bound? Let's find out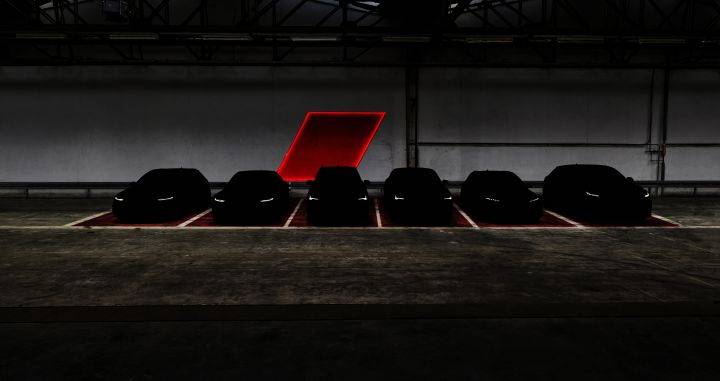 Audi's RS performance division is all set to unveil not one or two, but six new models. Yes, you read that right. SIX! Ranging from the Qs to the As, the German carmaker is set to go all guns blazing with a crop of go-fast Audis and here's everything we know so far.
Audi RS Q3 and RS Q3 Sportback:
Audi had recently unveiled the sporty looking Q3 Sportback that comes with humble 2.0-litre engines. But what is a sporty looking SUV without the performance to justify its looks. Audi will soon address that with some RS injection. The RS Q3 Sportback is expected to feature a 2.5-litre 5-cylinder petrol engine. Power figures are expected to be around the 400PS mark and just like other Audis, it is expected to come with quattro all-wheel drive system. What's more, the conventional Q3 SUV will also get the RS suffix attached to it. A perfect recipe to rival the GLC 43 AMG? We hope so.
Audi RS Q8:
Wait, there's the SQ8 with a mighty 4.0-litre V8 diesel that produces 435PS and 900Nm. So is the RS Q8 going to be even more powerful? Unfortunately, that might not be the case. But, if diesels aren't your thing, the RS Q8 is an alternative worth considering. Likely to be based on the Q8 Sport concept that was showcased at the 2017 Geneva Motor Show, the RS Q8 will most likely use a 3.0-litre 6-cylinder TFSI unit that is expected to churn out 476PS and 700Nm. The Q8 Sport concept does the 0-100kmph dash in 4.7 seconds and maxes out at 275kmph.
Audi RS7 Sportback:
Audi's answer to the BMW M8 and Mercedes AMG GT 4-door coupe is the RS7 that's expected to feature a mighty 4.0-litre twin-turbo V8. It's likely to develop around 600PS. What's more? Reports suggest that there might be a hybrid version that's expected to add another 100PS. Coupled with Audi's quattro all-wheel drive system, the RS7 could give some sports cars a run for their money.
Audi RS6 Avant:
The Mercedes E63 S AMG estate provides immense thrills without hindering practicality. Its 4.0-litre twin-turbo V8 motor punches out 611PS and 850Nm of torque. To make matters easy for the Merc, it was the solo choice for those who wanted a performance-oriented estate. Well, not anymore. Audi will soon join the game with the RS6 Avant. And the icing on the cake is that the RS6 Avant is expected to feature the same mechanicals as the RS7. Watch your back Mercedes.
Audi RS4 Avant:
The A4 Avant has just received a facelift and Audi might inject the RS DNA into it soon. Stats here include a 2.9-litre V6 unit that's expected to produce 444PS and 600Nm of torque which is the same as the pre-facelift model. Propelling to 100kmph in 4.1-seconds and with a top-speed of 280kmph, the RS4 is one of those subtle looking cars that has a high pressure heart under the hood. Sweet!
Now while these are yet to be confirmed by Audi, reports also suggest that the German carmaker might unveil some of these models at the upcoming Frankfurt Motor Show that's slated to take place in September. Well, we have just one wish from our side - bring all of them to India as well.
Source - Motor1.com
Add Your Comments