TVS iQube User Reviews
4.1/5
Based on 259 rating & 373 reviews
Review your vehicle & win ₹ 1000
Performance

Comfort

Features & Styling

Do you own a Car or a Bike?
Interact with community
Become a Top Contributor
Helpful Reviews of IQube Electric
Load More Reviews
Problems in IQube Electric

Tvs iqube ownership review in 10 months
Tvs iqube ownership review after 12270 kms, Iam owning tvs iqube 75 km range white from march 2022 i will list cons first.I have serviced it1regularly at 4000 kms, 8000 kms, 10000 kms, 12000, Till 10000 kms there is no range issue persists.Initially they gave 5 amp laptop charger to charge it, That original1charger was long last upto 10000 kms only, Mine died at 10000 kms, At chennai tambaram mg motors they replace it with bold heavy charger with coolant fan, And they1replaced charger port, Replaced charger panel board, I think this new gen coolant fan charger and accessories1are incompatible to 75km range white version, From that change, My ev's range is keep on waxing for nothing1during driving, If full charge range is 75km, It will give 50-55 km only in ecomode, So rider's peace of mind1will be lost, You have to install gps camera and take picture during start of ride and end of ride for proof,1During riding suddenly range showing in cluster during driving it will be reduce than realtime distance, It1will end up in limp mode which show you tortoise symbol, After that you have to push your vehicle to your1home, Or you have to carry this 2.5 kg heavy charger in boot always and beg road side shops for charging it,1No other option there.This vehicle is 118 kg, So when you push the vehicle you will get shoulder pain, Chest pain, Hip pain, Since its real range is1only 55-60 in single rider mode after 10000 kms, You will start feel petrol scooter is rather better than this ev.From december - january i have gave1my ev to service station for 4 times consequetively, Each time they kept my vehicle for 3 to 4 days and does1nothing, So owner's peace of mind will be gone, You have to write lot of emails to tvs customer care.So each1time your palpitation will be high, You might get blood pressure, Or heart attack because of recklessness of1service station staff and tvs representatives behavior with your unsorted ev issue.Pros, Better looking1masculine ev in the market for men age of 30-40 speed is 44 - 48 kmph max in eco mode, Instant pickup is good,1Ideal for husband and wife one kid total weight of 120 kg pay load only, Meant for good roads only, Not p*t holes and spead breakers.
3
Reply

師外国語..

| 8 months ago
brother really very sorry for what happened to you. you have to get your problem fixed. thanks for your effort putting in black and white . i can understand why i should not buy this e scooter. thank you so much

Mihir

| 2 months ago
I was thinking to buy some ev scooter. But after reading reviews of 3 - 4 brands it appears to me that the time for ev has not come yet. It may take another 2-3 years to address the issues and offer product which will be trouble free like petrol scooters.

I bought a tvs iqube s just a couple of weeks back.First of all it's an expensive acquisition.But it looks elegant than most of the same species on the road.It feels good to ride a silent machine acceleration real quick.But one of major drawback which i observed from day one is a very annoying noise and a tactile vibration on the floor in even normal condition.Contrary to peace of mind which the manufacturer claims, It has becoming a real concern and headache within just two weeks.Off-course noise can't be heard on road as the ambient road noise masks the noise from the scooter but a bit silent environment easily reveals it.The feel of the vibration is very real.Do any one has the same experience with tvs iqube s or it's a defect specific to mine?.
0
Reply

Within 4 months of purchase, the battery got faulty and need to be replaced. Within one month of the battery replacement again there was a charging problem and now the service center replaced the onboard charging circuit and provided a direct charging system. Now the battery is getting charged only 4% in 1 hrs. In 12 hrs it got charged only 35%.Worst experience of my life. Every day struggling to get a permanent solution but neither the service center is capable enough to resolve the issue permanently nor get a response from the company directly even after several complaints on tweeter and calls. Would never recommend this vehicle.
1
Reply

Very bad for dot take tvs company any motorbike companies engineers are very fake they will not for supports to any customers and they will be have told us we have for one year in all maharashtra for electric scooter i cubes they have not cable to may a software to scooters they have told us the software cables are in nagpur and jaipur and they will coming then i will be do your bike good anyone will be not support customers that tvs motors in sangli tv showroom very bad i have one week to complete they have told me that the company manager but any don't told me i will be come and do you work i have very bad response their tvs companies
Narendra's iQube Electric gives mileage of 78 kmpl
0
Reply
Load More Reviews
Best User Experiences with IQube Electric

I recently had the pleasure
I recently had the pleasure to use the tvs iqube electric and i must say it has completely transformed my daily commuting experience.As someone who values sustainability and efficiency, This electric scooter has exceeded all my expectations.First and foremost, The icube electric delivers an impressive performance.The drivers its petrol powered counterparties.It's electric motor provides instant torque, Resulting in swift acceleration that effortlessly propels me through city streets.The power delivery is smooth and responsive, Making manoeuvring through traffic and absolute breeze.This cutters top speed of 78 kilometres per hour ensures that i can.Easily keep up with the flow of urban life.One of the standout feature of the scooter is that it's exceptional range.With a 2.25 kilowatt lithium ion battery pack, I can confidently travel up to 75.Kilometers on a single charge.This eliminates any range anxiety and allows me to embark on my daily commuters on route errands without worrying about finding charging stations.In conclusion, The tv s iq electric is a game changer in urban mobility.It's exceptional performance, Impressive range, Smart connectivity, And commitment to sustainability make it an outstanding choice for anyone seeking an electric scooter.With every ride, I'm reminded of the positive change.In making and the joy of riding a technologically advanced eco friendly vehicle, I wholeheartedly recommend the tv s iq electric to all urban commuters looking for greener and more efficient mode of transportation.
SIMLA's iQube Electric gives mileage of 75 kmpl
0
Reply

The scooter is really good
The scooter is really good and worth for the price in other cities compare to agra tvs did a really great job and we all should appreciate there efforts in the ev sector for the environment and tvs really gave a good build quality the only thing i want to say they can do for us is please try to give a budget friendly on road price for a citizen of agra i think not every middle class man is capable of paying a amount of 1.30lac for a ev scooter rest i'm really fully satisfied from the scooter and tvs you earned my respect thankew so muchbi hope you may have a look for the price factor in agra @tvs.
Vedansh's iQube Electric gives mileage of 75 kmpl
0
Reply



It is an expert ev vehicle
It is an expert ev vehicle to drive in city it's pickup and comfort is god it has a good looking every one would ask what price is this i have iqube s varaint there is three variant iqube, Iqube s, Iqube st with normal iqube you can't control display, In iqube s variant you can control by uling given togel button, In iqube st variant you have tuch display, Range, Both iqube and iqube s has same range 105km in iqube st you have 145 km
0
Reply

Top speed as per spec is 78kmph but in the normal road top speed achieved at 84kmph.Range as per the spec is 75km but in eco mode as per my calculation it would give only 67km.Suspension and design are good.Unnecessarily two drl are provided which is consuming power even though it is led lamp.App is not functioning and blue tooth connectivity is poor.App dashboard shows wrong data and they have improve lot in the app development.
Sridarr's iQube Electric gives mileage of 67 kmpl
0
Reply
Load More Reviews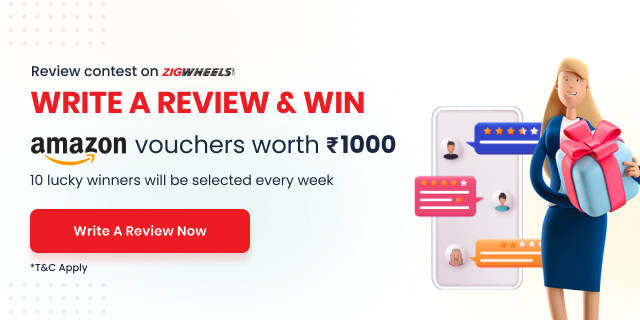 ×

Ask your question from iQube Electric owners and experts
Your Question should contain at least 5 characters
Submit
Cancel
2 Other Things You Might Want To Do
User Reviews of IQube Electric Competitors