Rolls Royce Ghost Questions and Answers
Q. Do they check background status before selling the Rolls Royce car - Ghost?
If it does then it's a Fools Royce and does not fit well with a democratic ideologies of civilized nations. Which of course means it should then be banned all over the civilized democratic world. Exclusivity has nothing to with checking someone's background for him/her to be from a royal lineage, which in modern world is to be considered a Nazi mindset and thus be put out of business before it infects around the world. : By Prranjal | 1 month ago
Rolls-Royce carries out a complete background check of its customers, entire history, profile, social standing for the past many years, including the past generation. They also do not offer any test drive of the car. To have details regarding the ownership process would request you to please get in touch with the brand directly. Click on the following link to get the details for the registered dealership from your respective city. https://www.zigwheels.com/dealers/Rolls-Royce : By Zigwheels | 7 months ago
No, Because they know that only millionaire can afford it .Even though there is no need of background status to buy tools royace : By Todays | 6 months ago
Q. Does rolls royce ghost have "AUTOMATIC CLIMATE CONTROL ". In all the reviews that I've seen, people only talk about how to control the temperature using the knobs, but they never show any auto button on the AC controls. I myself have seen the ac controls and there is no auto button. If it has an auto button, where is it located? I'm asking this because it's unbelievable that you can't automatically control the temperature in a 5.5cr car.Kindly show me a picture if possible. Cheers
Rolls-Royce Ghost Black Badge is equipped with Automatic Climate Control syatem. : By Zigwheels | 8 months ago
Yes... : By YOU | 7 months ago
Q. Do they check background status before selling the Rolls Royce car - Ghost?
If it does then it's a Fools Royce and does not fit well with a democratic ideologies of civilized nations. Which of course means it should then be banned all over the civilized democratic world. Exclusivity has nothing to with checking someone's background for him/her to be from a royal lineage, which in modern world is to be considered a Nazi mindset and thus be put out of business before it infects around the world. : By Prranjal | 1 month ago
Rolls-Royce carries out a complete background check of its customers, entire history, profile, social standing for the past many years, including the past generation. They also do not offer any test drive of the car. To have details regarding the ownership process would request you to please get in touch with the brand directly. Click on the following link to get the details for the registered dealership from your respective city. https://www.zigwheels.com/dealers/Rolls-Royce : By Zigwheels | 7 months ago
No, Because they know that only millionaire can afford it .Even though there is no need of background status to buy tools royace : By Todays | 6 months ago
Q. Does rolls royce ghost have "AUTOMATIC CLIMATE CONTROL ". In all the reviews that I've seen, people only talk about how to control the temperature using the knobs, but they never show any auto button on the AC controls. I myself have seen the ac controls and there is no auto button. If it has an auto button, where is it located? I'm asking this because it's unbelievable that you can't automatically control the temperature in a 5.5cr car.Kindly show me a picture if possible. Cheers
Rolls-Royce Ghost Black Badge is equipped with Automatic Climate Control syatem. : By Zigwheels | 8 months ago
Yes... : By YOU | 7 months ago
Rolls Royce Ghost Overview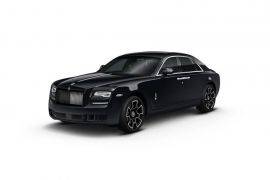 Rolls Royce Ghost User Reviews
Safety

Features & Styling

Comfort

+ 3 more
Performance

Maintenance Cost

Mileage
Preferred For : Occasional Commute
43% of users have given a rating of 4.5 and above
Frequently Asked Questions about Rolls Royce Ghost