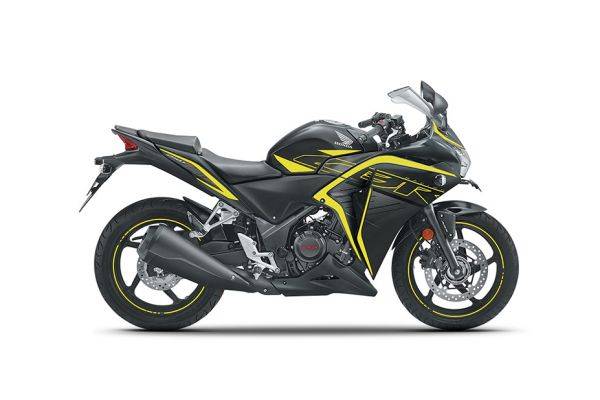 Honda CBR250R
Rs. 1.65 Lakh
Discontinued Model since 31 Mar 2020
---
Honda CBR250R Colours
Matte Axis Gray Metallic With Mars Orange

Matte Axis Gray Metallic With Striking Green
Must Read Questions & Answers Before Buying CBR250R
Q. CBR 1000RR what does the RR mean compare to just one R.
I am speaking for the CBR250 genre.Whilst both bikes appear to be very similar at first glance, they are almost entirely different.R is road specs, RR is Road & Racing specsThe frames are differentR - a simple 5 section box twin spar alloy frame similar to most sport bikes RR - wider and more stylish twin spar frame that allows easier access to items such as the radiator cap. Longer head stock.The BrakesR - a single disk with a single two piston caliperRR - duel smaller disks (whose got the measurements?) each with a two piston caliper.Rear SuspensionR - straight box style symetrical swing arm, with a vertical shockRR - gull arm swing arm, asymetrical, with a more horizontal shock (about 30 degrees)Fuel systemR - Pump fed, adjustable float heights, smaller jets.RR - Gravity fed, fixed floats, larger jets.EngineThere are few differences the engine, externally they are the same. Rev limiter may be more higher in the RRSeatingR - More padded seat, more upright positionRR - Firmer seat, more sporty positionPhysical appearanceR - Clip ons mounted on top of triple clamp, rear fairing meets under tank, (fake) ram air ports are horizontal next to headlights, single brake, lower rear end, exhaust mounted to the same bracket as pillion pegs, contoured spar frame, unsculpted top of tank and no sculpting on the rear fairing, the tail light section is considered better looking and less prone to cracking, the lights sit into the body work more.RR - Clipons mounted under triple clamp, rear fairing sits behind tank, (fake) ram air is verticall under the head lights, twin front brakes, higher rear end, "bent" swing arm on the exhaust side, pillion pegs and exhaust bracket are seperate, stylized frame, sculpting on top front of fuel tank.
RR is for racing and road, R means road
Ig it is racing replica
View All Answers
Q. What is the launch date of Honda CBR250RR in India?
Bro india is a price sensitivity market, where as Malaysia , Philippines and all are price insensitive markets so they go by uniqueness and indian customers go by consumer surplus i mean they look at the amount of utility they get for the amount paid .so its gonna take considerable time for getting premium sports tourer bikes in india ,i expect it might start happening around 2025-2026
Iam waiting for cbr 250 rr launch date in india omg inline 2 cylinder in cbr gouges killer machine in 250 cc segments
Hello I,m waiting for CBR250rr & gsx r150 launch date in tamilnadu madurai india ?
View All Answers
More Questions
CBR250R Questions and Answers
Honda CBR250R User Reviews
4.2/5
Based on 637 rating & 179 reviews
Review your vehicle & win ₹ 1000
All

Comfort (28)

Performance (17)

Power (15)

Mileage (15)

Engine (13)

Looks (12)

Service (12)

Speed (12)

Parts (10)

Spare (8)

Pickup (6)
4.6

Average job

I've been using CBR250R ABS for more than half a decade now. I'll categorize my review: Performance: The bike is smooth in initial(typical Honda) but as soon as you cross 6K rpm, the Bike shoots a boost of power. The torque is really good from mid to high range, particularly from 6K to 9K, the front wheel wants to lift & I get goosebumps. Honda engine is very smooth, stress free & reliable, never got broken or overheated thanks to liquid cooled, zero problems with radiator.Breaks: I bought the ABS version, it gets Nissin calipers which are one the Top best breaks in terms of quality & reliabiity in the segment, the breaks never ever disappoint me, unless tires are bad.Suspension: The front suspensions are party smooth, but takes the city bumps quite good, but very sensitive to feel on your palms but the rear suspension is bit on harder side.Tires: This bike is less of track focused but more as Sport tourer, the Stock Contigo tires does average job, i recommend to change them soon or after 20K kms after bike purchase & which to Michelin Pilot streets or Apollo Alpha H1, they're quite good interms of Corner & Wet grips & also has decent life, for Fun rides Your choose Pirelli diablo rosso or Metzeler M5.Lights: The Halogen headlight is pretty good & LEDs of new model is slightly better but I recommend the halogen once, they have good spread and visibility than any other bikes. Indicators are quite visible & overall everything is stylish.Console: The bike gets semi digital console which is pretty accurate, info is enough for the bike, Speedo, odo, Total kms, 1 trip meter, Fuel level, Heat indicator & ABS light. Zero issues.Chassis & Dimensions: The Honda's built quality can never be doubted although you have to take precautions of lot of things which depends upon your riding conditions.The Ground clearance is 145mm but i never scratched the bottom of engine because it doesn't have center stand.The windshield protects the air until 90 kmph or less.In crosswinds the bike sometimes gets wobbles.The weight of the bike is not much but can become nightmare in pulling bike in tight parking also due to longer wheelbase and small turning angle, but Shorter seat height helps alot.Comfort: Rider seat is medium soft but you can easily tour for whole day, Rear seat is short but good for upto medium sized pillion, but pillion starts complaining after half hour but start getting used to after regular rides.Front footpegs are quite rearset and upward to give you sporty feeling but comfortable. The seating positions of rider is medium forward, not straight or aggressive, which helps in longer rides.Mileage:In very aggressive riding(Top end, drag or stunts): 24kmplIn City commuting: 26-28kmpl for speeds 0-60kmphIn Highway & tours: 30-36kmpl for speeds 90-110kmphOverall mileage 28kmplMaintenance cost: Service cost is around 1700 to 2200 depends upon the conditions, Extra service may cost extra but this is very budget friendly. Various types of Tire sets are available from 5k to 13k for a Pair, depend upon your choice & need.Break pads are for 1600 each for ABS & 950 for Non-ABS.check the link for all Accessories & part values on:htt******htmAdditional note: Bike doesn't have center stand so the repairing a puncture or changing the tires or cleaning-lubing the chain can be surprising.

4.6

Changed recently

Mine is a very well maintained CBR. Most of the consumables like tyre, Chainset, Diskpad, Spark plug, Fuel filter, fork oil, battery have been changed recently. With all these things the performance of bike is as good as new bike. Best engine oils like motul/shell have been used to keep the engine in prime condition. It returns a fuel efficiency of 30+ km/l in city and 37+ km/l on highways.You will also get some spares, GPS tracker complementary with this bike. I have spent some extra bucks to make this bike more comfortable and enjoyable. 1. Both the seats have 4 layers of memory foam added because of which you and pillion can stay for hours on saddle at a stretch without butt/back pain.2. Backrest for pillion which can easily be attached before going for a long ride. 3. 20W Motul fork oil in front forks because of which it feels at ease even in potholes or when you take it off road.4. Both tyres are filled with puncture sealent liquid to make them puncture proof5. Nighteye LED bulb for better vision during nightReason for selling: upgrading to higher CC bikeI would advise prospect buyers to have a look at the bike and test ride it before asking for lowest price I can sell it for. Slight price negotiations can be done thereafter.Please note that my CBR is registered in Haryana.

4.2

Handle wobbling

Stay away from Honda CBR-250Rs BS4 editions. Beware it's just the name Honda Sells in India not a quality product or service now a days. I am already a victim of this, so just sharing my experience. Most of the ownership reviews you find online are for older editions which make you fall for CBR250R if you like refinement.So does most of the bike rental services like Wicked Ride or DriveZy have older 2016-17 editions and they are awesome to experience.That was my validation & research before I bought the CBR on May 11th 2019. (CBR 250R Sep 2018 Manufactured)Issues I faced from day 1 of bike delivery are: HMSI Ticket No 1-71490982781.1.Heavy engine vibrations due to slipped engine mount bolts also they replaced Rocker arm, CAM, Shims & Sprocket set to address overall vibrations. 2.Handle wobbling between 70-80 kmph, they replaced Cone set assembly and didn't resolve the issue. It seems they are defective tyres, they replaced rear tyre still issue not resolved.3.Metal clicking noise from frames and under tank. Issue was addressed by applying foam tape between frame (chassis) and Tank and Side body panels.4.ASC damaged radiator during water wash- which they had to replace after a fight proving their incompetence.Most of the new BS4 CBRs have these vibrations issues just check any CBR forum on FB or online.. In a nutshell you might be lucky to get a good unit. However, ASCs service competence is crap. You will suffer with their trial and error method of fixing issues.They trust in your patience to cover their incompetence. My 79 days old CBR250 R spent 30 days in ASCs- 8 attempts - still handle wobbling issue is not fixed. HMSI BLR regional head is also aligned for this since 3 weeks for last 3 attempts.

4.6

Engine noise

The bike had a butter smooth engine , and made almost zero sound comparing to others. The vibrations were the least of all the single cylinder bikes that I had ridden. It was light weight and IIt weighs only 167 kilograms, and feels even lighter. The mileage rating is around 35 kmpl and itThe engine is the smoothest amongst all the single cylinder bikes and there is very less engine noise. This bike is known for its touring capabilities and it sure is, it can easily do highway speeds. waiting eagerly for Honda to launch cbr300 in any time 😅😅😇

4.2

Kind problem

I own a cbr250r and i learnt that its very common in cbr250, That there is that ticking sound in the engine when its hot or after a long use.Which makes the bikes feel so old or wrecked.And i've heard people talked about how they try to fix it but failed.I too have this problem for a while and yesterday i went to the local workshop and they told me that it might be the 'tension', And of course they fix it for me and charged me only.If you have this kind problem, Please, Its the tension.Many mechanics don't know this.Hope that helps.