All The Electric Two-wheelers Launched In 2020
Dec 18, 2020
Views : 22447
---
From the Bajaj Chetak to the Gemopai Miso, here's a list of all the entrants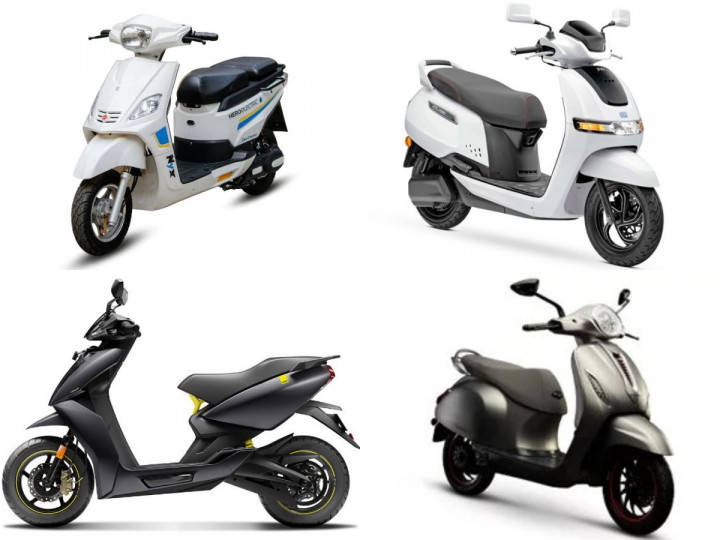 The effect of vehicular emissions on the environment is no secret. To get a handle on air pollution, the automotive sector in several countries has been embracing the idea of going green by switching to electric vehicles. For 2020, India too has seen some new entries in the electric two-wheeler market. Not only big names like Bajaj and TVS, but a few more brands have also dived into the EV pool. Here's a list of all the launches in 2020:
Bajaj Chetak

Bajaj brought back the Chetak moniker with an e-scooter. The Chetak Electric was launched on January 14, 2020, in two variants: Urbane and Premium. Its design language resembles the old petrol-powered Chetak. However, the feature list is as modern as it gets with the likes of smartphone connectivity, geo-tagging, geo-fencing, and even turn-by-turn navigation.
Bajaj has priced the Chetak at Rs 1 lakh for the Urbane variant and Rs 1.15 lakh for the premium variant (ex-showroom Delhi). It rivals the Ather 450X and the TVS iQube. To read more about it, click here.
TVS iQube

Earlier this year, TVS launched the iQube in the Indian electric two-wheeler space. The initial booking amount was set at Rs 5,000 and deliveries began on January 27, 2020. TVS ticked a lot of boxes when it came to the iQube's features list. It gets everything from a full-colour digital display and smartphone connectivity to different riding modes.
The iQube is TVS' only EV available in the market. It's priced at Rs 1.15 lakh (on-road Bengaluru). Unfortunately, for now, it is only available in its home market of Bengaluru. TVS sells the iQube e-scooter in a single white colour scheme. Head here for more details.
Ather 450X

Ather rolled out the 450X in January 2020. The e-scooter is available in two variants: 450X and 450 Plus. The Ather 450s feature built-in Google navigation, digital document storage, 7-inch colour touchscreen and Bluetooth connectivity while the 450X gets an integrated 4G LTE SIM connection.
The Ather 450 Plus is priced at Rs 1.39 lakh and the 450X is priced at Rs 1.59 lakh, inclusive of GST and FAME II subsidies. Moreover, Ather also has buyback plans, lease plan, and exchange offers for the 450X. To know more about it, click here.
BattRe LoEV

BattRe launched its e-scooter LoEv in January 2020. Potential customers can book the LoEV on Amazon as well. It features a remote key, anti-theft alarm, reverse mode, and a digital instrument cluster.
The LoEV is priced at Rs 59,900 (ex-showroom Delhi). It takes on the Ampere Zeal and Okinawa Ridge. Click here to know more.
Ampere Magnus Pro

Ampere launched the Magnus Pro on June 15, 2020. Initially, it was sold only in Bengaluru despite having over 200 dealerships across India. Its feature list includes anti-theft alarm, keyless operation and 'find my scooter' function.
Ampere Magnus Pro is sold in two variants: Magnus 60 and Magnus STD. The Magnus 60 is priced at Rs 49,999 and the Magnus Pro at Rs 73,990 (ex-showroom Delhi). To know more about the Ampere Magnus Pro, head here.
BGauss A2 and B8

BGauss unveiled two e-scooters in July 2020: BGauss A2 and B8. The A2 is placed as an entry-level e-scooter while the B8 is sold as a premium offering. BGauss has priced the A2 at Rs 52,499 whereas the B8 is priced at Rs 62,999 (ex-showroom Delhi). Click here to know more.
Hero Electric Nyx HX Speed

Hero Electric has been expanding its lineup for a while now. This year, it launched the Nyx-HX range of e-scooters. It comes in three variants: NYX Li, NYX LI ER, and NYX HS500 ER. Hero Electric has been targeting the B2B segment with these three models.
The NYX Li is priced at Rs 63,990, NYX LI ER at Rs 69,754, and NYX HS500ER at Rs 79,990. To know more about Hero Electric's e-scooters, click here.
EeVe Atreo and Ahava

EeVe India expanded its arsenal with the launch of Atreo and Ahava. Both these e-scooters are placed alongside EeVe's existing lineup comprising Xenia, Wind, Your and 4U. The EeVe Ahava is priced at Rs 55,900 and Atreo at Rs 64,900. To know more about EeVe's latest offerings, click here.
Gemopai Miso

Of all the e-scooters launched in 2020, the Gemopai Miso stands out because it's a licence-free 'low-speed' electric moped. Barring the Li-ion battery pack, every part of the moped is manufactured locally. The Gemopai Miso costs Rs 44,000 (ex-showroom Delhi). Head here to know more about this moped.
Okinawa R30

Okinawa launched the R30 e-scooter on August 25, 2020. The R30 has a top speed of 25kmph and a maximum range of 60km. It's powered by a 1.25kWh lithium-ion battery. Okinawa has priced the R30 at Rs 58,992. To know more about it, click here.
BattRe IOT scooter

BattRe added the IOT e-scooter to its portfolio in January 2020. It's priced at Rs 79,999. The price covers a 1-year subscription of IoT features. It is positioned as a premium scooter and sold on Amazon so customers can have it delivered to their doorsteps. To read more about the BattRe IOT e-scooter, click here.
Odysse Evoqis and Hawk:

Odysse launched its e-scooter Hawk and e-motorcycle Evoqis in March 2020. The Odysse Hawk e-scooter is priced at Rs 73,999 and Odysse Evoqis priced at Rs 1.50 lakh (all prices ex-showroom, Delhi). The Evoqis packs in a 4.32kWh lithium-ion battery with 3 years of warranty. The top-speed of the e-bike is limited to 80kmph. To know more about Odysse Electric bikes, click here.
Bajaj Chetak Video Review
More on Bajaj Chetak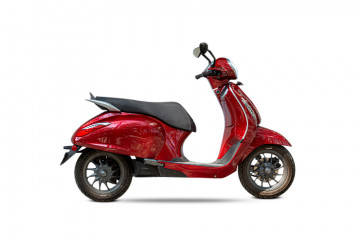 Rs. 1.00 Lakh Onwards
Ex-showroom, Delhi
See what our community has to say!
NEW
India's largest automotive community