Bajaj Dominar 400 Overview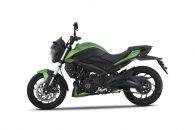 Performance

Comfort

Features & Styling

+ 2 more
Preferred For : Daily Commute & Tours
53% of users have given a rating of 4.5 and above
3.4

Features are very less.But for this price the bike is very nyc.And comfort.More features have to add by bajaj for a better experiencemileage is very low.

5.0

Excellent bike.Reliable bike, Low on maintenance.Material quality can be improved.Ergonomically very good bike.

4.6

Good condition.All paper upto date.Matte black color, Well maintaied bike.Scratchless, Dual channel abs.

4.6

Value for money and the bike are very comfortable for riding but pillion was not comfortable for long ride

4.2

Considering the price bracket and it's power figures it's one among the most affordable bike you can get.About the 2018 variant it's a sohc engine which make 35hp bt good things about these pre ug model is less engine wear and the overall maintenance cost is very less when compared to ug models.Adding a wind visor will be a good decisions so that you can cruise at 120+ with easy or being tired.
All Dominar 400 User Reviews
4.6

I own a bajaj dominar 400 ug bs iv green & black colour which i purchased in june 2019 from naamdhari bajaj showroom in telibagh lucknow, And till now it has done 25, 000 + kms.So far it has been a very happy and satisfying ownership experience & i expect the same experience from my motorcycle in the years to come as well.I ride this motorcycle daily and am a very satisfied and proud owner of it.I'm getting between 25 - 28 kms/ltr of fuel economy from my motorcycle which is acceptable considering that it is quite a heavy motorcycle and a powerful one as well.373.2 cc & 40 bhp are good power figures for such a motorcycle.It is the most value for money motorcycle available in india and it offers a lot of features as well.Just a few things i would like to mention here that could have made it even better.1 it should have had a bigger 17 - 18 ltrs capacity fuel tank, 13 ltrs fuel tank is just not enough for this motorcycle if long distance high speed touring is on your mind which this motorcycle is very well capable of doing, 2 it should have been 20 - 25 kgs lighter in weight, 3 front disc brake should have offered slightly more stronger initial bite, 4 a main centre stand is missed and it should have been there in this motorcycle.Nonetheless.I am enjoying every moment riding this motorcycle from day one, Love the way it picks up speed in any of the 6 gears, Love the high speed handling and behaviour of this motorcycle at triple digit speeds, The motorcycle only starts wobbling above the speed of 150 km/hr which is an issue that i have faced and many other dominar owners must have also faced the same issue, Till 150 km/hr it is goodlove the feeling that i get while riding it.It always brings a smile on my face 😊love the looks of it 💚got the chain sprocket set changed last month at 24, 000 kms.Stock mrf tyres on this motorcycle are actually very good if not great, I may be trying some other brand tyres once these tyres wear off.I feel they can do another 10, 000 - 12, 000 kms or so.Next set of tyres can be apollo alpha h 1 or metzelers or michelinslet's see.I'm not sure of it rite now.

4.6

my hunt for a new bike started two weeks ago. i wanted a bike that was reasonably priced and fun to ride , mileage was not an issue for me as I am not a daily commuter(this is what i thought initially but now i cant resist it taking daily to office)test rides taken before buying dominar 20191. apache rtr 200 4v smooth engine, no vibrations, right balance of performance and comfort2 honda cbr250- lacked modern features, a little pricey3. RE classic 350- showroom experience was best among all the bike brands in India, thumping engine/exhaust , great bike but i was hungry for more power4. yamaha FZ25 - decent bike, smooth engine,nothing to complaint about as such5. wanted to test ride gixxer 250 but was not available at the nearest showroom.6. i ruled out duke 390 as iam not a pro rider and i would have not done justice considering the potential of the bike(but my next bike would definitely be a KTM )6. finally went to bajaj dealership the moment i started the dominar ignition i felt that i have woken up a beast the exhaust note was so good to ears at that very moment my hunt ended and i bought the bike2week/300km review.-i kept the bike under 2.5k-3k rpm and i got 35 kmpl( no heavy traffic during my office commute)- power delivery is linear - bassy exhaust note- bearable vibrations in handle bar,tank and foot pegs- headlamps are the best- secondary display is useless( though bajaj has rolled out ECU update to position gear indicator on primary console.)will update review after 1st serviceupdate: after first service bike feels a bit smoother than before. mileage 25- 32kmpl

4.6

Every bike is good, however it is just a match of your requirements against the machine. so my requirements were1. Powerful engine: at 40ps power revving to 8,500 rpm, you will never feel the power is less2. Comfortable riding position: I had plan to use bike for long drives and occasional commute and for this purpose I would surely need a good riding position. Am 6 feet tall and this bike surely is very comfortable and you sit fairly upright with a good riding posture3. Safety and comfort: Dual channel ABS, biggest disc pads in segment, Slipper clutch, USD, Monoshocks, Refined BS6 engine you will feel you are driving a very safe and well planted bike, it did not seem to swerve or you will never hesitate to rev it higher and brake instantly. the bike will just be so composed to bring you to a standstill with no effort at all.4. Latest tech: although the speedo is not comprehensive as KTM. it certainly is not vintage which brings smile to my face. Also the all LED headlamps are a beast, it illuminates even a vanta black road to daylight.5. Service cost: Owned a pulsar all my life.am aware Bajaj costs will be considerably less or moderate when compared to other manufacturers. Also the service interval being 5k Kms, Dominor does deliver for long haul and with few lesser worriesSo if your checklist of bike purchase matches mine do not hesitate to buy this Phenomenally well-made sport tourer by Bajaj!!

4.2

The brakes of the dominar 400 ug can get better by just few changes master cylynder update sinterd brakes pads these are only applied for front brakes the rear brake is too sensitive when i press the brake in my d400 ug it hits back due to the abs kicks in because its too sensitive i would recomand to bajaj to upgrade to 9m bosch abs program to solve this problem which is used in ktm machine and i would suggest bajaj that not to go with mrf revz c1 rather to go with applo h1 alpha because its made up of better tyre compund and it is made up of two comound hard in the middle with made up of hard rubber wich give more mileage and less wear and tear and in the sides they have used soft compound which more cofidence and in the corrners andits handles the bike better and it is made in india bajaj shoud go i theeth in the back which wii give it final drive of 15/44 ans i dominar shoud lose some kgs in the dry weight because the its power to weight ratio wil increase and espicaly silencer shoud lose few kgs because of that bike could not balance properly and it always tend to go ti the right side and beacuse of that i hand is always carring more weight and preassure to balance the bike and its a tyring thingthing in long rides and except this bike is best in class bajaj has done a great job rhats why its called the the most loved indian

3.8

💚 it is... but coming with many problems within 6 months... thats most disappointing.... Pillion seat is not comfortable atall for Long Rides.... Mileage is not that great what I really expected... but riding this bike is really fun.... it's flawless upto 154KMPH... soo smooth.... after that it lags....styling is great n I am in Love with the GREEN 💚 colour....maintainence cost is very low... I just loved that thing... but the Front Visor could have been a bit longer to stop the massive wind blast.... but the bike is very powerful... but there are plenty of issue in it.. just name it n problem starts... one of major issue in problem shifting grears up n down smoothly for the typical bajaj bikes gear problem which jumps 2nd to Neutral dirrectly... throttle response is Fine though.... Exhaust note was great in the beginning but day by day it fades.. Great bike for Touring... not that great for daily commute... Bajaj should hire more intelligent n Efficient Tech who can service this bike soo well.... this is a huge issue after buying service... horrible service.. need to be improved... else everything is great... b
All Dominar 400 User Reviews