2024 KTM 390 Duke First Ride Review - Best 390 Duke Ever!
Sep 17, 2023
Views : 4801
9 min read
---
Is the third generation of the 390 Duke as much of a game changer as the original one was over a decade ago?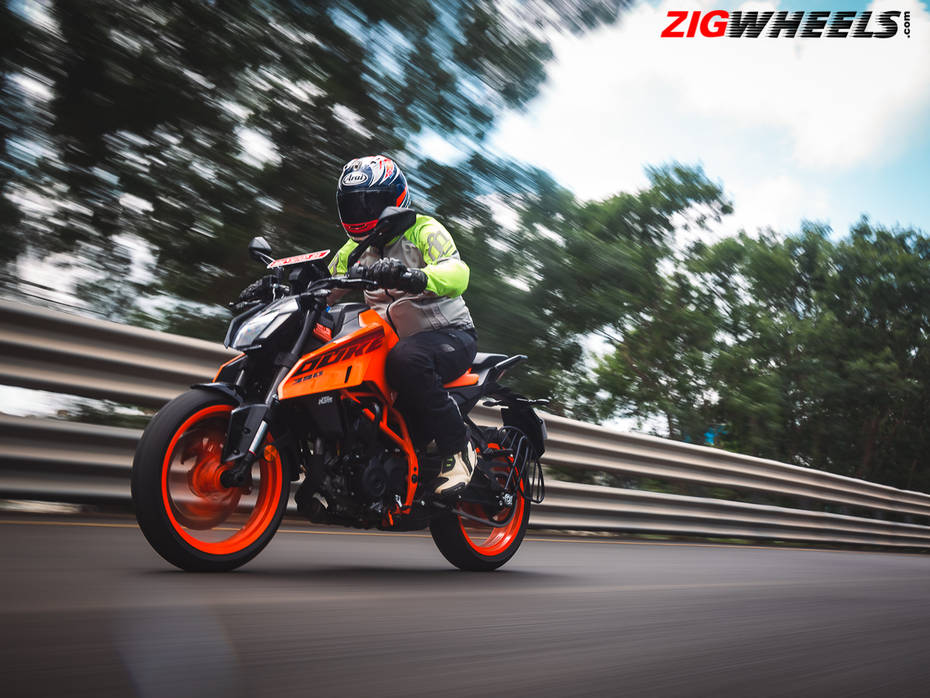 10 years back, KTM changed the game in India with the launch of the 390 Duke: a bike with fantastic performance, handling, and a great value-for-money quotient as well. In 2017 we got the Gen-2 Duke which was, well, a good upgrade but not a game-changer per se. However, this Gen-3 iteration could just be that game-changer we have been waiting for. But to find out how much of an evolution this new Duke really is, we need to answer some important questions.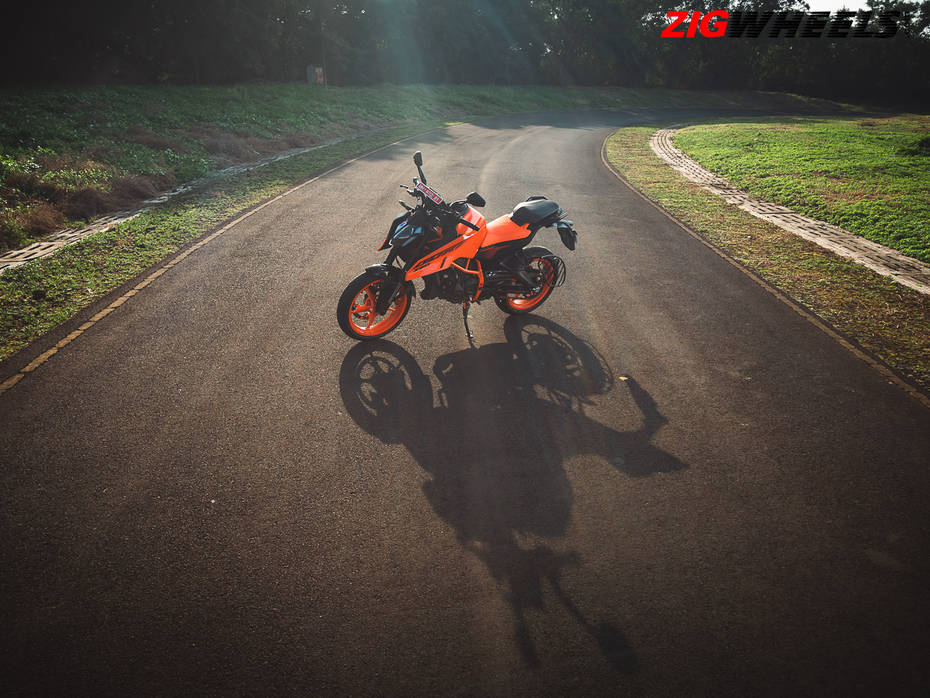 Is it fun?
To answer that question first let's talk about the motor. Now, Bajaj claims that this is an all-new motor, and even the cubic capacity has gone up by 26cc (to 399cc now) and it makes 2.5 PS and 2Nm more than before. That's 46PS and 39Nm, making it the most powerful bike in its class. But that's not the whole story. While this is still a short-stroke motor with the same bore as before, the stroke has gone up. Which means it makes more torque lower down. In fact, the bike's peak power and peak torque come 500rpm lower than before.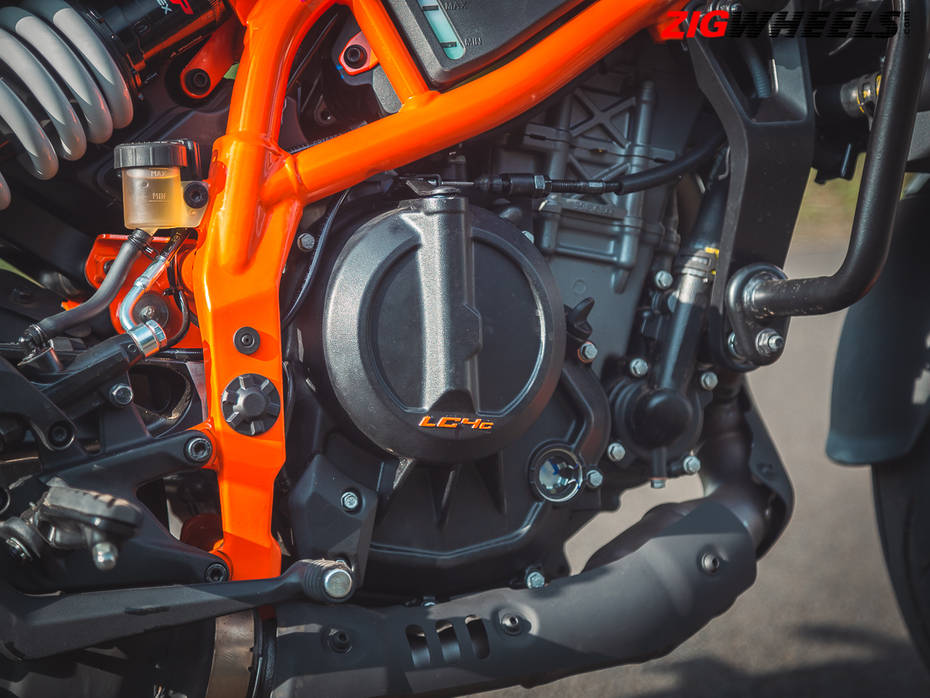 And that's not all. Thanks to the larger air box, this bike even has a better torque curve which means you get 80 percent of the peak torque from 5,000rpm onwards. That means regardless of what gear you're in or what speed you're at, once you get the motor past 5,000rpm, it just wants to fly. So if you're on the highway, overtakes are a lot simpler, if you're on a mountain road or on a race track, corner exits are much quicker. And in fact on the Bajaj test track we found ourselves carrying one gear higher through all the corners than we would have otherwise, and it's this mid-range performance that makes this Gen-3 Duke just so lovable!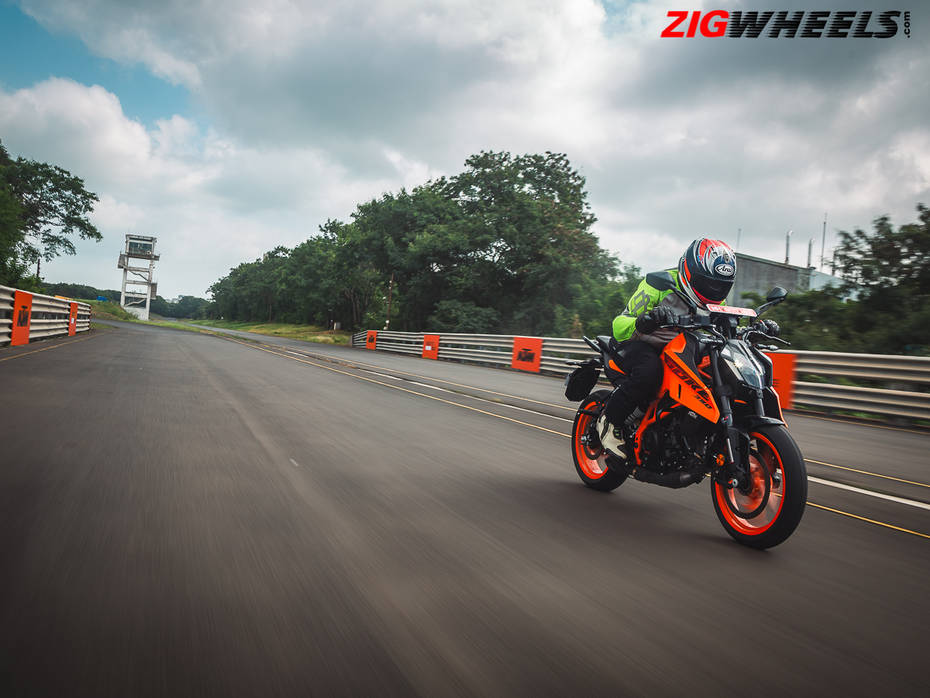 Get latest updates on
the automobile community

Login Now
What about the handling?
Handling has always been the Duke's forte and here the Gen 3 doesn't disappoint either. The main trellis frame hasn't changed all that much from the last gen, but it's got a brand new aluminium subframe, a brand new offset monoshock as well as a retuned fork. Also, the rake has been pulled in by half a degree (from 25 to 24.5 degrees).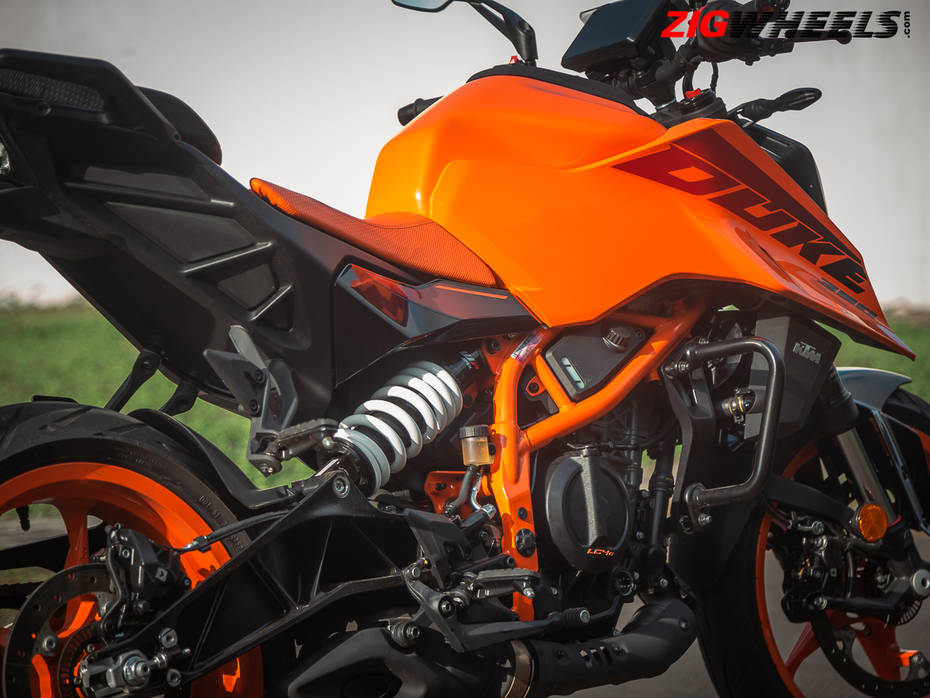 But more than that, at 168kg, this bike is 4kg lighter than before. And half of that weight loss comes from the unsprung mass. This means the brakes, wheels, and axles are lighter, allowing the bike to now steer much more easily, and the handling has become much sharper than before. It's almost telepathic: just think of a direction, and the bike will just snap to it without any effort. But at the same time, the bike also feels planted through the corners, which means you can carry some ridiculous speeds to the turns and not even know about it. But if I had to nitpick, it'd be these tyres, as these H-rated Metzeler M5s still feel a little bit squiggly on the edge.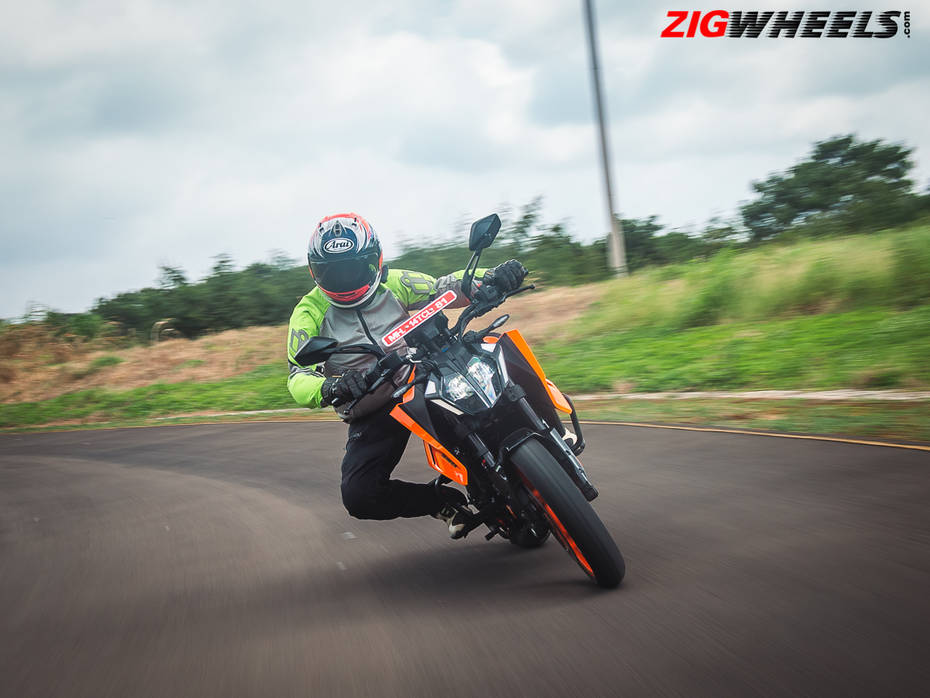 KTM India has finally given the 390 Duke adjustable suspension with this Gen-3 avatar. And even adjusting this is really easy. You only have five settings for compression and rebound for the WP Apex fork, which you can adjust by hand. You have the stock setting in the middle, two softer, and two firmer. It's the same for rebound at the rear: just 5 settings! The preload, though, does have ten steps, which will require you to break out the toolkit to adjust. That said, even the stock settings, though a bit firm, handle bumps and potholes on our roads beautifully.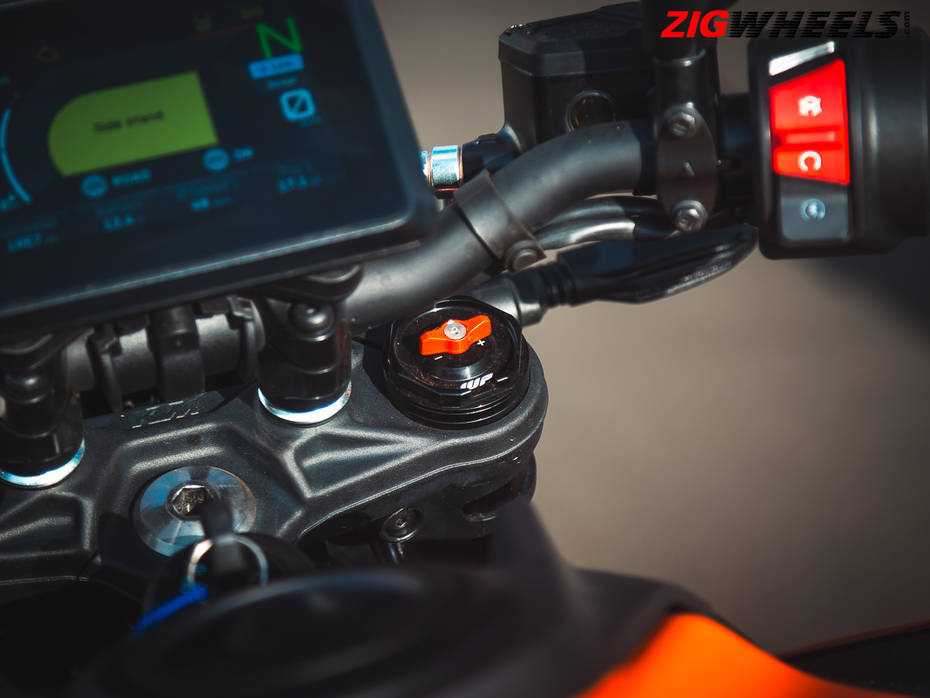 Braking on this new 390 Duke is actually quite fantastic. Not only do you get tonnes of stopping power, brake feel and initial bite are great too. So you want to trail brake into corners with confidence? No problem at all…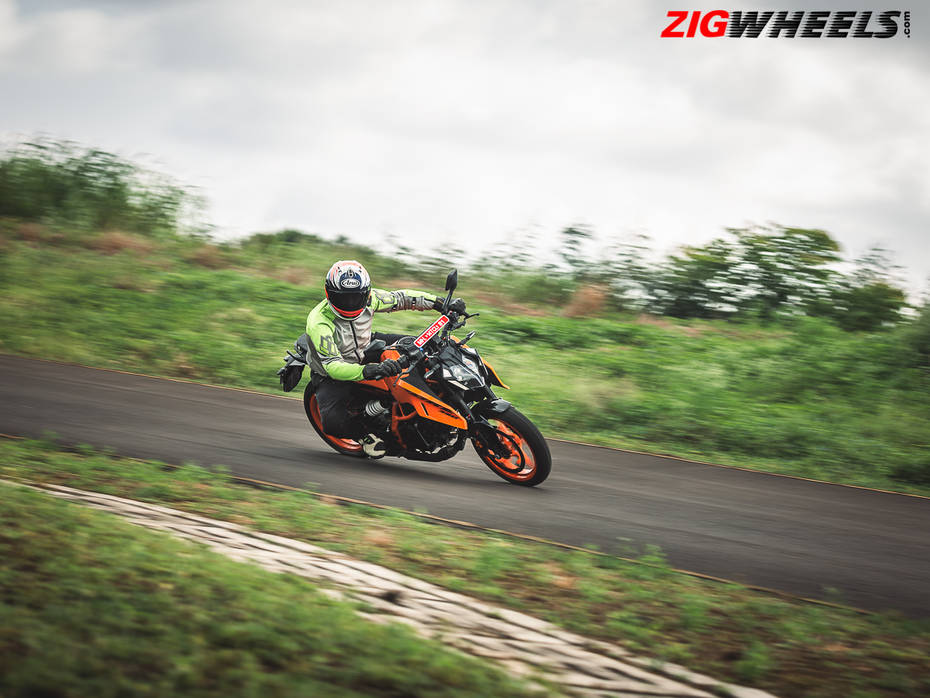 Can it handle daily riding?
First let's talk about seating comfort. The seat is actually quite spacious. You get lots of room and the seat height is now just 800 mm. That means even if you're quite short, you'll be able to get your feet on the ground very easily. In fact, its seat height is lower than that of the first-gen Duke! But even if you're taller, it's not a problem, because KTM will sell you spacers that bump the seat height up by 20 millimetres.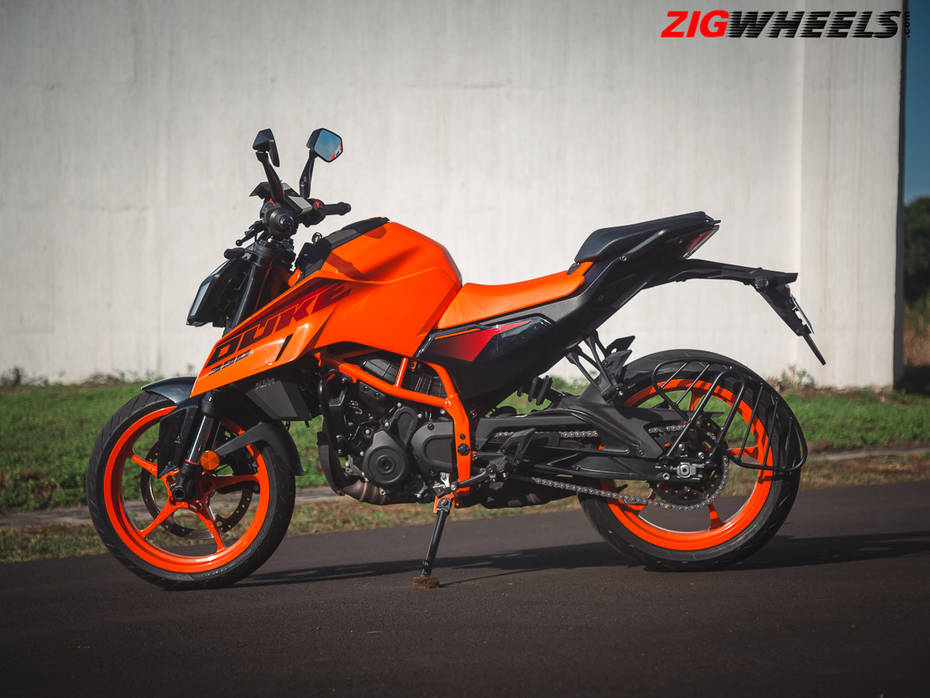 The overall posture also is quite comfortable because unlike the first-gen Duke which was very cramped and the second-gen which was a little spread out, this one is somewhere in the middle. So if you found either of those bikes uncomfortable, I think this one will strike the right middle ground.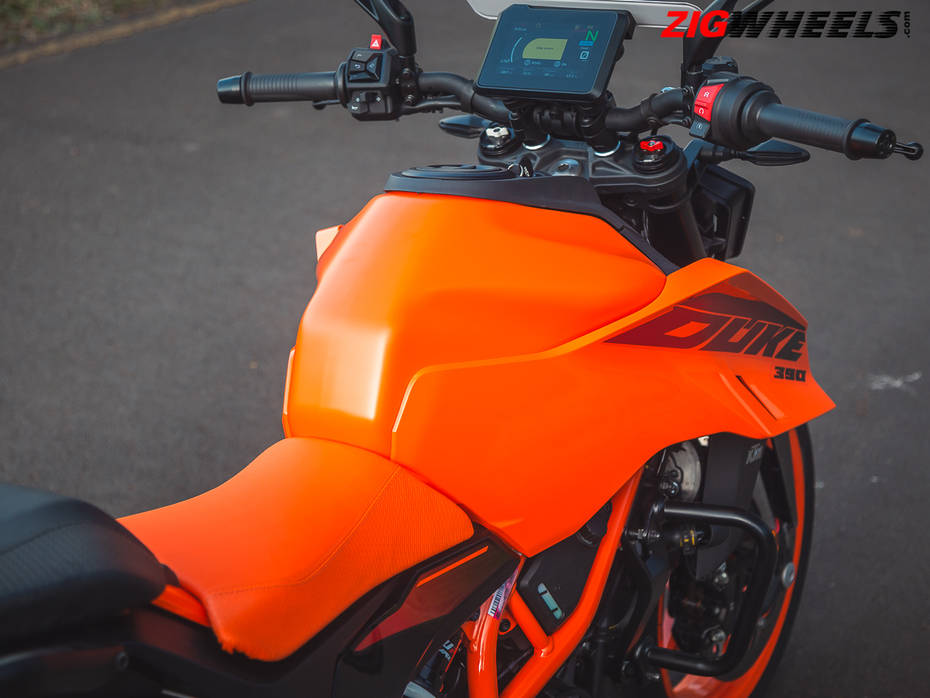 Moving on to tractability, at city speeds the 390 motor has always been a bit of a diva. While KTM fixed that to a certain extent with the Gen 2, this Gen 3 – with its larger air box and wider torque spread – is much better in the city. In fact, you can carry 40kmph in fifth gear without any issues. And you can even go a bit slower, say 30-35kmph, in fifth. The bike does complain a little at these speeds in higher gears, but it doesn't really struggle all that much, and definitely doesn't throw a tantrum like the earlier models.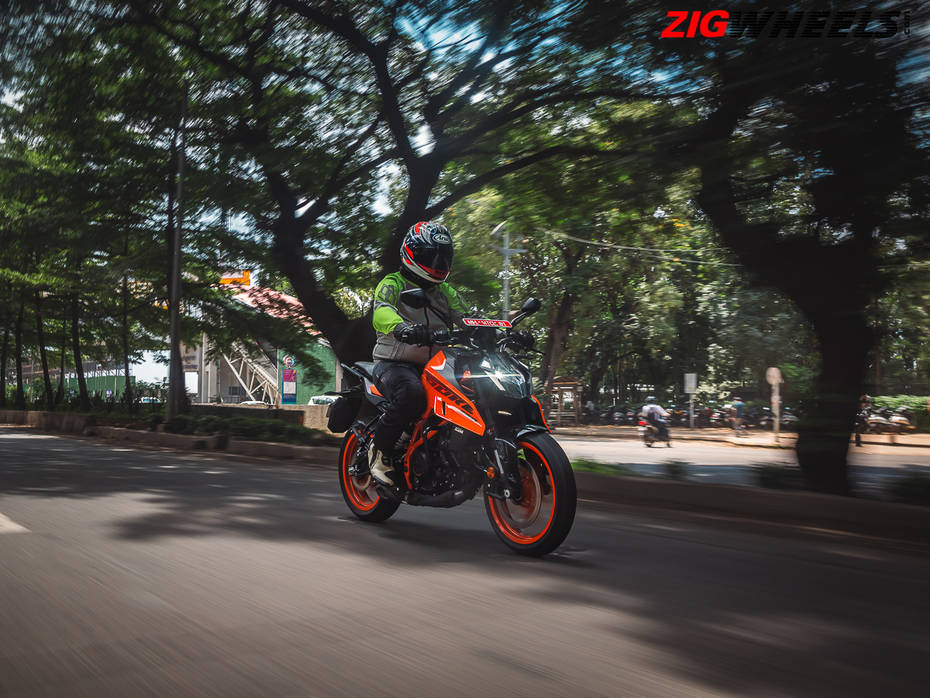 Even the throttle calibration, especially in Street mode, is so good that it actually made a big difference. You can carry first and second gear in slow traffic without having to use the clutch all that much. And if you have to shift, the new QuickShifter+ actually finally works (unlike the 390 Adventure, where we ended up turning it off all the time). So whether you're shifting up or down, as long as you have some revs, it'll do it very smoothly. It is a bit clunky at lower speeds and lower revs but it works nonetheless. In fact it works so effectively that I forgot the clutch exists and when I came to a stop, I stalled the bike two or three times.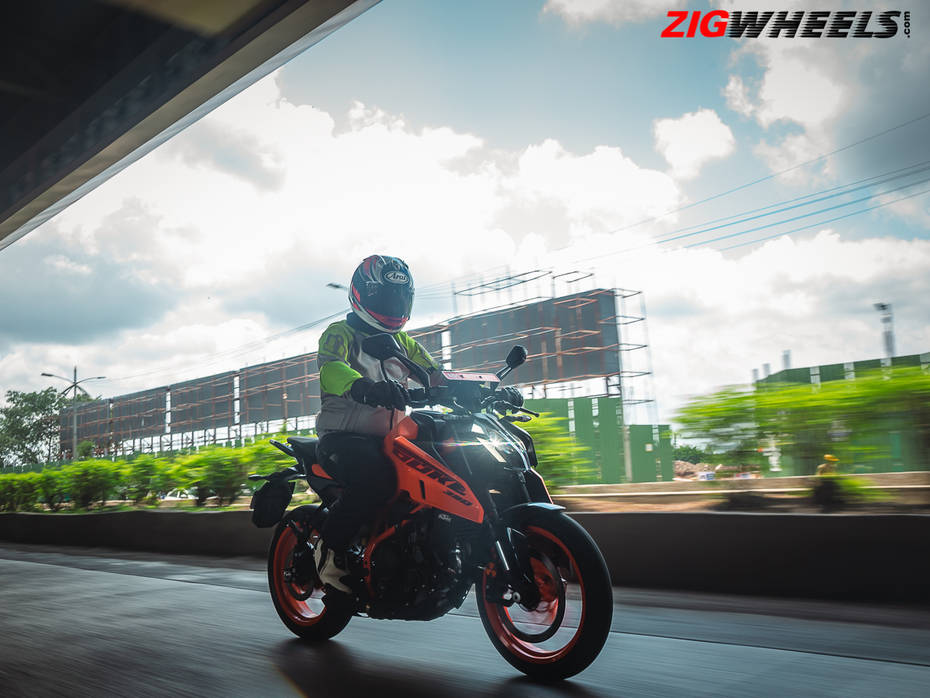 What about heating, you ask? Well, we rode the bike in stop-go traffic on a fairly warm day. But thanks to the new, larger radiator with two fans, we could barely feel any engine heat on our legs, even when not moving.
What about highway use?
Even if you want to go touring on the highway, this motor really shines now because it's a lot smoother than before. It's not butter-smooth, of course, and it's still got those KTM single-cylinder vibes, but they are not too much. So at 100kmph in sixth gear, the bike is doing a little under 6,000rpm and you can feel a mild buzz on the foot pegs and on the handlebar, though it's quite tolerable. Go a little faster, say 120kph in sixth gear (with the revs just under 7,000), and those vibes almost die down completely. So you can cruise easily at 120kmph without breaking a sweat.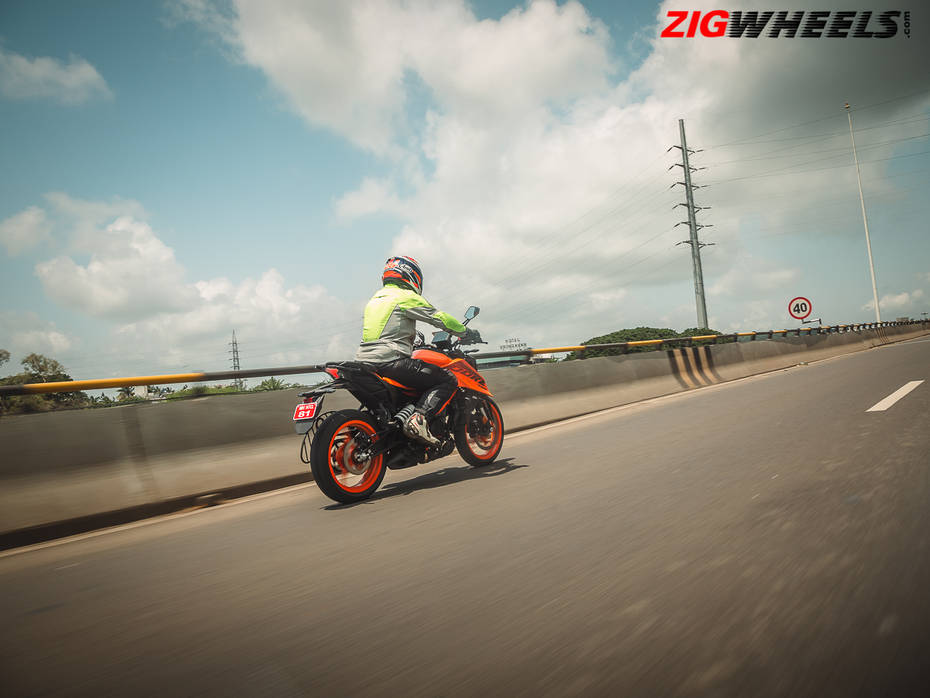 And with a fuel tank that's now been increased to 15 litres, this should be able to go a lot farther before you need to refuel.
Does it look like a Duke?
Now, design is subjective, but I really think that this new shape looks quite nice and aggressive and looks much better in the flesh than it does in pictures. But I have some grouses. Primarily the DRLs… I mean they just look meh. And then there's the colour scheme. Don't get me wrong; I love orange, but this orange bike is just too much orange. In fact there are three different shades of orange on the bike - A gloss orange on the plastic panels, matte orange on the metal tank, and orange leather (or leather-finish material) seat. In fact, the blue bike looks much better, and this is coming from someone who loves bright motorcycles.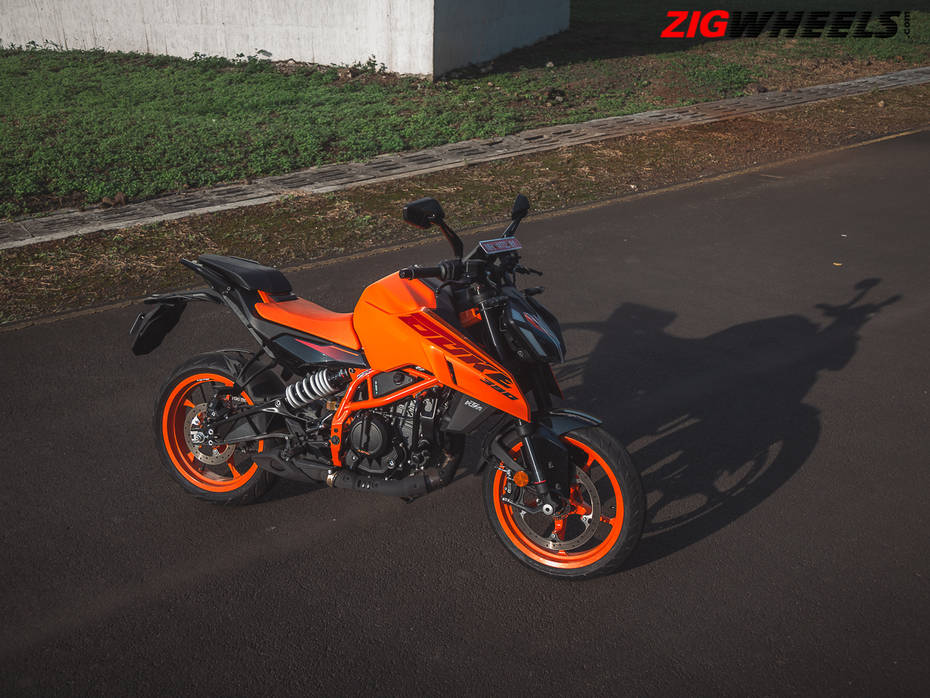 And then when it comes to build quality it feels fine for the most part, but if you come closer and look around, the plastics feel a bit iffy at places. Like the gap between the black plastic on the tank and the tank itself, is quite prominent. Besides, the gaps between the shrouds and the tank are also very pronounced. So in those terms, the bike doesn't feel as premium as it should.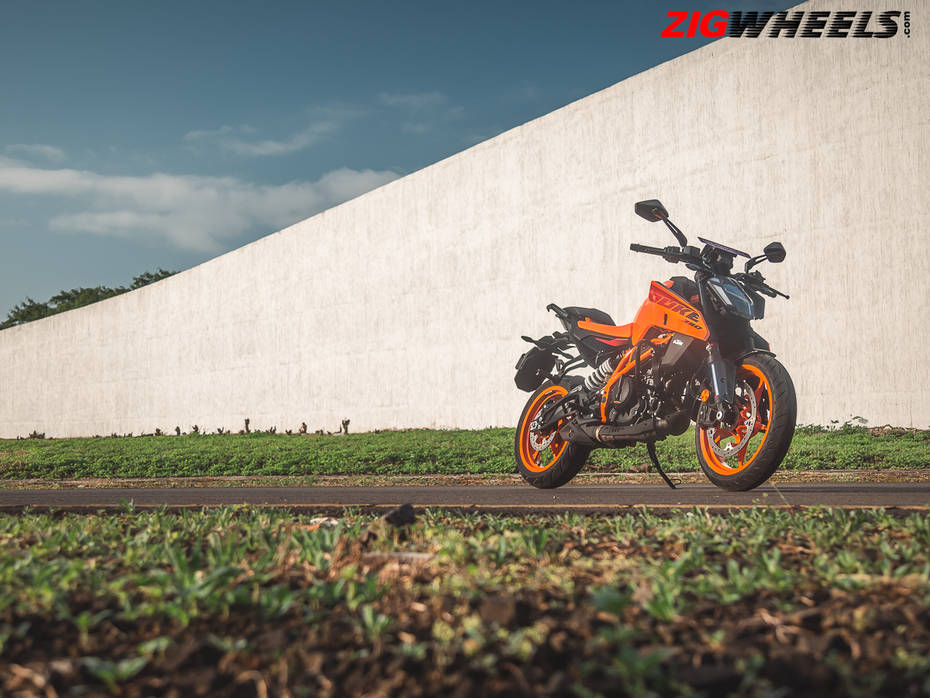 Has it got modern features?
Although the 5-inch colour TFT screen is the same size as before, the layout has been revised, so it's a lot easier to read. This screen can be controlled with the all-new switchgear, which is now a lot easier to use with gloved hands. That said, we wished the layout of the screen would properly change between the three riding modes - Rain, Street, and Track.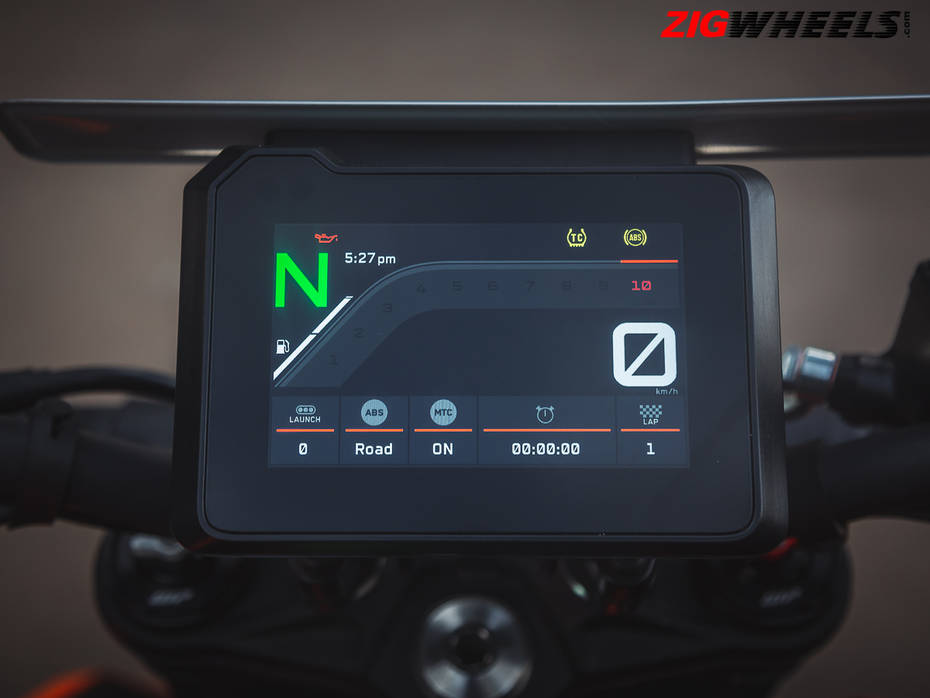 Speaking of riding modes, Rain mode cuts down the power, while Street gives you full power with a lower throttle response. Track mode gives you the sharpest throttle with full power. Even the ABS and traction control settings change based on the selected riding mode. And this new 390 gets cornering ABS as well as cornering traction control. Plus, in Track mode, you also get Launch control. So zero to 100 in less than 6 seconds? Yup… that's what KTM claims.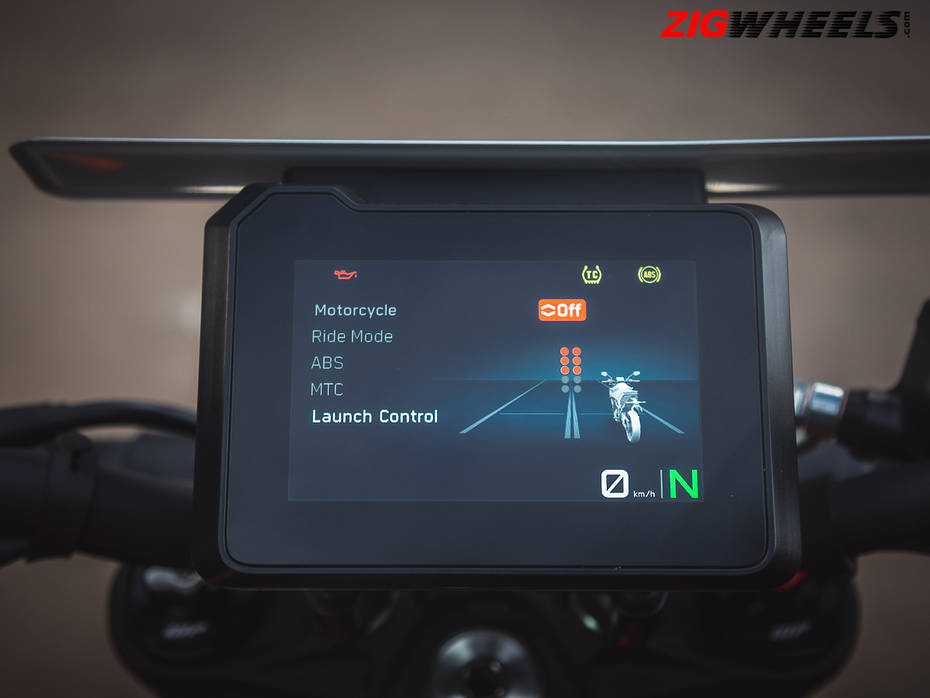 Best 390 Duke ever?
When this new Duke was announced I was quite excited, but that's mostly because I have been a 390 Duke owner for almost 10 years now. But I was not prepared to realise just how special this bike feels to ride. And believe me it feels really really special. The only place where it might pinch is the price, which I'll admit, at Rs 3.10 lakh (ex-showroom Delhi) is a bit on the higher side. But compared to the previous-gen Duke, it's only Rs 13,000 more, and for that you're getting more performance, much more fun, more refinement and a whole lot more features. If the current Duke was on your radar, this one is a no-brainer. And even if you weren't considering the Duke, I would say go ahead and take a test ride: you might just change your mind, because ever so often there comes a bike that just blows your mind when it comes to performance and handling and its sheer fun factor, and this new Duke is one of those!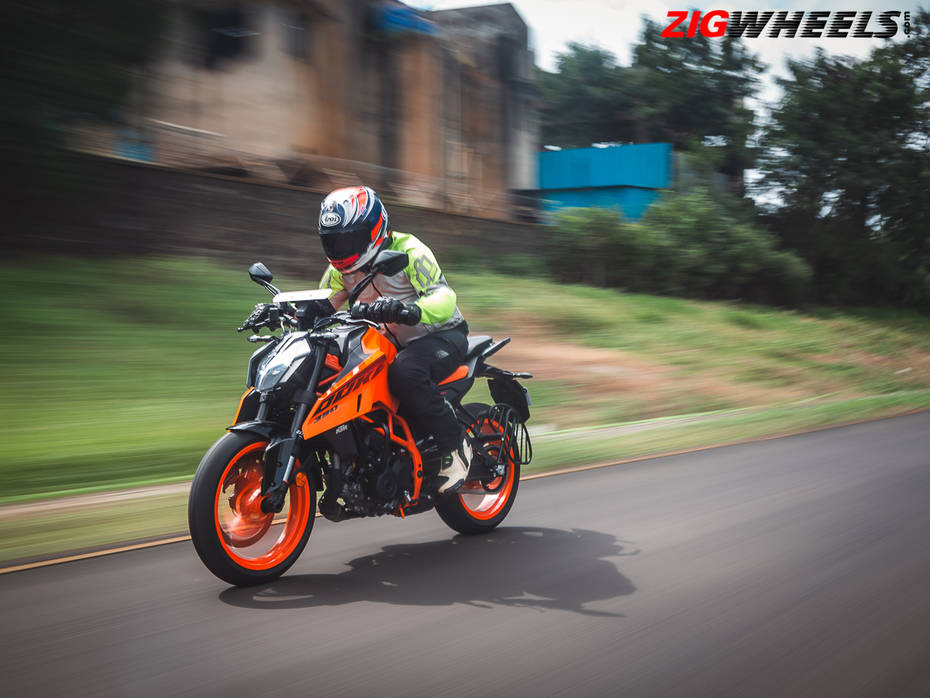 KTM 390 Duke Video Review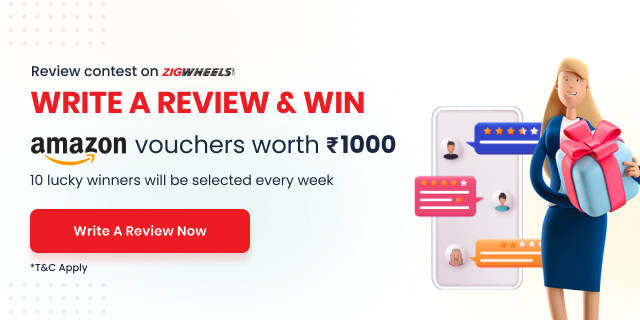 Bikes Similar to 390 Duke
See what our community has to say!
NEW
India's largest automotive community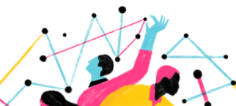 3 Other Things You Might Want To Do