Toyota Fortuner Legender: Road Test Review
Apr 20, 2021
Views : 6624
6 min read
---
By Arun Shenoy

Follow us
The funkier Fortuner is a head turner for sure. Should you be spending an extra Rs 3 lakh for it, though?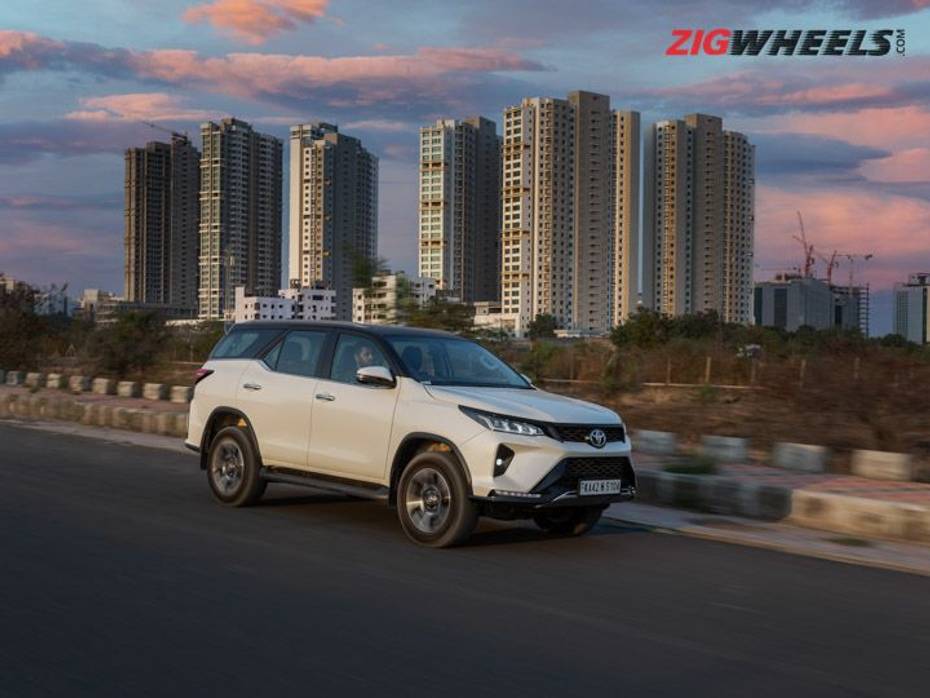 Toyota's Fortuner raises eyebrows. Its gargantuan presence on the streets is matched only by its ever increasing asking price. With the 2021 update, prices went north by upto Rs 3.3 lakh! The pricing seems especially ambitious when you look at the range-topping Legender — that's available with the diesel-automatic drivetrain and 4x2. As bizarre as it sounds, the most expensive Fortuner really does skip out on 4x4. Should you really be spending nearly half a crore on this?
Lexus Dreams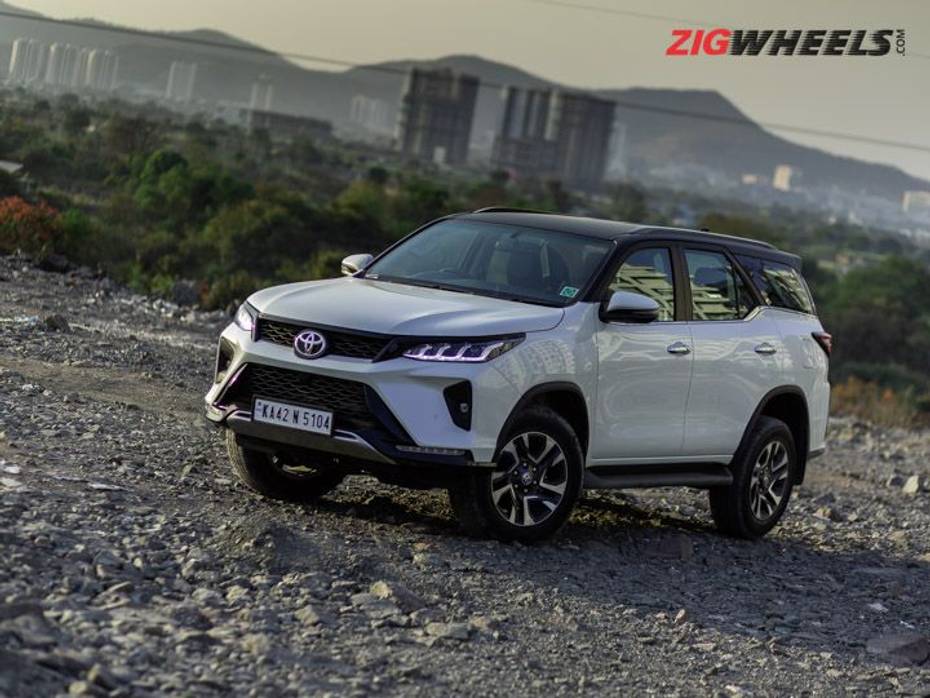 It's hard to park a Legender and NOT stare at it for a few seconds. The Fortuner always commanded attention, but the Legender simply elevates it to the next level. Available in a single pearl white shade with a black roof, this variant gets some key design changes to distinguish it from the 'standard' Fortuner.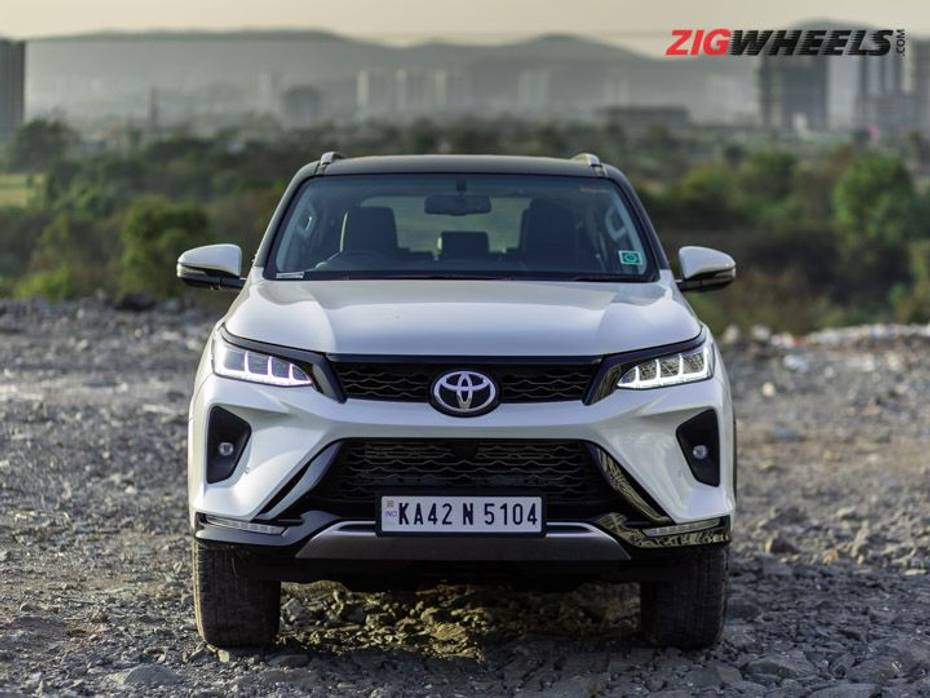 The Legender looks straight out of 'Angry Birds' — with the face scowling at you. It's the headlamps with its arresting waterfall-like lighting pattern that gets your attention first. Toyota has also cleverly used gloss black trims to add some contrast. This too forms a sweet 'X' shape as it charts its course from over the headlamps and into the bumpers that house the new LED fog lights and daytime running lamps that double up as turn indicators. Does this face remind you too of a Lexus?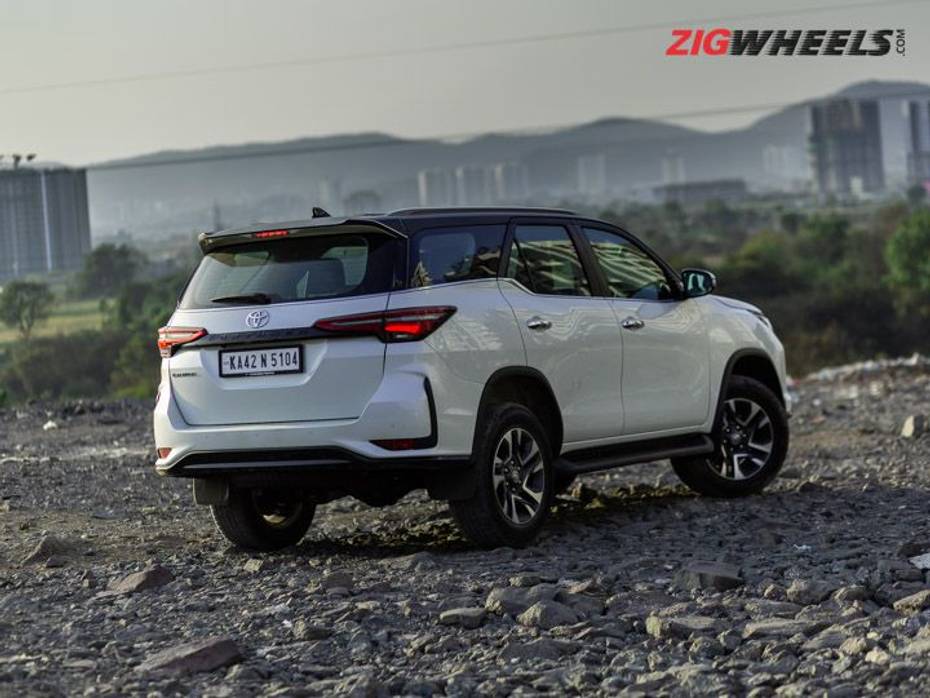 Get latest updates on
the automobile community
The rear isn't as radical as the front. Save for a black skid plate, sporty L-shaped inserts on the rear bumper and a gloss black strip connecting the tail lamps, there's not much unique to the Legender.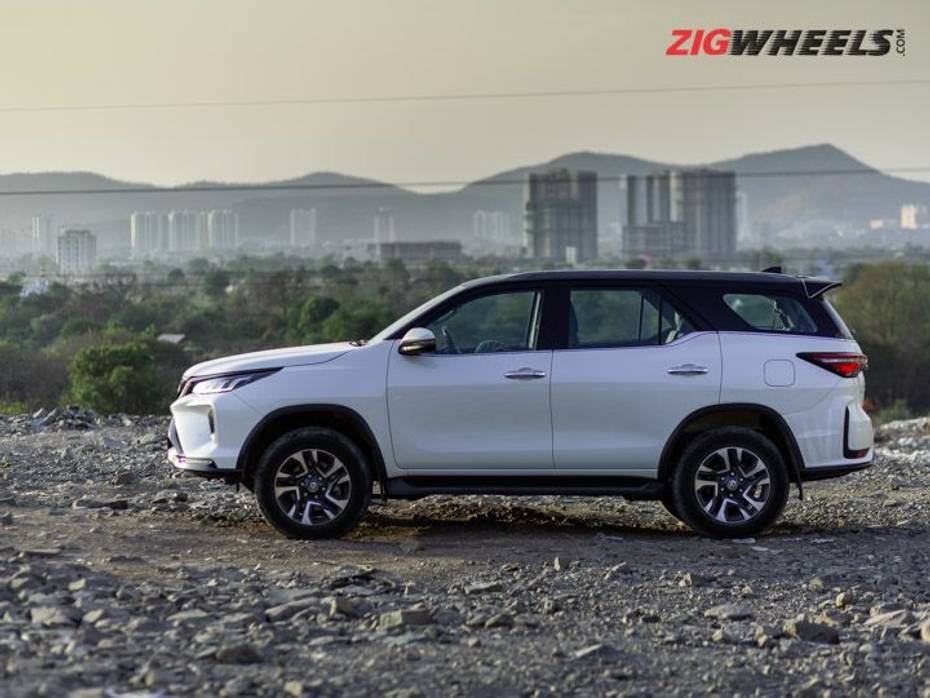 That said, we wish Toyota gave the Legender a proper gloss black paint job for the roof. The matte-black wrap looks dull and doesn't 'pop' as much as the rest of the black elements. No such complaints about the new 18-inch alloy wheels, that are exclusive to this trim, though.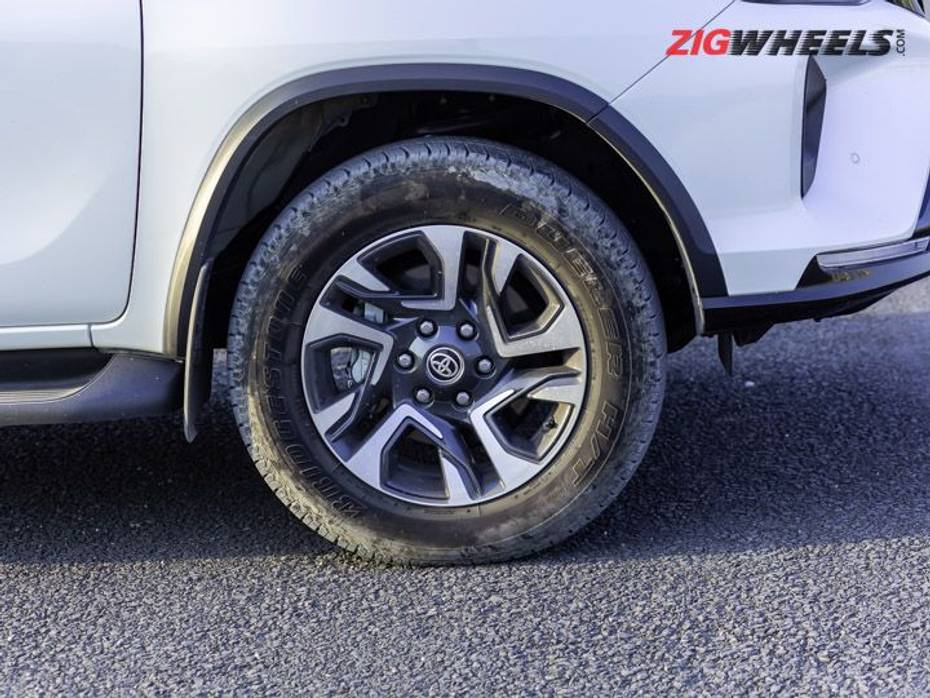 If making a statement ranks high on your priority list, the Legender should suit you just fine. We'd love to see Toyota offer a few more colour options though. Maybe a bright red or dark grey with a black roof — both of which are available in markets overseas.
A sprinkle of swag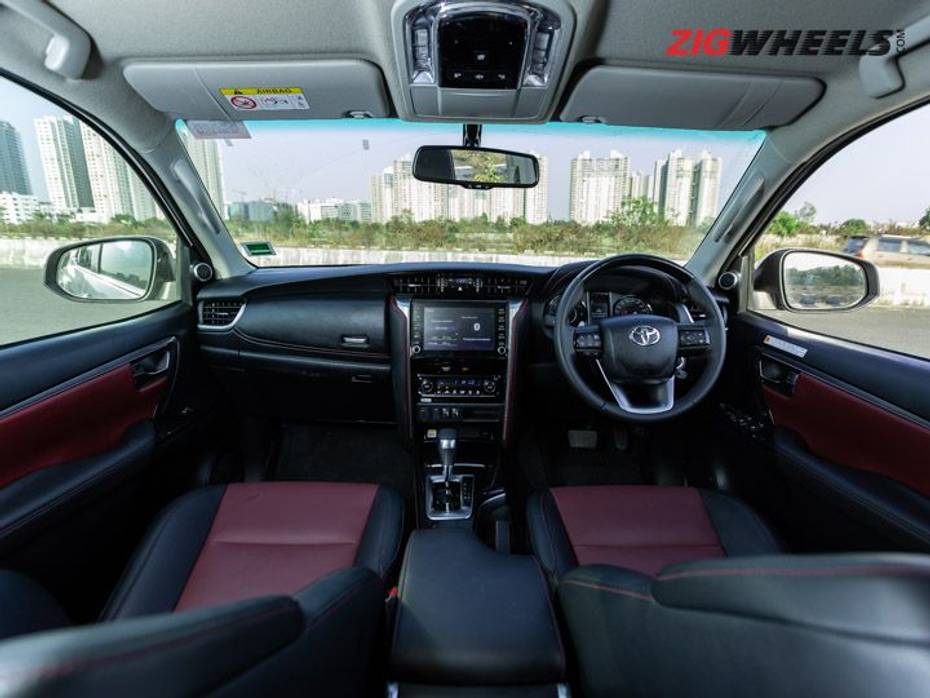 Toyota hasn't gone to town revamping the interiors of the Fortuner. The basic layout remains unchanged. While there's still no soft touch materials, you will notice a minor bump up in quality in the smooth leather wrap for the steering wheel and the plush leather upholstery. Small touches such as the leather-wrapped centre console, ambient light integration, and the small 'Fortuner' badge on the upper glovebox attempts to make the burly Toyota feel suave.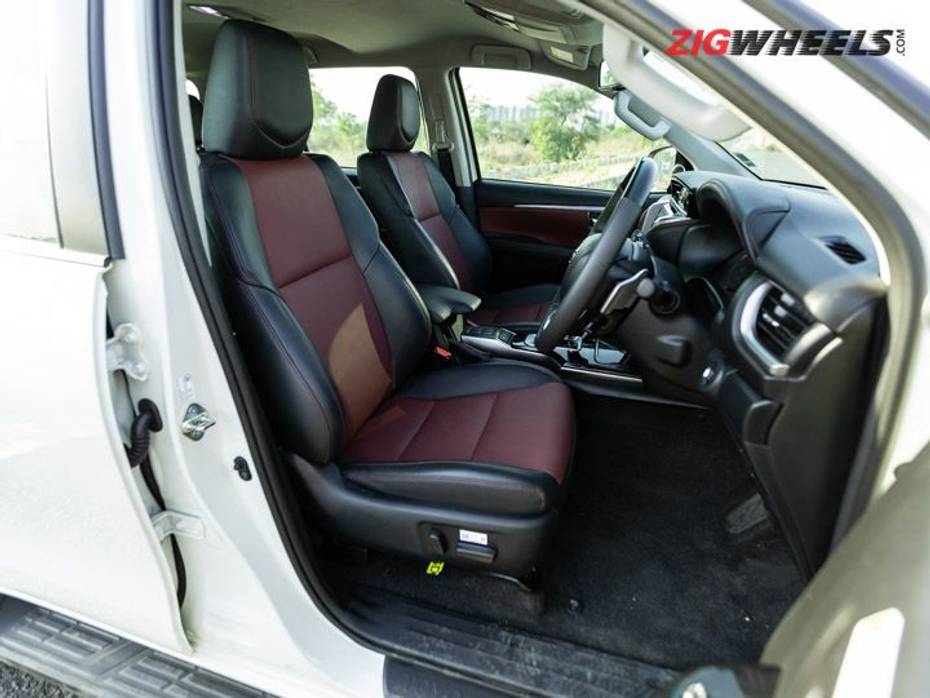 The maroon-black interior theme might not be to everyone's taste, but it doesn't feel garish in the slightest. This colour theme is exclusive to the Legender — you get to pick between black-chamois and an all-black interior with the regular Fortuner.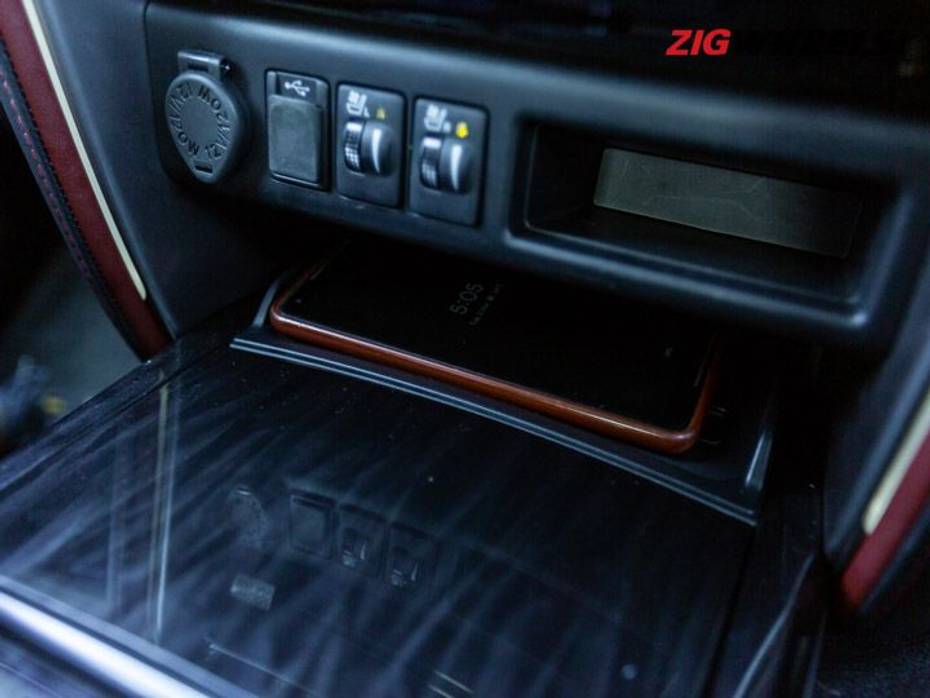 There are updates to the feature list too. Goodies such as a wireless charger, rear USB ports and a hands-free tailgate release are oddly available only on the Legender. It also benefits from new feature additions such as an updated instrument cluster and ventilated front seats. Other highlights include front and rear parking sensors, automatic climate control, powered front seats, and cruise control. There's still no sign of a sunroof or a 360° camera.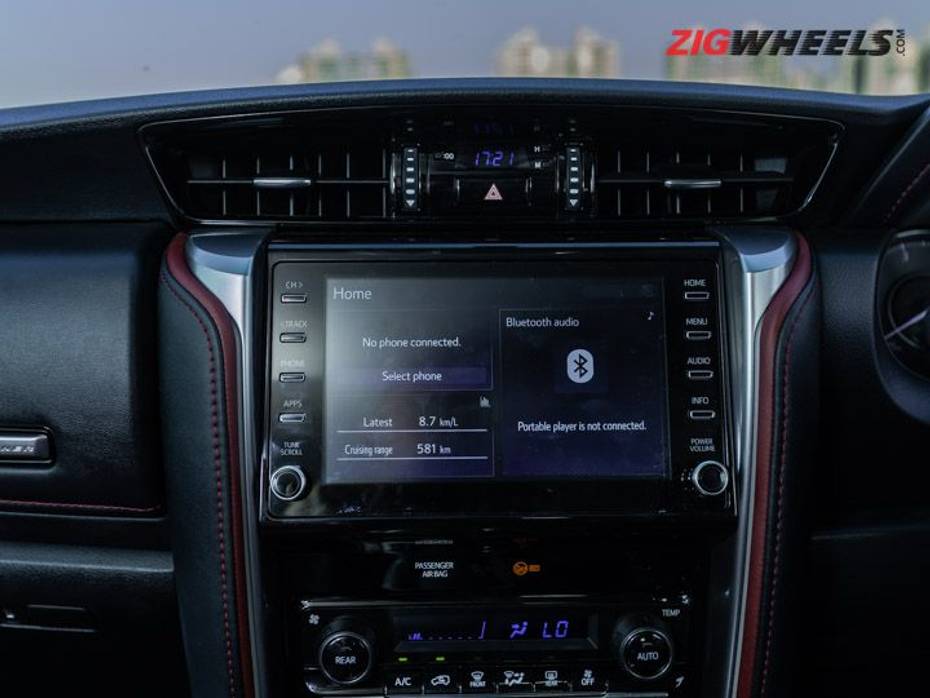 You also get an updated touchscreen infotainment system that now features an updated interface. It's as user friendly as before, but more importantly now offers the must-haves that are Android Auto and Apple CarPlay. Sadly, neither are wireless. What also comes as a disappointment is the 6-speaker sound system. The range-topping Legender should have had the 11-speaker JBL sound system that's available in the 4x4 variants.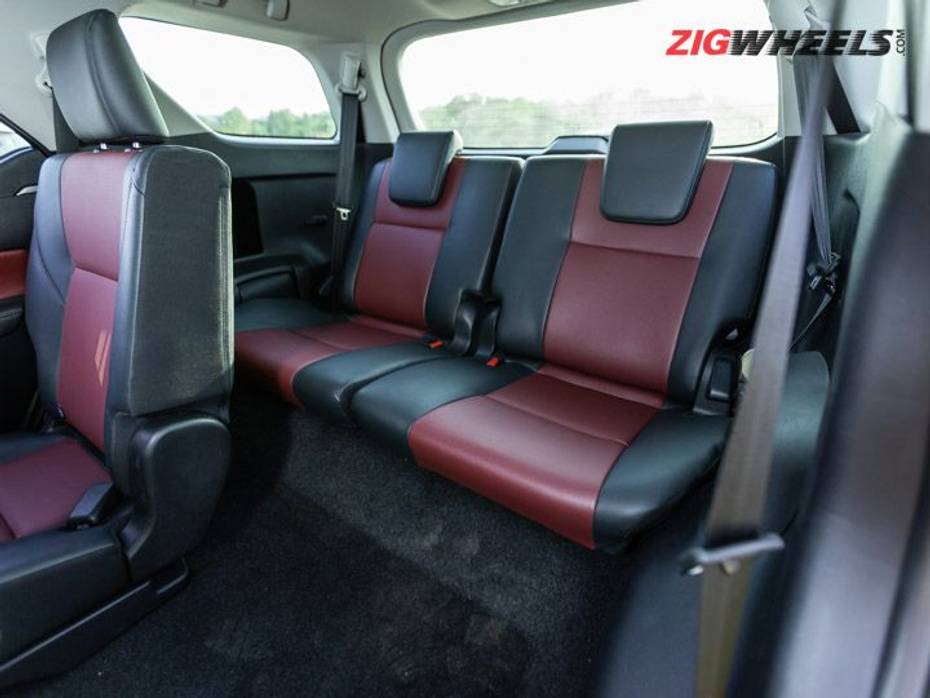 Space continues to remain a strong point for the Fortuner. Packing 5 adults and their weekend's worth of luggage will be a cakewalk for the big Toyota. The third row, too, remains usable for adults over short journeys.
500Nm, Baby!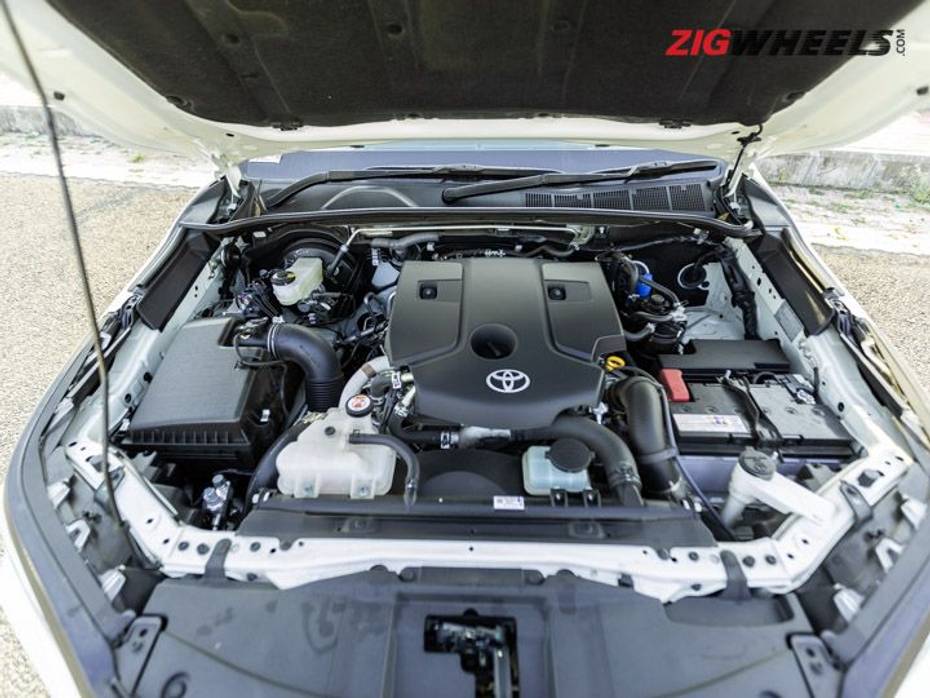 That's the headline figure that had our collective jaws drop. With the 6-speed automatic, the updated 2.8-litre diesel engine makes 204PS and 500Nm! That's enough to send it whizzing to 100kmph in 10.58 seconds. For reference, that's about the same time a 'fun' hatchback takes. For a behemoth to do it as quick is genuinely impressive.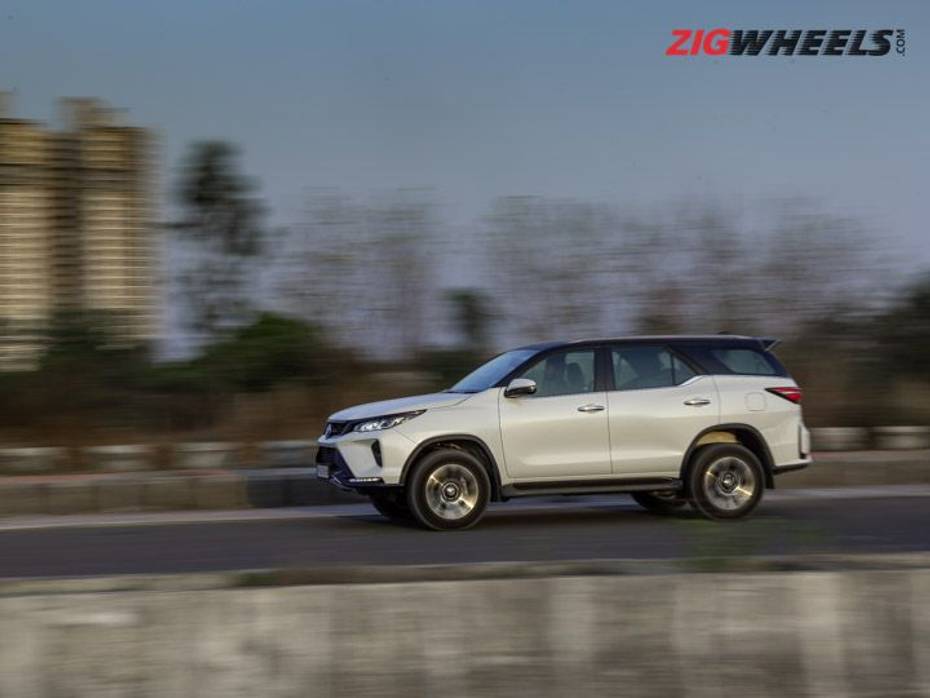 Surprisingly, even while pulling a heavy weight like the Fortuner, the engine barely feels stressed. With the BS6 update, the engine also feels smoother to rev and slightly quieter at idle too. What's even better is that the added torque is available practically all the time. All you need to do is flex your right foot, and the diesel engine is ready to dart. 20-80kmph (kickdown) is dealt with swiftly in just 6.7 seconds. Inside the city or cruising on the highway, you will appreciate the extra torque for sure.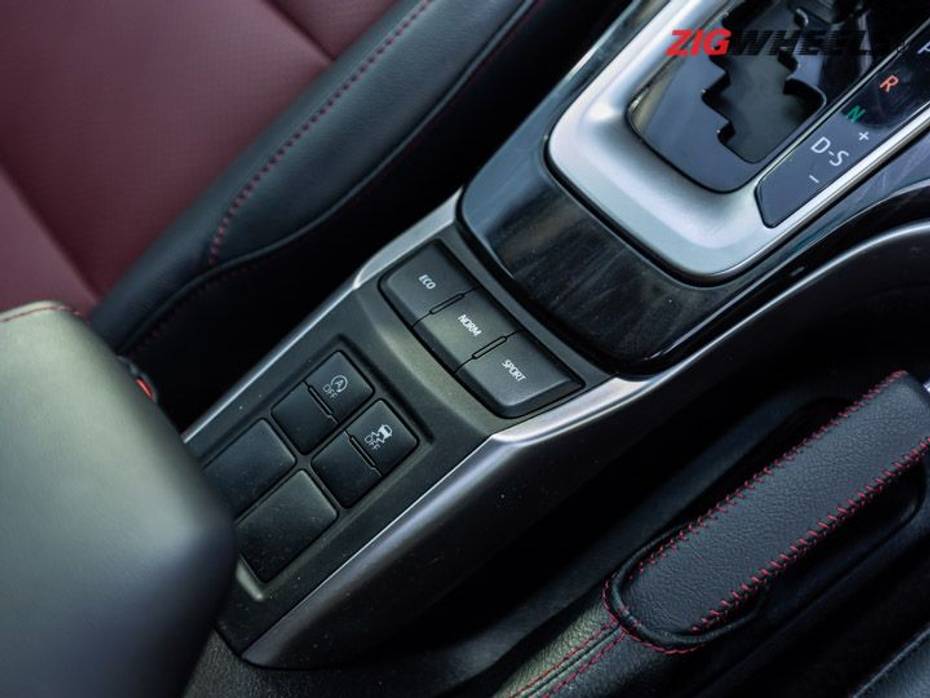 For a slightly sombre driving experience you can switch to Eco mode (three drive modes: Eco, Normal and Sport) — that dulls out throttle response and turns the Fortuner into a gentle giant. It sips carefully in this mode too. We managed to eke out 10.52kmpl inside the city, and 15.26kmpl on the highway. For a 2.6 tonne SUV with an automatic transmission, those figures are respectable.
Speaking of the automatic, it is well-suited to the Fortuner's road-tripping credentials. Upshifts and downshifts are smooth. It will feel slightly laggy only when you push the motor hard. For rare times like these, we recommend using the paddle shifters.
Smother Bad Roads!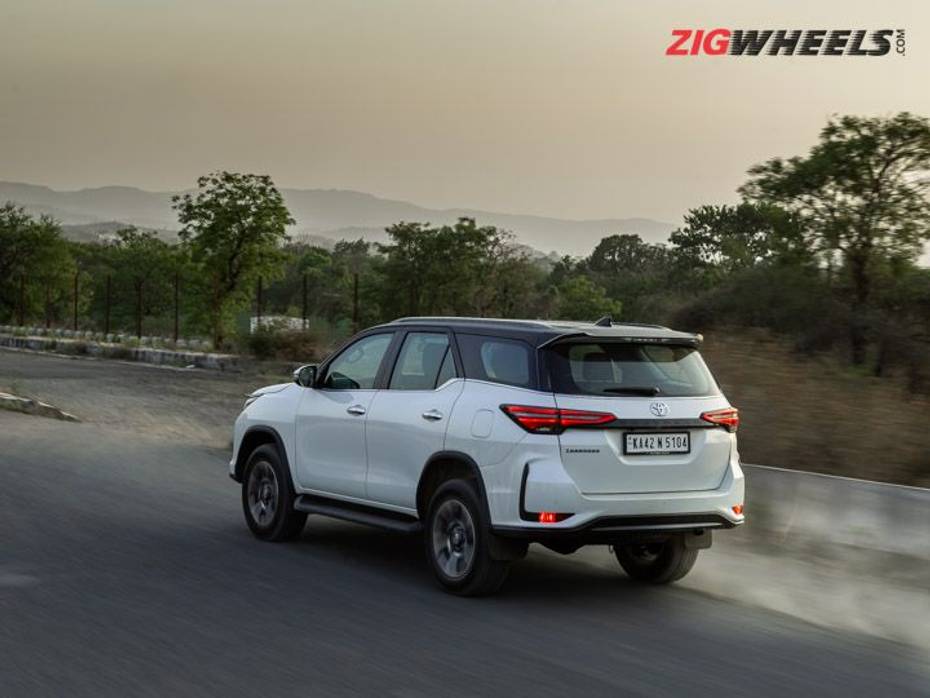 As long as you steer clear of sand, snow and muck, the 2WD Legender is capable of taking you practically everywhere else. Toyota seems to have fine-tuned the ride — it doesn't feel as jarring as it once did. Sure, there is some side to side movement over the rough stuff. The upside is that with as much ground clearance, you don't really need to slow down for bad roads at all. The Fortuner won't mind if you went flat out over bad or even non-existent roads.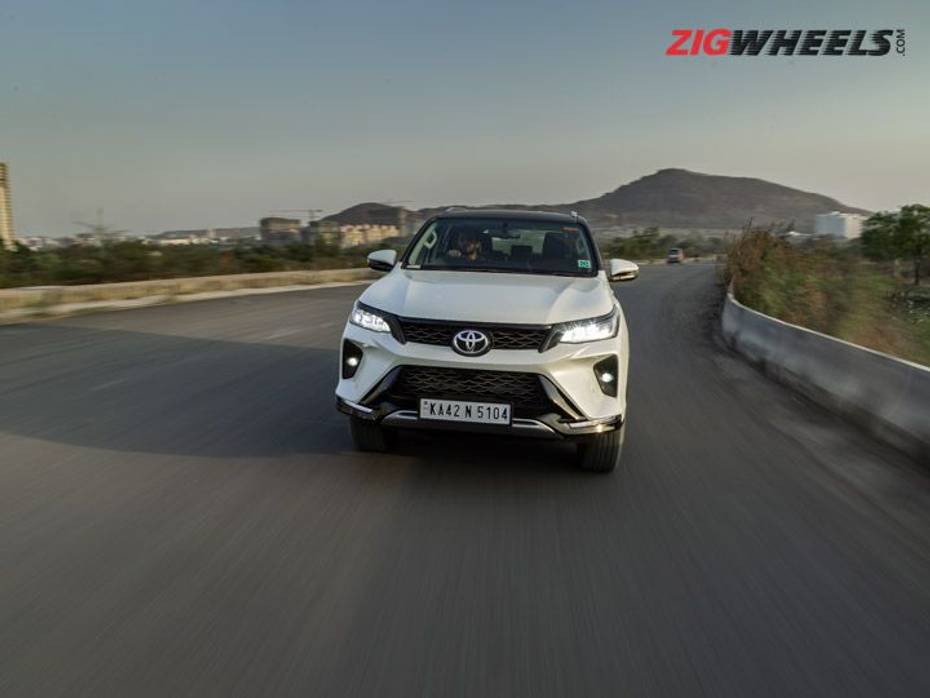 Another noticeable improvement is the steering. It now adapts according to the drive modes. Also, the earlier Fortuner was known to transfer jitters from the road surface straight to your palm. That's thankfully taken care of now.
What about good roads, you ask? Well, there's not much to report here. It gives you enough confidence to go hustling up a ghat provided you don't act silly. Bottom line, drive the Legender like the ladder-frame SUV it is and it will not scare you.
Bring home a Legend?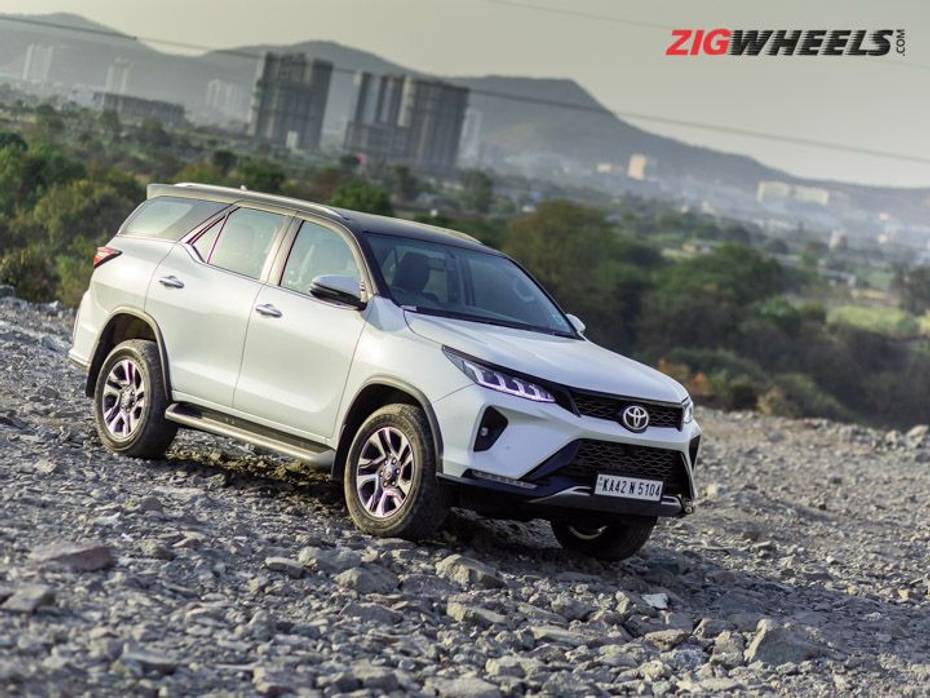 Slightly narcissistic name aside, the Legender is quite likeable. It's arguably the better-looking variant and does enough to pamper you with a few exclusive goodies too. But at Rs 38.30 lakh (ex-showroom), the extra Rs 50,000 over the 4x4 AT and an obscene Rs 3 lakh over the standard 4x2 automatic is hard to digest. Unless you're head over heels in love with the way the Legender looks, there's no real reason to buy it. You're better off saving a lot of money and picking the 4x2 AT, or using that money to bring home a more capable 4x4 AT.
Toyota Fortuner Video Review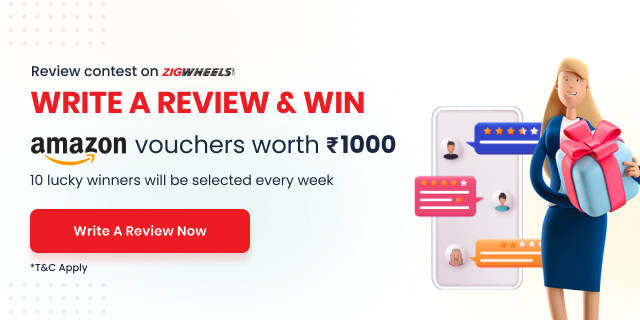 See what our community has to say!
NEW
India's largest automotive community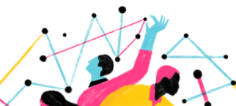 1 Other Things You Might Want To Do