Retro Vibes With This Customised Royal Enfield Helmet
---
We give Royal Enfield's Make It Yours programme a try and design a customised helmet.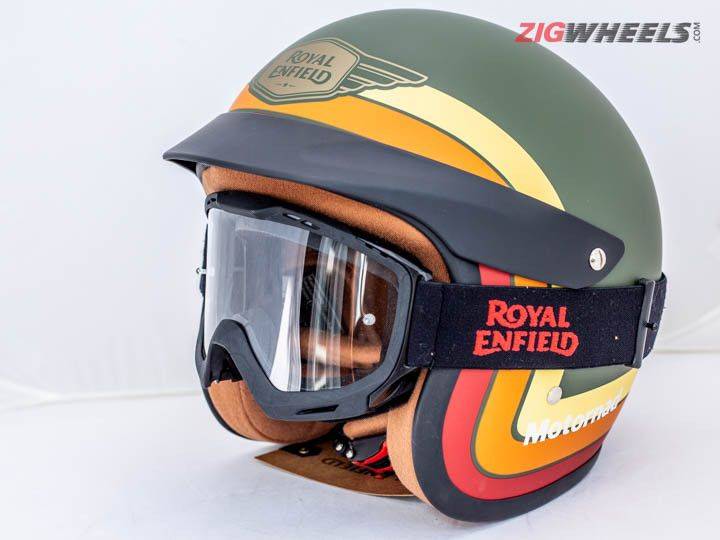 Royal Enfield recently kick-started its MIY (make it yours) initiative and gave ZigWheels the opportunity to customise a personalised helmet. Currently, customers have the option to customise either helmets or t-shirts under the initiative. Royal Enfield plans to extend the MIY programme for its riding gear as well so we could see customised riding jackets as the next option. Here's our personal experience with the Royal Enfield MIY helmet and the idea behind it:

Getting into the right shell
As you enter the MIY helmet section on the website, you have an option of choosing from three helmet styles: full face, urban trooper, and open face. Full face was an obvious no-go for me because I already have five full-face helmets, including a yet-to-be released Royal Enfield NH44, the review of which will soon go live on ZigWheels.

The Urban Trooper was hugely tempting and I almost went for it enticed by its timeless charm. But then better sense prevailed. I realised I already own a moto-cross helmet, which is my go-to option for off-road riding anyway. With these two options out of the way, the open face seemed like the right choice considering I didn't have one in my collection.

The vision
With an open-face helmet selected, I planned to go the retro route since it's a genre that suits this particular type of helmet and let's face it, it looks rather cool! It comes in a wide array of colours and different finishes: gloss, metallic and matte. Initially, I was considering blue, but then settled for matte green as it's an unusual colour with a bit of a military connect as well. That said, the colour of the helmet looked far darker in the configurator compared to what I actually received. So, while it still fits the overall theme, a truer colour representation would have been better. And since I was truly leaning into the retro theme, there was only one clear choice for graphics: tricolour stripes.

The MIY configurator also lets you select the fabric colour for the inner lining of the helmet. While I was tempted to go with red to contrast the battle green shade of the helmet, I ended up choosing saddle brown. Given our humid and dusty conditions, I felt this colour would hold up better while still staying true to the helmet's old-school appeal. The customisation options don't end there, there are three visor choices too. I chose to skip the visor altogether and go for just the peak. This would allow me to don a pair of aviator sunglasses under the helmet for that retro-cool look, or even select the optional Royal Enfield goggles for an even more old-school touch.

The final customisation option is 'text', with 14 characters possible on the top line and 20 on the bottom. I'm guessing most would prefer to etch their names on top with either their emergency contacts or blood group details on the bottom. The millenial in me opted to go with my Instagram and Twitter handles, instead. Unfortunately, you can only have the text in white; I would have really preferred more colour options here.



Overall experience and price
For a guy who loves to spend his spare time configuring his dream spec of a Ferrari or Rolls-Royce on their official configurators, the Royal Enfield MIY section was quite intuitive and user-friendly. However, the page takes some time to load and on a couple of occasions, I thought it had frozen. Given the wide variety of customisation options in colour, shell shape and theme, I think the designers have done a great job. My only qualm is the colour representation in the configurator versus on the finished product. That said, what we experienced here could be a one-off problem.

As for the price, my open-face helmet ended up costing Rs 3,200 with the optional goggles carrying a sticker price of Rs 1,000. At Rs 3,200, this open-face helmet certainly can't be called 'great value' considering we have more affordable options in the helmet. But for a helmet you can customise a fair bit to your liking, the price is justified.

Speaking about prices, a custom Urban Trooper helmet comes in at Rs 4,000 with Rs 1,000 more for the optional goggles. The custom full-face helmet retails for Rs 4,200. Apart from the option to design the helmet, the MIY programme also allows customers to add a bit of their personal flavour to their lids. In a country where bikers always find an excuse to skip on a helmet, the MIY programme might just entice a few thanks to its sheer cool factor.

I haven't had a chance to wear that customised helmet yet as we had to shoot its images for this article first. Once I have used it a few times, a comprehensive review highlighting its pros and cons will follow on the ZigWheels website, so keep an eye out for it.
More on Royal Enfield Continental GT 650

Rs. 2.91 Lakh Onwards
Ex-showroom, Delhi
Continental GT 650 Alternatives
See what our community has to say!
NEW
India's largest automotive community