Ducati Multistrada 950 S Road Test Review
---
Ducati's baby adventure touring motorcycle is the costliest bike in its segment. But does it justify the extra asking price, especially now in its 'S' trim?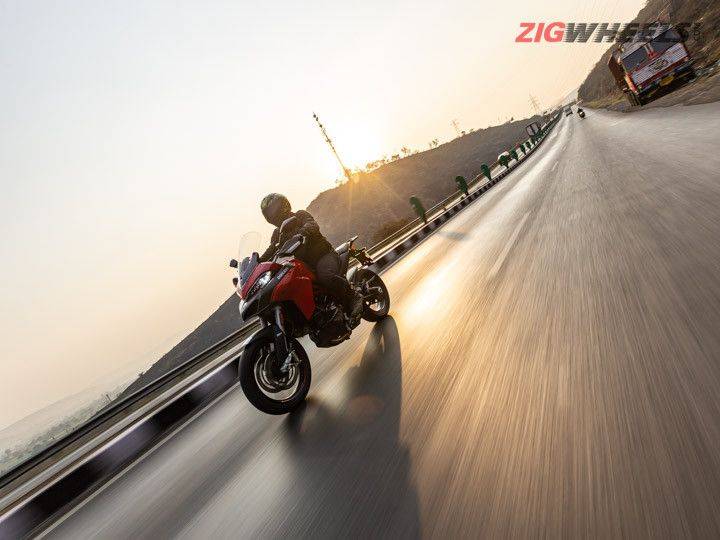 Ducati makes evocative motorcycles. Be it their maniacal and borderline suicidal performance or their sheer beauty, every Ducati motorcycle keeps you hooked on every ride. For those who seek pleasure on open highway stretches and don't mind getting a bit dirty, the Multistradas are known to offer an exhilarating ride. While we might have to wait a few more months for the grand Multistrada V4 to arrive at our shores, we managed to set up a date with its younger sibling, the Multistrada 950 S. Does it justify its exorbitant Rs 15.49 lakh price tag?

Banging Performance
Ducati Multistrada 950 S

Specs

937cc Testastretta L-twin, liquid-cooled

Power

113PS at 9,000rpm

Torque

94Nm @ 6,750rpm

Gearbox

6-speed

Acceleration

0-60kmph

2.12 seconds

0-100kmph

3.90 seconds

30-70kmph in 3rd gear

2.81 seconds

40-80kmph in 4thw gear

3.36 seconds
The 937cc L-twin Testastretta comes alive in a raucous manner. With at least 70Nm at your disposal from revs as low as 3000rpm, the 937cc motor doesn't throw a hissy fit when wading through city traffic. In fact, in Urban mode, with the engine output dialled down, it is commendable how tractable and manageable it is. A speed of 45kmph in fifth gear is maintained, with the engine barely showing any sign of duress.
When you do want to get a move on, all you need to do is switch to Sport mode, and it transforms from Bruce Banner into The Hulk, smashing past the 120kmph speed barrier in no time. With the throttle pinned, it can make you soil your pants,and it'll do so with the characteristic Ducati rorty L-twin exhaust note bellowing from its long and sleek tail-pipe.

The default traction control and ABS settings in Sport mode don't do justice to the Multi 950 S. With the nine-level traction control set to three (default for Sport), you do find the motor being slightly curbed. While this will please new big-bike riders, an experienced hand would enjoy the bike further with both of the aids at their lowest settings. This allows the engine to put down the power in a spirited manner without the electronic nannies intervening abruptly. And since there's no wheelie control here, you can rest assured that the front wheel will catch some air.

Smart Hulk
Multistradas are meant to be enjoyed on the highway. Out on open stretches of road, the Urban mode feels a bit too docile, while Sport can become nerve-wracking. Luckily, you have the Touring mode, which gives it the sensibility of the Urban while pumping out all 113 horses like Sport. Here, the throttle response is more progressive and doesn't feel like an on-off switch. Traction control is set to four, taking care of most of the road hazards that you are quite likely to encounter on our highways. At 120kmph, the motor is bang in the mid-range, with vast reserves of torque still at your disposal.
| | |
| --- | --- |
| | Ducati Multistrada 950 S |
| Highway Fuel Efficiency | 22.86kmpl |
| Fuel Tank Capacity | 20-litres |
However, at regular highway speeds, you get a feeling that the engine wants you to ride at a slightly higher speed. Even though there are nothing but good vibes, it almost seems that the motor feels calmer at around 140kmph than at 120, which could be a bit too much for Indian highways. And riding at such speeds can induce fatigue at the end of a journey.

For highway usage, you can activate cruise control in a jiffy. Just press the activation button on the left switch panel and set the desired speed. While we appreciate this feature, using it on Indian highways isn't as convenient as it would be in Europe. In India, one cannot simply set the speed and cruise for hours on end. This is not a criticism of the feature but the pathetic condition of our highways.

Buffeting!
What mars the fast highway riding experience is the angle at which the large windshield is mounted. We had riders of different heights ride the bike, right from a 5 foot 7inch-shortie like Zaran to an almost 6-footer that is Gaurav. None of us could find a 'right' setting for the height-adjustable windshield where the air would cleanly deflect over our helmets. For myself (I am 5ft 10), the lowest setting directly diverted the air towards my visor, which caused massive buffeting. This also creates a lot of wind noise inside the helmet, which, if you aren't wearing earplugs or some in-ear headphones, could lead to hearing damage in the long run.
At the tallest setting, I found it a tad more bearable. But even with this, the air was directly hitting the top of my helmet, which strained my neck muscles. Definitely not something that would leave one happy at the end of a few hundred kilometres.

Also, we would have liked the wide bars to be slightly rotated towards the rider. Currently, your upper body is in a hunched position. If you pull back the controls a little, it will ease a lot of tension off your shoulders, making your upper body as relaxed as your lower half. It surely has one of the comfiest saddles, and this simple handlebar tune-up should make a world of difference.
For shorter riders, handling the Multi can be a bit of a task. It isn't a slim ADV, like the new Triumph Tiger 900 or even the Honda Africa Twin 1100 (as you are almost straddling one of its cylinders). Hence, its midsection and seat are pretty wide. What makes it even more challenging is the relatively high 840mm seat height.

Skyhook-ing Your Journey
First introduced on the 2013 Multistrada 1200, Ducati's trademark Skyhook electronically adjustable suspension has now made its way down to the baby Multi as well. That's one of the most integral parts of the 'S' variant, offering ample adjustability that can be selected by a few simple clicks.
The DSS (Ducati Skyhook Suspension) has four preload presets and five levels of damping control. The preload presets are pretty easy to understand: rider, rider + luggage, rider + pillion, and rider + pillion + luggage.
While we didn't fiddle around with the preload settings as much on our ride (considering we always rode it solo), we did try out the various damping levels on offer. Once you dial down the settings to 'softest' (or even 'soft'), the Multi starts to wallow. While road imperfections are dealt with nicely, we felt the suspension could have regained composure sooner. Plus, it discourages sport riding and feels a bit unnerving while pushing the bike in corners.

In that regard, we had no complaints about the medium setting. The suspension is pliant enough to absorb any mid-corner bump without unsettling the bike. We preferred having this setting both in slow-speed city traffic and over some fast-paced highway sections, considering the oscillations were far better controlled. Even though it has a firm edge, it never tosses you off the seat, even over sharp bumps.
You could switch to a stiffer setting if you are looking at pure cornering thrills. But we recommend you stay away from the hardest one on Indian roads. It is far too stiff, which would be great for smooth European roads.

What About Off-road?
The Multistrada gets a dedicated 'Enduro' riding mode that changes multiple parameters of the bike in an instant, allowing you to tackle rough roads and harsh terrain with ease. Engine power isn't dialled down, but you get healthier bottom-end performance - perfect for getting out of sticky situations. Traction control remains active at level 1, but you could switch it off altogether if you are a skilled off-roader. Also, ABS is deactivated on the rear wheel, allowing you to stamp on the rear brake and lock the rear if needed.
Taking the Multistrada 950 off-road is a bit of a task. Its top-heaviness becomes quite apparent, and it is not fun when you have almost 20 litres of fuel sloshing around in the tank as you try and negotiate around potential hazards. Given how beautiful this motorcycle is, taking it trail-hunting isn't advisable for fear of dropping it and damaging any of its gorgeous panels. And adding extra crash-protection merely for off-roading wouldn't be doing its design any justice.

Simply Stunning
It is not quite love at first sight, but the design is pretty expressive. This large red angry bird looks imposing from all angles, especially for new big bike riders.
The Ducati shows off its premium edge with the packaging of the bike. There's not a single bolt or allen head visible on the body. And its red trellis frame -- a trademark Ducati element -- adds a touch of sportiness.
The Multi 950 uses all-around LED lighting. The headlight leaves no area for complaints, thanks to its intense beam that can illuminate a large chunk of the road ahead. It also gets cornering lights, which should really help if you plan to ride on winding mountain roads in the darkness. A lovely touch here are the self-cancelling turn indicators, which are a boon for city riding.

Completing the package is a small yet well-laid-out colour TFT dash. It has just one layout with the speedometer and bar-type tachometer taking centerstage. It is simple to toggle between data and change ride modes on the move, courtesy of an intuitive toggle switch on the left-hand-side that doesn't take much time to get used to.
However, the bi-directional quickshifter was a bit of a let-down. Usually, we have raved about this riding aid on all Ducatis, but the Multi's quickshifter felt a bit clunky, especially when downshifting. But this could also have been an issue with the test bike as it had barely crossed 1000km on the odometer. The first service can sort out the problem somewhat.

The Big Question
The asking price of Rs 15.49 lakh (ex-showroom India) for the Multi 950 S is a bit hard to digest. Yes, it is exotic and is one of the most exciting motorcycles in the middleweight ADV segment. It has a brilliant motor, phenomenal ride, and a vast array of electronic rider aids to make every journey a blast.
But you could get nearly all of that from the latest Triumph Tiger 900 GT for Rs 1.8 lakh less. The only thing that you end up missing is the amazing Skyhook electronically-adjustable suspension.
The taxes levied on the Multi hurts its case more. Since it is a CBU (and not a CKD like the Tiger), the Multistrada 950 S's price shoots up to Rs 19.75 lakh on-road Pune, whereas the Tiger is still a pretty reasonable Rs 16.48 lakh. Sure, taxation in certain states would keep the on-road price a little lower, but it's still going to be a tall order for many riders to shell out that kind of money.
Is it worth the extra cash? Maybe not. Is it worth the experience? Maybe yes. Would you end up regretting if you bought one? Absolutely not. The beauty of the Multistrada 950 S is that it is a touring enthusiast's ADV, one that doesn't like mucking around in dirt all that much but would rather have you try to one-up sportbikes on the twisties or on trackdays.
More on Ducati Multistrada 950

Rs. 15.49 Lakh Onwards
Ex-showroom, Delhi
Multistrada 950 Alternatives
See what our community has to say!
NEW
India's largest automotive community