Triumph Tiger 900 GT Road Test - The Most Sensible Middleweight ADV?
---
Can the road-biased Tiger variant be the one motorcycle to do it all?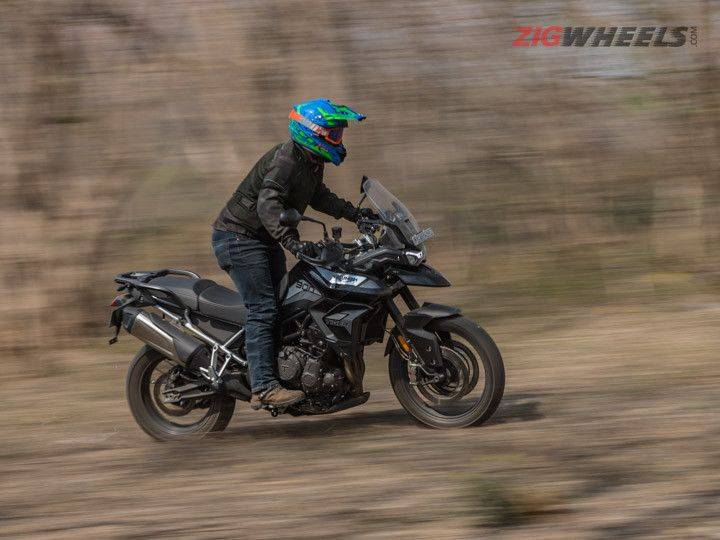 Just a few months ago, we had a go on the Triumph Tiger 900 Rally, the all terrain conquering variant of Triumph's middleweight adventure series. It is definitely a massive upgrade over the old Tiger 800 XCx, both in capability (on- and off-road) and usability. Still, its 196kg heft and vertigo-inducing 870mm seat height can get a bit too much to handle for newbie/amateur adventure enthusiasts. Luckily, there's a slightly more accommodating version of the bike -- the Tiger 900 GT.
Now, I am not going to bore you with just how much of a step up over the old Tiger 800 this new Tiger 900 is. It has been tackled extensively by Kartik when he spent a couple of days with the 900 in Morocco and also in our road test review of the Rally variant. Here, the objective is to find out how much more manageable the GT is, where it excels over the Rally, how much off-roading can it actually do, and could it be the only bike that you will ever need?

More Manageable?

| | | |
| --- | --- | --- |
| Dimensions | Triumph Tiger 900 GT | Triumph Tiger 900 Rally |
| Seat height | 810mm-830mm | 850mm-870mm |
| Dry weight | 194kg | 196kg |
| Width | 930mm | 935mm |
| Wheelbase | 1,556mm | 1,551mm |
| Rake/trail | 24.6 deg/133.3mm | 24.4 deg/145.8mm |
A glance at the dimension table above and you will automatically be a little less intimidated by the GT. Now, I am 5 feet 10 inches tall with large thighs. The 40mm lower seat height on the GT did help me in crawling traffic or when managing the bike in parking scenarios. It was significantly easier to flat foot the GT. Shorter riders will appreciate the fact that the seat height can be set at as low as 810mm, making the Tiger 900 GT more accessible than a KTM 390 Duke.
The wide handlebars and sharper steering geometry make it a nifty city slicker. This seemingly gigantic motorcycle is able to squeeze through peak rush hour traffic like its an entry-level ADV, kind of like a BMW G 310 GS. Triumph engineers have packaged the motorcycle so neatly that you rarely feel its heft on the go. The only time I got the sense that I was astride a near-200kg motorcycle was when I was making sharp U-turns. Those with shorter hands will find it a bit tricky as well cause you will need to extend your upper body quite a bit at full lock to make a U-turn.

Areas Where It Excels
With a variant name that literally means "Grand Touring," what did you expect? It is simply effortless at clocking 120kmph on the highway all day long. The redesigned adjustable windshield does a good job of deflecting a lot of air around the rider's body. And yet, the rider stays cool with the neat little slats in the fairing directing the little streams of air to the rider's torso.

| | | |
| --- | --- | --- |
| | Triumph Tiger 900 GT | Triumph Tiger 900 Rally |
| Highway fuel efficiency | 23.66kmpl | 19.6kmpl |
| Fuel tank capacity | 20-litres | 20-litres |
| Estimated range | 473.2km | 392km |
The lowered stance also allows the GT to be more aerodynamically efficient than its Rally sibling. The engine isn't working as hard to cut through air when reaching triple digit speeds. The smaller 19-inch wheel with a slightly wider section tyre adds to the overall stability. And thus, there's a stark improvement in highway fuel efficiency, as the GT delivers nearly 4kmpl more, allowing you to ride for longer on a tankful.

| | | |
| --- | --- | --- |
| | Triumph Tiger 900 GT | Triumph Tiger 900 Rally |
| 100-0kmph | 44.17m | 52.22m |
| 80-0kmph | 15.90m | 19.76m |
The switch to a chunkier and smaller front tyre, and more fierce bite from the Stylema calipers does allow the GT to come to halt quite rapidly. However, it does feel a bit nervy when grabbing a handful of brakes and that's down to two reasons. Firstly, ABS intervention in Sport mode kicks in right at the very last minute, almost right on the edge when you feel the front end might lock up.

This front-end scare becomes a bit too prominent thanks to the Metzeler Tourance Next tyres. These dual-compound tyres aren't the greatest when it comes to outright traction and the bike deserves some better rubber, something like Bridgestone's Battlax Adventure found on the BMW F 850 GS and even on the Rally.
And another reason why you might want to switch to some better rubber is the lack of edge grip on these Metzelers. The Tiger 900 GT allows you to carry a lot of lean, grinding the peg feelers on numerous occasions. But right before you grind these feelers, the tyres start to feel skittish and this serves a warning that you are pushing these tyres, not the bike, a bit too much.

Soft-roading
The Tiger 900 is a beautifully balanced motorcycle. The GT's Marzocchi suspension components do not offer as much travel as the Rally's Showas but that should not be too much of a problem for the most part. It manages to handle bad road sections quite well and even stays composed over prominent highway undulations while carrying a decent pace. Despite running a slightly firm stock tune, it is quite rare that you will feel sharp bumps.
The GT is not going to be as adept as the Rally on a trail, that's given. But when you do wander into the countryside to look for that perfect picturesque spot for the 'gram, it will not disappoint. You have to keep your expectations in check and spend a day or two setting up the suspension for your weight and riding style to enjoy the soft-roading experience even more.

The Only Bike?
The Triumph Tiger 900 GT comes extremely close in being that one perfect motorcycle to literally do it all. It ticks all the right boxes that you want in a road-biased ADV and can do a fair bit of off-roading too. It could do with better tyres, yes, but that's a fairly easy fix.
The lack of connectivity features isn't that much of a bother as you can either spend Rs 20,000 and get the bluetooth module fitted from your Triumph dealer or spend a lot less and just get a good mobile mount. Even if you choose the former option, the overall package will still turn out to be significantly cheaper than the Ducati Multistrada 950S.

The Tiger Dilemma
If you are confused whether you should get the GT or the Rally, you need to ask yourself this basic question: just how serious are you about going off-road with a large adventure bike? If the answer is quite serious, then only should you think about spending the extra Rs 65,000 and get the Rally. For everything else, the GT should do just fine.
That, though, was until the Tiger 850 Sport came onto the scene. The 850 Sport is slightly low on performance, misses out on adjustable suspension and there's no IMU here to aid the electronics suite. But crucially, it is priced at Rs 11.95 lakh (ex-showroom India), Rs 1.75 lakh less than the GT. Suddenly, the Tiger 850 Sport ends up offering the best value in the Tiger family. Sure it might lack the off-road prowess of the Rally, and even the GT to a certain extent, but with the money you save, you could get a Hero XPulse 200 with the Rally kit for all your trail riding escapades.
Triumph Tiger 900 Video Review
More on Triumph Tiger 900

Rs. 13.70 Lakh Onwards
Ex-showroom, Delhi
See what our community has to say!
NEW
India's largest automotive community