Triumph Tiger 900 Rally Road Test Review
Nov 22, 2020
Views : 2761
---
Triumph's middleweight ADV now comes with a larger engine, more sophisticated hardware and a lot of riding aids. How much of an improvement is it over the outgoing Tiger 800?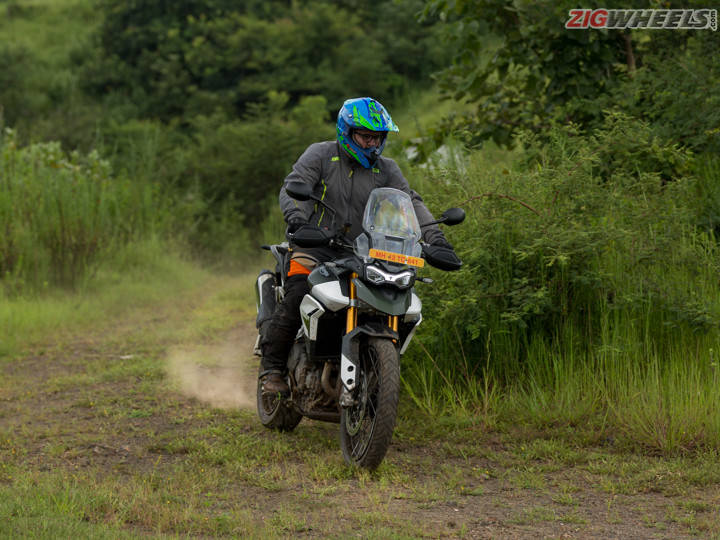 The credit for the rise in popularity of the ADV genre in India can be attributed to the Triumph Tiger 800. The British middleweight ADV sold handsomely, tapping into a market that other premium brands didn't see potential in or had priced their products too premiumly to be accepted by Indian enthusiasts. Since then, the others just have had to play catch up. Now, with the updated larger Tiger 900, Triumph seeks to offer the same charm of the older Tiger 800 but with added capabilities and more user friendliness. We were able to get our hands on the off-road focused Rally variant for a few days. Here's our impression of the same.

Lean Kitty
The Tiger 900 has undergone a major overhaul in every single department. It has a sleek and tall look, shedding a few inches off from the old 800. Coupled with the slim LED face, high-rise short beak and the exposed tubular steel trellis frame, the Tiger 900 seems to be a lot more purposeful and eager to go off-road.
In this particular shade of khaki green and white, the Tiger 900 is rather stunning. It plays well with the hardcore adventure vibe of the Rally variant and bits like the gold USD fork and white trellis frame add to the fervour.

Pumped Up Heart
Although the old 800cc mill was quite a versatile engine, it could have definitely done with a little more punch lower down the rev range. Triumph has taken this into consideration while crafting the new 888cc mill, making sure that there is a better spread of power.

| | | |
| --- | --- | --- |
| Powertrain | Triumph Tiger 900 | Triumph Tiger 800 |
| Engine Specifications | 888cc inline-three cylinder, liquid-cooled | 800cc inline-three cylinder, liquid-cooled |
| Power | 95.2PS @ 8,750rpm | 95PS @ 9500rpm |
| Torque | 87Nm @ 7,250rpm | 79Nm @ 8050rpm |
| Gearbox | 6-speed | 6-speed |
It is a bit of a shame that despite gaining 88 cee cees, the new motor still cannot break into the 100PS club. Triumph states that this helps them to detune the engine for the A2 license rider, something which would not have been possible easily if it provided more juice. Nevertheless, there is a big gain in torque on the new 888cc mill - 8Nm more generated at a lower rpm. Add to that the new 1-3-2 firing order and this Tiger 900 leaps forward like a big cat hunting down its prey.

| | | |
| --- | --- | --- |
| Acceleration | Triumph Tiger 900 Rally | Triumph Tiger 800 XCx |
| 0-60kmph | 2.11 seconds | 2.23 seconds |
| 0-100kmph | 4.06 seconds | 4.27 seconds |
| 30-70kmph in 3rd gear | 2.49 seconds | 2.76 seconds |
| 40-80kmph in 4th gear | 2.88 seconds | 3.39 seconds |
The new Tiger might be fractionally quicker off the line but the wider torque-band really gives it an edge in the city. It pulls away from speeds as low as 45kmph in fifth gear without much agitation. You do not need to downshift as often as you would've earlier to make those swift overtaking moves.

Triumph has optimised the gear ratios, lending it a taller fifth and sixth cog. The engine is more than happy to sit at 120kmph on the highway, with more than enough poke left to just zoom by anything in your path.

| | | |
| --- | --- | --- |
| | Triumph Tiger 900 Rally | Triumph Tiger 800 XCx |
| City fuel efficiency | 16.83kmpl | 20.9kmpl |
| Highway fuel efficiency | 19.60kmpl | 23.8kmpl |
| Fuel tank capacity | 20 litres | 19 litres |
This added usability has come at the cost of frugality: this new 888cc engine sips a lot more fuel in both the city and on the highway. Thanks to a slightly larger fuel tank though, the overall range shouldn't be affected all that much.
Authentic triple lovers might find the raspy tune of the new 1-3-2 coarse and unwelcoming. However, this new exhaust and engine note makes the riding experience feel quite sporty. It starts up angrily and continues to be quite expressive as you gather pace. You do miss out on the characteristic whistling sound, a small price to pay in our opinion for the added rortiness.
One cannot complain about the refinement levels on the Tiger 900. Even when revving quite hard, there are hardly any signs of unrest from the engine. Still, those of you hoping for the old motor's buttery-smooth feel to have carried over on this new bike will be a little disheartened.

Another area where the Tiger 900 has taken a giant leap forward is in the electronics department. Both traction control and ABS are now aided by a six-axis IMU from Continental. We rarely found the traction control kicking in within city limits. Even when it did, the intervention was subtle and not too intrusive, with only the flashing tell-tale sign on the dash letting you know the system was doing its job.
You get four riding modes on the Rally variant: Rain, Road, Sport and Off-road. During our time with the bike, the monsoons had just begun to ebb away, making some roads quite tricky to ride on certain occasions. Still, you could stick it in Road and ride without a worry. Rain was a bit too tame for our taste, with the ABS more sensitive than we would've liked. We did enjoy the Sport riding mode out in the fast twisties, as the sharp engine response kept us hooked throughout the ride. We shall come to the Off-road mode a bit later on. You can change each parameter of these modes to your liking via the switch-cube and massive 7-inch TFT screen, with the option of reverting back to default settings also available.

Poised Prowler
There is no way to get around the feeling of top-heaviness on an adventure motorcycle. But Triumph has done a decent job by mitigating the feeling on the Tiger 900 to a great extent. Firstly, the bike is around five kilos lighter, tipping the scales at 196kg (dry). Thanks to the new engine and its mounting, the centre of gravity has been optimised, lowering it by 20mm and pushing it 40mm forward compared to the Tiger 800. The fuel tank, a new 20-litre unit (1 litre extra), isn't too tall either. All of these factors enable the rider to feel quite confident chucking this near-200kg bike into a bend.
There is that slight bit of hesitation in changing directions that you get from running a 21-inch front wheel. Nothing to worry about too much though as the wide bars offer ample leverage, and a sharper rake minimises this trait to a certain extent.

What you will appreciate though is that just how poised this beast feels out on the open road. The front end doesn't get light (unless you force it to do so off the tarmac), there is no squirminess from the road-focused dual purpose Bridgestone Battlax Adventure rubber and when called upon, there are literally no better braking units in the market than the Brembo Stylema calipers. Usually found on fire breathing track-scorchers, the fierceness of these brakes has been toned down to suit an ADV. There is a lot more progression in the system - a useful feature when braking over loose surfaces.

| | | |
| --- | --- | --- |
| Braking | Triumph Tiger 900 Rally | Triumph Tiger 800 XCx |
| 100-0kmph | 52.22m | 50.66m |
| 60-0kmph | 19.76m | 18.71m |

Easy Yet Tiring Off-road
In the right hands, the Tiger 900 Rally can be an exceptionally great off-roading tool. For someone like me who has just about got the hang of riding off-road, it did feel a bit tiring. It isn't easy jumping from my daily rider, the Hero XPulse 200 - a bike that weighs half as much as the Tiger and has one-fifth the power, to this large ADV. It does require sharp reflexes, especially if you were to wade into uncharted waters, or terrain. The stand-up riding posture was quite nice, the bike feeling quite balanced even when standing on the serrated pegs.
What made me feel uneasy was the Off-road mode. It gets a dedicated off-road throttle map with better low-end performance as well as an anti-stall feature that raises the revs just slightly to stop the motor dying on itself when you are in a jam. The ABS intervention is killed at the rear wheel, allowing you to lock the rear brake when the need arises. The troublesome bit is the traction control. It isn't completely off here. There is just a little hint of intervention, not allowing the rear end to spin up too much. We're sure most off-road riders would appreciate not having any form of intervention, allowing them to slide their way out of a tight spot. That said, a newbie adventurer might find this useful. You can fiddle with the bike's computer and switch off the traction control but as soon as the ignition is turned off and on again, the TC once again becomes active.
The Tiger 900 has an extremely tall stance, boasting 240mm/230mm of front/rear travel and full-adjustability. While soft-roading, the suspension soaked up almost every single obstacle in its path. The stock tune though is a bit firm, especially the rear end that caused the rear wheel to skip and bounce over small rocks. Had we got more time with the bike, we could have spent more time in fine tuning it for my weight. The front end is a bit more pliant and not bouncy like the rear, helping the rider choose his path through a series of obstacles with relative ease.
There are finally tubeless spoke rims here. Despite them being costly units, they can take a beating. The obvious advantage is that repairing punctures will not be a tedious affair.

Tall But Manageable
As daunting as the spec sheet might suggest the 870mm seat height is, you would be pleasantly surprised how manageable the bike actually is. I am 5ft 10in tall and I was able to just tip-toe the motorcycle. I would blame that more on my large thighs as someone who is equally as tall but more regularly proportioned would not find it too difficult to reach the ground. Someone who is slightly lean or has dandy legs, will appreciate just how slim the midsection of the Tiger 900 is. For others, you could start learning the off-road method of just placing a single foot on the ground and the other on the footpeg.
Triumph has pulled the handlebars closer to the rider by a centimetre, meaning shorter riders don't have to stretch as much to reach the bars, unless you have to take a U-turn or a pretty sharp turn. I found myself stretching a bit more than I would have liked in such scenarios.
Thanks to a new dual radiator setup, the engine heat dissipation has improved. The hot air is diverted away from the rider's legs. It's no longer blown directly behind, heating up the chassis inadvertently, making it difficult to straddle the bike. There is a small plastic guard on the chassis that is meant to protect the paint of the frame. However, it juts out ever so slightly, sort of poking my knees and thighs, and that did irk me a bit.
Rally Is Rally Enough?
If you are going to ask us whether you really need the Rally Pro trim then the answer is - "It depends". If you are one to enjoy open roads and would love to control your music, attend to calls via your helmet communication device and also navigate your way through unknown areas without having to stop to take your phone out, then get the Rally Pro. The MyTriumph Bluetooth connectivity module comes standard on this trim allowing you to do all of the aforementioned activities as well as control your GoPro. Plus, you get heated rider and pillion seats as standard, a must have if you are going to be riding in cold regions. And not to forget Off-road Pro mode, that switches off traction control completely. Mind you, these bits, except for the riding mode, are also offered as accessories. But the cost of fitting them individually on the base Rally model will be way more than the Rs 1.15 lakh premium that Triumph currently asks for the Rally Pro trim.

Should You Sell Your Tiger 800 & Get This?
If you have the pre-2018 XCx version, then yeah. The Tiger 900 Rally offers more usability and has better credentials to explore Mother Earth. As a highway tool, the engine's new punchy characteristics help you sustain higher speeds with a little more ease. In the city too, one doesn't need to work the gearbox much, and the tall seat height just gives a better view over traffic. And if you are seriously going to be taking it off-road then you might not get anything better in its asking price of Rs 14.35 lakh (ex-showroom India). Still, we would like to have a spin on the sensible road-biased GT trim to recommend which Tiger 900 variant you should opt for.
Triumph Tiger 900 Video Review
More on Triumph Tiger 900

Rs. 13.70 Lakh Onwards
Ex-showroom, Delhi