Triumph Daytona 675R India Review
Dec 23, 2014
Views : 42870
---
Fast, fun and fantastic. That's the Triumph Daytona 675R for you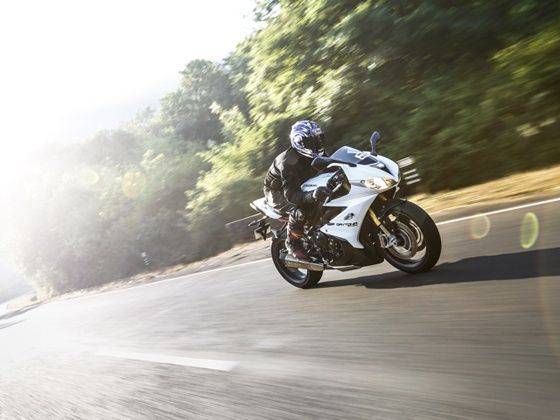 Think Triumph and lot of things come to mind from beautiful scrambler customs based on the Bonneville to one of the coolest cruisers around - the Rocket III; then again, how can you not like a motorcycle with a name like that. But a fully faired sports bike? Isn't that Japanese and Italian territory? Plus, not only have the latter been making such bikes for longer, they have a wider variety to choose from as well. So, is it really worth spending your hard earned money - and it's not cheap, mind - on a British sports bike, when you already have a plethora of bikes to choose from?
Design & Features: rating_3.5_rating
At least on the styling front there's nothing wrong with the Triumph Daytona 675R. Yes, it isn't as futuristic looking as modern day Kawasaki's. But then it isn't controversial enough to polarise opinions either. It is an easy on the eye, nicely proportioned, no nonsense, and likeable sports bike. It's more for function than ultimate form; and with it, more for riding than posing. But on this R version, there's some carbon fibre to help the Daytona lose weight and look more exotic. There's some on the fairing and then some for the front and rear mud guards.
The Daytona also comes with comprehensive instrumentation. The design of the clocks isn't something we'd call exciting but it scores high on usefulness. Besides the regular odo, trip and tachometers, the Triumph also gets programmable shift lights, a lap timer and three settings for the ABS - on, off and track. The seating on the Daytona, meanwhile, is demanding. The footpegs are high and rear set; the clip-ons, low and a far out; and the large tank almost always seems to get in the way. It's not a bike you'd want to tour on for sure. Or commute within the city with. Now, it's not as front heavy or cumbersome as many other race replicas but it's still a handful with its racy seating and limited turning radius.
Engine & Performance: rating_4.5_rating
The engine is clearly the highlight of the Daytona. The three-cylinder, liquid cooled 675cc engine might have the exact same displacement as the Street Triple, but the Daytona's motor uses a shorter stroke, different injectors and titanium valves among other juicy bits. The end result is a punchier, easier revving and smooth engine with an exhaust note to die for... Thanks to the Arrow end can, of course.
The engine makes 128PS which is enough really to put a grin on your face every time you open the throttle. And open that throttle you must for the way the engine charges towards its redline is a sight to behold. The Daytona 675R comes with a quick shifter and a slipper clutch. So banging up or down the gearbox, no matter what revs is delightful. As far as figures go, the 675R can hit 100kmph in under 3.5 seconds. And can then hit a top speed of about 250kmph. The only thing one needs to get used to about this engine is the constant whistling... it can get irritating sometimes.
Ride, Handling & Braking: rating_4_rating
If the engine is the icing on the Daytona cake, it's dynamics is the cherry on top. The Triumph Daytona 675R runs your typical twin spar frame along with fully adjustable USD front forks and rear monoshock. The 120 and 180 section front and rear 17 inch tyres are all industry issue as well. But because this is the R, it gets top spec Ohlins suspension, carbon fibre bits like on the mudguards and lighter wheels with stickier tyres.
Now add lightness and compactness to this mix of top spec cycle parts and sticky tyres and you have one fantastic handling motorcycle; one that's probably breed for a race track. You never really need to fight it; it drops into corners with the lightest push of the handle bar, traces the exact line you want around that corner and then stands up without a fight for a quick exit. It is nimble, full of feedback and easy to ride fast. Bottom line - it might not be as quick as litre class rockets in a straight line but around a twisty road with its light, willing and sharp nature, the Daytona in the right hands might prove to be the better bet.
You have also got to love the brakes on this Triumph. The Daytona R gets 4 piston Brembo Monobloc front callipers designed to resist brake fade. The twin 310mm floating discs these callipers act on help in offering superb bite and feel. And then there's ABS; so no matter how hard you grab that lever, chances are you will remain upright and alive. And we must say, the R features one of the best calibrated ABS systems we have experienced on a motorcycle.
Fuel Efficiency & Price: rating_2_rating
Honestly, fuel efficiency shouldn't be a concern for prospect Daytona buyers. That's not what the motorcycle is designed for. However, what you do need to know is how far it will go on a tank full of petrol. With a 17.4 litre tank, you are looking at a range of around 270km. As far as pricing goes, at around Rs 12 lakh, the Daytona is one of the most expensive 600s one can buy in India. But, in terms of supersports performance and appeal, it is right on top as well.
Verdict: rating_4_rating
Sure, the Triumph Daytona 675R is expensive. It doesn't look as exotic as some of the other sports offerings either. And it is a silly purchase for everyday street riding. But then, this is a proper sports bike; one meant to be enjoyed at a race track or on a twisty road at the least. And on both those counts, the Daytona R delivers, and does so in spades be it handling, braking or sheer intuitiveness. And we love it. It's not great value or even practical or even a trophy purchase, but it sure is tremendous fun!