The Ducati Multistrada V4 Will Be The Most Powerful ADV Ever!
---
The new 1,158cc V4 Granturismo engine is also lighter and more compact than the 1,262cc L-twin Testastretta mill
The V4 Granturismo is built on the learnings of the Desmosedici Stradale engine used on the Panigale V4 & Streetfighter V4.
The 1,262cc L-twin might no longer be available on the Multistrada going forwards.
Ducati will showcase the Multistrada V4 on November 4.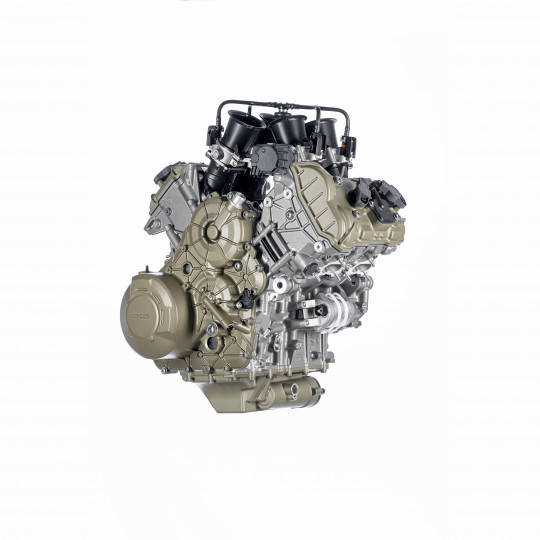 170PS and 125Nm might sound just about reasonable for a middleweight sportbike. But for an adventure bike, it is properly bonkers. The crazy engineers at Bologna thought it was okay for their next Multistrada to be the third most powerful bike that they make. While we will have to wait to know everything there is about the new Multistrada V4, Ducati has revealed everything about the engine. And it starts with a beautiful name: V4 Granturismo.
Granturismo, or grand tourer in English, is a befitting name for an engine that is primarily going to be sticking to tarmac, chomping down miles eagerly. Ducati has put all of its learnings from building the Desmosedici Stradale motor, found on the Panigale V4 and the Streetfighter V4, into making the V4 Granturismo. It is a slightly larger motor, displacing 1,158cc, 53 cee cees more.
What is even more stunning is that Ducati has managed to make this new V4 engine 1.2kg lighter than the 1,262cc L-twin Testastretta motor that was available on the Multistrada 1260. Ducati states that the new V4 is 95mm shorter in height, 85mm shorter in length and just 20mm wider than the twin. There is no confirmation yet but Ducati's press release hints that there may no longer be a Multistrada 1260.

It will get the usual smattering of IMU-based electronic rider aids like every other modern Ducati. Plus, it will have a radar-based adaptive cruise control system, a first for any motorcycle. There are particular bits, though, that will impress you. Firstly, Ducati claims that the engine is suited for "adventouring." That means sport riding, touring and a bit of off-road too. Ducati's words, not ours. Then there's the heat management. At idle, the engine will shut the rear bank of cylinders, thus not only making it more bearable for commutes but also saving fuel along the way.

Lastly, the service interval of 15,000km or two years is phenomenal for such a performance-driven motor. In fact, one can go for 60,000km without needing a valve clearance check. And that is because Ducati has ditched another typical trait of Ducati motorcycles: no more Desmo valves. Yeah, the valvetrain uses traditional springs. You could call it blasphemous not to have the Desmo system but the system is quite complex and would not be as cost effective. Plus, the performance yield would not be too much to justify having the system on board.
We guess it will not be long before Ducati reveals the Multistrada V4 in its entirety. The large ADV will be brought to our shores by mid-2021. It is too soon to speculate the cost of the bike but if it is anywhere around the Rs 25 lakh mark, Ducati has a winner.
Ducati Multistrada V4 Alternatives