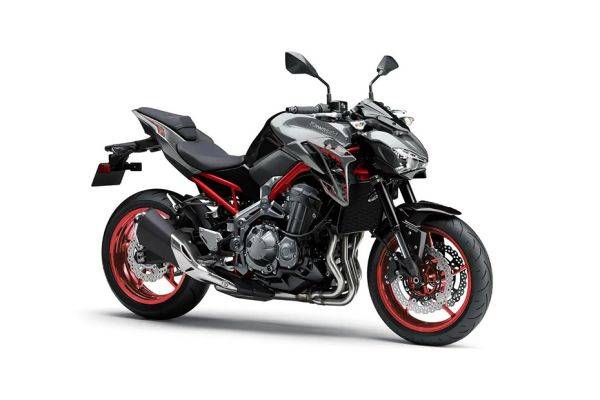 Kawasaki Z900 (2018-2020)
Rs. 7.69 Lakh
Discontinued Model since 21 Apr 2020
---
Kawasaki Z900 (2018-2020) Overview
The 2020 Kawasaki Z900 has been unveiled at the 2019 EICMA. The new-generation model is Euro 5-compliant and is likely to be launched in India in mid-2020. Expect Kawasaki to price the bike at around Rs 8.7 lakh (ex-showroom). For reference, the BS4/Euro4 model is priced at Rs 7.69 lakh (ex-showroom, India). For 2020, the motorcycle comes with a host of electronic aids such as three-level traction control system, two power modes and four riding modes in addition to the already-existing dual-channel ABS. While the engine is Euro 5-compliant, the output figures have remained unchanged at 125PS and 98.6Nm.
Other notable additions include a full TFT smartphone-compatible instrument cluster and an all-LED lighting system. The bike also gets grippier Dunlop Sportmax Roadsport 2 tyres. Kawasaki offers the bike in four colour options: grey, green, white and black.
Kawasaki Z900 (2018-2020) Colours
Bikes Similar to Z900 (2018-2020)
Must Read Questions & Answers Before Buying Z900 (2018-2020)
Q. Which would be better for a long ride Z900 or Street Rod?
Z900 is comparatively more aggressive, riding and sitting posture vise too. if you want the bike for long rides, il personally select a bike which won't be stressfully to ride. on long rides everything is fine till 3 fuel stops i.e till 500kms aft that you will start feeling it on your body if the bike doesn't suit you or the riding position doesn't suit you. personally it all depends on you. there are riders who have took busa to ladakh as well or do 1k km in a day on a busa. if you are fit enough you can ride z900 also if you ride and you know wat hurts and you really like z900 then you will work on it and figure out a way to ride it longer. hope that helps. ride hard ride safe bro 👍
Both are very different as you are comparing bullet vs ktm rc it depends on person taste of ride if you want fast and power of inline 4 cylinder engine go for z900 of you are torque lover and like classes look then go for street rod but if you ask me i would definitely choose z900 better test ride both then decide your self i think after test ride you cannot say no to z900
Z900 is best and most power full bike in segment
View All Answers
More Questions
Q. I am 5.3ft, can I ride Z900 comfortably?
If it is first time to ride 4 cylinder bike then definitely you will face difficulty in riding it is quite bigger for beginners don't get me wrong we feel that we can ride easily but it is way different for normal bike's like duke etc. they both are no similar to explain easily the difference between splenor and duke 390 and ns z900 = 1 : 2: 6 🤣🤣if you ask me first take test ride If possible try to ride more powerful bikes of your friends then decide it's height is somewhere around (RE GT 650)
Try to ride and gain experience with torquish bikes like a duke, rtr 300, yamaha R3 and then jump for a z900. If its your first time don't rush directly for a z900 or even for z800. I understand human greed and passion is hard to control and if you really wish for a high powered bike start with gsx750
You should have no problems if you know how to ride a powerful motorbike
View All Answers
Q. I am going to buy Z900, it's my first superbike. Can I handle it as I am a new rider as I only ride 150cc to 220cc bikes for almost 500 km. If it is not safe for me then will you help me to choose a bike that is suitable for me between 7lakh to 10 lakh
Definitely you can if you have prior experience of riding any bike.Before purchasing this beast i was also curious like you and 80% suggestion on internet was not to buy this bike if you don't have experience to handle any sports bike before.Although this bike is enough powerful but if you are good to control your temptation for high speed you are good to go.Also if you are buying 2020 model use rain mode for 1 month before trying road or sports mode. Just chill and enjoy.✌😀
Better to upgrade between 400-700cc segment. My very first motorcycle was Bajaj pulsar 180 it was the first bike in my state I still remember that feeling of my first motorcycle. Then I got re 350 that I sold out in 3 months was not satisfied with it. Then I waited 6 years for a motorcycle I wanted. It was ktm Rc 390 that I booked in 2014 and it was also the first in state, after that upgraded to Kawasaki er6n (first in my state) and now upgraded with Kawasaki Z900 (first in my state). We need to upgrade slowly if we want to master something.
Too powerful for you, go to a midsize first, devellop a good feel for it and than go bigger, these big bikes can be lethal!
View All Answers
Q. Which one is better Kawasaki z900 & Benelli TNT 600i
These bikes are in two different price rantand engine capacity, so you can't compare both.Overall I'm using Benelli 600i and using it for past 4 years its really a good bike in terms of power and service.
Which one has the better dealer network?
Double power full than 600i
View All Answers
More Questions
Z900 (2018-2020) Questions and Answers
Kawasaki Z900 (2018-2020) User Reviews
4.3/5
Based on 56 rating & 18 reviews
Write Review & Win iPhone
All

Performance (5)

Looks (4)

Comfort (3)

Service (2)

Experience (2)

Seat (1)

Mileage (1)

Speed (1)

Service Cost (1)

Power (1)

Tyres (1)
5.0

Naked/standard motorcycles

I have owned sport bikes, cruisers, and other naked/standard motorcycles. The list includes: 2004 Honda shadow 750 three times2007 Suzuki sv650s twice2007 Honda CBR 600rr2004 Suzuki sv1000sHonda CB600/Hornet2008 Kawasaki Ninja 6002007 Kawasaki Ninja 6502007 Honda VTX1300 twice (s and r)2008 Kawasaki z10002005 Yamaha fz62000 Kawasaki Vulcan 800 twice2005 Honda cbr1000rr1999 Honda cbr 600 f42010 Honda Stateline VT1300 Stateline And now 2017 Kawasaki Z900 abs.This has comfort and lightweight agility. It also mange's wind better than my old z1000. If you are looking for the perfect bike, check out the modern standards like the z900. My passion for riding is back!!!!

4.6

High speeds

Excellent performance.Great handling great mileage even when you cruise at very high speeds.Best bike for city and highways.Need to be careful on wet roads, Stock tyres are not good enough.

4.6

Long rides

I am happy with my z900, I use it for daily commute from my home to office and also for long rides. It"s a great bike, I am falling in love with this machine. Really impressed with its performance and everyday a fresh feeling I get from this motorcycle. You will never get bored from it.

4.6

Months back

Far batter then a Harley...!! I owned a Harley 48 before... Sold it couple of months back and got this one for me. Performance is much better and the service cost is very low as compared to a harley.

5.0

I love this bike very

i love this bike very much..............,.......................
Kawasaki Z900 (2018-2020) Expert Reviews

While it wasn't perfect, Kawasaki's hot-selling Z800 was a very tempting package. Will its successor, the Z900, stamp its authority in the mid-displacement category too?
March 31, 2017
By Abhay Verma Photography by Eshan Shetty