2018 Kawasaki Ninja 300 ABS: Performance Test Review
by Karan
Nov 12, 2018
Views : 17653
---
With some localisation, ABS and a hefty price drop, does the Ninja 300 now offer better value for money than before?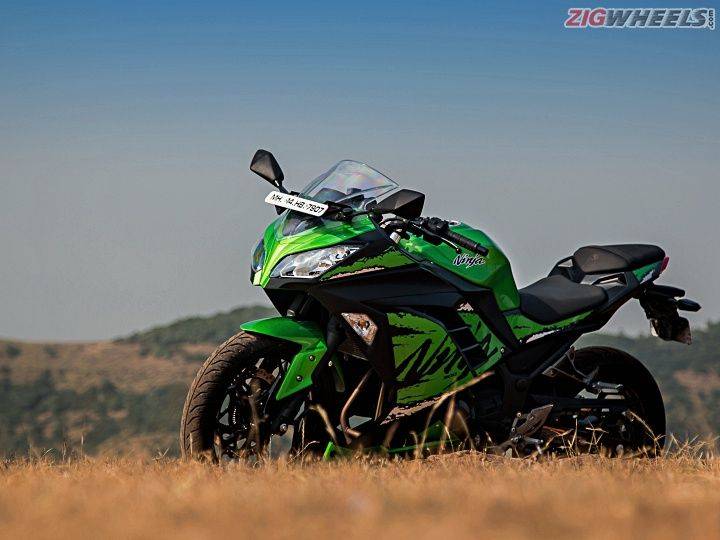 The Kawasaki Ninja 300 sold in India was always a very capable machine. Sadly though, it was let down a bit by two critical aspects: its below-average IRC tyres and the lack of ABS, the latter being a fairly big miss considering its (earlier) pricing of Rs 3.61 lakh (ex-showroom).
Recently though, Kawasaki India has sought to fix this with the launch of an updated Ninja 300 that brings in some localised components, and more importantly, improved safety in the form of a dual-channel ABS unit. Of course, the price has been dropped too. But while a more affordable Ninja 300 is something that'll always make us smile, we can't help but wonder just how much has changed, and whether making certain parts in India has affected quality in any way.
So here's a quick look at what's changed, how it has affected performance, if at all, and whether or not you're actually getting more motorcycle for your money.
Design & Features
The Ninja 300 retains its sharp, aerodynamic lines and its design inspiration from the Ninja ZX-10R. What's changed though are the graphics on the side fairing that proudly wears the Ninja 300 badging, spread across the panel. We particularly like the new decals as it not only adds some visual bulk to the bike but makes the design look more aggressive as well. Now, all these body panels form a major part of the Ninja's localised components, along with the wheels and tyres.

We will say though, localisation has affected the fit finish levels of the Ninja 300 upto some extent. This was visible in a few panels gaps around the front fairing. But apart from that everything seems solid.

Engine & Performance
On the motor front, nothing has changed. Owing to its extremely peaky power delivery and barely any grunt low down, the Ninja 300 still feels more suited for sport riding, where you can really rev it hard. While the 296cc liquid-cooled, parallel twin wakes up post 5000rpm, it feels best at the top end, which is post-9500rpm, to right upto the 13,500rpm limit.

For city use, the motor is quite tractable as you can manage riding at 30kmph in 5th gear without any judder. We managed a 30-70kmph roll on in 3rd gear in 4.13 seconds, while 40-80kmph in 4th was achieved in 5.05 seconds, which are healthy numbers. However, if you do aim to overtake a couple of vehicles, you will end up downshifting quite often in order to keep it in the powerband.

The Ninja 300 still manages a 0-100kmph time of 7.18 seconds, which along with the other numbers stated above, confirms that the state of tune hasn't been changed on the localized version.

Unlike the CKD unit we test rode earlier, the localized version does have a few vibrations kicking in at around 5500rpm, mostly near the rider seat and foot pegs. Not a major point of concern, though, as this doesn't really hamper the overall riding experience. That aside, heat dissipation is still one of the best we have come across, as there is no heat transferred to the rider, even in dense traffic conditions. The gearbox too shifts slickly, with no sign of false neutrals even when going through the cogs aggressively.


Ergonomics
A seat height of 785mm makes the Ninja 300 welcoming for most riders. Since the handlebars are slightly high-set, like that of a sports tourer, the reach is quite relaxed and doesn't really take a toll on your shoulders or wrists. The foot pegs, though not too rearset, are set slightly on the higher side. This allows for more cornering clearance, letting you lean the bike harder in corners. But the foot position does take some slight getting used to. That said, the overall seating position isn't uncomfortable at all.

Comfort and Ride Quality
The seat padding is just right -- neither too stiff nor too soft -- which is a boon for mile munching. There's a lot of room to move around for the rider as well. However, the pillion seat is good enough only for city commutes and isn't roomy enough for long hauls. The pillion grabrail is also well positioned for reach but honestly, the design itself is quite dreadful and detracts from the overall appearance. Hence, we got rid of it for the duration it was with us.

Speaking of ride quality, the front suspension is set up on the softer side compared to the rear. As a result, the front does a better job at soaking up bumps and potholes. On the other hand, the rear is set up on the stiffer side, which does transfer some shocks to the rider, especially on large potholes. But the thud isn't harsh enough to be a major annoyance.

In its standard setting though, the rear monoshock can soak up bumps a lot better with a pillion onboard. And if you are riding solo, you can always adjust the rear preload to suit your body weight. The good thing here is that there is not much vertical movement while tackling bumps, which really adds to the rider's confidence.

Cornering and Braking
The Ninja 300's chassis geometry is unchanged and maintains its 27 degrees of rake and 93mm of trail, along with its wheelbase of 1405mm. But compared to its predecessor, its kerb weight has gone up by 7kg, and the bike now weighs 179kg. Kawasaki says this is thanks to the inclusion of the ABS system, and slightly heavier tyres and wheels. But even though the weight (and some unsprung mass) has increased, you really don't feel much of a difference in the bike's handling.

The Ninja 300 turns in with a fair amount of ease and feels plenty stable when leaned over thanks to its long(ish) wheelbase. Even corner to corner transitions are handled with ease, with the bike feeling quite responsive to the rider's inputs. That said, it simply doesn't have the sharpness in handling that's anywhere close to its more nimble cousin, the Ninja 400. But it now feels generally more confident while cornering, as the new MRF Zapper FY tyres provide better grip than the rather hard rubber of the IRC tyres they replace.

The motorcycle also remains composed under hard braking now. Braking is now courtesy Endurance callipers, and as mentioned before, there's ABS as standard as well. The brakes themselves are quite responsive and the ABS too isn't very intrusive. However, under hard braking, the front brake feels a bit spongy and is low on feedback no matter how hard you squeeze the lever. The rear brake, though, feels sharper with a lot more feedback.

The improvement in braking can also be seen through the numbers. The earlier model managed a 100-0kmph stopping distance of 60.08m whereas the ABS-equipped Ninja 300 manages to do the same in 51.32m.
Verdict
Kawasaki has taken a massive chunk off the price for the 2018 Ninja 300 ABS by localizing select components. It now costs Rs 63,000 less than the previous Ninja 300, which also makes it the least expensive parallel-twin motorcycle in India - more affordable than even the Z250.

And it doesn't end there as our tests confirmed that the change of tyres and addition of ABS has made the Ninja 300 not just a better handling package but also a safer one at that. Yes, there are a few niggles when it comes to fit finish levels but that really shouldn't put you off when compared to what's on offer as a package at Rs 2.98 lakh (ex-showroom). When it comes to value, Kawasaki India has really delivered.
More on Kawasaki Ninja 300

Rs. 3.18 Lakh Onwards
Ex-showroom, Delhi
See what our community has to say!
NEW
India's largest automotive community