Honda Hness CB350 Pictures
Find high-quality images of Honda Hness CB350. New Honda Hness CB350 has 27 images. Checkout the front view, rear view, side view, top view & stylish photo galleries of Hness CB350. Honda Hness CB350 is available in 8 colours also.
To get more details of Honda Hness CB350, download Zigwheels App.
Honda Hness CB350 Images
All

(35)

Videos

(5)

Colours

(8)
Right Side View

Right Side View

Left Side View

Rear Left View

Front Right View

Front View

Rear View

Front Left View

Rear Right View

Head Light

Tail Light

Speedometer

Engine

Fuel tank

Seat

Exhaust View

Rear Tyre View

Front Tyre View

Front Suspension View

Rear Suspension View

Model Name

Model Name

Indicator Controller

Self Starter Button

Foot Rest View

Handle Bar View

Front Brake View

Night Star Black

Metal Marshal Green Metallic

Pearl Night Star Black With Spear Silver Meta

Matte Steel Black Metallic With Matte Massive

Athletic Blue Metallic With Virtuous White_42

Precious Red Metallic

Pearl Night Star Black

Matte Marshal Green Metallic
Night Star Black

Metal Marshal Green Metallic

Pearl Night Star Black With Spear Silver Meta

Matte Steel Black Metallic With Matte Massive

Athletic Blue Metallic With Virtuous White_42

Precious Red Metallic

Pearl Night Star Black

Matte Marshal Green Metallic
Honda Hness CB350 Exterior Images
Honda Hness CB350 Overview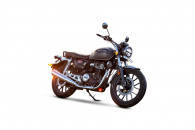 Hness CB350 User Reviews
All

Looks (12)

Service (9)

Engine (9)

Comfort (8)

Power (7)

Mileage (7)

Performance (7)

Experience (5)

Torque (5)

Speed (4)

Wheel (4)
5.0

Hi, i am 5.5 Height and 85 Kgs weighing, i have visited the showroom personally and the first glims on this bike caught my attention and trust me its an amazing looking bike, i like to testimony my understanding on this bike, firstly, looks is Fantabulous, its an Retro Bike and for city as well as long rides, while i sat on this bike i could easily reach out to floor my legs and the bike is so center balanced i could sit and tilt the bike towards left and right side upto 40 degree angle slanting and i easily could lift this bike up with no extra muscle power, the Tank capacity is 15 Liters which Honda has put thoughts on Long hassle free drives, the Handle & sitting posture is so accurate and less tension around while saddling the bike, now, on Engine, it is so well cut around for Heat Precipitation where the rider does not feel so much on the heat, below the Engine we got the Shaft Cover wherein, it is so well designed its more of futuristic method than legacy pattern, for pillion rider the Sari Guard is well positioned that it is not very noticeable good, Mileage 35Kms / Ltr is another good mechanical bring up on this bike, Torque and speed is more appreciated than others in this range, now, on to Digitalization its full and full mode operational with Bluetooth connectivity and so on so fourth (one need to explore by your self its an interesting bike) foremost with alloy wheels and Tubeless tires is what one needs now a day. All Lights Indicators and so on is LED, which enables your battery back life go long, last but least, this bike is for any ones choice and yes every person has many desires but this bike keeps / provides the best fit for once choice in all aspects right from color, performance, style, Digital, balancing, Mileage, Speed, ABS, TCS, Slipper Clutch and so on. trust me no one will ever regret on the purchase and investment done here. this is my honest views on this bike. Loved it. Thumps up HONDA you guys build the dream machine of every Indian.

5.0

Everything i say here is my own personal experience.It can vary from person to person.Driving experience and comfort is the best compared to its competitors.The power is adequate but not in a way that scares beginners.Low end torque is not good compared to the competitors.But in my opinion this motorcycle is not meant for low end.This is a good street bike not a cruiser.But not at all bad for touring purposes.Don't buy this as an alternative for re or jawa.Test ride this bike and see if it is suited for your purposes and buy afterwards.So don't get the wrong impression that this is a better re/jawa.This motorcycle gives its best performance at its mid range and it is great💥very nimble to handle in traffic.Felt very less vibrations.I felt the need of bigger mudguards in front as well as at the rear.Brakes are up to the mark.Lights are averagetorque control/traction control came in handy when i took the bike to offroad conditionsfor me this machine is perfect in every waysbest thing about this bike is it gives a smile on my face everytime i ride it.Not once i regret buying this wonderful machine.

5.0

Purchased on 21 july 2021 ride 4900km as on 22.10.21 (till date), Strong, Durable finishing is awesome.40kmpl tank full to tank full (mixed traffic including highway and traffic).Strong durability certify by an incident today happen at sardar patel marg a lot of traffic are the so sudden braking by continuously 4 bikes i was on 3 position suddenly bike behind me don't control over so there is sudden impact from behind.I have no discussion with him or even i don't seen his face just move forward after the incident after reached my destination i seen the bike only saari guard bend and small bend in number plate rectify by me by my legs pressing downward.Its not seen that such incident happen.As per safety point of view extremely satisfied.After purchasing it there is no feel that wasting of money.I am sure if any other bike on this place surely damage will be large.Very strong and excellent built quality.Many many congratulations and best wishes to honda for making such a great machine.

5.0

Bought this bike from jaipur on 25 dec 2020.I had benelli 600i tnt.While benelli was a tiger, Though little uncomfortable for long rides with pillion, This one is an excellent touring bike.Very comfortable, Good pickup, Smooth as butter and extremely comfortable for pillion.Excellent touring bike.Am yet to get servicing done, But have been promised a great experience by the dealer.Mileage etc not checked yet.Barely ridden 200km as am yet to go for long drives.Braking is excellent.Max speed tried is 110 kmph.But i guess it should reach 120.A very basic, Very comfortable mid speed touring bike.But that is what one can get at this price.

5.0

Just saw this bike on the internet. Photos, Walkaround videos..... and for the first time in my life, booked a bike. I love the minimalistic features with FI and balancer and slipper clutch for modern technologies. This looks like a easy to maintain bike. Honda's dependable badge will ensure quality, smooth engine gearbox powertrain and a neat mileageThe large engine (by Indian standards only ) will expand the two wheeler reach to 300 400 kms. Looking at the specs, we can expect it to cruise at around 70 - 100 kmph on the highways. The dual channel ABS should make it safe.......i have not yet ridden the bike.
Hness CB350 User Reviews
Images of Hness CB350 Competitors
5 Offers Available