Hero Maestro Edge 125 Images
All

(44)

360 View

(1)

Videos

(3)

Colours

(8)
Front Right View

Head Light

Seat

Exhaust View

Rear Tyre View

Front Tyre View

Model Name

Front Indicator View

Foot Space View

Stealth Edition

Prismatic Purple

Pearl Fadeless White

Panther Black

Matte Vernier Grey

Matte Techno Blue

Matte Red

Matte Brown
Stealth Edition

Prismatic Purple

Pearl Fadeless White

Panther Black

Matte Vernier Grey

Matte Techno Blue

Matte Red

Matte Brown
Hero Maestro Edge 125 360 View
Hero Maestro Edge 125 Video
Maestro Edge 125 Pictures
Find high-quality images of Hero Maestro Edge 125. New Hero Maestro Edge 125 has 36 images and 360-degree views. Checkout the front view, rear view, side view, top view & stylish photo galleries of Maestro Edge 125. Hero Maestro Edge 125 is available in 8 colours also.
To get more details of Hero Maestro Edge 125, download Zigwheels App.
Hero Maestro Edge 125 Exterior Images
Hero Maestro Edge 125 Overview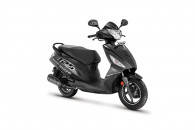 Maestro Edge 125 User Reviews
Performance

Mileage

Comfort

+ 2 more
Maintenance Cost

Features & Styling
Preferred For : Daily Commute
64% of users have given a rating of 4.5 and above
4.6

It is powerfull though I need more power 😅😅

5.0

Thanks for bike intrst look bike is to job.Work order i'm apocalyptica invited pekin by option best buy a look better.Althoughe bike mumbai.

2.2

Mastro गाड़ी की सर्विस ठीक नहीं है माइलेज 20.25. से ज्यादा है ही नहीं इसका इसके part Nahi मिलते हे बड़ी मुश्किल से इसके स्पीयर पार्ट मिलते है। हीरो सोरूम पर भी पार्ट avaleval नहीं होते है

5.0

Maestro edge is really like same to its caption, 'doo kadam aage' from others in this segment, I ripu daman purchased scooter from ayesha motors, Katihar.I feel best, As i take test drive of maestro edge, The technology is best, Suspension are great, I go too detailed before i purchase it, I come know about telescopic suspension which is use in bike same they have provided in scooter too, I3s technology is just fabulous, Also got integrated braking system which makes vehicle to safe.I will recommend to all that this scooter is best in class all features are available and when you are going for the resale it after 5 yrs you will get the best resale value in market because hero is hero.Thanks to ayesha motors team for this great scooter.

5.0

Hero maestro edge is a good scooty for men.Enough space to have comfort.Easy to ride as well in cities.
All Maestro Edge 125 User Reviews
5.0

Maestro edge is really like same to its caption, 'doo kadam aage' from others in this segment, I ripu daman purchased scooter from ayesha motors, Katihar.I feel best, As i take test drive of maestro edge, The technology is best, Suspension are great, I go too detailed before i purchase it, I come know about telescopic suspension which is use in bike same they have provided in scooter too, I3s technology is just fabulous, Also got integrated braking system which makes vehicle to safe.I will recommend to all that this scooter is best in class all features are available and when you are going for the resale it after 5 yrs you will get the best resale value in market because hero is hero.Thanks to ayesha motors team for this great scooter.

5.0

Mestro Edge is really like same to its caption , 'Doo Kadam aage' from others in this segment, I Aosenla purchased scooter from National Automoblies I feel best, as I take test drive of Mestro Edge, the Tecnology is best, Suspension are great, I go too detailed before I purchase it, I come know about telescopic suspension which is use in bike same they have provided in scooter too, I3s Tech nolo gy is just fabulous, also got integrated Braking system which makes vehicle to safe.I will recommend to all that this scooter is best in class all features are available and when you are going for the resale it after 5 yrs you will get the best resale value in market because hero is hero.Thanks TO National Automobiles for this great scooter

4.6

Excellent Product. I GOURANGA DAS have purchased this Product from INTERNATIONAL HERO . Mastro edge 125cc is having great pickup. Better than other scooters in the same category.Features like X-Sen s Technology and Hero Patented i3s technology gives more mileage and long engine life.the Scooter was great pickup was good there charging shoket more Performance, more Convenience, more comfort, more featur es and style was very useful design was good it look from the front like Activa and from the like Jupiter I am satisfied from these Scooter. Uses this bike for : Daily CommuteMileage : 50 kmpl

5.0

Excellent Product. I have purchased this Product from INTERNATIONAL HERO . Mastro edge 125cc is having great pickup. Better than other scooters in the same category.Features like X-Sen s Technology and Hero Patented i3s technology gives more mileage and long engine life.the Scooter was great pickup was good there charging shoket more Performance, more Convenience, more comfort, more f eatur es and style was very useful design was good it look from the front like Activa and from the like Jupiter I am satisfied from these Scooter. Uses this bike for : Daily CommuteMileage : 50 kmpl

4.2

Ahhh😭😭😭😭😭 I have buyed hero maestro edge 125 (fI) almost 5 month ago and after 15-20 days starting problem arise so i thought it would be solved after service but it not. Then I complain to service center they changed my scooter ECU and then it was fine my scooty was starting daily normally it was all going good But after lockdown the problm arise again my scooty isn't starting even now ... The temperature is also 30-40 ° Not only me there are many users of hero maestro edge 125 edge have same problem with this scooty Kindly improve the ECU and repair the scooty
All Maestro Edge 125 User Reviews
Images of Maestro Edge 125 Competitors