Bajaj Pulsar 150 Overview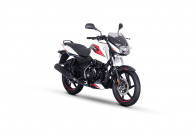 Pulsar 150 User Reviews
All

Mileage (313)

Comfort (288)

Performance (197)

Looks (177)

Maintenance (148)

Experience (90)

Service (71)

Engine (68)

Speed (66)

Pickup (59)

Style (58)
5.0

Does happy ever after exist? happy ever after is very romantic, We often hear these words when we are watching disney princesses' movies and as a little girl watching it, We dream of having our own happy ever after.I think most people who grew up watching disney movies have dreamed of being with someone they love so much and who loves them so much and have a happy ever after.Even as an adult, I always wait for the day it would come because i think that i would be the happiest person if it ever comes.But does happy ever after really exist? can we really find someone who will make us happy just like the princesses we have seen in movies? well, This is the reality and the things we sometimes see on movies might not happen in real life.However, You can change what happens in your life however you want it.It will if you have found your one true love.Happy ever after will exist if you have found your one true love.True love is very rare and it would take a long time to be able to find that one person who is destined for you.But if you do find them, You will have your happy ever after.You won't have to worry about anything in your life because there is one person by your side that will always support you when you do the things you love and they will never leave you no matter what happens.It won't if you are with the wrong person.Happy ever after won't exist if you are with the wrong person.You will know that you are with the wrong person if they make you feel uncomfortable or they make you feel neglected.When you are with the wrong person, You will never be happy although there are times that you would smile and laugh when you are with them, Those are just temporary and you won't really be genuinely happy inside.Just picture how happy you can be if you are with the right person.It will if you make an effort to make it happen.Happy ever after will exist if you make an effort to make it happen.There are times where we shouldn't put our life in the hands of destiny, Sometimes we need to make an effort if we really want to have our own happy ever after.If you make an effort and the right actions to go along with it, Then you will someday have your happy ever after.I just read this article which might interest you, You can read it here.It won't if you don't know what you deserve.Happy ever after won't exist if you don't know what you deserve.If you don't love yourself enough to know the things that you deserve, Then you will never be able to have your happy ever after.You will always be left with a love that isn't enough for you but you think it is fine because that is what you have been feeling.

5.0

When it comes to the best 150cc bike or for daily use just close your eyes and opt for **P****ulsar 150**. I am having the same and some of its special qualities felt by me are:- 1. It **looks so lovely when dim light glows in the handle** and at the **front side during sunset time**.2. Mixture of **simplicity and stylish feature**.Enclosure:- latest pic of my bike with me which is looking like a **newly bought one:-**3. **Awesome sound** when the accelerator is taken.4. Reaches to a **high speed in a couple of second**.5. Good **mileage of approx 45** and best for daily use.6. The best part is **digital meter with green light**.7. **Long life** and most running evergreen bike.8. The most important is it looks like a new one after years also.Take my example I bought it more than 3 years ago but when I clean it lil bit, it seems that I bought it just now and mostly people ask me whether I have bought another new one or what.So my suggestion is** just to grab it **and I love it and you must have heard **'life ki pehli bike kaafi special hoti"**.

3.4

it has been 2 months and i almost ride 50km a day and the style and riding angle is very good and breaking too is fine ofcourse its a new one everything will be fine for couple of years.coming to performance okay pickup and it wont go any further than 110kmph recently i traveled 610km 305 way up and 305 return where i didnt stop for a single instace which it took 3hrs and 24mins one side early morning at 109kmph as the bike automaticallytries to stop once it crosses 110on didgital meter it wont go any further than that although only 1st servicing is done.mileage at 109kmph it gave 44 to 46 and at 70kmph without any hard breaking it gave 49 to 51.if you can sustain at 40kmpl then go for top speed 200cc bike like rtr2004v or ns200 rs200 or ktm200cc ofcourse r15 legend in 150cc segment.i need 50kmpl in city road with comfort seating and bulky look so i chose pulsar 150twin disc

2.6

Respected sir, I had purchased Bajaj Avenger cruise 220 bike from Gems automobile hadpsar branch Pune. It was was purchased on 02/02/2018.But within two years it's speedometer display stopped working. Now due to covid 19 lock down I couldn't go to showroom. But now since everything has started I visited showroom for defect to get cleared. But it was come to notice that part must be replaced, now it's value is 3014 as per update received from showroom.My concern is how such low quality part was installed and if so do I must get it done in warrenty? If within two years any costly parts get's damaged it must be replaced in warrenty. My bike not ever had any accident nor any scratches.My humble request to look into the matter and communicate to concerns regarding same.

4.6

If we ask bajai customer care for a simple clarification, they would redirect us to showroom only. What is the use of this customer care ID. Useless. After getting to showroom, i came to know that Bajaj Neon is heavily priced. Not a budgeted vehicle. Cost is 25000 more than show room price (up to 15000 more is acceptable). They are misleading customers. Response for customer care email is also not clear. They wont give you details. They suggest you to go to showroom. But showroom will give you huge price for neon. Adding 6000 to that amount we could get a Apache rtr 4v abs single disc vehicle. Neon is old model with old spare parts. Their pricing is much high for a old stock vehicle parts.
Pulsar 150 User Reviews