Maruti XL6 Images
All

(26)

Exterior

(9)

Interior

(11)

360 View

(2)

Videos

(2)

Colours

(6)
Side view

Rear 3/4 left

Front

Rear back

Bumper

Fog lamp with control

Wheel arch

Carrier view

Rear 3/4 Right

Full dashboard center

Steering close up

Steering buttons left

Instrumentation console on start-up

AC controls

Air bags (3D)

Cabin view

Rear interior from right side door

Ambient Lighting View

Third row with half second row flipped forward

Seat Headrest

Premium Silver

Brave Khaki

Auburn Red

Artic White

Magma Grey

Nexa Blue
Side view

Rear 3/4 left

Front

Rear back

Bumper

Fog lamp with control

Wheel arch

Carrier view

Rear 3/4 Right
Full dashboard center

Steering close up

Steering buttons left

Instrumentation console on start-up

AC controls

Air bags (3D)

Cabin view

Rear interior from right side door

Ambient Lighting View

Third row with half second row flipped forward

Seat Headrest
Premium Silver

Brave Khaki

Auburn Red

Artic White

Magma Grey

Nexa Blue
XL6 Pictures
Find high-quality images of Maruti XL6. New Maruti XL6 has 9 exterior images, 11 interior images and 360-degree views. Checkout the front view, rear view, side view, top view & stylish photo galleries of XL6. Maruti XL6 is available in 6 colours also.
To get more details of Maruti XL6, download Zigwheels App.
Maruti XL6 Overview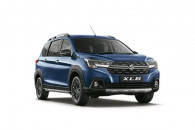 Mileage

Comfort

Performance

+ 3 more
Maintenance Cost

Safety

Features & Styling
Preferred For : Family & Daily Commute
55% of users have given a rating of 4.5 and above
5.0

Talk about the overall parformance of your car , mileage pickup, comfort etc , it is very cool car thanks

3.7

Everything is good about this car.I am using it from last two months.In city its cost around rs.10 per km, It's less than 10 km/ltr.On highway you will get around 15 km/ltr.

3.7

Ok but i felt something to be improve and cng vehicle must allow in tamilnadu.Why they are not allowed in tamilnadu.

4.7

Nice comfort but it will disappoint you if you are looking at 1500cc engine not that much pickup.Looks and style mind blowing.Overall very nice car.Superb inbuilt music system.Very smooth driving experience.

4.7

Xl6 look very nice about ertiga or bhi bhot ache bate hai or family ke liye bhot behtar hai me wese beleno hi lene jaa rha tha but xl6 dhek kar sochne par mazboor bo gaya
All XL6 User Reviews
4.7

Bought it 3 months ago, have driven over 4k kms, though bought it as a car for office commute and family. First car of mine, wanted to buy something like baleno or Glanza or even altroz. But sat in this car at the showroom, and loved it, then tried venue, Nexon and a few others like wrv, but none provided the comfort this one did, especially on the second row. It's like a different class altogether. Did do a lot of research on the cars, even Ertiga. This car shares a lot of things with Ertiga, hell it's basically Ertiga with some enhancements added. But the look makes it more SUV types and not an MUV. Ended up buying this one, base variant, as suggested by the sales rep also, the misses from alpha are not too many and most can be fitted by maruti as extra accessories. I got them all in 10K including nexa lit badging on the doors, leather covers for seats, and rear parking camera. Driving experience has been great, it's a silent car and I love that over Chunky sounding SUVs, it drives like a car meant for city driving and also works quite nice on a highway. Hardly feel bumps etc. Did have an issue with the USB port for android auto from the get go, so got that sorted from maruti for free as a part replacement. More than the car, I actually like Nexa and it's post sale service. For sure the sales wasn't much to write home about, I had to ask someone explicitly to show me the car, but the post sales is actually good. They remind you of everything, even things like how to maintain your car if you forget. The service experience was also pretty great. It could just be my dealer Pasco, but if it's the same experience throughout, then maruti has made a long term customer. Mileage is around 14-15 in city, that's Gurgaon for me, with 12-14 kms daily drive. On highway it goes upto 16-17 too, but you've to drive very efficiently. Also love the fact that basics like temperature controlled cabin etc are available on base variants by default. Word of advice, if you are doubting the car, go and sit in it. Especially the back seat. That'll be the make or break moment for you.

4.3

We started looking for a new car maybe towards Dec'19. I was always keen on having a compact /normal SUV. Options before us were Creta/ Harrier/ Seltos/ Brezza/ EcoSports. Obviously cost was a factor and thats why you see the range of options :). We started test driving some of these and thats when someone put the idea of XL6 into my mind. To be very frank I was not at all keen not sure why. But we visited the showroom and saw the car and my daughter just stamped her choice. She was excited to see the 3rd row and was happy that we could take our dog along for trips without much space issues. After checking out XL6 the other options looked less appealing for the family mainly from the space perspective. We booked the Alpha automatic it in Mar but had to wait for delivery till Jul due the lockdown in between. Due to travel restrictions in Pune there wasnt much chance to drive it around even after delivery. Our 1st drive in essence was to Kerala, to our hometown. All in all below is what I liked and not liked about the car so far;Like - Space. Even the 3rd row is accessible and kids can have a gala of time there. - Feels premium - Got mileage of 15-16 km / l - 2nd row seat comfort - Ride comfort - Almost an innova with a huge price diff and premium feeling cabinet - Cabinet is insulated well, outside noise is well filtered - boot space is good even with 3rd row occupiedNot liked - Wheel size. Should have been 16' min - AT gearbox is good, but you may have to get used to it for overtaking mainly on a road without median. - Speakers where not that good for a vehicle at this range. There are less costly vehicle provided with co. fitted bose systems. I changed them with infinity speakers. Oem fitted speakers looked very low quality when i saw while changing.Overall real thumps up !!!

4.3

Good car overall, Has its downsides with too soft dampers in the rear and on highway at 100-120 speeds any bridges will feel like the people in rear are in a rollercoaster.Looks wise better than ertiga any day, Also the cheapest premium car which looks sporty and premium and muv.Its a good combo, Especially the black mirros, Body panelling and the front quadra led lamps, More than enough bright light at night, you have to get used to it as it feels lacky than the orange halogens but the color difference is main as we are adjusted to the orange light and we feel a bit discomfort in white led.Other than that this car is paisa wasool.The economy depends on your riding and unlike other cars where even if you accelerate slow you get 15kmpl here you will easily get 22kmpl if you accelerate gently and keep gears changing, you can go 40kmph in 5th gear and with very less stress to the engine, It is a very usable car.

4.7

I took delivery of my XL6 in late August, and till date I have covered 2000+ kms in 3 months with mileage of >16 kmpl. I have upsized the tyres to Bridgestone Turanza 195/65 on the same R15 alloys, which has added well to the already smooth ride with even less road noise. Overall, except the lack of airbag protection for the middle row (and it's this row in XL6 which is being differentiated against Ertiga), I am very happy with XL6. This is a 100% family car, so do not expect much driving thrills. My other car is SX4, 2011 make, which is still much more fun to drive with it's 1.6L engine and R16 alloys, but with very poor mileage (any SX4 giving mileage >10 kmpl is fantastic).

4.7

I have the alpha automatic model of xl6 since sept 2019 and it is the best buy decision taken by me.Being fully loaded i did not have to spend any money on accessories.Yes i have installed a free flow exhaust from automech exhausts parel and that has made the car very energetic and responsive.The led headlights are very good but need proper air circulation in the engine bay for retaining their intensity.All in all i am very happy with this vehicle and have recommended it to many of my friends.
All XL6 User Reviews
Images of XL6 Competitors
5 Offers Available