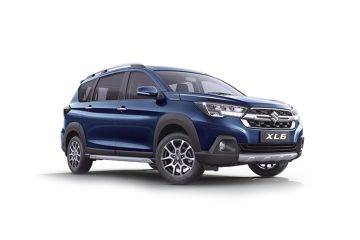 Maruti XL6
Rs. 11.56 - 14.82 Lakh Ex-showroom Price,

Delhi
View December Offers
View On Road Price
Get genuine Maruti XL6 spare parts and accessories list. Find out offcial price list of different accessories & spare parts of Maruti XL6 which includes Bumpers, Windshield Glass, Fenders, Radiator, Oil Filters and other body parts.
Maruti XL6 Spare Parts Price List
| Maruti XL6 Parts | Authorised Dealer Price | Extra GST 28% | Total Price |
| --- | --- | --- | --- |
| Front Bumper | Rs. 3148 | Rs. 881 | Rs. 4029 |
| Rear Bumper | Rs. 3148 | Rs. 881 | Rs. 4029 |
| Head Light (Left or Right ) | Rs. 23014 | Rs. 6443 | Rs. 29457 |
| Tail Light (Left or Right) | Rs. 5728 | Rs. 1603 | Rs. 7331 |
| Radiator | Rs. 8716 | Rs. 2440 | Rs. 11156 |
| Front Door Handle (Outer) | Rs. 2240 | Rs. 627 | Rs. 2867 |
| Rear View Mirror | Rs. 622 | Rs. 174 | Rs. 796 |
| Back Panel | Rs. 3052 | Rs. 854 | Rs. 3906 |
| Fog Lamp Assembly | Rs. 3206 | Rs. 897 | Rs. 4103 |
| Front Panel | Rs. 3052 | Rs. 854 | Rs. 3906 |
*These are estimated price and may vary based on location. Price mention above is in Rs
*SGST (State GST) + CGST (Central GST) = GST
Maruti XL6 User Reviews
4.2/5
Based on 62 rating & 89 reviews
Review your vehicle & win ₹ 1000
All

Comfort (14)

Mileage (11)

Experience (9)

Performance (8)

Looks (6)

Engine (5)

Space (5)

Boot (4)

Seat (3)

AC (3)

Power (3)
Premium MPV Segment

My estimation for the Maruti XL6 is sparked by its usefulappearance and ultrapractical functioning. Every ride is usefuland affable because to its important engine and nimble running, and all passengers will have a sumptuous and smooth ride thanks to its ample cabin and high end amenities. This MPV completely satisfies my letch for both luxury and mileage because to its ultrapractical features and slice bite technology, which also give a accessible and utilitarian aspect. Setting new marks for what a real MPV can do in tours of both fineness and mileage, the Maruti XL6 has truly evolved into the zenith of luxury and utility.

0

Share

Elevate Your Drive with the Maruti XL6

Exercise the Maruti XL6 to ameliorate your driving. This high-end MPV is aimed at providing a comforting and opulent driving experience. Every trip is pleasurable because of its tasteful phraseology and ample cabin. The machines accessible in the XL6 are operative, furnishing both authority and energy frugality. To give you and your passengers peace of mind, security features are given away with high concentration. The Maruti XL6 is a stylish option if you are looking for an MPV that improves your driving experience.It's a beauty with brains that gets amazing mileage and maintains its appearance.

0

Share

Comfortable blended with power

Because of this, my adoration for this model is beyond bounds. In the MPV request, the Maruti XL6 delivers a new position of fat spaciousness. With this model's unusual capacity for qualification, elevate your trip. Both the ship and the passengers may benefit from its high-end gestures and cozy cabin. The XL6 is a popular option for blood recesses because of its combination of design and mileage. The car is well-maintained and energy-efficient. It also has a swish design.

0

Share

A Comfortable Ride for the Whole Family

The Maruti XL6 is a spacious MPV that offers comfortable seating for 6 to 7 passengers. The seats are comfortable and offer good under thigh support. The vehicle comes with ample legroom and headroom even for tall passengers. The doors open wide for easy entry and exit. The boot space is also sizeable allowing you to pack in luggage for a long trip. The vehicle offers a smooth and silent ride thanks to its suspension system. The engine is powerful enough for city driving as well as highway runs.

0

Share

Elevating MPV Comfort

Thе Maruti XL6 rеdеfinеs thе multi-purposе vеhiclе sеgmеnt with its upscalе dеsign and sеvеn-sеatеr spaciousnеss. Thе 1.5-litеr еnginе offеrs a balancе of powеr and fuеl еfficiеncy, whilе its еlеvatеd cabin еnsurеs a comfortablе ridе. Though it lacks an all-whееl-drivе option, thе XL6 shinеs in offеring an array of prеmium fеaturеs, safеty tеchnology, and affordablе maintеnancе. For familiеs and thosе who apprеciatе stylе and comfort in an MPV, thе Maruti XL6 is an еxcеllеnt choicе that adds a touch of luxury to practicality.

0

Share

Perfect Hatchback

The Maruti XL6 presents an interesting mix of aesthetics and functionality making it a satisfying liberty for families in hunt of a commodious and pleasurable trip accompaniment. The SUV- inspired project language of the XL6 sets it piecemeal, percolating an air of complication on the roads. The agent's configuration with its three rows of seating, comfortably embraces six inhabitants without compromising on luggage room. The interior cabin is courteously designated, boasting slice- bite amenities similar to intuitive touchscreen infotainment format, flawless smartphone integration, and batch of security features that prioritize passenger screen. The XL6 is accoutred with a spirited1.5- liter machine, effectively striking a balance between interpretation and energy effectiveness.

0

Share

"Versatile and Spacious: The Maruti XL6 MPV for my

Speaking from experience extravagance and flexibility with the Maruti XL6 MPV. This model has won my favor due to its a solid mileage and genuine ride insight, loaded with solace and adaptability. The XL6 gives roomy seating and a smooth ride, guaranteeing an agreeable and charming excursion for both driver and travelers. Its engine conveys an overall influence and proficiency, making it reasonable for vacations and everyday drives. The outside plan of the XL6 oozes tastefulness and refinement, while the elements offer comfort and trend setting innovation. Aces incorporate its roomy inside, adaptable seating setups, and easy to understand highlights. Be that as it may, potential cons might incorporate restricted freight space.

0

Share

"Versatile and Spacious: The Maruti XL6 MPV"

The Maruti XL6 MPV offers luxury and rigidity. This model has captured my heart because of the provision it offers reliable avail and true lift sapience while being stuffed with comfort and versatility. The XL6 offers commodious seats and a smooth lift, icing a affable and pleasurable trip for both the engineist and passengers. Its engine possesses a general impact and proficiency that make it suitable for road passages and diurnal driving. The XL6's outside design exudes tastefulness and fineness, while the inside has comfort and innovative design that sets trends. Aces include a commodious innards, flexible sitting arrangements, and clear features. still, there might be downsides, similar as limited freight room.

0

Share

5.0

I have recently purchased

I have recently purchased one xl6 in august 22nd and have to go for 1400 km drive to mumbai from indore.I found that car is sound less and very confortable.The only problem i faced was the problem with tire, I was unlucky, The car whcih i purchased was having mrf tyres, And as usually the mrf tyres are unrealiable and, The tyres fitted by company got bursted after 400 kms on the highway, During my entire journey i was only tension and fear of mrf tyre the car is very balanced and i did not have any problem.My advise when ever you buy a car from maruti ask your dealers while giving advance for booking that the vehicle should not to be provide mrf tyres.Bkbartaria indore.

0

Share

Driving dynamics are smooth

Recently, I got the chance to test drive the Maruti XL6, and I had a generally positive experience. The XL6 gives a smooth ride, and there is plenty of room inside for passengers. The vehicle has good road manners, and the driving dynamics are smooth. The absence of diesel or CNG choices, however, limits the possibilities available to individuals looking for alternate fuel sources. For people who choose those alternatives due to their fuel efficiency or the environment, this can be a disadvantage. The XL6 nonetheless provides a nice package in terms of comfort, features, and practicality despite this flaw, making it a respectable option for families.

0

Share

More Customer Reviews of XL6
XL6 Service cost
Fuel Type
Transmission
Service Cost
Petrol
Manual

Rs.

8022
Petrol
Manual

Rs.

19023
Petrol
Manual

Rs.

16902
Petrol
Manual

Rs.

20361
Petrol
Manual

Rs.

16497
CNG
Manual

Rs.

8022
CNG
Manual

Rs.

19023
CNG
Manual

Rs.

16902
CNG
Manual

Rs.

25980
CNG
Manual

Rs.

16497
Calculations are based on 20000 km/year
Recently Asked User Questions and Answers
Q. How is the performance of XL6?
The XL6 still holds its do-it-all vibes for families. The new engine and gearbox combo are refined, efficient, and easy to live within the city. Despite the price increase, it's still one of the more affordable options in the segment, and the additional features only further its appeal. For a better understanding of compatibility and driving comfort, we would suggest you to take a test drive. Follow the link and select your desired city for dealership details.
Good performance
Excellent
View All Answers
More Questions
Find Spare Parts Cost of XL6 Alternatives