Renault Triber vs Maruti Suzuki Ertiga: Hands-On Practicality Comparison
---
Can clever packaging and frugal engineering in a sub-compact match the tried and tested MPV formula?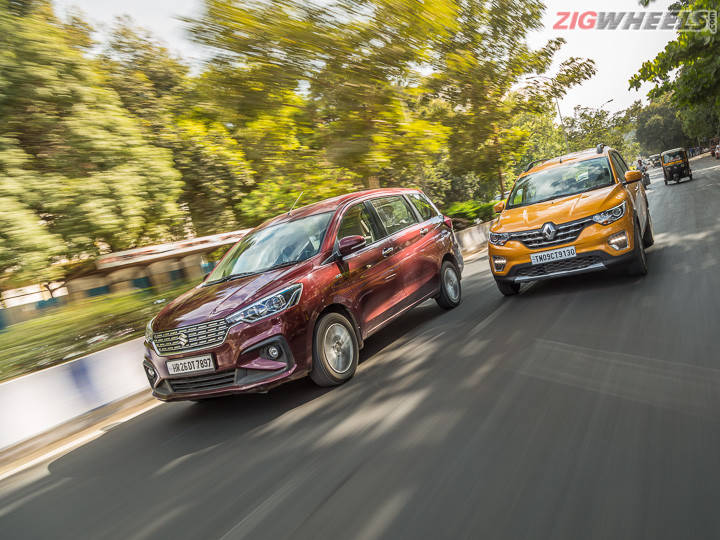 Before we start, though, we have a disclaimer: This is not an outright comparison test where we'll pitch both cars and emerge with a winner. So while both the Renault Triber and the Maruti Suzuki Ertiga are MPVs with 7 seats, they don't exactly pose a threat to each other. The Triber thrives in a space uncharted by any other carmaker: It's a sub-4m MPV whereas the Ertiga is a proper MPV. So what exactly are we trying to prove here?

The range-topping ZXI+ variant of the Ertiga retails for Rs 9.60 lakh and Renault will sell you a top-spec Triber RXZ for Rs 6.63 lakh (both ex-showroom). What we are getting at is literally hidden between these prices. The Ertiga demands a clean Rs 3 lakh premium over the Triber and what you get for that is undoubtedly a bigger and better 7-seater MPV. But considering Rs 3 lakh is no small change -- it is actually equivalent to a new Kwid -- we can't help but think of this from a different point of view: Is the Triber all the MPV you need and more importantly, is it a compromise worth considering?

Now that we've established that we're comparing apples and oranges, the only way to find an answer to the big question is by bringing in more questions, the kind that will eventually pop up in every buyer's mind when shopping for people movers.
Does the Triber deliver on its promise of a 7-seater?
In a nutshell, yes. We are happy to report that Renault has delivered a decent 7-seater with the Triber.

Before getting into the space on offer, how you enter the last row is also vital for an MPV. At the Triber's disposal is a nifty one-touch tumble option (only for the 40-section seat) for easy ingress into the third row. The Ertiga misses on a tumble option but the seats do recline and slide forward to make enough space for ingress.

Right away, the impression you get is that the space on offer is adequate. Once you're inside the Triber's third row, you'll first find your knees in contact with the front seat fabric. Thankfully the middle row slides forward and both rows can be adjusted to a comfortable compromise. Seating adults for short journeys and city commutes won't be an issue but the rear seats are best left to kids for long roadtrips.

On the other hand, the Ertiga's third row is a much better place to be in. It can seat two adults with aplomb, offering enough legroom and width. Be it city sprints or long roadtrips, you won't complain if you are confined to the Ertiga's last row. We would also like to mention that Ertiga's seats can recline to a small extent making your life even more easier back there.

What we don't like about the Triber's last row are the relatively small window area, non-retractable seatbelts, intrusive middle row seat rail that limits space to extend your legs, and the fact that you sit real close to the tailgate, leaving no room for the seats to recline.

Where does the Triber stand as a 5-seater?
The Triber is a great five-seater if you ask us. Why? You can never go wrong with reclining and sliding middle row seats with ample space, and a massive 625 litres of boot space as opposed to the Ertiga's 500 litres (third row folded down flat). One of the clever tricks up the Triber's sleeve is its 50:50 split third row seats that can be removed and stored.

Space on offer is impressive, a direct result of Renault's smart packaging. Obviously, the Ertiga offers a wee bit more space as well as better seats with palpably better under-thigh support. Not to forget the flip-open armrest. That said, you won't ever feel the need for more room, especially headroom or kneeroom, in the Triber's second row. But you will wish the cabin was wider when three are seated abreast.

How do both cabins feel?
Right off, it is evident that the Ertiga is way ahead of the Triber in terms of fit, finish and use of premium materials. The leather-wrapped flat-bottom steering wheel, instrument cluster, door pads and all the switches feel better built. So yes, you do get more for the higher asking price.

The Triber features a reasonably well built cabin with and the quality of materials is pretty good as well. You won't find anything fancy here but it does its job well and doesn't leave you feeling shortchanged.

For cooling duties, Maruti Suzuki has used a single roof-mounted aircon unit. While this is effective and has enough power to cool the third row, Renault has gone one step ahead and offered pillar-mounted vents for the second row and roof-mounted vents for the third row. Speaking of the roof, another clever trick up the Triber's sleeve is the bulge on the roof that opens up headroom for third row occupants.

Both the cabins are also practical with ample storage spaces and cubby holes. Highlights in the Ertiga include the storage space under the centre armrest, bigger door pockets and two small air-cooled cubbyholes. The Triber also features two small cup holders but it gets a cooled storage box between the front seats and a secondary storage compartment above the cooled glovebox. In the third row, there are cupholders in the Ertiga while the Triber makes do with a small space that can hold your smartphone.

Can the Triber haul 7 people from Mumbai to Munnar with ease?
All this while, you might be wondering how a three-cylinder engine with mediocre figures (72PS/96Nm) can pull 7 people with ease, right? What better way to clear the air than load up the car with 7 colleagues. And since we are never short of people here at Zigwheels, we decided to do just that.

Initial impressions? It is better than you'd expect. Quite honestly, we were expecting more complaints from the engine but to our surprise, the Renault motor pulls without any hiccups in the city. It can easily lug 7 people without breaking any sweat. What amazed us even more was the engine's driveability. You can easily trundle along at 30kmph in 4th gear (with 7 people) without any signs of protest from the engine.

One thing the engine doesn't like, though, is being pushed. It keeps on reminding you of its cylinder deficiency through minor vibrations and engine noise that becomes audibly gruff once you breach the 3000 rpm mark. The 1.0-litre engine's comfort zone lies in the lower rev range and it feels best when you go easy on the throttle, shifting up the cogs early.

This does not apply when you are dealing with inclines or doing a quick overtake, both demanding you to work the engine hard to get the best out of the Triber. Steep inclines forces you to stay in the initial gears, though the closely stacked first and second gears do help.

It's when the road opens up and you need to maintain speeds in excess of 80kmph that you feel the need for a bigger engine. It's not that the Triber can't handle it, but the engine is noticeably more stressed than the larger motor in the Ertiga.
Working the engine hard in the Triber also means the fuel economy will also take a hit. On our tests, with just the load of the test driver, the Ertiga returned 13.40kmpl in the city and 16.02kmpl on the highway. Meanwhile, the Triber managed to deliver 11.29kmpl in the city and 17.65 kmpl out on the highway. With a full load these figures will drop but you can expect a bigger drop in efficiency from the Triber at highway speeds.

Coming back to the main question, yes, it can haul 7 people from Mumbai to Munnar, but not that easily. If you want to do the same all day and effortlessly, the Ertiga with its 1.5-litre K15B four-cylinder motor (104PS/138Nm) is undoubtedly the right choice here.
We know the Ertiga can deal with bad roads but what about the Triber?
The Ertiga has stepped up its game with the latest iteration as it rides much better than its predecessor. India's current favourite MPV on a budget handles imperfections like potholes and craters with ease, ensuring not much filters into the cabin. There exists a small amount of sideways rocking motion though, but not to a point of worry.

The Triber does justice to its big Lozenge badge up front. Its suspension works in silence, ironing out almost everything Indian roads have to offer. The ride is at its best when the Triber is loaded to the brim with 7 occupants. But don't get us wrong here, it is commendable even with 5 or less occupants and in the bigger picture, we can't think of any reason to complain. If we were to nitpick, you do feel some vertical motion inside the cabin and a fair amount of roll, especially in the third row.

Handling might be the last thing thing you'll look out for in people movers. But if you're curious, both the MPVs here can be hurried through the bends with no hidden surprises. Yes, body roll is a close acquaintance of both, but it is closer to the Triber. Overall, the Ertiga is the more involving package thanks to its better steering and body control.
And finally features and equipment?
The Triber comes with some noteworthy features like smart access card, push-button start, four airbags, projector headlamps with LED DRLs, a cooled glovebox and storage in the centre console. But it misses out on some of the essentials like height-adjustable driver's seats, steering-mounted controls, fog lamps and alloy wheels (offered as accessory). And if you're looking at these images right how and thinking we've either lost our marbles or are straight up lying, let us assure you we are not. These are indeed humble wheel caps, but cleverly designed to look like alloy wheels.

Maruti has equipped the Ertiga with features like automatic climate control aircon, steering-mounted audio controls, projector headlamps, ISOFIX anchorages, and a 4.2-inch colour TFT MID. The Ertiga also comes packed with Maruti's Smart Hybrid along with a start-stop system.The omission of side or curtain airbags is a big chink in the Ertiga's armour. Other misses include auto-up for driver side window, and DRLs.

At 8 inches, the Triber has the bigger touchscreen unit but it is the Ertiga's 7-inch SmartPlay unit that pips it with its crisper display and better user interface. The Triber's unit works flawlessly with good touch feedback and no noticeable lag. It also gets a rotary knob for volume controls, which is even more welcome considering the Triber lacks steering-mounted audio controls.
Rundown
Let's get back to our key question -- Is the Triber all the MPV you need and most importantly, is it a compromise worth considering?
Firstly, no, because you almost always want a 7-seater MPV that can also munch highway miles and stretch its legs with ease. Even though the Ertiga is the dearer option here, it is still quite a lot of car for the money. While the Ertiga is no-frills, it also is a no-compromise MPV with enough space and firepower to be the ideal road trip machine. The added convenience of a 4-speed automatic gearbox is another strong reason to consider the Ertiga.

Yes, the Triber is definitely worth considering because it can do almost everything the Ertiga does -- and that's saying something. Although measuring under 4m in length, Renault has combined clever engineering with a lot of thought to deliver a promising MPV for the budget-conscious. Furthermore, the Triber can be what you want it to be -- a spacious 5-seater with a humongous boot or an acceptable 7-seater. You won't go wrong with the Triber if you either need a good 5-seater that can occasionally transform into a 7-seater or an MPV that will spend most of its time in an urban setting.
Renault Triber Video Review
More on Renault Triber

Rs. 5.20 Lakh Onwards
Ex-showroom, Delhi
See what our community has to say!
NEW
India's largest automotive community