Yamaha Ray-ZR 125 Overview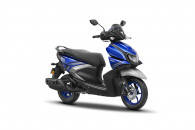 RayZR 125 User Reviews
All

Mileage (22)

Comfort (15)

Looks (11)

Engine (8)

Performance (8)

Maintenance (7)

Experience (7)

Seat (6)

Style (5)

Service (5)

Suspension (4)
4.6

it's a nice scooter with peppy engine and performance oriented with happy mileage.main pros of this scooter is its refinement and smoothness of the engine and design it gains lots of attention from public and silent start mechanism is great I loved it.and it can reach upto 80km/hr easily without any stress on the engine and no vibration till 80km/hr.after that you will feel like sitting on royal Enfield with heavy vibration and more stress on the engine.mileage:-47kmpl ,maximum speed:-40 to 50 km in city and got 53kmpl on highway speed :-60km with shell petrol before first service and after service I may get around 50kmpl in city and 60kmpl on highways cons :- digital display is waste with no features,no clock ,led doesn't matters has it has a good wide spread of halogen light during nightime so no worries for led overall it's a good scooter with sufficient torq and power and satisfying mileage and its power to weight ratio is superb you can beat ntorq access in city limit from 0-70km after that it looses to its rivals as it lacks of top end performance

4.6

I bought the street rally version 20 days (approx) before. Wonderful riding experience. Due to lockdown, till now I have done 150km approx. Regarding mileage - It took 1.5 litres pertrol for exact 100km (measured using trip metre). Under seat storageis little less as it can not fit full size (M) helmet in it. Breaking is good. I don't know what is the prob. but the seat cover provided by the company doesn't allow the seat to lock and you have to adjust the seat to lock it. I will make it check during 1st service. Accelerator is little hard and you may face wrist pain on above 15km ride(That can be fixed in service centre). Even tough it doesn't have led headlight, you will not face any issue. Engine is smooth. The Street Rally Cyanblue looks awesome and attracts many riders in traffic.

3.8

Style, Performance, Engine refinement next level.No one can stand against yamaha in engine refinement.But suspension is very poor both front and rear suspension is very hard.In bad road conditions it is very very poor.You can feel everything from the road.Totally build with plastic.Maintenance cost is somewhat ok, Not too high but little bit on the higher side.Due to less weight it is not very stable above 50 kmph speed.Handling is outstanding.Headlights are not good.Overall not a very good option for those who rides in bad road.Milage is 50 kmpl after 2nd service.

3.4

After one year used, it is my personal experience, it's not the fittest scooter for Indian road and weather. Mostly in the rainy season started the problem with little rainwater or mud. Which is very common in the Indian climate. Its air filter needs to change every two months. Otherwise, its mileage will be decreased. So my opinion it's good for style or occasionally uses, but not fittest for ruff use. Yamaha company should need immediate modify this scooter. Otherwise, it's buy-in India just west of money.

3.0

First of all Design make difference and look nice. but petrol mileage is 44 kmpl which is real and many other people showing fake mileage around 60 .i use this scoty daily so i share my experience here. BS 6 feature with design only...and no other new feature which other companies gives more than this like it has normal meter other companies give digital meter and many new features .
Ray-ZR 125 User Reviews