Royal Enfield Nirvik Adventure Riding Jacket Review
Jan 10, 2021
Views : 1753
---
Does the Nirvik prove to be a fantastic VFM purchase for an all-weather adventure jacket?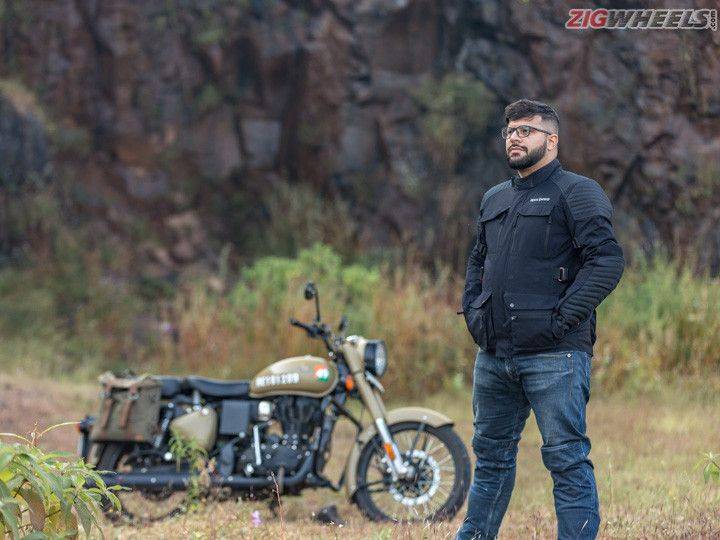 For almost 90 percent riding situations in the country, a mesh jacket should do the trick. Only if you think of venturing up north into the Himalayas or to the enchanted North East, would you need something a bit more versatile. Something that can handle summers, monsoons and winters with equal ease. While most ADV/all-weather jackets cost a bomb, Royal Enfield's Nirvik is one of the few homegrown products that brings top-quality protection at reasonable prices. But is it worth Rs 14,950? I put the jacket to the test in varied riding scenarios and here is my experience.
Jacket Name: Royal Enfield Nirvik
Size: XL
Price: Rs 14,950
Colours available: Brown and Black
Specs:
Material - High abrasion resistant 500D Nylon, 610D polyester Cordura at impact zones
Armour - D3O T5 EVO X at shoulders and elbow, D3O Viper back protector, and CE Level 2 chest protectors
Size tested - XL
Adjustable straps: Adjustment tabs on cuffs, waist, biceps, forearms, and collar
Fit type: Normal
Pockets: 2 waterproof front pockets, 2 pockets on the waist, 2 small over the zipper pockets at the front, 1 back waterproof pocket, 2 sides, and 2 inside
Thermal protection: Poly-filled thermal-liner
Waterproof liner: Separate rain jacket, worn over the jacket, water resistant up to 8,000mm
Pros - Light construction; jacket doesn't stick to your arms even riding in hot conditions; minimal Royal Enfield branding
Cons - When opened, breathable flaps look awkward; the magnets used to hold them in place get dirty and spoil the look of the jacket; could do without the ribbed look

Design
The Nirvik has a very conventional and simple look about it. It isn't too flashy with bright colours, like a few options in the market. I quite fancy the brown colour option, as it gives a very desert invader vibe. The contrasting black panels also look nice, though I am not a fan of the ribbed pattern. The red loops of the adjustable straps are a nice touch.
Subtle branding has been a common trait of Royal Enfield jackets. The Nirvik, like the Streetwind V2 we tested earlier, has a similarly simple Royal Enfield logo on the front, a large logo on the back, and a round rubber 'RE' badge on the right shoulder.

The thermal liner can be worn as a standalone puffy jacket. It is extremely stylish and cozy. It too has simple RE badging and a couple of pockets to store items such as your wallet and mobile.

Fit & Protection
Usually, I wear a size L jacket, so I thought the Nirvik would be a bit too large for me. It did seem like that when I tested it without the puffy thermal liner. With the liner, the fit was snug and comforting, especially when we were shooting a night sequence in extremely low temperatures, in one of the hilly areas around our HQ.
The jacket doesn't feel that heavy either. In adventure jacket terms, it is definitely one of the lighter ones available in the market. I was using it throughout the KTM 250 Adventure vs BMW G 310 GS vs Royal Enfield Himalayan shoot (head here to see the video), without the thermal liner and the ventilation flaps unopened, and I didn't find the inner layer of the jacket sticking to my forearms or torso. I did sweat, not profusely though, especially when stuck in city traffic.

Given that this is the best jacket Royal Enfield has on offer, it was almost expected that it would be kitted with top protective elements. D3O armour is present at the elbows, shoulders and back while the chest area has to make do with CE Level 2 soft armour. The whole jacket gets a CE Level Class A certification. Class A certified jackets are those that are light and reduce ergonomic penalties while maintaining top quality levels for protection and comfort, whether it be for commuting, touring or adventure riding.

Things That Could Have Been Improved
We had just two qualms with the Nirvik and both have to do with the ventilation flaps. Firstly, when you open up these ventilation flaps, they are secured by magnetic tabs. It ends up looking a bit ugly. More importantly, though, by using these magnetic tabs, a dirt and rust residue is left on the surface of the jacket. It spoils the look entirely and can also damage the material if not cleaned properly.
Lastly, this is more of a personal preference, I am not that big of a fan of the ribbed stretch panels on the elbow and shoulder areas. These are items I would find pleasing on an old-school retro jacket, not on an ADV jacket.

Our Verdict
The Royal Enfield Nirvik is a great all-weather jacket, making for a great VFM purchase at Rs 14,950. I could do without the ribbed stretch panels and wished there was a better way to secure those ventilation flaps. There aren't many jackets that offer as much versatility, comfort and protection at this price point. If you are looking for a jacket that will be used more frequently in cold conditions, I would definitely recommend you try this one out.