Gear Review: Royal Enfield Kaza Trousers
---
These trousers are designed for the toughest of conditions, but are they really potent enough to tackle the worst? We tried them on our 10-day tour to Uttarakhand to find out
Royal Enfield Protective Wear
Used for: 10 days in extreme weather conditions
Price: Rs 10,000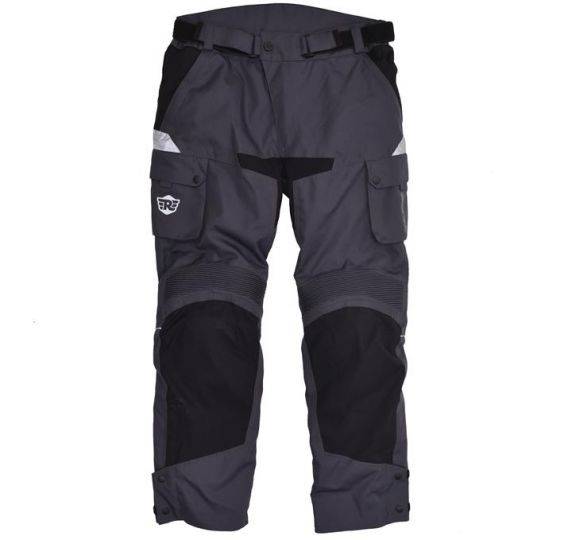 Note: The trouser tends to get loose at the waist no matter how much you try and tighten them with the velcro strap.
The Kaza trousers, designed by Royal Enfield after gaining experience from riding in various climatic conditions, are one of the best on offer from the Chennai-based motorcycle manufacturer. These trousers come packed with loads of features for both protection and ergonomics.
Made primarily of 650D polyester and fabric, the trouser comes with many protection features. For instance, the outer shell gets reinforced fabric in the hip region and abrasion-resistant stretch polyester in the crotch area. Even though it seemed effective, it did limit the rider's movement up to some extent. Impact Zones consist of 500D nylon Cordura at the knees and hips. Now, Cordura fabric is known for its durability and resistance to abrasions, tears and scuffs. This should ideally help you in case of a fall, giving you the much-needed protection from bruises.
For impact protection, RE has offered CE Level 1 protectors for the knees. But they tend to fall out of place when standing on the footpegs or while stretching your legs and need to be adjusted constantly. During an accident, such an issue can put you in a bad spot and could result in serious knee injuries. The shock absorbent EVA foam hip protectors don't do much to protect you either. This is primarily because the trouser seems to slip down a bit no matter how much you tighten the velcro adjustment belt on the waistline. In this case, a smaller size may prove to be more useful. But by doing so, you won't feel comfortable in the thigh and knee area as the pants may feel tight in these sections.
For weather protection, the trouser gets a two-layer construction wherein the rain liner comes integrated with the outer shell which gets a breathable Hydra-protect membrane developed by 3M. This proved to be really effective, but if you plan to ride in non-stop rains, we suggest you carry an additional raincoat as the rain liner doesn't seem to tackle harsh rainfall effectively. I didn't get to use the winter liner as the integrated rain liner managed to keep me warm enough during the ride.
For a more personalised fit, Royal Enfield also offers adjustable protector pockets to adjust the placement of the knee protectors to suit your riding position and height, but as we pointed out earlier, they didn't seem to be beneficial enough. The ribbed stretch panels at the knees and waist do help a lot in flexing your legs while riding.
In terms of storage, there are four water-resistant pockets on offer -- two main and two cargo pockets. But we still suggest you carry a plastic pack for long hauls. Other features include a Jacket Connection Zipper which helps prevent the jacket from sliding up the body in case of a fall.

While I used these trousers for only 10 days, I can safely say that these trousers have enabled me to ride confidently through the worst of climatic and riding conditions during the recent Royal Enfield Tour of Uttarakhand. And thanks to the blessings from loved ones, I haven't had the opportunity to test its crash-worthiness either. Yes, at Rs 10,000, it isn't the best deal out there. However, it is well worth the money if you want to go for a brand-specific option.
Pros:
Premium quality of materials used
Stretch panels work well
Cons:
Adjustable waist strap doesn't hold the trouser well
Knee protectors and hip supporters fail to hold their place while riding
Rain liner can't withstand long stints of rainfall
Not the most comfortable and limits movement while riding