Gear Review: Royal Enfield Streetwind V2 Mesh Riding Jacket
---
Just how cool and effective is the new urban riding jacket from Royal Enfield?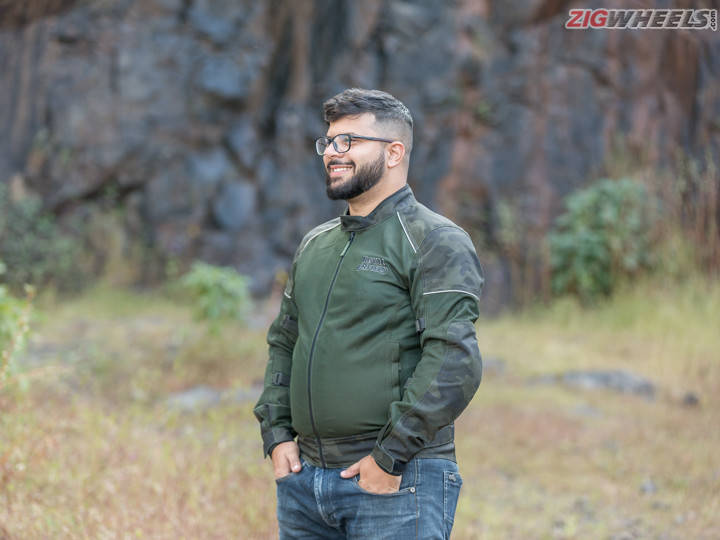 We have been in awe of Royal Enfield's motorcycle riding gear for a while. Not only is the gear affordable and highly functional, but it is also quite stylish. The Streetwind V2 is the latest entry-level mesh riding jacket from the brand. It comes in at an extremely affordable price of Rs 4,950 for all the standard colours, while the pictured Olive Camo shade costs Rs 5,250. Does it make a good case for itself?
Jacket Name: Royal Enfield Streetwind V2
Size: L
Price: Rs 4,950 (Rs 5,250 for special Olive Camo version)
Colours available: Brown, Grey, Red, Black and Olive Camo
Specs:
Material - 90 percent high abrasion resistant polyester mesh and 10 percent 600D polyester
Armor - Knox flexiform Level 1 armours for shoulder and elbow. Perforated EVA foam at the back
Size tested - L
Adjustable straps: Adjustment tabs on cuffs, waist, biceps, and forearms
Fit type: Normal
Pockets: Two zipped external pockets, two internal pockets, no breast pocket

Pros - Extremely lightweight; heavily breathable; minimal Royal Enfield branding
Cons - No breast pocket; gets only Level 1 protection on shoulders and elbow, none for back; heavy usage of mesh leave you with a bad case of road rash in the event of a crash

Design
Styling plays as important a role as safety and functionality when Royal Enfield goes about creating its riding gear. In that regard, the Streetwind V2 is quite a dapper looking jacket, one that fits the easy riding criteria well. Our Olive Camo shade is one of the rather spectacular looking ones from the colours offered. In fact, you could pick any of the others, aside from the rather conspicuous Iron Man-esque red, and still manage to look cool.
Also Read: 2020 Royal Enfield Meteor 350: Road Test Review
Another cool bit about opting for Royal Enfield gear and this Streetwind V2 jacket is the subtle RE badging. There is just a simple and not too large 'Royal Enfield' logo on the left chest and a round rubber 'RE' badge on the right shoulder. For night riding, there is reflective piping around the shoulder area as well as a small reflective pinstripe on the back.

Fit & Protection
You are simply taken aback by just how light the Streetwind V2 is. It is definitely one of the lightest jackets that we have experienced. And yet, the stitching is top notch and heavy duty. The textile portion while minimal, covers the impact areas well and the fit is not too sporty or relaxed. The Streetwind V2 isn't short like a roadster jacket. It has a nice wide strip of textile at the bottom that rarely slips over your riding jeans/pants, especially if you are a heavy set rider. Plus, there are a couple of belt loops so that you never end up exposing your rear to the person following you.
Also Read: Gear Review: Levi's x Royal Enfield 512 Jeans
Royal Enfield's partnership with British crash protection maker Knox continues. You get soft rubber Knox protectors for the elbow and shoulder areas. Sadly, these are just CE Level 1 certified and not Level 2, which would have amped up its safety quotient. Another sore point remains the foam insert for a back protector. The good news is you can swap these out for premium D3O protection, the pockets are large enough to accommodate them. The flipside is that you will have to shell out extra for better protection. Now, that is a decision you will have to make but we would advise going for them.

Quality & Finish
Aptly named, the Streetwind is extremely breathable, a boon for our hot tropical climate. It doesn't cling much to your skin in the heat, causing some discomfort. Now, the weather in Pune has just turned quite pleasant with afternoons not being as troublesome as usual. We cannot comment outright that it will be great for sweltering summers just as yet, but it should not be too much of a bother. The collar has a nice soft cushion collar, again provided so that you don't get irritated with sweat and the heat.
Also Read: Gear Review: Sidi Cobra Air Riding Boot
Things That Could Have Been Improved
This might not be an issue for most but not having a breast pocket is a miss. On most jackets, it is the perfect place to store your phone and debit/credit card. This allows you to quickly get away with payments at fuel stops without having to unzip your jacket and then again gear up.
In a bid to stay light, Royal Enfield has used just a single layer of mesh material. While its weight and breathability advantage is obvious, another layer of the same would have added an extra sense of assurance in case you do have an unfortunate crash.

Verdict
As an urban commuting jacket, the Royal Enfield Streetwind V2 feels like an extra layer of your clothing, not making you feel distressed in warmer climates. Currently, at Rs 4,950, the Streetwind V2 is one of the most stylish and functional jackets available in India in the segment. If only Royal Enfield had given it CE Level 2 armour all around and increased the asking price by Rs 1,000-Rs 1,500, the jacket would be a great companion, one we could recommend you get even more strongly than we can now. There is the Royal Enfield Windfarer jacket, which for Rs 2,000 more than the Streetwind V2, has extra textile patches as well as a waterproof thermal liner but not better crash protection.