KTM RC 125 vs Yamaha R15 V3: Comparison Review
---
Which one of these beginner supersport motorcycles makes the most sense for a soon-to-be-18-year-old biker?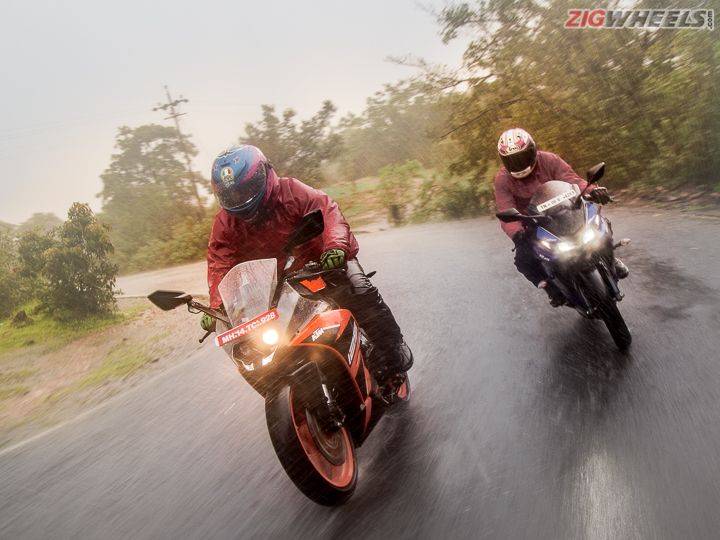 Turning 18 is a big milestone in everybody's life. It is an age where you are finally deemed an adult, fit to make a conscious decision regarding your future. Your career path, your higher education, your love interests and most importantly, your first proper motorcycle. A motorcycle that is fast and capable enough to teach you the basics of sport riding without hurting you, or worse, maiming you in the process. You have seen enough bikers, racers and squids on Instagram to know that a commuter motorcycle is just not going to cut it.
And that is where the two bikes in this test come into the picture. The RC 125 is KTM's supersport machine for the freshly licensed motorcyclist. And the other one is the stalwart in the learner's segment. The Yamaha YZF-R15 is a motorcycle that needs no introduction, as it made supersports accessible in India. The question then is that which motorcycle deserves your attention.

Very Very Active
There is no replacement for displacement but there is more to the R15 than just the 30 cee cee advantage it has over the KTM. With the addition of Variable Valve Actuation, Yamaha made the R15 V3.0 an all-rounder, no longer a peaky motorcycle fit for spirited riding only. The KTM RC 125 packs the most powerful 125cc motor that you would find on any two-wheeler in India, but isn't that like stating the obvious? Performance is in both company's DNA, so which one of these is the quicker bike?
| | | |
| --- | --- | --- |
| | KTM RC 125 | Yamaha YZF-R15 V3 |
| Specs | 124.7cc single-cylinder liquid-cooled 4-valve DOHC engine | 155cc single-cylinder liquid-cooled 4-valve DOHC engine equipped with VVA |
| Power | 14.5PS @ 9,250rpm | 19.3PS @ 10,000rpm |
| Torque | 12Nm @ 8,000rpm | 14.7Nm @ 8,500rpm |
| 0-60kmph | 6.14 seconds | 3.40 seconds |
| 0-100kmph | 18.24 seconds | 11.42 seconds |
| 30-70kmph in 3rd gear | 7.22 seconds | 5.71 seconds |
| 40-80kmph in 4th gear | 10.18 seconds | 6.65 seconds |
Amongst your friend circle, the buddy on the RC 125 would not like the sight of you on the R15 as you would constantly zoom away at any given opportunity. The numbers thoroughly tip the scales in favour of the Yamaha as the R15 is over two and a half seconds quicker to 60kmph. And you can do the math as to how much quicker it is to a hundred. However, don't go to convince your parents with the 0-100kmph figures of these two bikes. They would not be too happy. Trust me.

Even in in-gear roll-on acceleration, the R15 is seriously quick. It is one and a half seconds quicker in our 3rd gear 30-70kmph test and this gap grows to three and a half seconds in the fourth gear 40-80kmph test. And all of this is thanks to the VVA which makes sure you have great drive throughout the rev range. We were pleasantly surprised to find this tech on such a small motorcycle as this technology is found only on litre-class track weapons or MotoGP racers. And then there is the KTM's heft. The R15 is 12kg lighter, which does affect acceleration mightily on such small bikes.
Plus this 155cc motor gets a slip and assist clutch which makes for light clutch action and smoother downshifts. Forget finding this on the RC 125, KTM only offers this equipment on the RC 390 and the 390 Duke. The slick six-speed gearbox of the Yamaha will prepare you well for bigger bikes that your future might hold for you. The KTM comes close in this regard, making sure you always have positive shift, but it lacks the finesse of the R15.

Daily Running About
Living on a tight budget? Yup, I have been there and am doing that ever since. When I was a teenager, tankfuls were a pretty rare occurrence. Pulling up to a fuel station and filling petrol worth Rs 100 or Rs 200 would be the norm. In this regards, there are some surprising conclusions.
| | | |
| --- | --- | --- |
| | KTM RC 125 | Yamaha YZF-R15 V3 |
| City fuel efficiency | 44.95kmpl | 48.75kmpl |
| Highway fuel efficiency | 45.87kmpl | 47.92kmpl |
| Fuel tank | 9.5 litres | 11 litres |
Not only is the R15 the more powerful motorcycle in the test, it is also the more economical one. We admit, the highway fuel efficiency figures are not going to affect you much as these are not the bikes that you would take cross-country, and more importantly your parents will not allow you to get your wanderlust moment in Goa. The R15 will make sure you can go through your daily routine and still have a bit of fuel left for the following day. This means more riding and more savings. This is a point that you try to convince your parents on.

The reason the RC 125 does not perform as brilliantly is that it has a high strung motor with a narrow powerband concentrated right at the top of the rev range. You can ride the bike slowly in a higher gear, and it is still pretty tractable. But there is no drive whatsoever at low revs, which means you will have to constantly work the gearbox and keep the revs high to keep moving at a decent pace.

Take A Chill Pill
Indian college professors are notoriously famous for making sure that you carry all reading material possible to their class or else they will throw a hissy fit. And then there is just not one professor's lecture that you attend in a day, do you? Hence, carrying a lot of baggage to college is a given. In that department neither motorcycle will give you relief. Both bikes have a pretty aggressive riding stance.
| | | |
| --- | --- | --- |
| | KTM RC 125 | Yamaha YZF-R15 V3 |
| Saddle height | 835mm | 815mm |
| Ground clearance | 160mm | 170mm |
| Kerb weight | 154kg | 142kg |
The RC 125 does have a taller saddle height, making it rather difficult for shorter riders to flat-foot the bike. Also the rider footpegs are relatively higher. Arriving at traffic stops, it will take a bit more effort to get your feet on the ground. Also, taller riders might find the higher-set footpegs a bit cramped. So yes, the KTM is not really plush. But neither is the Yamaha. The clip-ons are lower and narrower. This extreme forward-arching aggressive stance is great for weekend thrills but not so much for daily commutes. While you might not feel it at first, over time the R15 will cause severe wrist, back and neck pains. The RC 125 just edges it in this department, being relatively less taxing on your body.
There is no escaping road imperfections in India. You can try your level best to dodge them but there will always be one which will catch you out. It is then that you will appreciate the sophisticated suspension found on the KTM as the rebound damping is just a bit slower than the units found on the R15. This means the RC doesn't unsettle easily over bumps. In comparison, the R15 feels more unsettling over road imperfections. With nearly your entire weight on the front wheel, you can feel sharp thuds every time you fail to avoid a pothole - which, in India, happens a lot. And the narrow bars amplify the twitchiness created by the sharp steering geometry of the R15, enough to make you get up and take notice.

Learning The Art Of Cornering
Both these supersports are pitted as learner's bike and their primary focus is to make sure you learn the right skills so that you have a safe transition on to bigger bikes that the future might hold for you. Which one does a better job?
KTM RC 125

Yamaha YZF-R15 V3

Chassis

Steel trellis frame

Deltabox frame

Front suspension

43mm USD fork

41mm conventional telescopic fork

Rear suspension

Die-cast aluminium swingarm with 10-step preload adjustable monoshock

Die-cast aluminium swingarm with 7-step preload adjustable monoshock

Tyre sizes

Front: 110/70 - R17

Rear: 150/60 - R17

Front: 100/80 - 17

Rear: 140/70 - 17 (Optional Metzeler radial tyre available)

Brakes

Front: 300mm disc, four-piston radial caliper

Rear: 230mm disc, single-piston caliper

Front: 282mm disc, dual-piston caliper

Rear: 220mm disc, single-piston caliper

Both motorcycles have a solid chassis to bank on but when you look at the specs above, the RC packs the better kit. KTM India has not sought cost cutting measures for the baby RC and kitted the bike with the same equipment that you would find on the RC 200. The sporty setup with racy ergos makes for a delightful bike in the corners. It is not as agile or as easy to flick from one side to another as the R15, but it is super stable. This is thanks to the longer wheelbase, relatively relaxed steering geometry and wider radial tyres. Since the underpinnings are designed to be able to harness nearly three times the power of the RC 125, it is more than capable of handling the might of 125cc engine. It is unlikely then that you would be stressing yourself out as the chance of you being too fast for the chassis, suspension or tyres to take care of your beginner wrongdoings are rare.

Unlike KTM, Yamaha has done some cost cutting for the India-spec R15, the major change being the usage of a conventional fork instead of a USD unit found on the international-spec bike. But it is razor sharp, almost too sharp. Also since it weighs 12 kilos lighter than the RC 125, changing directions does not take much effort. It tips in instinctively, reacting to the smallest of inputs. And our test bike came with the optional rear Metzeler rubber which provides great grip. While this will improve your riding, it has to be approached with a certain degree of finesse, unless you want to be on the end of a sounding off from your parents.
| | | |
| --- | --- | --- |
| | KTM RC 125 | Yamaha YZF-R15 V3 |
| 100-0kmph | 57.57m | 51.67m |
| 60-0kmph | 18.75m | 19.93m |
Our test R15 was an older model with no dual-channel ABS and hence we cannot comment on the ABS sensitivity. The numbers of the non-ABS version prove it to be the stronger one on the brakes with better stopping power than the RC. However, the one thing we have found that there is very little feedback for the rider. For all its top-notch equipment, the KTM takes longer to stop. Extra weight means longer braking distances. Plus we would have loved a bit more initial bite as well as more lever feedback. And single-channel ABS. Well that is a bit too intrusive. A dual-channel unit is highly recommended not only for the price, but also for the sake of safety and stability, especially in the wet.

Looking Cool
Going fast is only half the battle won. Looking fast is equally important. In college, you would definitely love to stand apart. If it is about grabbing eyeballs, the KTM does have a stronger pull. Maybe it has to do with the front dual projector scowl or the sharp fairing with its menacing cuts or for that matter the sleek tail unit, but all of this makes the RC 125 look terrific. One might mistake you for riding a larger RC machine as it is very difficult to make out how many cubes it's packing from afar.

The R design DNA is very much present on the R15 V3. It might not look as rounded as its predecessors but it looks very much like an R1 or an R6. That said, the colours of the R15 V3 are not very catchy. The blue and black looks decent, the grey one is very subdued and the 'Darknight' black is, err... not my cuppa tea. But if you're into darker shades for your bikes, then more power to you. The difference in build quality might be inconsequential to you, the teenage user, but the KTM does feel better put together with premium quality of plastics used. And in the shouty electric orange colour, there is no doubt that the KTM will draw more eyeballs.

Money Matters
There is no doubt that the KTM RC 125 is a fun-to-ride motorcycle with clear learner aspirations. But, and this is a big but, the introductory price is Rs 1.47 lakh (ex-showroom Delhi). And spending Rs 7000 more than the R15 is a hard pill to swallow. Especially, considering that you will outgrow the RC 125 fairly quickly. And the conversation with your parents for an upgrade a year into the purchase will not be a pleasant one. You would have a better chance of convincing your parents to buy you the 125 Duke in the first place and saving a fraction of their hard-earned money.
The Yamaha R15 V3 is not a perfect motorcycle. It takes a toll on your body, has a stiff ride setup and the learning curve is definitely steeper. Outgrowing the R15 in size might take a while but as a daily runner, you will surely ask for something less harsh. If the focus is to get your basics in place for sport riding then the brilliant engine (more powerful, more tractable and more efficient than the RC 125) and the sharp riding dynamics provide a solid foundation. And if you take a look at the current national racing championship for rookies, you will see this bike ruling the roost. And if this bike is fit for a national champion, then it definitely deserves your attention.
More on KTM RC 125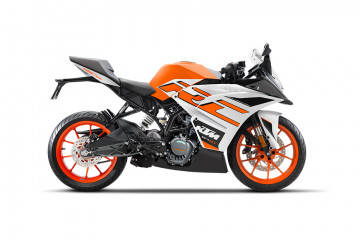 Rs. 1.55 lakh Onwards
Ex-showroom, Delhi
Get Loan starting @9.7%
View On Road Price
Add Your Comments