Ampere Primus First Ride Review
Apr 6, 2023
Views : 1329
7 min read
---
Does the new Ampere Primus bring enough to the table to take the fight to premium EV scooters like the TVS iQube and Ola S1?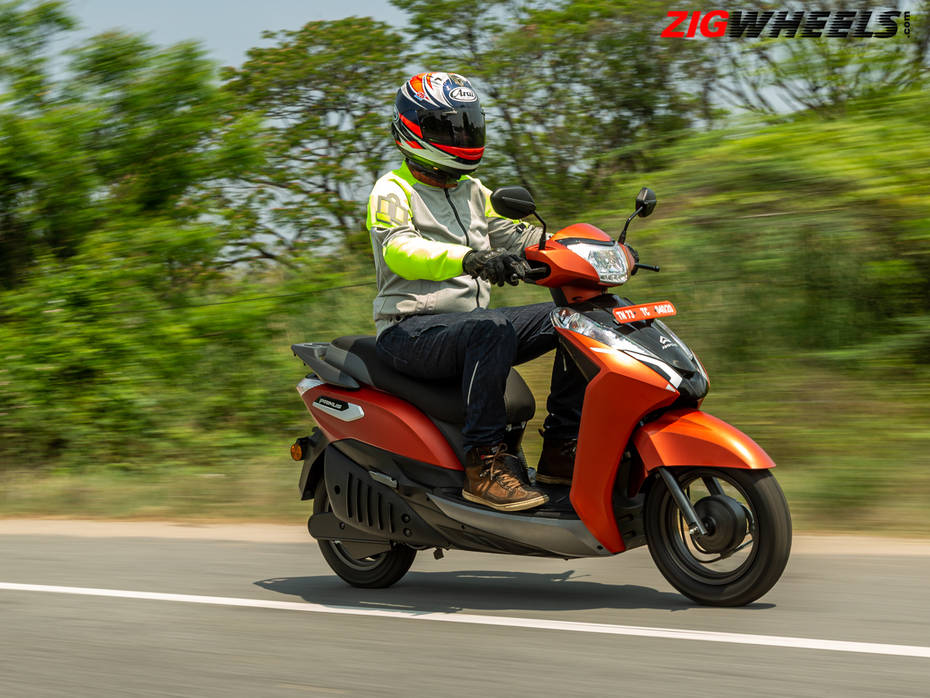 Ampere, by Greaves Electric Mobility, has been known so far for its budget oriented, lower performance electric scooters. But the Ranipet-based company plans to change all that with its latest flagship e-scooter, the Primus which, on paper at least, promises performance levels and range in the same ball park as some of the top Indian premium electric scooters. We had a chance to ride the Primus on some nice roads outside Ampere's manufacturing facility in Tamil Nadu, and here are our first impressions.
Design & Quality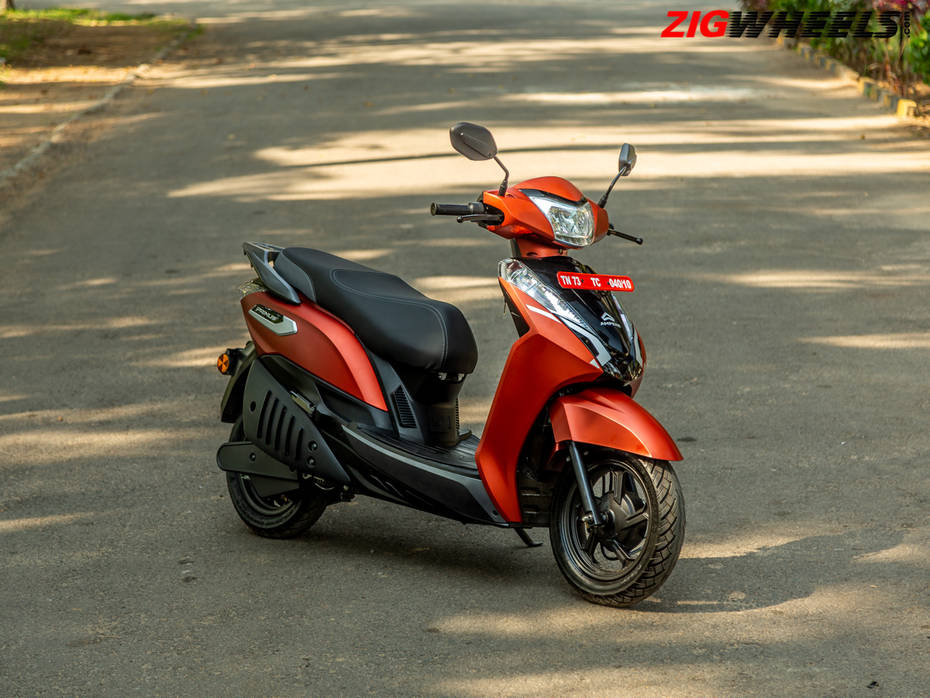 Ampere's other e-scooters like the Magnus and Zeal look like rather generic e-scooters that could've come from any of the hundreds of small EV makers in the Indian market who just choose to rebadge Chinese e-scooters from Alibaba.com. And the Primus doesn't really break that mould. While it's not a bad looking scooter by any means, it could certainly pass off as a TVS Scooty clone and you might not even give it a second glance. It doesn't help the Primus' case that while it does have an LED headlight, it's got rather standard looking bulb-type indicators and a bulb-type tail light. Some of the colours look nice though - such as the Royal Orange and Havelock Blue.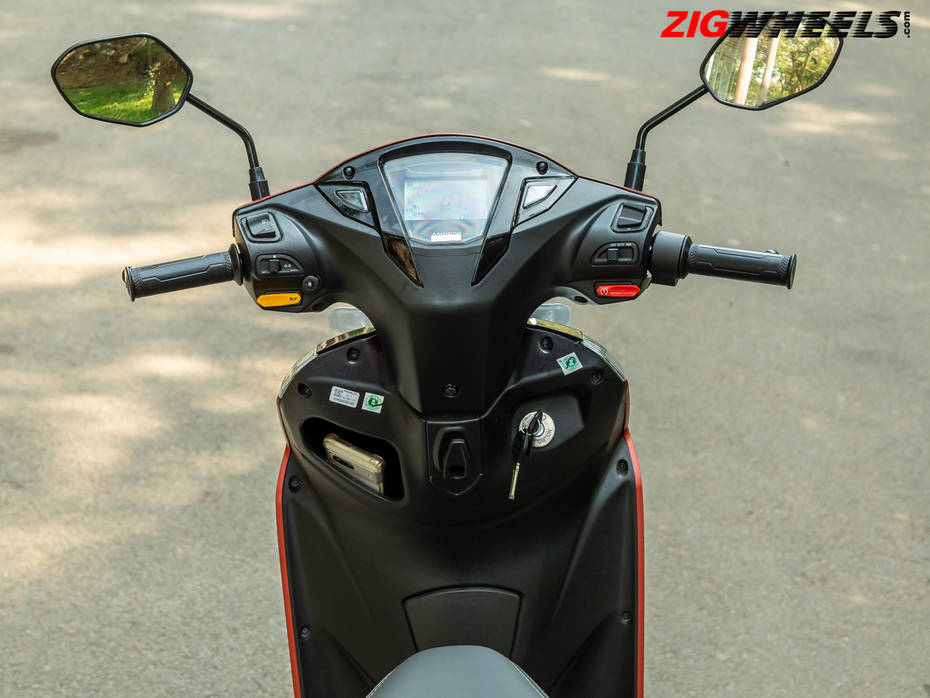 The build quality on the Primus looks pretty all right for the most part. Yes, there are some panel gaps which are larger than they should be, but nothing feels like it's going to fall off the bike if you ride it over a rough road (something which cannot be said for a lot of other EVs in the Indian market). But some bits, such as the plastic front fender, feel a little flimsy. Even the quality of black plastics around the instrument cluster and inside the apron felt a little low grade and scratchy, and especially the power mode switch felt like it could come apart if used harshly. That said, there are also some other bits like the cast aluminium grab rail (which also offers the option of screwing in a tail box) feel very solidly made.
Performance & Range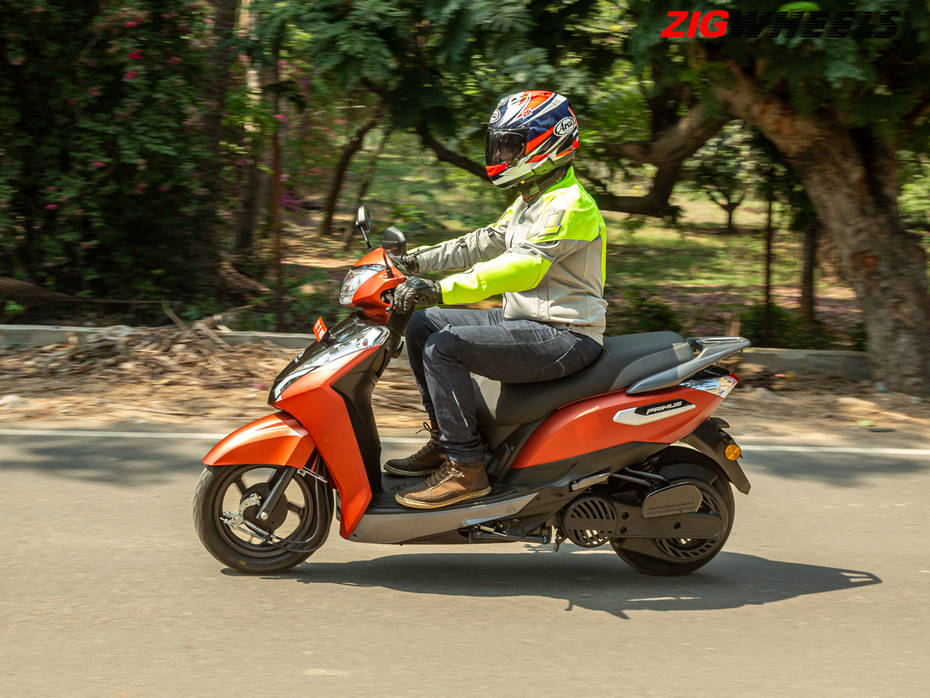 Get latest updates on
the automobile community
The Primus is powered by a 3.4kW mid-mounted motor with a belt drive - something not seen commonly on Indian electric scooters. This motor has a peak output of 4kW and Ampere claims will propel the Primus from 0-40kmph in 4.2 seconds. But while riding the Primus in its most powerful "Power" mode, that acceleration, while brisk and smooth, didn't "feel" like 4.2 seconds. But we'll be able to verify Ampere's claim once we get the scooter in Pune for a full road test. Ampere also claims a top speed of 77kmph in Power mode, which we think should be totally possible since we saw 87-88kmph on the speedometer during our first ride.
In the other two riding modes, "City" and "Eco", top speeds are restricted to 60kmph and 40kmph respectively. One good thing here is that all three riding modes feel distinctly different and offer a palpable difference when it comes to overall performance, while feeling usable also in the least powerful Eco mode as well.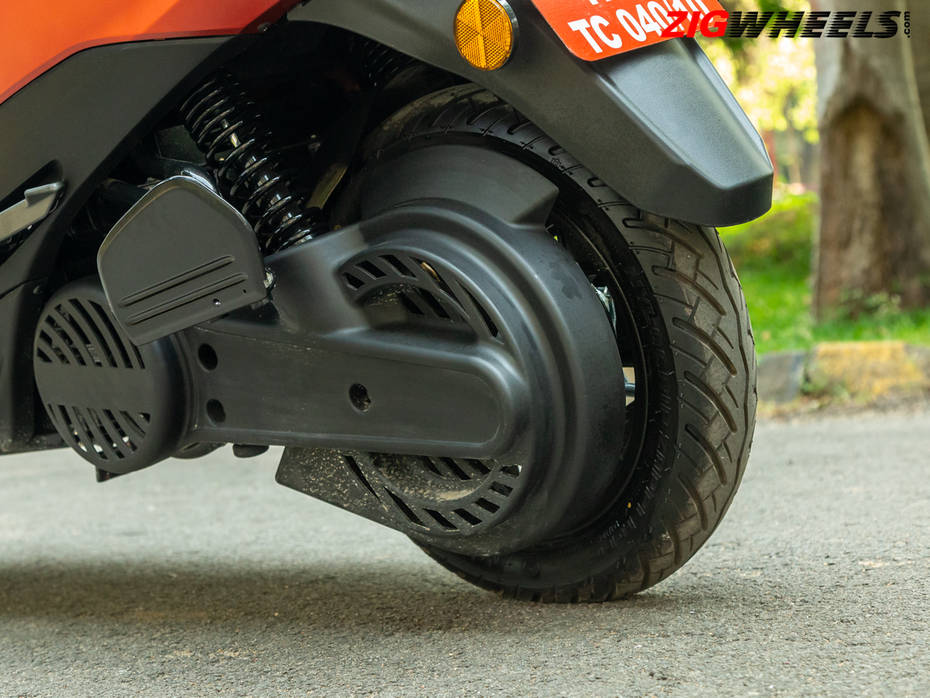 Nestled under the underseat storage of the Primus is a fixed 3.0kWh Lithium Ferro Phosphate battery. Ampere says that this gives the e-scooter an ARAI-certified range of 107km on a full charge which, in theory, should translate to 80-85km of riding in the real world. And that should be enough to put it on par with the likes of the base TVS iQube, the Chetak and maybe even the Ather 450 Plus. Full charging time on a 15-amp home charger is said to be 4.5-5 hours and Ampere also plans to offer a 25-amp fast charger in the future which should bring this charging time down to under three hours.
Handling & Ride quality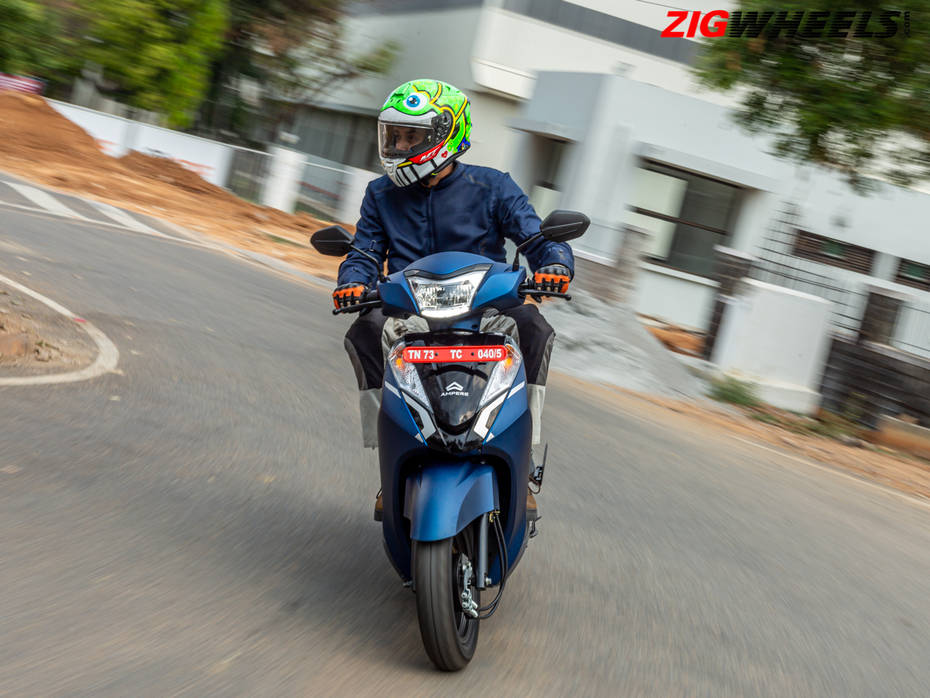 With a kerb weight of 130kg, the Primus is a among the heaviest of electric scooters. But because its running on 12-inch wheels at both ends, and all its mass is carried entered and low on the scooter thanks to the mid-mounted motor and low-set battery pack, you don't really feel its weight while riding. In fact, while riding, the Primus is quite responsive to steering inputs and offers fairly confident handling. Of course, it's not Ather 450X by any means, but it feels easily on par with other premium e-scooters like the iQube or the Chetak. This is no doubt helped by the wide handlebar as well.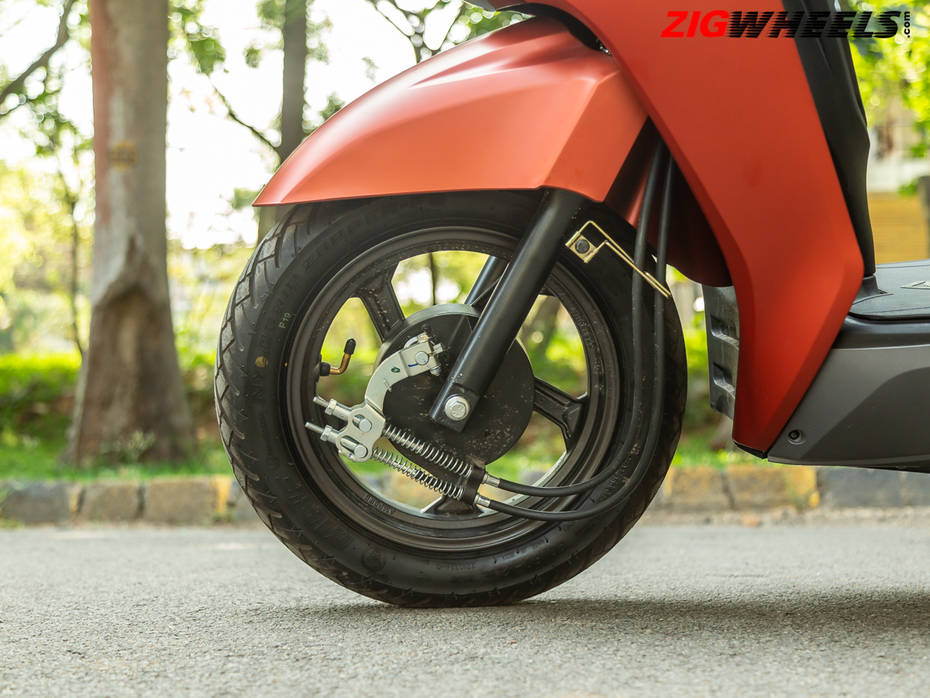 The one area where the Primus was a letdown was its brakes. Ampere only offers drum brakes at both ends, and you have to really go hard on the levers to bring all that 130kg mass to a halt. Do that a few times, and you get immediate brake fade, prompting you to yank the levers harder and harder. At this price point, and given the competition, we would really like to have seen a front disc brake, as an option at the very least.
Since our first ride was limited to the butter-smooth roads in the Ranipet industrial area, we really can't definitively comment on the Primus' ride quality. But we did put it off the road just to see how the suspension felt, and here, it does feel a bit bouncy and wobbly. It's certainly not as stiff as the Ather, nor is it as plush as the iQube, but the overall balance seems pretty acceptable. Then again, we'll reserve our final judgment about its ride quality when we do a full-blown road test in Pune.
Features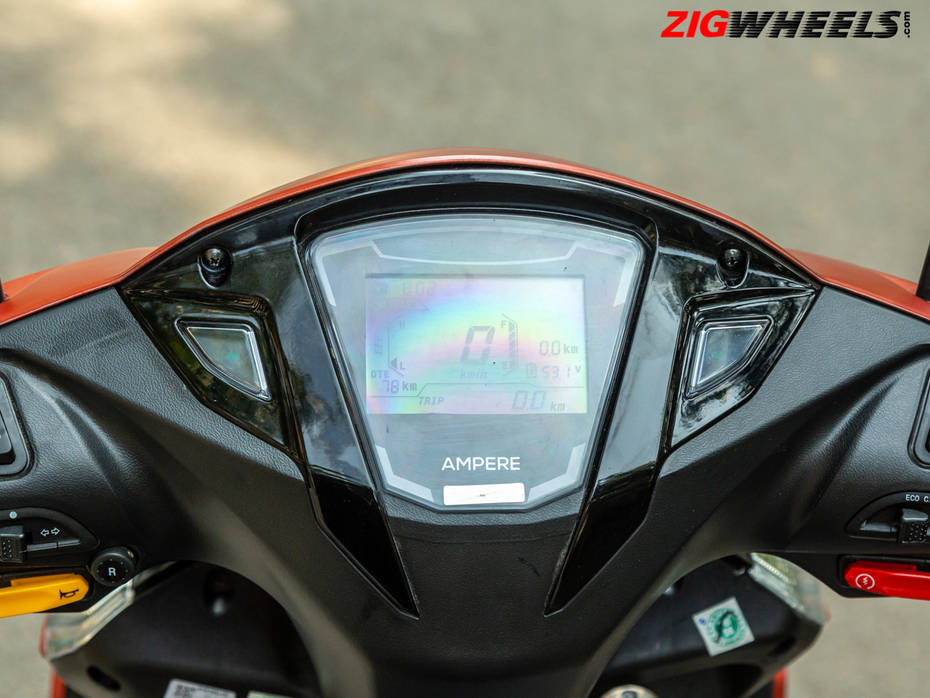 Honestly, there's not much to speak about here. It's got an LCD console with Bluetooth connectivity. But the issue here is that the blue-backlit monochrome console looks and feels very basic. It shows you all the relevant data, but things like the odometer, trip meter, and battery consumption (Wh/km) cycle automatically at the bottom of the console, with no switch to toggle between these data. On top of that, the trip meter resets each time you restart the scooter. The biggest issue here is that the console is barely visible under direct sunlight, and you tilt you head in weird angles to read the display when you're riding around at noon.
As for the Bluetooth connectivity, the Ampere smartphone app shows you things like DTE, Riding mode, battery and motor parameters, trip statistics as well as various fault and error parameters. But this app is only available on the Android Play Store at the moment, not in the iOS App Store. And apart from the bits mentioned above, there are no other features to speak of.
Ergonomics & Space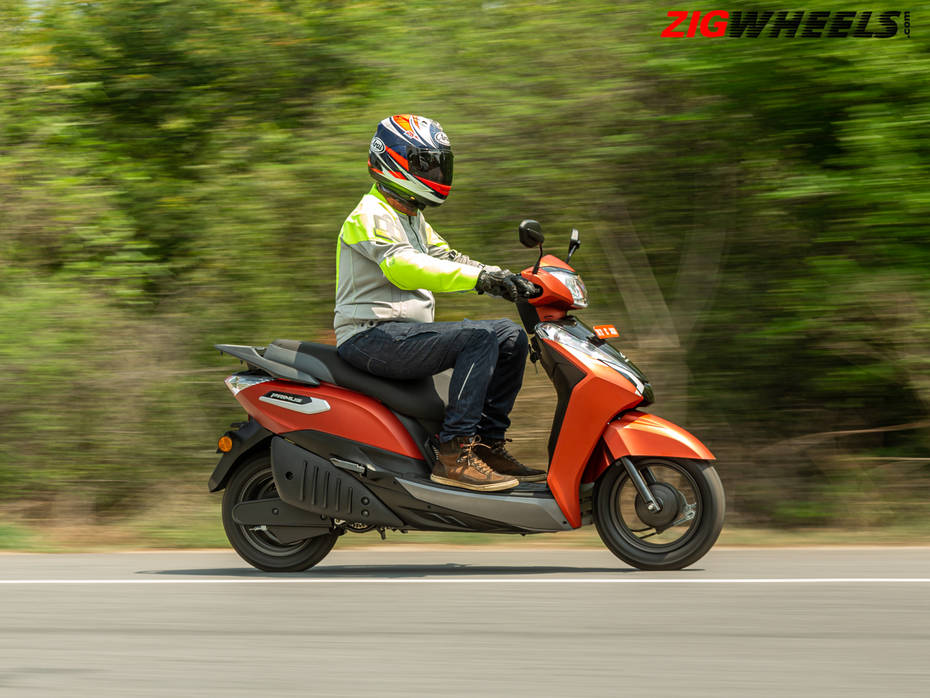 The Primus' low seat height allows riders of pretty much any height to get their feet on the ground comfortably. And the seat itself is quite large and spacious enough. Combined with the large footboard (which we think should be big enough to accommodate a gas cylinder), the Primus should fit larger riders well too. But the issue here again is the low-set handlebar which fouls with your knees when taking tight U-turns, even if you're not particularly tall.
You do get 22 litres of underseat storage on the Primus, with a flat floor. So it should be big enough for most people and should also accommodate most Indian full-face helmets. On the front apron, you have a fairly deep cubbyhole with a USB charger too. But while the cubbyhole is deep enough so that your phone won't pop out when riding over bumpy roads, the USB port is very awkwardly placed and quite hard to get to.
Price & Verdict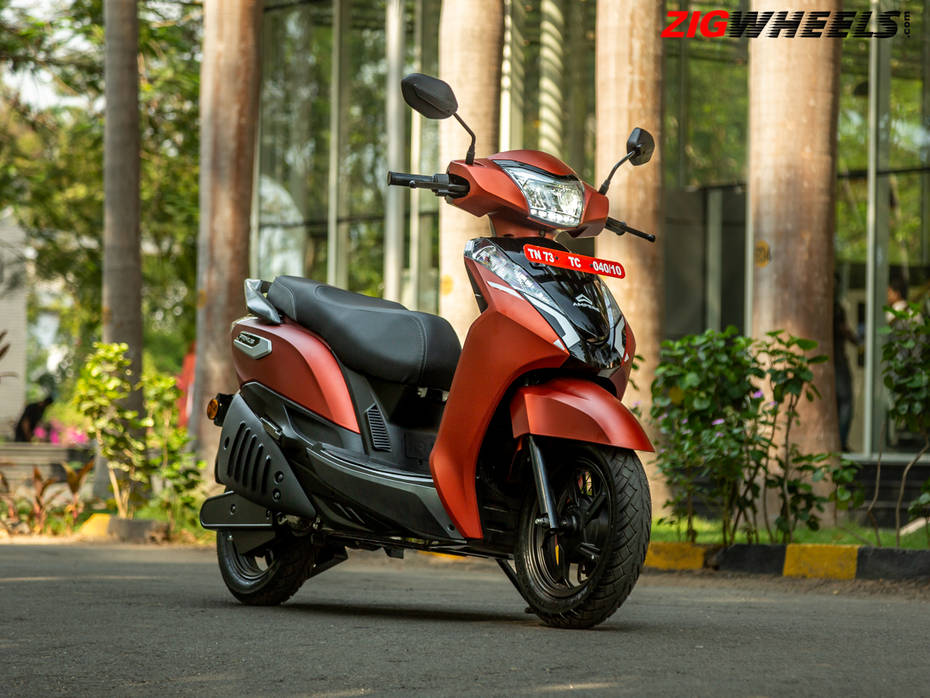 When compared to other premium e-scooters, the Primus has some shortcomings, but it does make up for quite a few of them thanks to its reasonable price point of Rs 1,099,00 (ex-showroom India). The chink it the Primus' armour is the base versions of some of the premium e-scooters such as the iQube and the Ola S1. For not much more money, these scooters will offer the same, if not a higher level of performance, more features and definitely a more premium feel and riding experience. But the biggest problem, we think, the Primus has that there isn't one single aspect where it stands out and despite doing quite a few things well is one of the most forgettable electric scooters in its price bracket.
Ampere Primus Video Review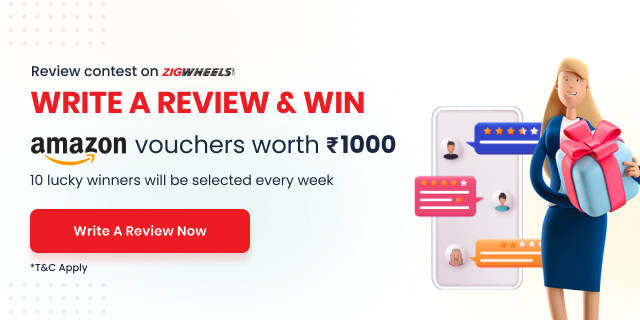 Scooters Similar to Primus
See what our community has to say!
NEW
India's largest automotive community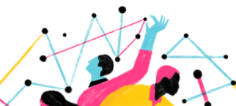 3 Other Things You Might Want To Do