TVS iQube Electric vs BS6 Jupiter ZX Disc: Road Test Review
by

Gaurav

Aug 28, 2021
Views : 10028
---
Has the iQube narrowed the gap between the electric and ICE scooters?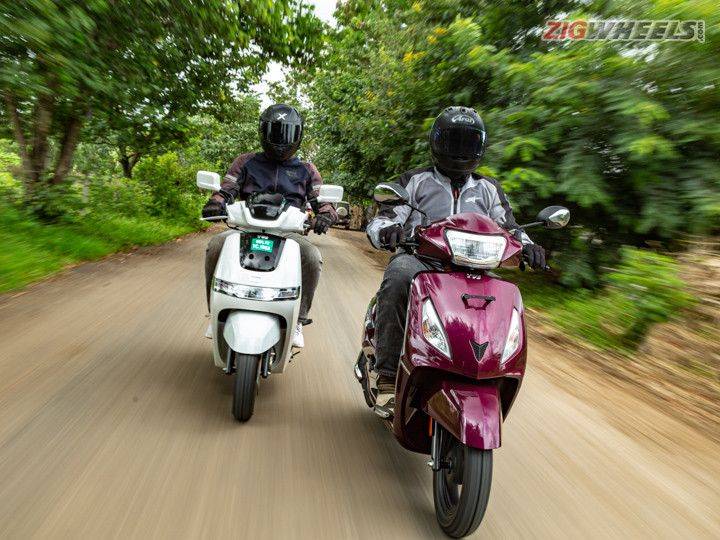 Get latest updates on
the automobile community
TVS is currently the only mainstream two-wheeler manufacturer that offers both electric and ICE (Internal Combustion Engine) scooters in its portfolio. On one hand, you have the Jupiter, a well-established, practical family scooter that's been giving the Honda Activa a run for its money. So it's definitely a potent offering. However, its 'sensibility' quotient is under threat, thanks to the ever-increasing fuel prices.
That's where the iQube Electric comes in. The new Fame-II subsidies have made it a lot more affordable, pitting it squarely against ICE scooters, in this case, the Jupiter. But is it really practical enough to replace the everyday ICE scooter in your garage? We decided to put it through the ultimate litmus test, and here's what we found:
Test 1: Performance And Riding Dynamics
| | | |
| --- | --- | --- |
| Specs | TVS iQube Electric | TVS Jupiter ZX Disc BS6 |
| Engine & Displacement | Electric hub motor | 109.7cc, single-cylinder, CVTi, fuel-injection |
| Power | 4.4kW | 7.47PS @ 7000rpm |
| Torque | 140Nm | 8.4Nm @ 5500rpm |
| Battery Capacity | 2.25kWh | - |
| Acceleration | TVS iQube Electric | TVS Jupiter ZX Disc BS6 |
| 0-40kmph | 4.76s (sport), 4.94s (eco) | 4.66s |
| 0-60kmph | 9.54s (sport) | 10.24s |
| 0-80kmph | maxed out at 78kmph | 30.21s |

The first question that arises is, can electrics match an ICE scooter's performance? Of course, they can. Well, at least the more premium options like the iQube. The best part about electrics is the instant surge of torque available as soon as you twist open the throttle.
In our tests, the iQube was just a tad slower to get off the line, possibly due to its weight. But it managed to get past the Jupiter in its dash to 60kmph. Unfortunately, the iQube is limited to a top speed of 78kmph, and that's where the Jupiter's top-end performance comes into play.
| | | |
| --- | --- | --- |
| Roll-On Acceleration | TVS iQube Electric | TVS Jupiter ZX Disc BS6 |
| 20-40kmph | Eco: 2.90s, Power: 2.74s | |
| 20-50kmph | Power: 4.83s | 5.37s |

That said, the smooth torque delivery on the iQube feels a lot more usable. The meat of the powerband is concentrated in the mid-range. So, quick overtakes, be it in the Eco or Sport mode, are an absolute breeze. If you're in Eco, the scooter tops out at a speedo-indicated 50kmph (45kmph true speed), which means you can easily keep pace with city traffic with reserves of power kept aside. The Sport mode is ideally meant for open stretches of road when you need the full 78kmph the motor has to offer.

The iQube's motor feels so polished that it makes the TVS Jupiter, one of the smoothest scooters in the market, feel gruff. You also feel like you're working too hard to get the scooter going.
TVS iQube Electric

TVS Jupiter ZX Disc BS6

Range/Efficiency

Eco: 83km (tested)

Sport: 55km (claimed)

City: 62.3kmpl

Highway: 52kmpl

Charging/ Fuel up time

80%: less than 5 hours

100%: 7 hours approx

Fuel up in a couple of minutes
Rolling off the throttle on the iQube activates the motor regen, which tops off the battery in small amounts, thereby extending its range. We were able to extract 83km on a single charge as opposed to TVS's claimed 75km. So it really boils down to how careful you are with the throttle.

Most EVs witness a drastic performance drop in limp mode. But that's not the case with the iQube. The scooter lets you access up to 40 per cent (up to 30kmph) of the motor's performance even when the range drops to 1 per cent. Unfortunately, you can't top up the scooter quickly as it doesn't come with fast charging. So make sure you always have the portable changer on board just in case you run out. A full charge would take you about 7 hours, which is quite a lot of time.

That's one of the biggest advantages of ICE scooters. You need not worry about running out of fuel as there's a fuel pump almost every five kilometres. And it only takes minutes to fill up and scoot. A full-tank Jupiter should give you well over 280km.
| | | |
| --- | --- | --- |
| | TVS iQube Electric | TVS Jupiter ZX Disc BS6 |
| Top Speed | 78.9kmph | 80kmph |
| Braking (60-0kmph) | 22.16m | 22.32m |
| Brakes (Front) | 220mm Disc | 220mm Disc |
| Rear | 130mm Drum | 130mm Drum |

The braking setup on both scooters is the same, so braking distances are almost identical. There's a good feel, bite and progression from the levers.
Test 2: Should Be Easy To Ride
| | | |
| --- | --- | --- |
| Specs | TVS iQube Electric | TVS Jupiter ZX Disc BS6 |
| Kerb Weight | 118kg | 107kg |
| Seat Height | 770mm | 765mm |
| Suspension F/R | Telescopic/Twin shocks | Telescopic/monoshock |
| Tyres (F&R) | 90/90-12 | 90/90-12 |

The iQube is a whole 11kg heavier than the Jupiter. In theory, this means it would require more effort to steer the TVS through city traffic or simply move around in the parking lot, right? Not entirely. Yes, the iQube is heavier, but it's a well-balanced scooter, so you don't really feel the weight on the move.

The clever positioning of the battery (one stored under the floorboard and the other two in front of the underseat storage) lowers the centre of gravity, making the scooter feel light and nimble. It's quicker to react to minute inputs as well, making it the sharper handler of the two. Despite the bulk of all these batteries, the iQube's seat is just 770mm tall, a tad higher than the Jupiter. So average-sized riders can easily put their feet down.

While the Jupiter feels light and nimble too, it isn't as sharp. And that's down to its softer suspension setup, which feels wobbly and thus less responsive. On the bright side, it's a lot easier to move the Jupiter around in tight parking spots.

You do feel the extra 11kg while trying to pull the iQube out of a parking lot, but there's a quick fix for that. The iQube comes with Q-park assist, which allows you to reverse the scooter using the motor by simply long-pressing the starter button. A quick tap on the button switches it back to forward mode.
Test 3: Practicality And Ride Comfort

Space is absolutely crucial while thinking about family-oriented scooters. Running errands may require you to pick up groceries, packages or flour, which demands good boot space and legroom on the floorboard.

In terms of dimensions, the iQube is roughly the same size as the Jupiter. The wheelbase, for instance, is only 15mm longer than the Jupiter. While the length of the floorboard is almost identical, it's wider on the iQube. This leaves more legroom, especially when you're carrying a package or a suitcase.

As for the underseat storage, both scooters can pack an equal amount of groceries. However, the iQube's rectangular storage design just makes it easier to load things. The contours in the Jupiter's boot, on the other hand, makes it a bit tedious. That said, both scooters are spacious enough to accommodate your laptop or bag.

Also worth mentioning is that the Jupiter benefits from a multifunction key slot. So you can unlock the seat without having to get off the scooter, which isn't the case with the iQube.
Ride Comfort
| | | |
| --- | --- | --- |
| Specifications | TVS iQube Electric | TVS Jupiter ZX Disc BS6 |
| Frame | Underbone | Underbone |
| Suspension - Front | Telescopic | Telescopic |
| Suspension - Rear | Twin shocks | 3 step adjustable monoshock |
| Tyre - Front | 90/90-12 | 90/90-12 |
| Tyre - Rear | 90/90-12 | 90/90-12 |

The suspension setup on the Jupiter is on the softer side, which helps it flatten out bumps with ease. It definitely feels more plush compared to the iQube. However, the seat foam is a little too soft for my liking, as you end up sinking into the seat on long rides.
In contrast, the iQube's suspension setup is on the firmer side, which tends to toss you off the seat on bumpy roads -- mostly due to the hub motor adding to the unsprung mass at the rear. However, it isn't as bad as you think. Out on city roads, the scooter does a decent enough job over undulations. Also, the seat is well-padded and it's on the firmer side, which makes it the more comfortable option of the two -- in our opinion -- for longer stints in the saddle.
Test 4: Finances And Maintenance Costs
Running Costs

TVS iQube Electric

TVS Jupiter ZX Disc BS6

Battery / fuel tank capacity

2.25kWh

5-litre

Range

83km in Eco

64km/litre (city)

Charging/ current fuel costs

2.25 x assuming Rs 10 per kWh

Rs 107.83

Calculation

22.5/83 x 50,000km

107.83/64 x 50,000

Cost for 50,000km

Rs 13,554

Rs 83,593

iQube savings

Rs 70,039
*Considering increase in future electricity prices

Rising fuel prices is, of course, a big concern. But EVs could remedy this situation. So we went about calculating how much it would cost you to run each of these scooters for the next four years.
TVS offers a 3-year/50,000km warranty on the battery, and it should be good for that period. TVS doesn't offer the option for fast charging on the iQube as it speeds up battery degradation. So if you consider the kWh taken to charge the iQube, its battery capacity, and the warranty, it would cost you around Rs 13,500 to run 50,000km.
The Jupiter, in comparison, would set you back by Rs 83,593. So, you're saving Rs 70,039 on the iQube.
| | |
| --- | --- |
| Replacement Battery costs | TVS iQube Electric |
| Battery cost as of today | Around Rs 30,000 - Rs 40,000 |
| Estimated battery cost 4 years from now | Rs 15,000 |
| iQube savings | Rs 70,039 - Rs 15,000 |
| Still saving | Rs 55,039 |

However, one does need to take the battery replacement cost into account. The current lithium-ion batteries cost around Rs 30,000, which may drop down to Rs 15,000 over the course of the next four years, thanks to advancements in battery technology. You probably will not need to, but even if you do replace batteries on the iQube, you'd still end up saving around Rs 55,039. That's a lot of money even by today's standards.
Verdict:

The TVS iQube has definitely narrowed the gap between ICE and electrics. It's powerful, has a decent amount of range for everyday commutes, and practical enough for family members. Sure, it does have its drawbacks, primarily the lack of fast charging. But that could change in the future if TVS incorporates it. Besides, with improvements in infrastructure and battery tech, EVs are only going to get better from here on. Not to mention they will save you a lot of money.
So while the iQube isn't perfect, it's not entirely unimaginable to consider it as an alternative to family scooters -- like the Jupiter -- in this day and age.
TVS iQube Electric Video Review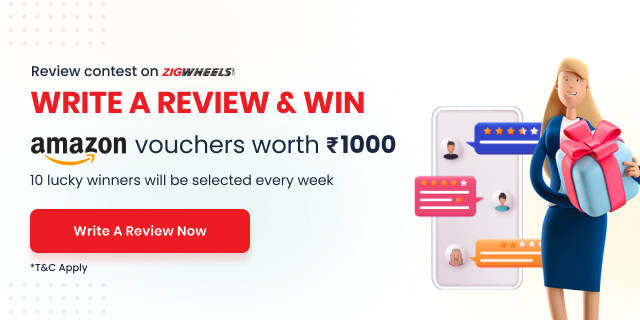 Bikes Similar to iQube Electric
See what our community has to say!
NEW
India's largest automotive community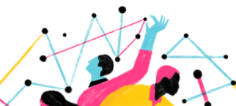 3 Other Things You Might Want To Do