Yamaha YZF R15 V3 Images
All

(33)

360 View

(1)

Videos

(7)

Colours

(5)
Right Side View

Front Right View

Front Left View

Engine

Fuel tank

Seat

Exhaust View

Rear Tyre View

Front Tyre View

Front Mudguard & Suspension

Brand Logo & Name

Model Name

Foot Rest View

Rear Indicator View

Back View Mirror

Front Indicator View

Front Brake View

Rear Brake

Metallic Red

Thunder Grey

Dark Night

Racing Blue

Thunder Grey
Metallic Red

Thunder Grey

Dark Night

Racing Blue

Thunder Grey
Yamaha YZF R15 V3 360 View
R15 V3 Pictures
Find high-quality images of Yamaha YZF R15 V3. New Yamaha YZF R15 V3 has 28 images and 360-degree views. Checkout the front view, rear view, side view, top view & stylish photo galleries of R15 V3. Yamaha YZF R15 V3 is available in 5 colours also.
To get more details of Yamaha YZF R15 V3, download Zigwheels App.
Yamaha YZF R15 V3 Exterior Images
Yamaha YZF R15 V3 Overview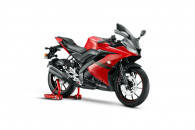 Performance

Comfort

Features & Styling

+ 2 more
Preferred For : Daily Commute
58% of users have given a rating of 4.5 and above
5.0

Kam ke liye jaroori kharidna chahta hun lenovo ke dariya se main bike baat karna chahta hun main isko apne shauk ke liye vah per main chahta hun

4.6

Good bike and good mileage low maintenance.Driving fell is very happy.Excellent.

3.0

Success🏆💪For yamaha r15 yzf

5.0

Yamaha r15 v3 is very nice and nice performance, Good looks and good mieage, R15 v3 is completely sport bike as we like

4.6

Performance and mileage is good but it's not for long ride yamaha is build a exelent machine i'm happy with her performance and fuel economy thanks for yamaha.
All R15 V3 User Reviews
5.0

Having a bike was a childhood dream for me. I spent over 3 months researching all the available bikes in India before finally choosing the Yamaha R15. From the moment I saw the bike I could sense there was something very special about it. Not just its excellent looks but also it's brilliant performance. From the YouTube videos of various riders demonstrating the R15 I could tell that it's an 'Exceptional' Bike. I took a test ride and was really impressed with it. Before that I had an opportunity to also ride the KTM RC200. I preferred the R15 over all other bikes in the 150-200cc set. I will now present all my findings having done over a 1100km on this bike in just under a month. The engine and performance is excellent. Perfection. Great pickup, smooth transmission, easy gear shifts, good braking and tons of power if needed. This bike is deceptively fast. I just want to mention I like to keep at very safe speeds. I remember recently i was cruising at about 60 in the city and the road had less traffic so I decided to throttle it just a little. Within seconds I looked at the speedo and it was at 110kmph. It's surely a top end monster. It is as smooth at 60kmph as it's at 100+. Zero engine strain. The mileage I got from the bike brand new with no service was 58kmpl. That's pretty unbelievable for a bike with this kind of performance. That surely indicates great engineering. The looks of this bike stand out in a big way. Very elegant and good looking design. Classic lines. I can see people staring at it at intersections. The bike gets compliments all the time. The bike off roads surprisingly well too. I took it to Damdam lake and I could take it through the steep dirt tracks to the lakeside without a problem. The riding posture is aggressive and I personally love it. It's feels great to ride this bike. The key is to keep your arms and wrists relaxed and use your legs to grip the tank and thus distribute your body weight off your upper body. This is actually the recommended way of riding ALL kinds of bikes as per riding instructors. Since I got the bike I don't drive my car much anymore. That's how much fun this is. That too with Indian traffic and weather which can be challenging at times. I have already toured a little on this bike having done about 1000km going on road trips riding many hours at a stretch. No problems to report at all. A true winner. Buy with confidence. I will recommend that you get all the accessories as well, like crash guards etc. They all are very good for your bike and help keep it safe. Special thanks to Yamaha JM Motors Noida for their great support throughout the buying experience. They worked fully throughout the peak of the pandemic. I hope that you found this review useful. Please do follow me on YouTube. My name is Arjun Kaul aka Lord. Stay safe and happy riding)

3.0

I have bought the bike on 20th of march in cash and on the same day i realize that the meter's button were not working. So i concern with the dealer with the issue he then changed the meter. Now as their was lockdown in india i was not able to ride my bike. But in may month i move to my native town amravti from pune where i realize that their is again a issue in the meter as it was not showing proper speed. Now meanwhile i have to take my bike to servicing but their is no authorized dealer in my hometown and i have to go more than 100km to visit the yamaha showroom for servicing and to resolve my meter problem. Now when i call the yamaha india they are saying that when you will visit the showroom than and only than we can tell you about the meter waranty and will it be replaced or not.So my humble request to everyone is that please make sure that you check every part of your yamaha bike before you purchase of the bike if it is not proper than pelase replace the bike at the first place at the first purchase or else you be in big trouble like me as i have to now stumble upon.Because yamaha as per my experience will not compensate to your issue. My first servicing voucher is gone as i was following goverment rules and also if warranty of my meter is gone i have to also pay for it to, after purchasing incash yamaha bike.

1.0

I purchased the bike Yamaha R15 V3 in Bangalore Wheels Dr Rajkumar road Rajajinagar Bangalore Karnataka. After one week I washed the bike with water after that bike didn't start pannel board fluctuating and lights are blinking I spoke to the showroom they came checked the vehicle defect can't find they cheated me with push started the vehicle and they went. Again next day I washed the vehicle the same starting problem then I spoke to the showroom they told come with bike and I went with bike to the showroom they took me to their service center those Yamaha guys are very rood rough talking the are not attending my vehicle started fighting with me and coming to hit me and I went to the showroom they also fighting with me not obaying me and not attending my vehicle defects l am very unsatisfied with the Yamaha motors very very poor Yamaha people's are very rowdyism they don't know how to behave with customer after selling the vehicle very poor

4.2

Since its launch in 2008, I became a BIG fan of this bike in my childhood. After watching it evolving through time to time, as I got my license, I decided to buy this 150cc maniac.There's no denying fact that this 150cc perfoms just like a 200cc machine. It's screaming power output and aerodynamics, it made me reach over 150kms of top speed, just like a moderate 200cc bikes did.There's no word 'comfort' in it. It's aggressively positioned, which I prefer for the best handling at corners and speed. Console and engine are two precious gems embedded on it.Mileage is bonkers! Once I got 52kmpl, can't believe this!? Pillion seat height is not that high and refinement is still there as it used to have since 2008.I prefer this 150cc machine over 200cc because you get more mileage, which is the strongest issue in the motorcycle market of India, and its refined, its friendly natured..... Until you go past 9k RPM

4.2

Hum bheegi bheegi raton mein tera intezaar karte hainkya kahoon tumhe jaana jaan kitna pyaar karte hainduniya ne jo zakhm diye har zakhm dikhana hai zara paas toh aao gale lagana hai zara paas toh aao gale lagana hai waqt ka kya pata kab jeena kab mar jaana hai zara paas toh aao gale lagana hai mere haathon mein tera haath ho yahi mangoon rab sezamane ko main bhi kahoon tu mera hai haq seaakhon se shuru jo mohabaat hai usse dil tak jaana hai zara paas toh aao gale lagana hai mere paas toh aao gale lagana hai tum tum nahi hum hum nahi ek jaan hain ab se tadpe hain tarse hain tanha rahe kabsekuch hi der ki hai zindgi aur phir mar jaana hai zara paas toh aao gale lagana hai zara paas toh aao gale lagana hai gale lagana hai
All R15 V3 User Reviews
Images of YZF R15 V3 Competitors