KTM 390 Adventure - One Bike To Rule Them All?
Jan 27, 2020
Views : 9497
---
Is the new KTM 390 Adventure the perfect do-it-all motorcycle for India that we've been waiting for, for so long?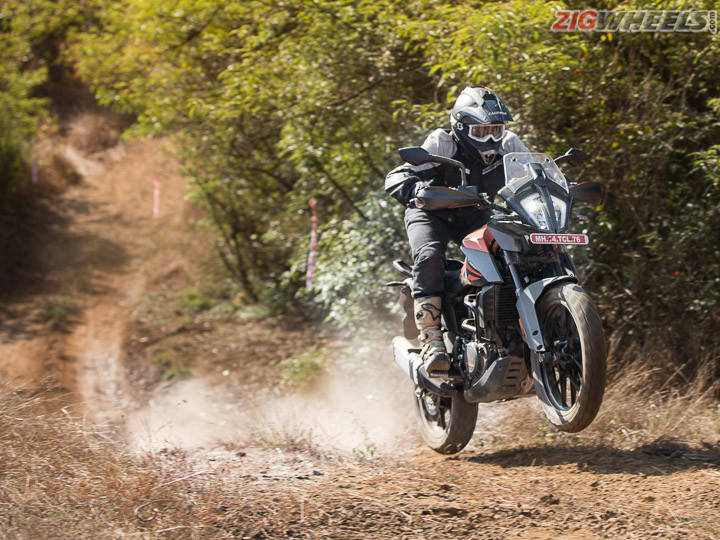 With practically no feel from the front tyre and the rear simply floating over pebbly gravel, I'm overcome with a sense of discomfort, of disconnection with the bike. Of course, I'm quick to blame the slightly ludicrous 855mm seat height and even the terrain - it's clearly not meant for adventure motorcycles. Although I suspect my general lack of off-road riding skills did play a big part in the jitters I was experiencing. But the fact of the matter is that no other KTM motorcycle has made me feel so out of my depth so quickly. My first few minutes riding the new KTM 390 Adventure felt almost disappointing. A little disheartening considering that we had a lot of expectations from KTM's smallest, most accessible adventure bike. Has it not managed to live up to those expectations then?
The dirty, dirty dance

| | |
| --- | --- |
| Front Suspension | 43mm WP Apex USD forward-offset fork, 170mm travel |
| Rear Suspension | WP Apex monoshock, preload adjustable, 177mm travel |
Tyres
F: 100/90 - 19
R: 130/80 - 17
Make: Metzeler Tourance
It's surprising that the 390 ADV didn't feel more welcoming on the rough stuff. After all, it's running on somewhat familiar hardware when it comes to engine and chassis, and it's also got electronic riding aids in the form of lean-sensitive traction control and cornering ABS. Well, turned out our test bikes were running road tyre pressures on the punishing off-road trail, making it hop, skip and generally feel skittish everywhere. Dropping them down certainly calmed things down, but not enough to make short work of the tight technical trail we were on.

But then, the on-paper specs of the 390 ADV don't look all that promising for off-road riding. With the WP Apex suspension offering 170mm of travel at the front and 177mm at the rear, it's just 28mm and 27mm longer, respectively, than that on the 390 Duke. Here, bikes like the Royal Enfield Himalayan really have it beat by a fair margin. And while the suspension is firm enough to handle bad roads well, the lack of outright travel means that taking on rocky off-road trails is a treacherous affair. At least the international version of the 390 ADV gets comprehensive suspension adjustment, which we just don't. It also doesn't help that the 390 ADV gets a smaller (for an ADV) 19-inch front wheel and runs Metzeler Tourance rubber that's clearly not meant for serious off-road work. And you're stuck with alloy wheels, at least for now.

You can check out how the 390 ADV stacks up against its competition by clicking HERE
| | |
| --- | --- |
| Engine | 373.2cc single-cylinder, liquid-cooled, 4V, DOHC |
| Power | 44PS @ 9000rpm |
| Torque | 37Nm @ 7000rpm |
| Transmission | 6-speed with slipper clutch |
But while the underpinnings do hold the 390 ADV back in the dirt, the larger concern is the powerplant. The 373cc single from the Duke is carried over as-is (save for some work to get it BS6 compliant), and so are all the gearbox ratios. Heck, even the sprocket sizes are untouched. Which means that this motor's notorious inability to cope with slow speeds becomes a real hindrance to technical trail riding. Below 2000rpm, there's absolutely no poke, and you'll fry the muscles in your left forearm working the clutch to prevent the 390 ADV from stalling at a precarious point. Get the motor above 4000rpm, and the torque kicks in with a vengeance, causing sudden wheel spin on the bike and quite possible involuntary loss of bowel control for the rider.

The traction control doesn't do it any favours either. When engaged, it intervenes abruptly, easily throwing you off balance. Funnily enough, even with it switched off, it managed to turn itself back on a few times as the rear wheel hopped over some rocks. Thankfully, this did not recur after we reduced tyre pressures. The off-road ABS, on the other hand, works really well. There's great feel from both ends with no juddering, and the rear isn't too quick to lock either.
With all this said, let the 390 ADV build up speed on some wide, more predictable, soft gravel paths, and things suddenly start to fall into place. Here, you can easily look past the motor's slow speed (mis)behaviour and forgive its not-so-impressive suspension travel and ground clearance. On such tracks or even broken roads, as you ride faster and faster, the suspension soaks up pretty much all punishment thrown at it. But there's something to be said about the riding stance. While the change in ergonomics (over the 390 Duke) has made the ADV a very comfortable bike to sit on, standing on the pegs and riding is a slightly awkward affair. You do get textured centre panels to make it easier to grip the bike with your calves while standing, but the bars feel a little too low, and require you to either bend forwards, or stick your butt out in an aggressive 'motocross stance.'
The long road ahead

Hit the open road and things suddenly brighten up. That wonderful motor performance that makes the 390 Duke such a delight on highways is still there on the ADV. Only now, the motor feels a bit smoother, quite possibly thanks to BS6 upgrades. The end result is a bike that can easily hold triple digit speeds on the highway in top gear, with more than enough grunt in reserve to make quick overtakes by just opening the throttle. It's just as manic in its performance too. So while there will be some who would prefer a calmer bike while riding long distances, we, for one, absolutely love what the 390 ADV has to offer here. And there is one feature the Indian 390 ADV has thrown in as standard, which is an optional extra in the international market - an up-and-down quickshifter! That said, this system did feel a little clunky at mid-rpm, even though it's supposed to work from just 2000rpm upwards.

| | |
| --- | --- |
| Seat Height | 855mm |
| Ground Clearance | 200mm |
| Rake/Trail | 26.5-deg/98mm |
| Wheelbase | 1,430mm |
| Fuel Tank Capacity | 14.5-litres |
| Kerb Weight | 162kg (dry) / 177kg (kerb) |
But what really makes 390 ADV such a great tourer is the revised (over the 390 Duke) ergonomics package. The rider's seat itself is exceptionally spacious and comfortable, and the padding is perfectly firm to support even the widest and heaviest of derrieres over long journeys. With a longer subframe, and increased clearance compared to the Duke, KTM has also managed to increase the distance between the handlebars and seat, as well as push the footpegs a little forward and lower. Factor in the wide bars, and everyone - from the shortest to the tallest riders - should be able to take on a few hundred kilometres in a day without breaking a sweat. And with fewer fuel stops too, as the new, wonderfully sculpted fuel tank now carries 14.5 litres of petrol - one litre more than the Duke.

There's improved wind protection in the form of a tall windscreen, which although adjustable to only two preset heights (and that too requiring an allen key to do so), should suffice for riders of all heights. As for the pillion, the rear seat feels spacious enough (although we're yet to thoroughly test this) and the wide, chunky grab rails are easy to grip. But it remains to be seen whether these grab rails will interfere with mounting saddle or tail bags, although KTM India is working on a set of affordable luggage options for those with journeys on their minds.
The windy bits

To be honest, we were expecting the 390 ADV to be somewhat of a slouch in the corners. Afterall, compared to the super sharp Duke, the rake has been pushed out by a degree and a half (to 26.5 degrees), the wheelbase has gone up by 73mm (to 1430mm) and you have to contend with a larger front wheel. But KTM has been smart here. Thanks to an offset mount for the front wheel, the trail hasn't increased by how much the increased rake would suggest - it's just 98mm, reducing steering effort without sacrificing the stability the other changes have brought. The wider 'bars offer better leverage too and that, with the higher centre of gravity, helps the 390 ADV tip into corners much quicker than you'd expect. Of course, it's nowhere as reactive as the Duke, but show the ADV a set of corners, and it's hard not to have a stupid smile plastered all over your face. And while the choice of tyres KTM India has gone for aren't the best for off-roading, they're plenty grippy on tarmac. The brakes too, work really well in a straight line. And when leaned over, you now have added confidence thanks to cornering ABS as standard.
Brakes
F: 320mm disc, 4-piston radial caliper
R: 230mm disc, 1-piston caliper
ABS: Switchable dual-channel with Off-Road mode
Premium features

The 2017 KTM 390 Duke had really set the benchmark when it came to offering a massive amount of high-end features for a reasonable price, and the 390 ADV is no different. It's carrying over the same colour TFT screen as the Duke, which offers Bluetooth connectivity to your smartphone for controlling music and phone calls. Additionally, you can also spec out the ADV's console with a turn-by-turn navigation option. You also get a dedicated GPS mount over the standard instrument console and a 12-volt charging socket below it. Let's not forget, it's also packing IMU-based, lean-sensitive traction control, cornering ABS with an off-road mode and a quickshifter - all as standard.
Is it for everyone?

The short answer is 'no.' For one, the really adventurous riders will feel a bit let down by the 390 ADV's lack of serious off-road ability. Then, shorter riders, especially those below 5'6" in height, would likely find the seat height intimidating, even on tarmac. But if you don't fall in these two categories, and are looking for a comfortable and capable long distance tourer that can take on anything from excellent highways to broken roads to even gravel roads, then the 390 ADV might be the perfect companion. So it certainly isn't that perfect do-it-all motorcycle that we were expecting. But hey, it's great for touring, and at Rs 2.99 lakh (ex-showroom), it's fairly affordable too KTM 390 Adventure Price.
KTM 390 Adventure Video Review
More on KTM 390 Adventure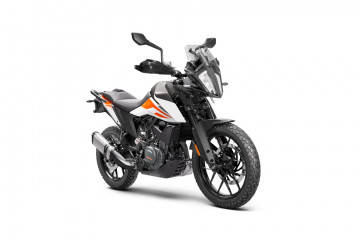 Rs. 3.10 Lakh Onwards
Ex-showroom, Delhi
390 Adventure Alternatives
See what our community has to say!
NEW
India's largest automotive community