KTM 390 Adventure: Road Test Review
by Ruman
Apr 12, 2020
Views : 10657
---
It's not perfect, but can you choose to look past that? Let the road test decide.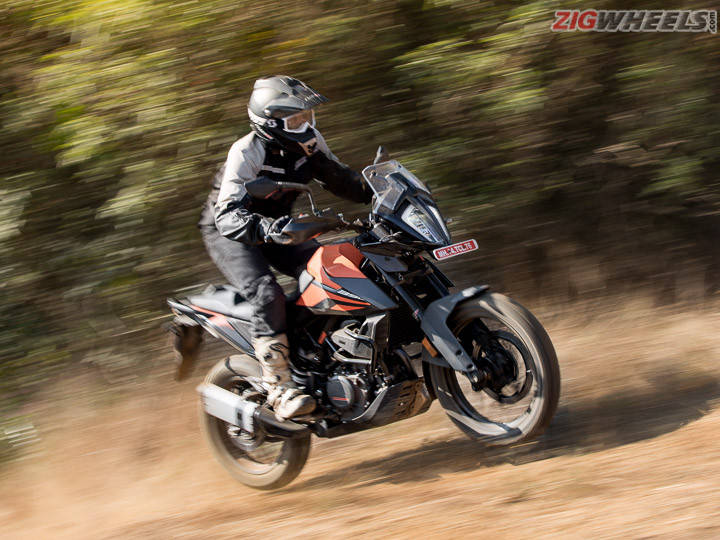 The idea of a fast adventure tourer sounds a bit paradoxical, if I can be honest. A binding theme with all the good things in life is that the amount of time you spend engaged in them is proportional to the satisfaction you derive. Think about it. Nobody goes angling by the sea shore 'for just five minutes'. It's the same with people who paint, play an instrument, cook and so on. So, why is it that adventure-touring enthusiasts want a fast motorcycle? If you enjoy being on the road, you'd presumably want to stay on it longer, right? Why, then, should you be looking at the more expensive KTM 390 Adventure over, say, a Himalayan or an XPulse, then?
So far, this Rs 2.99 lakh motorcycle has presented a promising dream. It looks purposeful, has a proven powertrain, and that sticker price itself is hardly what you'd call exorbitant. If I were, for a moment, to set aside my burdening apprehension with regards to fast tourers, then the 390 Adventure would make perfect sense. So what if it's fast? You can always ride it slower, no? Speed, after all, is a choice. Inability to speed up, on the other hand, is a handicap. Moreover, the 390 Adventure isn't simply fast. It's also packed to its imaginary gills with items such as a Traction Control unit, ABS for off-road and for cornering, and even a quickshifter - things we've so far expected of motorcycles worth at least four times as much. The writing's on the wall; ignore the 390 Adventure at your own risk.

Thus inflated with the excitement of these expectations, I set off towards a faraway land (you will have watched our elaborate film about it on YouTube by now) way before the sun was up. With my luggage over-obsessively strapped on, the 390 ADV and I cut through the pleasant nip in the Pune air - a bit quicker than usual. Being 6 feet tall myself, I hadn't found the 855mm seat height disconcerting and rather enjoyed the commanding perch. In about fifteen minutes, I went 'Hey! It's like a little Multistrada!'. Indeed, if KTM would license the production of this bike to Ducati, which, in turn, would make it monumentally prettier (assuming it is pretty at all, to begin with), there'd be many more takers for it. Think about all that development money you'd save, too, Claudio!
While I struggled to recalibrate to all this surplus speed at 4am, the bike bearing all of my weight seemed to not mind at all. A well-lit up speedbreaker in my path was observed with suspicion and, a split-second later, we were perfectly airborne, the 390 Adventure landing perfectly on its 17-inch rear tyre, with the 19-inch front following suit gradually. Just the way it should be. I was beginning to enjoy the confidence in its stride and had already begun confiding in it, and we'd only known each other for all of twenty minutes. The bright TFT screen flashed more information at me than I could process, but I could see enough to know I was triggering every speed camera in my path. What contributed to my contentment was the strength, predictability and progression of the brakes; there was nothing to learn or adjust to, in this regard - always a sign of a healthy motorcycle. It even has cornering ABS but I hoped to never find out how, or if, it worked.
BRAKING

| | |
| --- | --- |
| 100-0kmph | 52.81m |
| 60-0kmph | 32.86m |

One half of an hour later, we were on the highway. It was still pretty early, but traffic down the four-lane was sparse and so I settled at around 90kmph to begin with, finally able to look around at the screen and controls intermittently. The headlight flasher is a nice index finger trigger, and all the backlit buttons feel tactile and quite intuitive too, once you've established a rough map of the layout. So far, I hadn't bothered with the ABS, TC or quickshifter settings, all of which had been left on and unfettered. The windscreen is height-adjustable - all you need is an Allen key - but I'd left that in its standard position as well. Right now, I was only interested in its inherent qualities. The alterable nuances, we'd get to later.
If your question, therefore, is whether it's a good highway motorcycle or not, the answer is a very free-of-conflict 'yes'. The 390 Adventure has that '1000km day' quality to its stride, something that's so far been the domain of motorcycles at least twice as expensive. It's not all just feel-based either. While 0-60kmph in 3.01 seconds and 0-100kmph in 6.53 seconds sounds dramatic, its roll-on acceleration timings are equally impressive - 30 to 70 in 3rd gear in just 4.26 seconds, for instance, and 40 to 80 in 4th gear taking a delightfully short 5.64 seconds. Okay, so both, the BMW G310 GS and the Kawasaki Versys X300 are better at roll-ons, but they are also not very VFM.

Couple that sort of usability with a motorcycle that doesn't need much room to cross 160kmph and can still do roughly 320km on a full tank in real-world highway conditions, and what you get is simply the most able, well-equipped touring motorcycle you could have ever asked for, for that kind of money. On the flip side, and this is a bit of a scandalous revelation, at 100kmph it's the Himalayan BS6 that feels calmer, better insulated and more refined (the engine does sound quite unaesthetic at that point), where the KTM vibrates noticeably at the pegs.
ACCELERATION
| | |
| --- | --- |
| 0-60kmph | 3.01s |
| 0-100kmph | 6.53s |
In the city, it feels like a sort of Mad Max Duke, with you perched at an altitude sickness-inducing seat height. The 177kg kerb weight is healthy and the leverage from the fat handlebar puts you at further ease with manhandling the 390 Adventure in city traffic. It is, of course, perfectly zippy - as a 43.5PS motorcycle should feel - although it definitely doesn't feel as perky as the Duke. I like the grown-up-ness of its mannerisms because seven years on, the 390 Duke still manages to scare me silly sometimes. It's also wonderfully roomy, something I, being tall and heavy, haven't been able to say about KTM's Indian singles so far. Add to that the undiscounted poise from the Metzeler Tourance on/off-road pattern tyres, and what you have is a faultless do-it-all package.

Oh, wait. Now that I've brought 'do-it-all' up, let's tackle that Adventure' name tag. Let me say this up front: the KTM 390 Adventure is a very capable motorcycle off the road, but it is far from perfect. If adventure, to you (in a motorcycle context), is a motorcycle's ability to kick up dust, take you to a camping spot, and get you back securely, you'll like the 390 Adventure. It's also quite effortless, with the light clutch and throttle and the ease of steering inputs making life off the road quite comfy. However, if you take your adventure nameplates a bit seriously, you'll have a few bones to pick. Quite oddly for a manufacturer so deep-rooted into the off-road motorcycle business, KTM has skimped on things - such as ground clearance, suspension travel and so on - that were a matter of configuration, not componentry. Out in the wild, the 390 feels energetic over dusty surfaces or over crests - a real Instagrammer's delight. Show it a technical trail, though, and the mountain of expectations it builds up simply crumbles.
It just doesn't have the ground clearance to clear big-ish rocks, and while the suspension travel is ample for moderate use, just why could it not have been longer? The problem here is not about ability - the 390 will go absolutely anywhere an XPulse will, if a bit slower - but about how it gets there. From a veteran in this class of motorcycles, you'd expect finesse, something supremely clever that'd make other manufacturers go 'Ah! Why didn't we think of that?!'. You get none of it here, just a taller, fancier Duke. Sure, it isn't called the 390 Enduro or SX, but the Adventure nameplate has stood for some serious potential in the KTM family. Nobody expects the Adventure to climb trees, but does the weight of its own lineage not warrant some focus?

On an average trail, the 390 Adventure does feel capable and fast, its suspension really working hard to keep you in charge but, aside from the default advantages of having more power, there's no special trick up its sleeve. Sure, you have Traction Control, but it's more a bar talk feature rather than a genuine rider assist. The unit is quite erratic, re-engaging at will over loose and rocky surfaces, turning into a serious distraction if not entirely a hazard. When you stand up on the pegs, most of you will find the handlebar set too low to be able to grip the tank with your knees. So even on surfaces where the 390 Adventure could shine, you'll suffer from a loss of confidence owing to something as elementary as ergonomics. I also can't fathom why the serrated footpegs are set at a forward bank when no other adventure motorcycle in the world has them placed that way. Wait till you get some monsoon slush on them! It also takes a fair few seconds to turn the TC off and set the ABS to 'off-road' mode, which is fine since you aren't going to do the Dakar rally on it, but from KTM, you'd expect something ingenious and it's simply not to be found.

Sure, time will spawn a few cheap fixes to some of these niggles, but there's no singular aspect to the 390 Adventure that makes it sacred - like the Deltabox frame was to the R15, for example. This 'more power than you'll ever have' formula worked well for the Duke, because speed is a deciding factor for road bikes. The same metric doesn't apply to adventure motorcycles, however. This is not to say the 390 Adventure is not fun - it most definitely is. It's fuss-free, spacious, fast (that comes up often, you see?) and has quite a handsome presence. However, it's not much greater than a 390 Duke (which is substantially cheaper) on the road, and neither is it better at any singular off-road aspect than the Himalayan or the XPulse. This would, perhaps, have been okay if the Duke and ADV were similarly priced, or if KTM hadn't kept us waiting this long for the latter. But neither is the case. For now, the 390 Adventure is a nice bike, but it's not the nicest of its kind KTM could have built us.

A nicer 390 Adventure would be a de-specced version - no TFT, no LED headlights, no TC and cornering ABS, and it'd be okay even if the tyres weren't expensive Tourances. In fact, if KTM were to suffix an 'R' to it and (for some reason) charge a premium, that'd still be welcome. Alternatively, if KTM were to come up with a 200 Adventure (now that the 200 is based on the new-gen platform; the 250 is a bit soft, no?), with that lovable, high-energy motor, minus ride-by-wire and all the electronic paraphernalia, that would just be awesome! Okay, it would be noticeably slower, but didn't someone say the longer you spend doing something, the better you will get at it?
KTM 390 Adventure Video Review
More on KTM 390 Adventure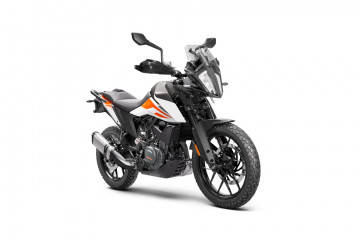 Rs. 3.10 Lakh Onwards
Ex-showroom, Delhi
390 Adventure Alternatives
See what our community has to say!
NEW
India's largest automotive community