The Little Changes That Make A Big Difference On The New Kawasaki 650s
---
Change just for the sake of legislation, or a genuine improvement over their predecessors?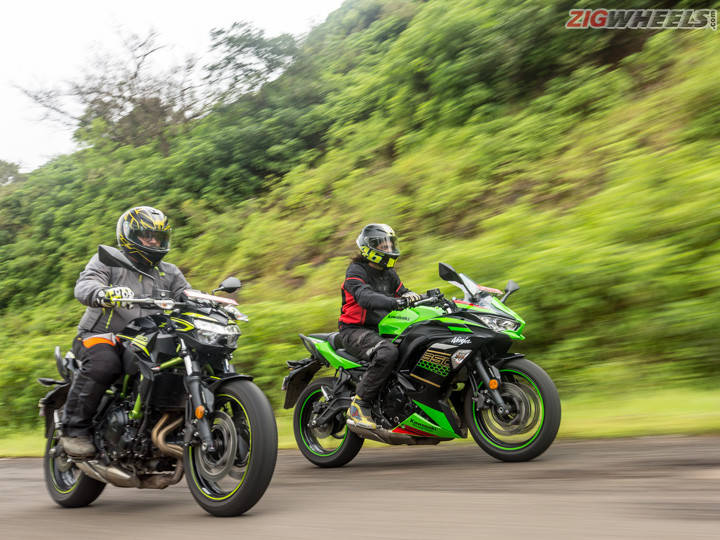 When a friend of Grand Prix racer Colin Edwards saw his mechanics gingerly hammering a fork leg through a triple clamp to the point where it barely moved, he was convinced that Edwards' mechanics were just screwing with him - fooling him into thinking that a geometry change had been made so that he would placebo himself into believing that the bike handles better after the 'adjustment.' But anyone who's ever dropped a few PSI of tyre pressure or fiddled with the knobs on his adjustable suspension will tell you that it's the little changes that make a big difference to how a bike feels.

The Kawasaki Ninja 650 BS6 and Z650 BS6 have received little changes over their BS4 predecessors, and the two updated bikes are also separated by little changes themselves. A cleaner burning (but slightly less potent) motor, a new look and some fancy new features help identify the new from the old, while the Ninja's full fairing tells it apart from the naked Z. So, how much of a difference have these little changes made? Read on to find out…

What A Racket!

Ironically, the area where Kawasaki has tried to minimise changes as much as possible is where there has been a great deal of experiential difference. Despite Mr. Lawmaker attempting to strangle Team Green's glorious 649cc parallel-twin motor, the ol' 68PS power figure has been retained. Torque is only down by 1.7Nm (which you won't notice), the BS6 bikes are around 0.3 seconds slower to 100kmph (which you won't notice) and the engine now sounds a whole lot better (which you and your neighbours most definitely will notice). The new bass-ey exhaust note makes the 650s sound almost like single-cylinder motorcycles at idle, but once you're on the move and have them singing, you travel along cocooned in a bubble of rorty symphony that's equal parts exhaust blare and induction roar. The VBox was constantly at odds with our ears and minds, because irrespective of what the graphs show, the new soundtrack makes the 650s feel a whole lot sportier, quicker and more eager than their precursors, saving you a chunk of money and almost entirely eliminating the need for an aftermarket exhaust system.

Delivery hasn't taken a hit either, and the DOHC motor remains just as usable as before. Gentle roll-ons even slightly below 2000rpm see the engine dutifully pull you along without complaint, and the forward surge builds strongly and linearly all the way up to around 9000rpm, beyond which drive tapers off before hitting a soft limiter at 10,000rpm. Sure, it doesn't have the manic top end that we sometimes associate with Kawi parallel-twins, but the upside is a great spread of grunt that minimises the number of gearshifts required. Not that you should shy away from shifting, because the gearbox on both bikes feels precise and unfailing. The Ninja slotted into gear more smoothly while the Z felt a bit more clunky, but this could be down to the way both bikes were run in. The effortlessness quotient is further increased by the light clutch action.
The engine's sonorous melody and effortless power delivery are so engaging that we wouldn't normally bore you with menial matters like fuel efficiency, but since the Ninja 650 touts itself as a sports tourer and the Z650 should be a great urban companion, here goes:
Both bikes are quite thirsty in the city, with not much to separate them in terms of fuel efficiency. In urban confines, they also gulp through fuel quicker than the Z650 BS4. But out on the open highway, mileage numbers have improved considerably over the previous generation, and the more aerodynamic Ninja takes the win on its home turf. A reasonably large 15-litre fuel tank should also see you manage 400 kilometres at a stretch before you begin to worry.
Subtleties From The Saddle

They look radically different, but jump on board and you find that the riding positions on the two bikes aren't all that far apart. Yes, the Ninja, with its slightly lower and more steeply angled bars makes you lean forward that little bit more, putting you in a sporty and intentful position, but it's by no means uncomfortable. In fact, both bikes have spacious rider's seats -- the Ninja's hits a sweet spot in terms of cushioning and remains comfortable even over longer durations, while the Z's is slightly softer and hence feels nicer for short hauls but becomes painful in the long run. The Z isn't a sit-up-and-beg streetfighter -- it's got the same mildly aggressive footpeg positioning as the Ninja, and the handlebar, though wider than the Ninja's, is quite narrow for this class of bike, and not all that swept back. So the Z has a forward lean of its own, though not quite as pronounced. All this seems to indicate that the Z will be the friendlier and more comfortable bike of the two, but oh no.

If you're the sort of weirdo that reads spec sheets for fun, you're going to be mighty confused when I tell you that there have been big changes in the suspension department. Because on paper, both bikes retain the same 41mm front fork and preload-adjustable monoshock as before. But the setup has been altered quite drastically. The Ninja has taken on a softer touch and now gets a very plush and pliant suspension setup - its aggressive looks belie the splendid ride quality. Heavier riders might feel the need to bump up rear preload but for my lockdown-bloated-but-still-rather-slender 57kg frame, things were A-OK right from the get go.

Obviously, then, handling will have taken a hit, right? Wrong again. Mostly. The Ninja is a neutral-steering bike that's agile enough to reward an experienced rider yet not so nervous that it would intimidate a newbie. Yes, mid-corner bumps can upset the bike a little, but a stiffer preload setting mitigates this issue to a great extent. Overall, the modifications to the suspension setup have made the Ninja a more balanced and versatile motorcycle.

Balanced and versatile are words that should traditionally be associated with the Z, but this BS6 update has seen a role reversal. Yes, we did accuse the previous Z650 of being a little too soft and wallowy, but this update has taken things a little too far in the opposite direction. Ride quality is now decidedly stiff at low speeds, with sharp bumps battering the rider's backside, resulting in a pretty harsh and jarring city ride.

On the upside, the bike is very composed at high speeds, and the stiff suspension and slightly wider bars mean that the Z requires very little steering effort when things get twisty. Despite the easier handling, the Ninja's sportier riding position makes it the more rewarding bike to hustle up a mountain road. Us lockdown inmates have probably fared much worse than the 650s, because the Z has only gained a kilo while the Ninja hasn't put on any weight at all in the transition to BS6.
Once the pillion completes their long and arduous ascent to the rear seat, they're actually greeted by quite a comfortable, upright and roomy seating position. The padding is on the firmer side, and though this can be lived with on the Ninja, when coupled with the Z's merciless ride quality, things can become quite uncomfortable.
Braking Blemish

What goes up must come down and what accelerates must decelerate in a manic frenzy when the dog runs out in front of you. And this is an area where the Kawasaki 650s fall short quite dramatically. A pair of dinner-plate sized discs up front should mean a lot of stopping power, and so it is. But power is nothing without control. When braking hard, ABS kicks in far too early at the front -- and when it does, brake pressure is released excessively and for far too long, resulting in a brake lever that's seemingly frozen solid, and some rather long braking distances. With slightly more weight over the front on the Ninja, we found the issue to be slightly minor in magnitude, but still not small enough to completely ignore. At the rear, it's the opposite story, because on many occasions the wheel completely locked up on both bikes before ABS decided to take any action. So all in all, you better hope that the dog has sharp reflexes.
Tyre Troubles

Part of the reason why the ABS could be kicking in so early is the Dunlop Sportmax Roadsport 2 tyres. On paper, they are an upgrade over the D214s previously offered on these bikes, but in our experience they didn't prove to be much of an improvement. Dry grip on smooth tarmac? Not exceptional but not bad either. But as soon as you've got water on the road, or mud or gravel or any sort of imperfection, things become very loose very quickly, especially at the rear. The good news is that you could kill two birds with one stone by swapping these Dunlops out for something grippier, because the extra adhesion should theoretically also result in the ABS issues being mitigated to some extent. The fact that these Kawis use standard wheel and tyre sizes means that there are a lot of options to choose from.

We've finally reached the bit of the review that most of you are here for. A big chunk of the Rs 25,000 (Z650) and Rs 35,000 (Ninja 650) price hikes over the BS4 models can be attributed to fancy new electronic hardware in the form of a Bluetooth-enabled TFT screen and LED headlights. Compared to the other changes on these bikes, these additions are pretty big. So, big changes, big difference? Quite, yes. The screen is crisp and well laid out, and greatly adds to the perceived value of both bikes. Gear position, speed and even RPM can be read at a glance, which isn't always the case with fully digital units.

The Bluetooth connectivity allows you to locate your parked bike, log your rides, and change certain settings on the bike using your mobile phone, but what you can't do is receive on-screen navigation or control music playback. The brochure says that you can receive call notifications on the display, but we couldn't get this to work even after repeated attempts with multiple Android devices. When you also take into account how the screen's menus and sub-menus have to be navigated using just two buttons on the dash rather than directional buttons on the switchgear, we find the screen to be a good addition but somewhat underutilised.

The disappointments of the screen are more than made up for by the excellent LED headlights. Our previous experiences with LEDs have left us quite underwhelmed in most cases, but we were pleasantly surprised by the excellent intensity, spread and focus of light on both the Kawis.

Mean & Green

The last thing in this review is the first thing you'll notice when you walk up to both bikes,and that is the styling. Both bikes have received a pretty comprehensive design revision, with the Ninja the more transformed of the two. The redone front fairing, headlights and screen have now given it the Ninja family look, making it remarkably similar in appearance to the mighty

Ninja ZX-6R

. In contrast to its friendlier nature in the BS6 era, the bike now looks sharper, meaner and more focused.

The Z has also gotten a dose of Kawasaki's signature Sugomi design language, and thanks to an edgier headlight design, it now looks closer to recent cousins like the

Z H2

and

Z900 BS6

. It's got a nice muscular, hunkered down streetfighter stance that gives it a butch vibe, but the cost of that hunkered down look is a measly 130mm of ground clearance on both bikes. Speed breakers with a pillion on board? Better close your ears. 9 out of 10 buyers will remove the barbecue-grill saree guards within a day of delivery, so rather than waste too much time complaining about them, we're going to spend that time appreciating the gorgeous Z and X-shaped tail-lamps instead.

Grab Your Keys

So, does the mantra hold true? Have the little changes made a big difference? Quite simply, yes. The Ninja's newfound soft touch has grown it into a more agreeable and well-rounded motorcycle that will allow it to fulfil more roles and appeal to more riders than before. It definitely feels more upmarket too, thanks to the new design and lengthier features list, so there's no problem justifying the premium over the BS4 bike. It's also the one here that gives you a big-bike feel from the saddle, which the Z, with its 390 Duke-like proportions, doesn't succeed at.
The naked in the lineup has gone in a whole different direction. The Z650 was once the pragmatic, sensible choice in the 650 lineup, a sort of jack of all trades. Previously most at home in an urban environment, this BS6 update has introduced chinks in the Z's armour in the form of harsh low-speed ride quality and a suspension setup that feels crude and unsophisticated. These changes alienate the once-friendly Z, and our recommendation would hence be to shell out the extra Rs 30,000 (a rather insignificant premium at this price point) and go for the fully faired sibling.
Kawasaki Ninja 650 Video Review
More on Kawasaki Ninja 650

Rs. 6.24 Lakh Onwards
Ex-showroom, Delhi
View Finance Offers
View On Road Price