TVS Scooty Pep Plus Overview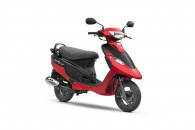 Scooty Pep Plus Alternatives
Scooty Pep Plus User Reviews
Mileage

Performance

Maintenance Cost

+ 2 more
Comfort

Features & Styling
Preferred For : Daily Commute
37% of users have given a rating of 4.5 and above
5.0

Welcome to gboard clipboard, Any text you copy will be saved here.Touch and hold a clip to pin it.Unpinned clips will be deleted after 1 hour.Touch and hold a clip to pin it.Unpinned clips will be deleted after 1 hour.

1.8

I bought tvs scooty pep last year in the month of september 2020.Since it delivery, Its create lots of problem.Its not starting by button start, Almost after 3 free servicing, Its creating new problems.I complain dealer about it, But after repairing also newer problems are occurring, I thought i made mistake by buying this scooty in covid period, Its a default piece i got from the dealer or from tvs company.This vehicle consumes two much petrol, Dealer salesman told me while buying that now petrol is directly connect to engine.There is no corroborator, So you should be cautious after fuel meter arrow reach red line you should immediately fill petrol otherwise it will stops running.I service this vehicle several times in six month, But after changing wire now back wheel is jam.So don't buy this tvs scooty pep new version, If you buy, You will be in total mess.

4.2

Good and easy experience.It took too less servicing.Never got off suddenly overall it is a good experience.

4.6

I want to buy tvs iqube with exchange my scooty pep plus, Please suggest me how much i will get exchange offer

1.8

I've take 2020 bs6 model from the starting facing lot of issues.Worst head lamp need upgrade to led, No tubeless tires, No charging port company kept d***y hole on bike, Stupid small brake system it always stuck and no use at all, Poor engine performance always sounds high, Auto rise of engine sound, More heat generated and mileage 57kmpl.I strongly recommend not to take this bike.
All Scooty Pep Plus User Reviews
1.8

I bought tvs scooty pep last year in the month of september 2020.Since it delivery, Its create lots of problem.Its not starting by button start, Almost after 3 free servicing, Its creating new problems.I complain dealer about it, But after repairing also newer problems are occurring, I thought i made mistake by buying this scooty in covid period, Its a default piece i got from the dealer or from tvs company.This vehicle consumes two much petrol, Dealer salesman told me while buying that now petrol is directly connect to engine.There is no corroborator, So you should be cautious after fuel meter arrow reach red line you should immediately fill petrol otherwise it will stops running.I service this vehicle several times in six month, But after changing wire now back wheel is jam.So don't buy this tvs scooty pep new version, If you buy, You will be in total mess.

1.8

I've take 2020 bs6 model from the starting facing lot of issues.Worst head lamp need upgrade to led, No tubeless tires, No charging port company kept d***y hole on bike, Stupid small brake system it always stuck and no use at all, Poor engine performance always sounds high, Auto rise of engine sound, More heat generated and mileage 57kmpl.I strongly recommend not to take this bike.

5.0

Welcome to gboard clipboard, Any text you copy will be saved here.Touch and hold a clip to pin it.Unpinned clips will be deleted after 1 hour.Touch and hold a clip to pin it.Unpinned clips will be deleted after 1 hour.

5.0

its very comfortable of riding the scooty pept plus due to its low weight the mileage and other things are easy to handle. The maintenance of its parts are also reasonable.

1.0

Think I'd you'll buy even after seeing this,,3 months- battery failure4 months-lock failure6 months- full battery deadAnd I haven't been even 3000 kms distance
All Scooty Pep Plus User Reviews