Yamaha, We Need These R15 V3.0 Colours
by Gaurav
May 16, 2018
Views : 12976
---
We run you through the list of colours offered in Indonesia and Thailand that will leave you wanting the same for the India-spec R15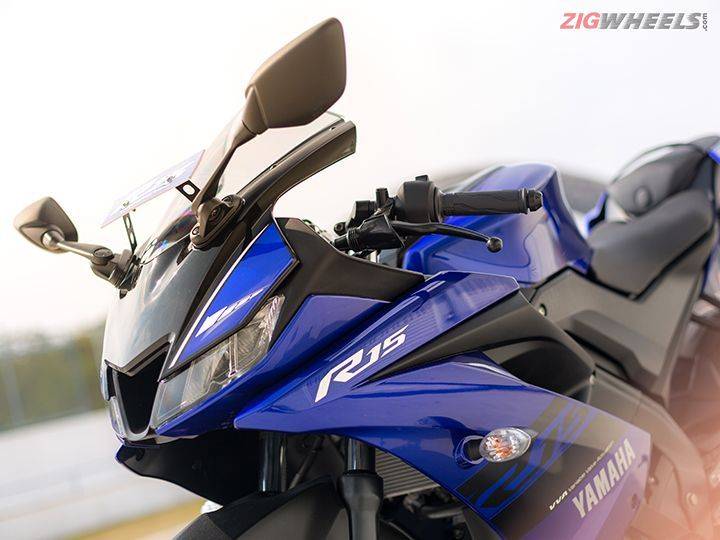 The R15 changed the whole ball game in the 150cc segment in India when it was launched back in 2008. Tech like liquid cooling, a 4-valve head, race-tuned chassis, stiffer suspension and grippy rubber made the R15 one heck of a track tool. It gave the average Joe the option to hop onto a thoroughbred Yamaha at an affordable price, which in turn gave birth to a new breed of motorcycling enthusiasts in India.
Cut to 2018 and Yamaha has introduced the third generation R15 which is more striking to look at, is packed with features and has a smoother revving engine.
As far as colour options for the third gen R15 go, there are only two to choose from – Racing Blue and Thunder Grey. Indonesia and Thailand, on the other hand, get an assortment of five colours - Racing Blue over White, Racing Red over White, Racing Yellow, Racing Black and a Yamaha Movistar livery. So what's our top pick? Well, let's have a closer look at each colour before we give our final verdict.
Racing Blue with blue wheels - Both the Indian and Indonesian R15 come with the Racing Blue paint option, but that's where the similarities end, as the Indonesia-spec bike gets color co-ordinated wheels, which brings a certain balance to the paint job. This option earns more brownie points for being similar to the paint job seen on the R15's elder siblings – the R3, R6 and the R1.
Racing Red - Racing Red is exclusive only to Thailand and pays homage to the 1999 R1 in Competition White. The matte finish really accentuates the lines on the bike giving it a bold look.
Racing Blue and White - Who wouldn't want to boast about having Yamaha's official racing colour on their R15. And to have it based on the 2013 M1 would make for an exciting proposition for all those hardcore Yamaha fans out there.
Racing Yellow - It looks like a modern take on the famous Yellow and Black livery that Kenny Roberts raced with in the 70's. But, with the generous use of colour on the body, coloured rim tapes and golden front forks, this paint job seems to be a little too out there, at least for us. However, it might appeal to those who love the attention.
Yamaha Movistar livery - Now, for any Rossi or Vinales fan out there, an R15 sporting the 2017 MotoGP inspired Movistar livery would be mind-boggling to say the least. However, it's not Yamaha's finest work, as the stickering used doesn't really capture the essence of its MotoGP counterpart, leaving a lot to be desired.


Racing Black - This is for all the Star Wars fans out there. Doesn't this sinister looking, all-black paint job with red highlights remind you of something? All you need is a Darth Vader helmet, a black robe and a red light saber to complete the look. And then, ride around pretending to choke everyone, having mastered the 'Force'. Jokes aside, this paint scheme along with the red rim sticker makes the bike look stealthy and all the more aggressive.
Our Choice - If Yamaha asked us which colour they should bring to India, we'd most definitely pick the 'Racing Black' (not because we're being strangled by Lord Vader) or the Indonesian version of the 'Racing Blue' with coloured rims. The Racing Black adds to the stealthy and aggressive nature of the bike, while Yamaha's official Racing Blue colour makes owning a thoroughbred race bike even sweeter.
Powering the 2018 R15 V 3.0 is a 155cc, single-cylinder, fuel-injected engine that churns out 19.3PS at 10,000rpm and 15Nm of torque at 8500rpm, paired with a 6-speed gearbox. For a complete review of the Yamaha YZF R15 V3, click here.
More on Yamaha YZF R15 V3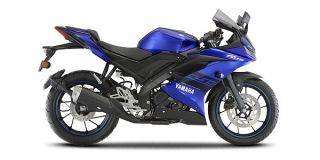 Rs. 1.27 - 1.39 lakh
Ex-showroom, Delhi
Get Rs. 4,100 Cashback
View On Road Price
Yamaha YZF R15 V3 Alternatives