2019 Ducati Diavel 1260S Review: Image Gallery
by Niraj
Jun 25, 2019
Views : 975
---
The Diavel finally lives up to what Ducati calls it - a Mega Monster! Here's what everything that makes it worthy of the tag in 26 detailed images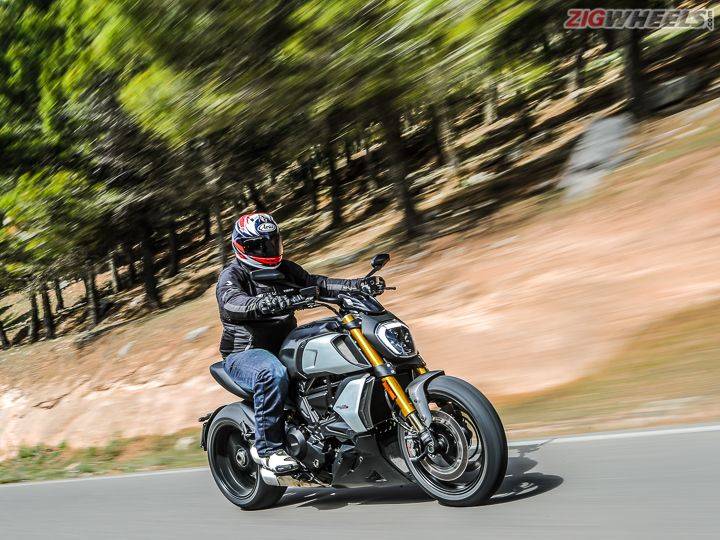 The Ducati Diavel has always been a bit of an oddball. It's supposed to be the muscle cruiser in the same vein as a Yamaha V-Max or Suzuki Intruder M1800, but that wouldn't be a fair thing to say as its riding position leans towards a sports naked.
Also Read - 2019 Ducati Diavel 1260 S First Ride Review
Ducati did address this with the XDiavel (making it more of a cruiser that is), however, the regular Diavel ended up getting an unfortunate, and undeserved, reputation of being a "show-off motorcycle". So eight years on, this all-new second-generation Diavel that you see here has a serious image issue to rectify.
Bigger and better
First things first, the engine. It's the larger 1262cc L-twin from the XDiavel that has made its way to this new Diavel
It now develops 7PS and 6Nm extra, bringing the total to a whopping 159PS of power and an equally ridiculous 129Nm of torque.
Before you scoff at the somewhat minor gain in power figures brought about by the 64cc gain in cubic capacity, know that now there is well over 100Nm of torque available from 3500rpm onwards.
The ride is just as mental as ever. Crack open the throttle hard, and you're shoved forward relentlessly as the L-twin bellows its way to the redline, with the front wheel desperately trying to claw its way into the air.
It's almost like being hit in the back by a freight train, nay, like straddling a Saturn V rocket making its way to the moon!
Slow things down, though, and there's a complete personality change. Sure, there's only so much tractability that a gigantic L-twin can manage, but compared to the previous Diavel, this one feels a lot smoother at city speeds.
There's a significant reduction in that typical jerkiness associated with larger Ducati motors when pottering around in traffic.
Majorly overhauled electronics
You do have all the riding modes that are now standard with all modern Ducatis - Sport, Touring and Urban - the last of which not only reduces throttle sensitivity but also cuts down max power to make the bike more usable in urban, or even wet conditions.
The big change here is a new 6-axis IMU (Inertial Measurement Unit).
With this comes Ducati's EVO set of electronic rider aids - eight levels of Ducati Traction Control EVO, eight levels of Ducati Wheelie Control EVO and three levels of Bosch Cornering ABS EVO.
The Pirelli Diablo Rosso III are competent enough that we were comfortable riding on even the slippery, rain-soaked tarmac of Marbella with these aids dialled back quite a bit.
It's not just about straight-line performance
At first thought, the continuously snaking road from Marbella to Ronda shouldn't be the best place to experience a Diavel. I mean, a bike that looks like a proper muscle cruiser would be best enjoyed on arrow-straight roads, right? Wrong!
This new Diavel flows from corner to corner in a manner completely unlike what you'd expect from a power cruiser. In fact, the handling is almost reminiscent of a big sports-naked.
The 240-section Pirelli Diablo Rosso III is an absolute game changer. Compared to the last-gen Diavel, this one gives you a huge amount of confidence when leaned over.
The S model that we were riding also came equipped with top-spec suspension - a fully adjustable 48mm Ohlins fork (2mm skinnier than the standard Marzocchi) and an equally adjustable Ohlins rear monoshock.
The sturdy Brembo M50 monoblocks at the front that bite down on a pair of dinner plate-sized 320mm rotors, help bring this behemoth down from speed surprisingly quickly, though initial bite does feel a little soft.
Goes like the Devil, looks like one too
There's no doubt that the Diavel always had an intimidating appearance, and that doesn't change even with this 1260.
But the new bike doesn't share a single panel with the older one. Some of the major mechanical changes, like the radiator moving to the front, having more of the engine exposed and the exhaust headers and box getting tucked under the bike, terminating into small twin pipes from side, have given the Diavel a slimmer, more athletic profile.
It's gone from a weightlifter to a heavyweight boxer, with the more angled air ducts and new "lightblade" indicators making for a chiseled appearance.
The flatter, sharper headlight design adds to this more aggressive aesthetic as well, which, from the front, along with the S model's DRL setup looks like the maw of a cobra with its fangs out.
The view from the saddle is great too, with the tank stretching out a mile ahead of you, culminating into a tiny full-colour TFT screen. While it looks like it might belong to a supermoto, it serves to accentuate the Diavel's beefy character.
The 3.5-inch display is almost a replica of the larger one from the Panigale, and even offers Bluetooth connectivity to your smartphone for music as well as control for various electronic systems like DTC, DWC, DQS, et al.
This new Diavel maintains the same rider's triangle as before, with its high handlebar, low seat (at 780mm) and mid-set footpegs.
You could take a pillion along as well on its wide rear seat, and you do have a pillion grab handle that pops out from under the seat to make that easier.
But with such madness coursing through the Diavel's veins, your pillion better have ice water flowing through theirs.
Deadly, dynamic and delightful
Quite simply put, the Diavel isn't just a muscle cruiser anymore. It still has the appearance of one, sure, and it's got the firepower as well.
But it's now friendlier to manage and has actually got the handling prowess to rival some of the larger roadsters. It's not just fun in a straight line… it's fun… full stop! So now, the Diavel finally lives up to what Ducati calls it - a Mega Monster!
Add Your Comments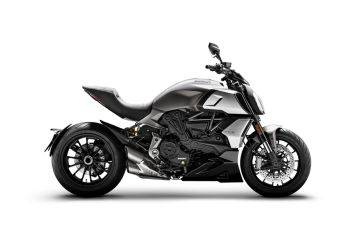 Rs. 17.70 lakh Onwards
Ex-showroom, Delhi
Get Loan starting @6%
View On Road Price