Honda CB500X First Ride Review
Mar 28, 2021
Views : 2892
---
Does Honda's first mid-capacity ADV for India impress us enough for us to overlook its price?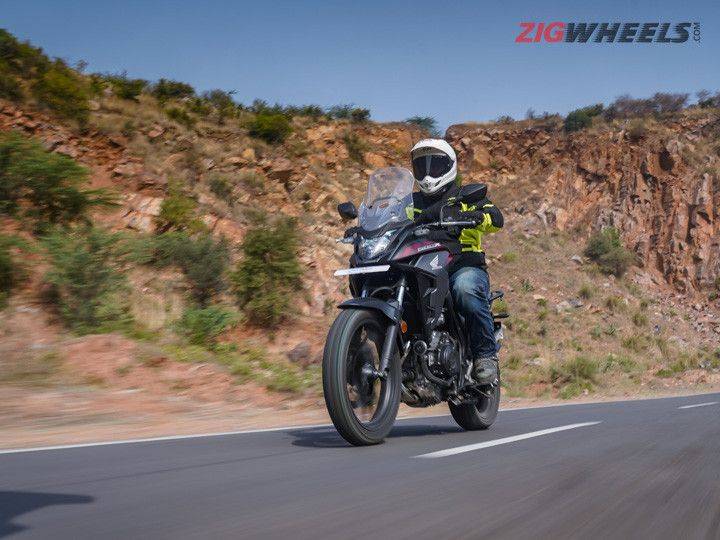 Honda Big Wing has really been on a roll recently. First they launched the H'ness CB350 last year, and followed it up with the CB350RS this year. Now, they've launched their first "big bike" for 2021 - CB500X. All of us at ZigWheels have really been waiting for this bike, particularly me, and I have an interesting anecdote to share about it near the end of this review. But before anything else, we've got to address the elephant in the room - its massive price tag. At 6.87 lakh (ex-showroom Gurugram), it's almost impossible to justify this bike, at least on paper. But we've always maintained that there's more to this bike than just the spec sheet. So can experiencing it help us make sense of its pricing? Well, we have had a short ride, so here are five things to know about the CB500X that should help you make up your own mind.
The motor actually is quite peppy

| | |
| --- | --- |
| Engine | 471cc parallel-twin, liquid-cooled |
| Power | 47.6PS @ 8,500rpm |
| Torque | 43.2Nm @ 6,500rpm |
Sure, 47.6PS from a 471cc parallel-twin doesn't seem all that high. For comparison, the KTM 390 Adventure makes 43.5PS from a smaller capacity single and is much lighter too. But the CB500X's motor is really perky - 43.2Nm of torque is nothing to scoff at. The highlight here is just how linear the power delivery is. You can be in pretty much any gear, or at any speed, and you've still got plenty of pull. Now normally, motorcycles with linear power deliveries feel boring to ride. But thanks to the pep in its step, not this one!
It's not a pukka off-roader, but it handles light trails better than you can imagine

With 181mm of ground clearance, the CB500X's stance is pretty off-road-y. Factor in its 19-inch front wheel with dual-purpose rubber, and it almost looks like it's ready to tame any terrain… almost! What you'll immediately notice is that there's no cradle frame to protect the engine from taking hits. Heck, there's no bash plate either, and the oil filter along with the shiny exhaust headers are alarmingly exposed to whatever pebbles the front tyre can toss up at them. And on a technical front, a wheel travel of 150mm at the front and 135mm at the rear would hardly qualify any bike as an off-roader.
But hit some light trails and you'll realise that the 500X has got a very well balanced chassis with good weight distribution that feels great when tossing it around in the dirt. The Dunlop dual purpose tyres (110/80-19 front and 160/60-17 rear) work well on such soft trails too. The only slight issue is that at the stock setting, the rear suspension is a little bouncy over sharp bumps.

But that can be easily remedied by standing up on the pegs and shifting your weight rearward - something very easy to do thanks to the narrow body of the bike that's very easy to grip when standing up and riding. To top things off, even if you were to attempt some tricky off-road bits, you'll find it almost impossible to bottom out the suspension.
It's a bike that you can ride everywhere

While the 500X is great on light trails, it really lives for the highway because this twin is just butter smooth. There is a little buzzines in the pegs past 6,000rpm, but it does 100kmph in 6th gear at just about 4700rpm. So maintaining cruise speeds of 110-120kmph are just par for the course, which means this Honda should eat up distances with ease. And to aid just that, it's also got a fairly sizable 17.7 litre fuel tank, which we have to mention just looks and feels much smaller.
But don't think it's just some straight-line machine. When you come across a set of twisties, it will actually put a big smile on your face. Sure, the 19 inch front wheel and slightly long 27.5 degree rake means steering isn't sportbike sharp. But the wide bars give you plenty of leverage to steer the bike into turns. And once you get it past the slight upright inertia, it's quite eager to drop into corners and feels very planted once leaned over as well.

Heck, it's even a great commuter for the urban jungle. Once you get it rolling, its 199kg kerb weight just disappears. The narrow dimensions of the bike, coupled with its fairly substantial 38-degrees of centre-to-lock steering range just make it a breeze to squeeze through traffic. And while the motor doesn't have the bottom-end punch of a single cylinder or V-twin, it makes most of its torque from just 2,200rpm onwards. This allows you to potter around at slow speeds in high gears, hopefully getting great fuel efficiency as well. And when you open the gas, it just wants to get going.
Basically, the 500X makes for an excellent touring machine on weekends that will happily keep going once the highway ends. And on weekdays, it'll manage your office commute just fine and if you want to use it to head down to the shops for a sabzi-run, it'll be just as happy doing that.
It's a bike anybody can ride

Don't let the 830mm of seat height fool you. Even if you're on the shorter side, the 500X's slim midsection makes it fairly easy to get your feet on the ground. Coming to its ergonomics, the handlebar is tall, but not overly so, and the footpegs are just rearset enough to be comfortable. So you end up sitting fairly upright on the big, well-padded seat. This is a bike that will fit most riders instantly, not unlike a pair of comfortable jeans. Unless of course, you're super tall and wide too, at which point the 500X might just feel a little small for you.
And it's not just a question of fit. Thanks to its ease of handling and easy power delivery, this is a very beginner-friendly motorcycle. It can very easily be a first adventure bike for beginners, and it shouldn't intimidate even the most novice riders. But the beauty is that even when you gain more experience, you won't outgrow it easily. And if you're coming to it as an already experienced rider, it won't bore you either.
It's really well made

We really do believe that the CB500X is a very handsome motorcycle. We particularly like the short, pointy front end and tall windscreen - which does do a pretty decent job at highway speeds and can be raised by 40mm (although you need to undo 4 allen bolts for that). We also like the fact that while it does look tall and commanding, it's not imposingly so. But even if you're not a huge fan of how it looks, you'll certainly appreciate just how well made it is. The plastics feel top notch, the panel gaps are minimal and the paint quality is impeccable. After all, the CKD kits for this bike come from Japan (which explains the massive price tag).
That said, it's not going to blow you away with its features list. While it does have LED lighting all around, there are no other features to speak of. No electronic riding aids here - just simple dual-channel ABS and a hazard light system that comes on automatically during emergency braking. Heck even its negative LCD instrument cluster only has your basic info displays - tachometer, speedometer, gear position indicator, shift indicator, two trip meters, fuel level & fuel consumption gauges. To top it off, it is rather small and unimpressive as well. And this lack of features really becomes a problem when you consider the CB500X's asking price.
Verdict

So if you're read till here, I guess it's clear we do like this motorcycle. But can that massive price be justified? Maybe this personal story might help you figure that out. Back in 2017, I had a chance to ride the 2017 version of the CB500X in Malaysia. And that ride had a profound effect on me. Let me explain. Remember Uday Chopra's character Ali from Dhoom? Every time he saw a beautiful girl, he instantly fell in love and started imagining his life with her. Well, the same thing happened to me with the 500X - as soon as I rode the bike, I began imagining my life with it. I started making plans of where I'd mount a GPS, what panniers I'd buy, which rally lights would be best. It really was love at first ride.
So can I say the same about this 2021 edition of the 500X? Absolutely… I can't even begin to tell you how much I wanted to take it home, even after our abysmally short first ride on it. But with that price tag, to give you a Dhoom analogy, it feels like the love of Ali Bhai's life is already married to someone else. You can see the problem here, right?
Honda CB500X Video Review
More on Honda CB500X

Rs. 6.87 Lakh Onwards
Ex-showroom, Delhi
See what our community has to say!
NEW
India's largest automotive community