Ather 450 Performance Review
May 26, 2019
Views : 9748
---
Does Ather's flagship product electrifying enough to thrill us petrolhead? Well the numbers have their say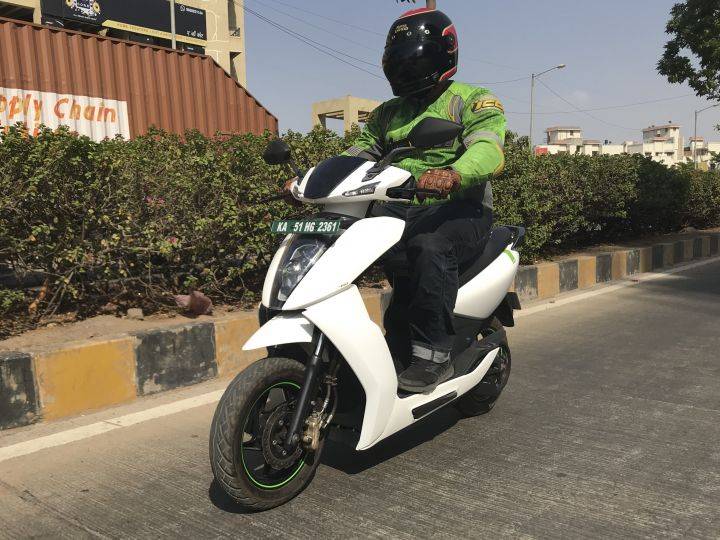 Turn back time to slightly over 12 months and we had come back from Bangalore raving about a scooter which had all the makings to convince us that electrics can be fun. Yes, the Ather 450 was something beyond our expectations as this was the first electric scooter which got us excited by being great on both - the electric and the scooter - fronts. If you want to read just how good the 450 is, here's our first ride review of the same.
Amongst the fun and frolic, what was left to be answered was just how it stacks up against it petrol powered competition. And that means numbers. As the scooter was passing by our city, we managed to sneak in a small test run and were able to gather vital data. Sadly, we still have to test the claimed range figures, leaving something for the long term review. However, we have the performance numbers and there is loads of promise from our data.

Outright Acceleration
| | | | |
| --- | --- | --- | --- |
| Acceleration | Ather 450 | TVS NTorq 125 | Suzuki Burgman Street |
| 0-40kmph | 3.92s | 3.68s | 3.84s |
| 0-60kmph | 8.29s | 7.65s | 8.69s |
Electrics are supposed to be quick, with instantaneous torque right from the get go, right? So is the Ather not really that quick? No. But there is a small delay of the power kicking in. The dudes at Ather (well they are not really boffins) have coded it to have the initial surge of torque kicking in slightly softly so as to not overwhelm the unwary rider. Despite that, the 450 managed to return a 0-60kmph time which is quicker than nearly all of the petrol-powered 125cc scooters that we have tested so far, barring the TVS NTorq 125.

Roll-on Acceleration
| | | | |
| --- | --- | --- | --- |
| Roll-ons | Ather 450 | TVS NTorq 125 | Hero Destini 125 |
| 20-50kmph | 4.04s | 4.65s | 4.61s |
This is where the Ather kicks butt. Open the throttle when you're already moving, and the motor comes alive in an instant. You are greeted with a whooshing sound, quite like a turbo spooling up. And to not have any other mechanical cacophony is a bit eerie. Nevertheless, the 450 is the quickest scooter in this test. This boosts the scooter's intra-city mobility aspirations as you do not have to think twice about making that overtaking manoeuver, something which requires some mental gymnastics in most other electric scooters that we have ridden so far.
Braking

| | | | |
| --- | --- | --- | --- |
| Braking | Ather 450 | TVS NTorq 125 | Honda Grazia |
| 60-0kmph | 22.5m | 18.03m | 18.03m |
This is an area of concern for the scooter. As it is equipped with disc brakes at either end, the braking force generated is far too much for the low-rolling resistance tyres the 450 runs on. This requires mental calibration to go on to both levers with equal tenacity as a little too much effort can see either wheel of the scooter locking up. It does get CBS but the brakes are a little too sharp for this system to address effectively. One possible solution is that Ather works on equipping this scooter with ABS which could adequately measure the wheel speeds and prevent locking up.

Where does it stand?
What have we learnt from our little exercise? Well, in most practical aspects, the Ather 450 is just as good as the 125cc scooters which are currently the crowd favourites. It definitely has scope for improvement in the braking department with regards to stopping distances and not braking power itself.
Has the above changed our impressions from our first ride? Yes but in a positive manner. You are not only just reaping the benefits of being an early adopter but you are getting a great scooter, and not a great electric scooter! Does it appeal to my petrolhead sensibilities? Oh yes! Apart from being kinder to the environment, the Ather can become my swift city slicker which helps me save up on fuel costs; money that can be utilised in hooning around on a fuel-guzzling performance motorcycle. And it makes me believe that it's only a matter of time before Ather, or someone as ingenious like them, will get around to making an electric motorcycle that's just as fast and fun as a petrol-powered one. Guilt-free motorcycling, here we come!
More on Ather 450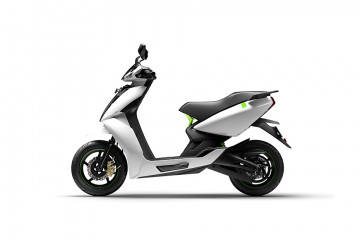 Rs. 1.13 Lakh Onwards
Ex-showroom, Delhi