Would You Rather: Buy New Kawasaki Ninja 650 or Used BMW 530i
May 19, 2020
Views : 3890
---
8 big ones can get you a new Ninja 650. Or a used E60 BMW 530i. Both are enormously fun, no doubt. Question is, which one should you go for?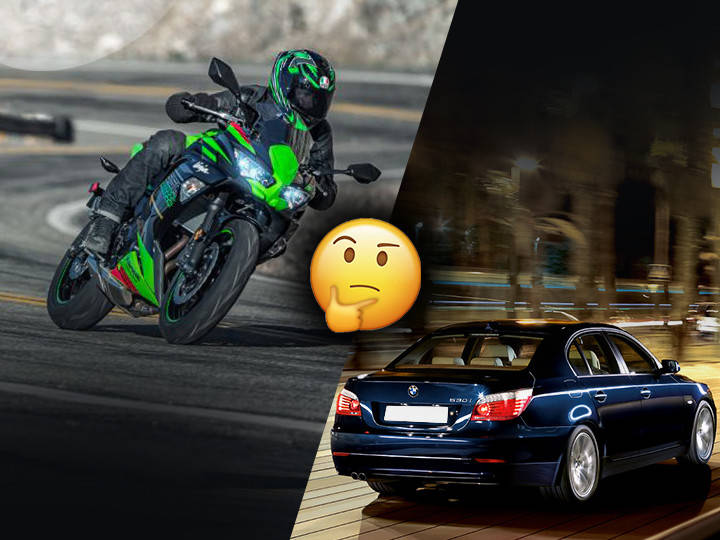 Let's say you have something around Rs 8 lakh to treat yourself after the coronavirus lockdown eases up. Call it a reward for all the time and effort you've put in to successfully weather the COVID-19 scourge. But now comes the dilemma of how to spend your money. Rs 8 lakh is no chump change. It sure will get you a ticket into the premium motoring club. Question is, which club do you want to crash?

On one end of the spectrum, you have a brand new Kawasaki Ninja 650 (around Rs 7 lakh on-road), a sensible and effortless "big bike" that's fast enough to keep you happy, comfortable enough to take you across the country and green enough to turn some heads on the way. That is a sweet deal, but what if we say you can get a used E60 BMW 530i (2007-2010) for the same kind of money? Come on, you can't just turn a blind eye to a rear-wheel drive BMW sedan with a creamy 3.0-litre inline-six petrol engine. And we personally think the E60 is one of the best designs by Chris Bangle. Sure, it was controversial when it debuted in 2003, but the E60 has aged well, especially the later LCI version which we are talking about here.

Coming back to the smaller machine, what you get is a 2021 Ninja 650 with a 649cc parallel twin motor sending out 68PS and 64Nm of twist with the help of a 6-speed gearbox. This green bike weighs in at 196kg and sits bang in the middle between a supersport and a sport tourer. There are also quite a few bells and whistles such as a TFT display, smartphone connectivity, and LED headlights. Most importantly, you get a shiny new big bike with factory warranty and peace of mind for many years to come.

Apart from the 5 seats, the plush cabin and the brand name, the 530i's main talking point is the motor: a naturally aspirated 3.0-litre inline six sending 270PS and 320Nm to the rear wheels. The engine is just half the story: what makes this decade-old BMW sedan special is the chassis. In contrast to the later F10 generation, the E60 is more focussed on driving pleasure and the whole car is centered around the driver.

But there's something else you should know. Old German sedans are not the best when it comes to reliability, and BMW petrols are notorious for issues. Parts are not cheap and let's say you need to be dedicated to keep the car on the road.If the rising fuel prices are a concern to you, you should also know that the Ninja 650 returns above 24kmpl while you can expect around 10kmpl from the 530.
So what we have here are two options poles apart. But either way you go, there's plenty of fun to be had with. You will be disappointed if you were expecting us to pick one. It comes down to personal preferences and what your definition of fun is. If you like to feel free, experience the wind and go the extra mile, the Ninja fits the bill. And the Beemer is for those who find joy in driving, especially driving like it's meant to be.
Also Read:
BMW M3: Where It All Started And How It Evolved Over The Years
BMW Drives In Its Flagship Grand Touring Duo In India
Kawasaki Ninja 650 Video Review
More on Kawasaki Ninja 650

Rs. 6.24 Lakh Onwards
Ex-showroom, Delhi
View Finance Offers
View On Road Price