Launching Tomorrow: Lamborghini Huracan Performante
---
The quickest Lamborghini around the Nürburgring Nordschleife is headed to India!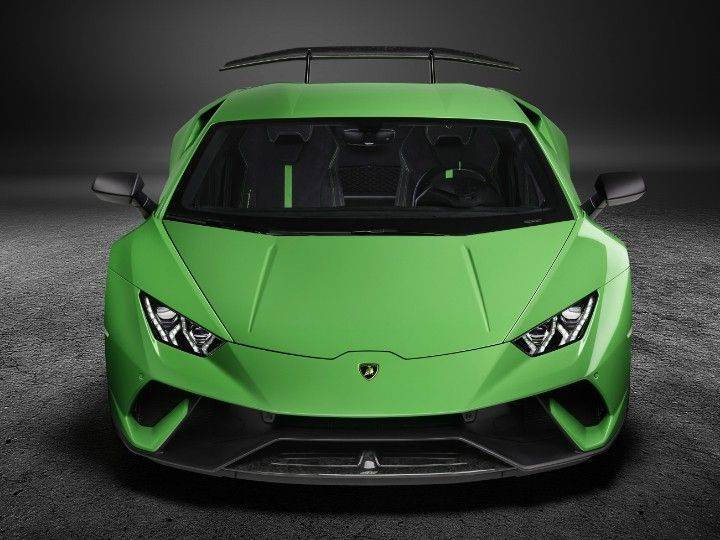 UPDATE: Lamborghini Huracan Performante Launched in India at Rs, 3.97 crore, ex-showroom Delhi
Lamborghini took the supercar world by storm in March 2017 when it released the lap time set by the Huracan Performante on the famed Nürburgring circuit. With a time of 6:52.01, it has trumped cars such as the Porsche 918 Spyder and even bigger brother Aventador SV! The supercar is headed to India and will be launched here tomorrow.
The trick to this quick lap time is a combination of light weight, increased engine performance, reworked chassis and suspension and, most importantly, the addition of active aerodynamics. It is also the reason why the car is called the 'Performante' and not the 'SuperVeloce (SV)' like the faster Aventador.

The 5.2-litre, V10 petrol motor now develops 639PS of maximum power and 600Nm of peak torque, an increase of 29PS and 40Nm respectively over the standard Huracan LP 610-4 Coupe. Power is sent through a 7-speed dual clutch transmission via an intelligent AWD system to all four wheels.
Lamborghini has used in-house developed forged composite body panels, interior trim and wheels along with an all-new exhaust system to reduce the weight of the car by 40kg.

New aerodynamic elements include a new front splitter and a fixed rear wing. Both these elements have electronically operated movable elements which can increase downforce or minimise drag depending on the driver inputs - Lamborghini calls the system ALA (Aerodinamica Lamborghini Attiva). The rear wing has two separate elements which can work independently - effective 'aero-vectoring' for better grip on fast corners.
Double wishbone suspension from the Coupe has been carried over but has been stiffened for better road and track performance. Optional 'magnetorheological' adjustable suspension makes the handling characteristics of the Performante even better.

All these elements combine and help the Lamborghini Huracan Performante accelerate from 0-100kmph in 2.9 seconds (quicker by .3 seconds than the Huracan LP 610-4 Coupe) and 0-200kmph in 8.9 seconds (quicker by a whole 1 second!). Top speed has not increased; Lamborghini claims it is 'more than' 325kmph.
All this performance does come at a cost, of course -- we expect the Huracan Performante to cost significantly more than the Rs 3.43 Crore that the LP 610-4 commands.