This Lamborghini Is Made Up Of 3,696 Pieces…
by Nikil
May 31, 2020
Views : 4036
---
...and you'll have to build it yourself since it's by Lego!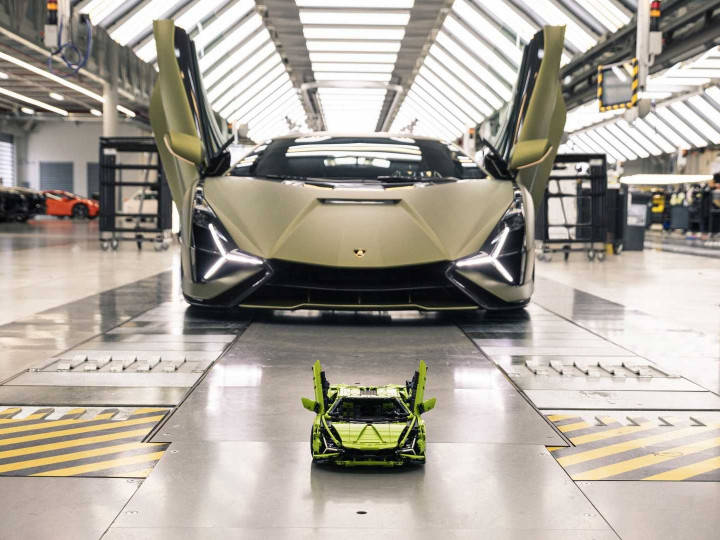 Last year, Lamborghini pulled the wraps off the Sián FKP 37, its most powerful supercar to date. Limited to just 63 units, the supercar with a supercapacitor was sold out even before its reveal that took place just ahead of the Frankfurt Motorshow. And that was despite its staggering price tag of USD 3.6 million! Thanks to Lego though, you can now have one. Only, you'll need to build it yourself.
Also Read: Iconic Lamborghini Gets A New Lease Of Life

The LEGO Technic Lamborghini Sián FKP 37 is a 1:8 replica of Lamborghini's flagship supercar. It consists of 3,696 pieces, 97 more than Lego's Bugatti Chiron kit that was released in 2018. Priced at USD 380 (around Rs 29k), the LEGO® Technic™ Lamborghini Sián costs USD 30 more than the aforementioned Bugatti and is currently the most expensive Lego car you can get.

The scale model is finished in Lime Green and packs golden rims just like the original. Once put together, it is 60cm long, 13cm tall and 25cm wide. Lego says it has authentically recreated the Lamborghini's V12 engine, moveable rear spoiler, scissor doors, front and rear suspension, and steering wheel complete with the Automobili Lamborghini badge.

The cockpit of the model car seems to be well detailed and Lego says it even packs a fully-functioning 8-speed sequential gearbox controlled by movable paddle shifters. Impressive!

Other highlights include a front hood that can stow away a replica of an overnight bag and a unique serial number that unlocks special content. The Lego Technic Lamborghini Sián FKP 37 comes in a unique box inspired by the iconic lines, signature headlight silhouette, and eye-catching colour of the original Sián.
Also Read: Here's A Look At Yet Another Forgotten Lamborghini

"The LEGO brick is an icon in the same way as a Lamborghini super sports car", said Stefano Domenicali, Chairman and CEO of Automobili Lamborghini. "They both embody the pursuit of design perfection through constant research and development, create different emotions with every interaction, and are valued by generations. Each Lamborghini super sports car can be unique thanks to our Ad Personam personalisation program and the specific driving style of each owner, just as LEGO bricks provide builders of all ages with endless possibilities for creation. This outstanding replica of the Lamborghini Sián FKP 37 from the LEGO Group presents a brilliant new building experience for both super sports car fans and LEGO enthusiasts and Lamborghini is privileged to share this opportunity with the LEGO Group."

The LEGO Technic Lamborghini Sián FKP 37 will be available directly from LEGO stores and LEGO.com/Technic-Lamborghini-Sian from June 1. Expect it to turn up at your local toy store by August 1, 2020. And unlike the real deal, the Lego kit isn't limited.
Add Your Comments