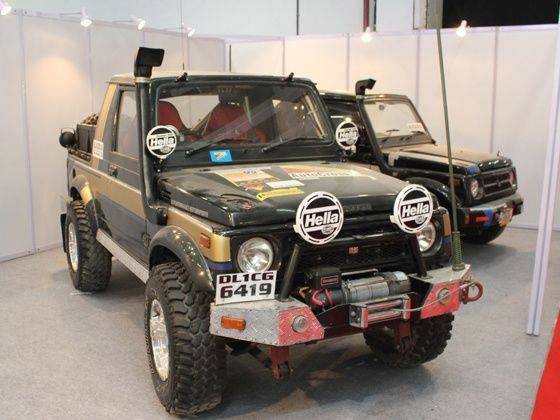 Hyperformance Motorsports was established in 2001 with the vision of bringing recognition to Indian motorsports and help build a market for it. The goal was to make lifestyle motoring and motorsports more accessible to enthusiasts and professional motorsport bodies alike. Another aspect was to link car manufacturers with allied product and lubricant manufacturers to create reliable motorsport ready vehicles.
Hyperformance Motorsports customises, modifies and brands vehicles for motorsport use. And also provides multi-brand repair and maintenance solutions for modified vehicles under one roof.
The company actively participates and competes in National Level Rallying/Racing Events and has organised national level racing events such as autocross, drag racing, motocross, TSD rally. Hyperformance has also organised lifestyle motoring events such as supercar drives and offer track / rally time on rent.
The two modified Gypsys showcased at the 2013 Bus and Utility Vehicle Show featured extensive performance enhancements for bring able to cope with the endurance and performance demands of motorsport.
The black Gypsy has been nicknamed the 'Black Monster' and has been specially prepared for an extreme off-roading experience. The modifications include a body lift kit made of polyurethane that raises the ride height by 3 inches. All the suspension joints of the chassis have been reinforced. The suspension is extra long featuring 10 inch dog shackle units with Gasomatic extra-length shock absorbers on all 4 wheels, the complete bush-kit is made of Polyurethane and the steering shocker has been changed too for less kickback. The Black Monster also features MT tyres with off-roading alloys.
Performance has been upped with KnN Apollo intake kit connected to a snorkel, Splitfire Platinum spark plugs EXEDDY racing clutch, voltage stabilizing equipment for all auxiliary Hella Lights and a free flow exhaust system. Lubrication is provided by Mobil 1 fully synthetic engine oil.
A swarm of Hella lights have been mounted all over the vehicle, these include 2 Hella 3000 metal rally lights, 2 Hella 2000 lights, 2 Hella spread lights for rear lighting and the main headlights are Hella 130/ 100 units.
Exterior modifications include a 2 Seater Motorsport cabin with super metallic Black paint job and matching Vinyls. The interiors feature Sparco Racing Seats with 6 point Harnesses.
The second Gypsy being showcased has been named the Rockstar. It had a stock chassis, carbon fibre leaf spring suspension and Monroe Gasomatic Shockers for a smoother ride. It features 15 inch alloys shod with Yokohama ATS tyres.
The Engine has been highly tweaked with a stainless steel manifold, downpipe and racing rear exhaust. It is equipped with a KnN Apollo air intake kit, Splitfire Platinum spark plugs, intake charger, and voltage stabilizing equipment. Lubrication is provided by Mobil 1 fully synthetic racing engine oil.
Hella 130 / 100 H4 Bulbs provide the extra lighting needed for motorsport conditions.
The occupants are kept in place with six point harnesses on Sparco racing seats.
Finished in Super metallic Black paint job with Customised Vinyls this modified Gypsy also gets a Sunroof and electronically operated rear cabin window.
Also read: Performance Modifications: Exhaust Systems