Controversial-looking BMW M3 Sedan, M4 Coupe Unveiled!
Sep 23, 2020
Views : 2710
---
Sure, that grille might stir up some weird stares, but what lies behind it is pure harmony!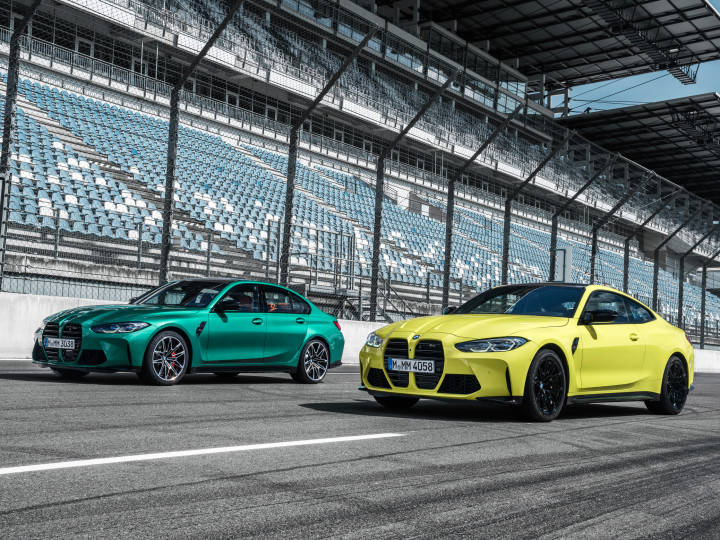 The new-gen BMW M3 and M4 has been revealed. The rumours have also turned out to be true as there's a lot of grille going on here, which will divide opinions (BMW fans, we bet you secretly love them). But look past that and the package will surely tickle your tongue as BMW has checked almost all the right boxes to ensure these cars are a significant step up from its predecessor.

Super sedans (or coupes) need to stand out compared to their everyday vanilla cousins. Well, you can't accuse the M3 or the M4 of blending in. The gigantic nostrils can possibly be spotted from a mile away. Maybe, just maybe that's a good thing. For cars like the Alfa Romeo Giulia Quadrafolglio, Audi RS4 Avant and Mercedes-AMG C63S might just get confused for their commuter-spec siblings. Bonus: the 'dude' with the 320d will have to buy more than just an M3 badge to pose as the real deal. All's not lost.

The rest of the design is classic BMW with clean taut lines. It even utilises a carbon fibre roof, which is stronger and lighter. M DNA has also been infused here in the form of staggered forged alloy wheels, quad exhausts and M branded callipers.

And if you think both the cars look plain jane, BMW will offer you a host customisation options for both the cars. These aren't just limited to accessories and you can even customise the sound of your M3 or M4 by upgrading it to the M Performance silencer system. BMW also states that the sound emitted from this exhaust is similar to cars used in motorsports. How cool is that?

The interior of these cars are also typical BMW with a driver-centric layout and clean design. I,in particular, also like that meticulously designed carbon fibre sports seats, which come with extra bolsters to hug you while driving like a maniac on the race track. You also get an M branded steering wheel through which you can customise your preferred driving mode with the red 'M1' and 'M2' buttons. Double tapping the M2 button activates pure rear wheel drive mode.

And that brings us to the next party trick of the M3, M4: switchable all-wheel drive. For the first time ever, both these cars will feature an all-wheel drive system. But unlike Audi's quattro all-wheel drive system, the Bimmer's system allows you to put in full-time rear-wheel drive mode for letting you slip the tail out on a twisty road. You can also keep it in full time four-wheel drive mode if you intend to be sane.

The M3, M4 is offered in two specs: Standard and Competition. Both models utilise a 3.0-litre twin-turbo in-line six cylinder petrol engine that has varying outputs. Let's start with the more exciting Competition pack, which develops 510PS of power and 650Nm of force. It comes slapped with an all-wheel drive and for the first time, an 8-speed automatic gearbox. Pedal to metal, it does naught to 100kmph in 3.8 seconds and can go up to 290kmph if you select the M Driver's package. Purists can also enjoy a lower output 480PS/550Nm version, which drives the rear wheels, and can be had with a 6-speed manual gearbox. BMW fanboys, we see you grinning there.

Time to sum up. Sporty interiors… check, Performance… check, All-wheel drive… check, manual gearbox… double check. So while the M3, M4 might look controversial, all the boxes behind it have been checked and honestly that's what matters when you're behind the wheel. Clearly, the M3 and M4 have taken a huge leap forward and we expect to see them both on our roads sometime next year.
See what our community has to say!
NEW
India's largest automotive community