Rs. 99.90 Lakh
(Showroom Price in

Delhi

)
View On Road Price

»
Don't miss out on the latest offers this month
BMW M2 Specifications
Engine

2993 CC

Transmission

Automatic

Fuel Type

Petrol

Max Power

453.26bhp@6250rpm

Seating Capacity

4

Drive Type

2WD

Body Type

Luxury
BMW M2 Features
Airbags (Driver, Passenger and Side Front)
Adjustable Front Passenger Seat
ABS
AC
Central Locking
Power Steering
Max Torque (550Nm@2650-5870rpm)
All Specifications
BMW M2 Car Latest Updates
BMW has launched the M2 in India priced at Rs 98 lakh (ex-showroom). It comes with a 3-litre twin-turbo, inline-six petrol engine geared to a standard 8-speed automatic transmission or an optional 6-speed manual, which sends 460PS and 550Nm to the rear wheels only. It is a fully imported unit and it sits below the BMW M4 in its Indian lineup.
BMW M2 Engine
Propulsion duties are carried out by a 460PS/550Nm, 3-litre twin-turbo, inline-six petrol engine. It sends power to the rear wheels via an 8-speed automatic transmission or an optional 6-speed manual. 0-100kmph takes 4.1 seconds with the automatic transmission and 4.3 seconds with the manual. Top speed is limited to 250kmph but can be boosted to 285kmph with the M Driver's Package.
BMW M2 Rivals
It has no immediate competition in the country.
BMW M2
Download Brochure , Discover more!
Download Brochure
BMW M2 Price
BMW M2 prices start at Rs. 99.90 Lakh (Ex-Showroom).
M2 Price List (Variants)
Variants
Ex-Showroom Price

M2 Coupe

2993 cc . Petrol . Automatic

Rs. 99.90 Lakh

Ex-Showroom Price

View On Road Price

View December Offers
No results found
BMW M2 Pros and Cons
M2 Advantages

Compact, powerful, easy to get along with sports car. Its USP is giving you the confidence to exploit almost all of it's performance without scaring you.

M2 Disadvantages

Manual gearbox isn't the smoothest, rear seats aren't comfortable for tall adults.

Expert's Conclusion

Packs in a heck of a lot of performance for its size, engine and price. Does everthing great but not as envolving a driving experience as cars like the 718 Spyder.
BMW M2 Expert Review
Control; we seek it, feel secure in it and most importantly don't want to lose it. When your right foot is incharge of 460 horses, at 4:45 am, just as day is about to break on a twisty, narrow road with not a soul in sight, then it's hard to resist the urge to push. Push the limits of your skill, of the car's agility, or the grip from the wide tyres on the dew-ridden tarmac.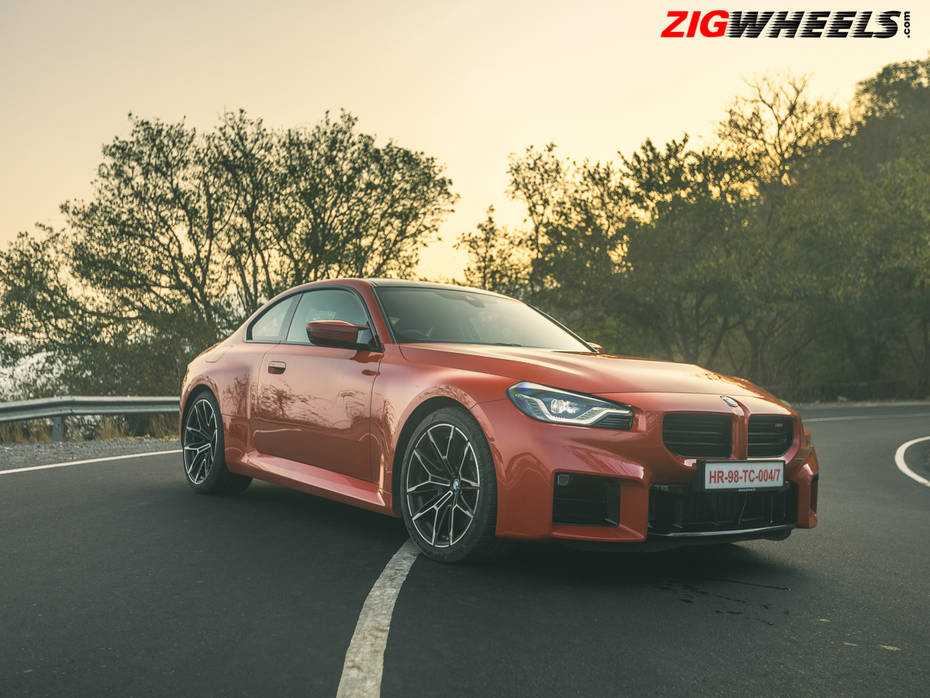 And more importantly, your mind's ability to stay ahead of it all. This is when you need the most control, to reign it all in. Does the manual gearbox in the M2 give that to you? As I write this out this seems like a rather trivial question, one that shouldn't be central to the story of a car as impressive and capable as the M2. But that really is how this story started - a dislike for the manual gearbox!
Feeling the Shift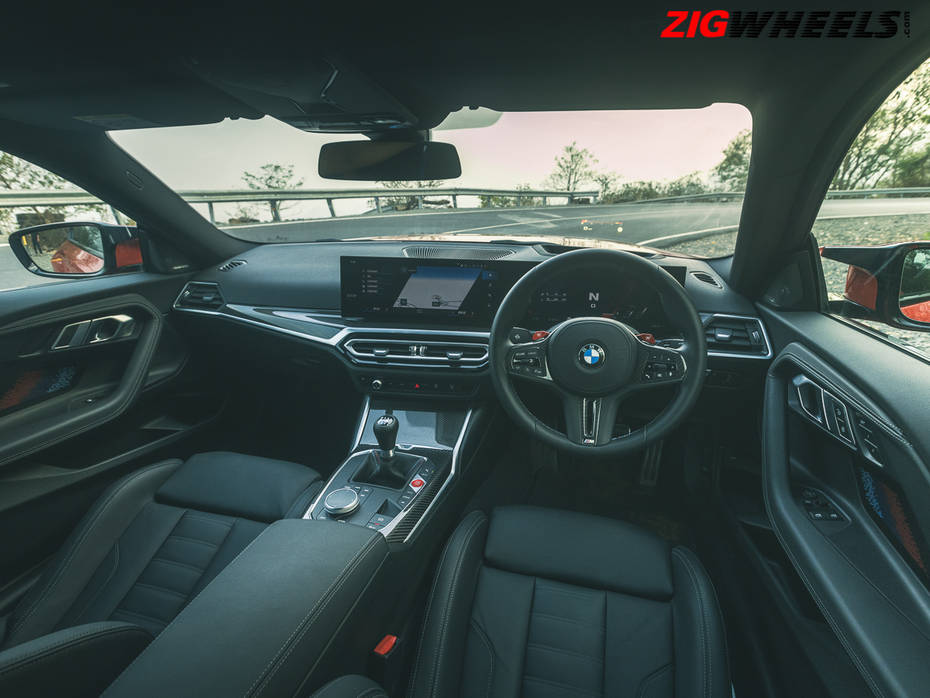 Flashback to the night before this misty morning drive which found me trudging through evening traffic snarls getting to grips with the M2 in bumper to bumper traffic. And it was surprisingly easy going. The car sits low but it's small too so you can easily get to grips with its dimensions. The width is something that takes more care while parking though, with its fat behind taking up a lot of real estate. The manual gearbox and three pedals on the other hand initially seemed quite easy going. With the gearbox assist 'on' at these crawling speeds, it seems to smoothen out your mistakes, forgiving you for letting out the clutch too quickly or pushing on the throttle too early. It also auto blips for rev matching gears on down shifts and basically is supposed to make living with a manual gearbox 'easier'. It even seems to cut in if you're about to stall. I'm pretty sure it saved face a couple of times at least.
But as the traffic thinned, shifting still wasn't as smooth as I'd like, I was being jerky on upshifts and worse on downshifts. 'Man I really must be rusty' I thought, and considering that I can't remember the last manual I drove, a plausible thought too. The next morning as I left home at 4:00 am it was quite the same feeling. Jerky upshifts and bungled downshifts. I've never wanted an automatic so bad, something that would free up some brain cells to allow me to focus on the rest of what seems like such a sweet little car.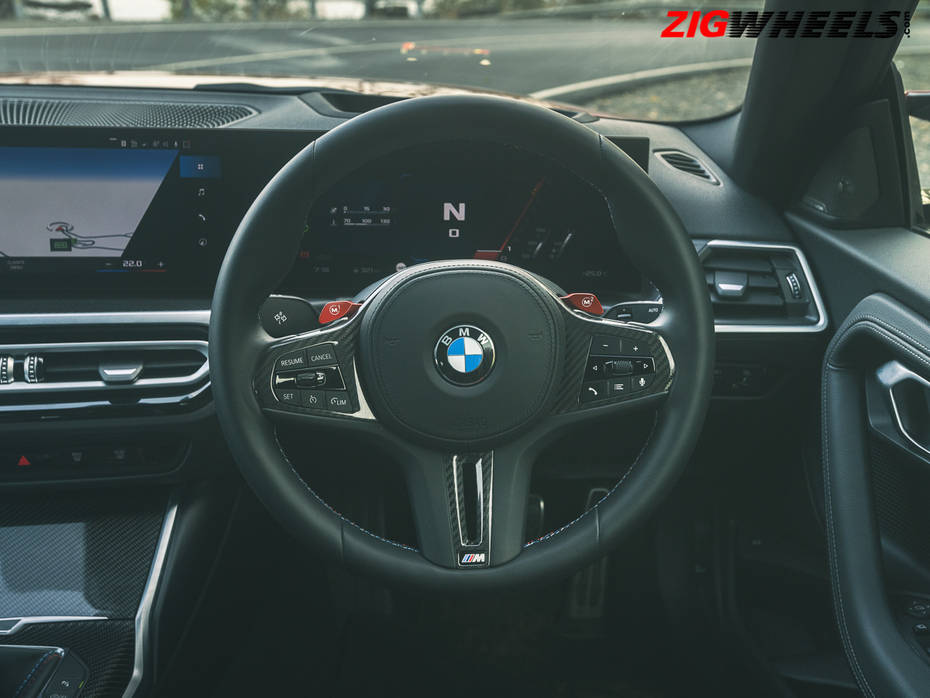 And then I switched the shift assist to 'off'. And it was a revelation. Upshifts and downshifts became smooth again and my confidence started to grow. Hmm, maybe this is where that feeling of 'more control' that people keep talking about was hiding. And how typical of us throwing more technology at something that just requires a little bit of skill, something that remains as analogue as it gets - the manual gearbox.
That said it's not the best gearbox with notchy, rubbery gates. Also down-shifting to second, takes some getting used to, since the reverse is a dog leg to the left of 1st, it's possible to go past the gate to 2nd, underneath reverse. And then the lever won't slot down, leaving you looking, feeling and sounding like a noob, as you roll along with the engine at idle looking for the gear. But these are quirks as an owner you will get used to and over time, muscle memory and skill should make shifts second nature. For me switching off the stupid, over intrusive electronic assist was enough to make shifts predictable and let me at least enjoy the rest of the M2, if not the fabled 'control' of having a manual gearbox.
Full Sports Car Vibes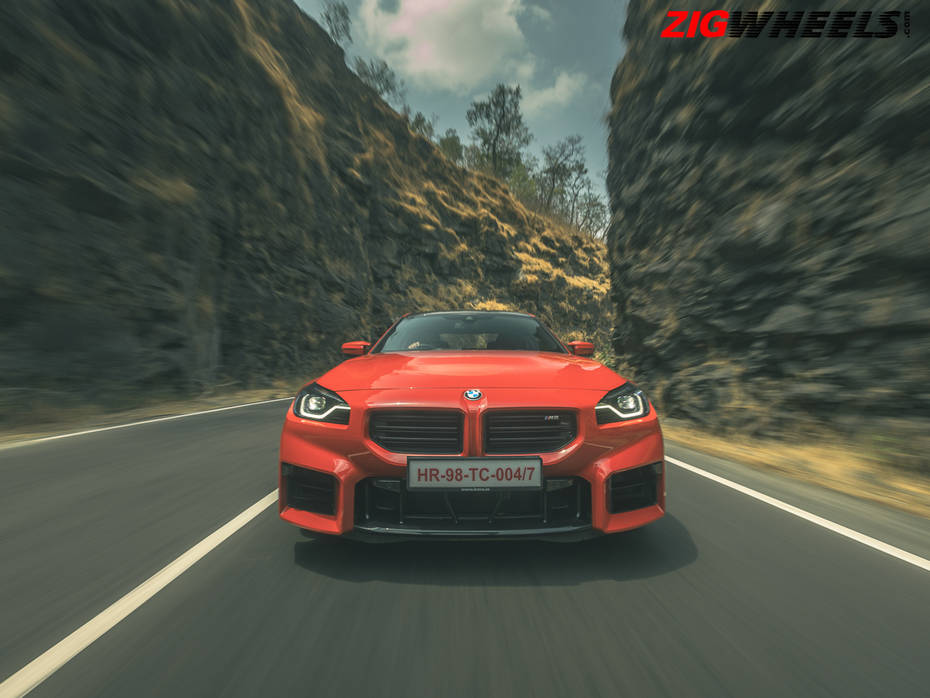 Clutch in, slot the gear knob into second, blip throttle and drop the clutch into a tight left hander. As the engine note changes and weight shifts to the front wheels, I turn in gently, as this is quite the agile and pointy little car. And then wait for the apex of the corner to arrive as a few pops and cracks emanate from the quad exhausts out back. As the corner opens up I give the throttle a good progressive squeeze. The M2 catapults out of the corner with just the hint of tyre squeal, revs rise up to 5,000 - 5,500 rpm in 2nd gear, just before a second wave of oomph arrives from the engine. Something I was intentionally avoiding on a relatively unknown road with changing surface conditions. I lift off for half a second while simultaneously shifting out of second before punching in the clutch pedal a fraction of a second later with my left foot. As I felt the gear lever clumsily slot into 3rd my right foot was already getting back on the throttle again. But there's not enough room for another gear before I'm hit with a left hander. I could easily pull through with 550Nm of twin-turbo torque, but it is also tight enough to justify second too. And so I drop a gear again, and again at multiple corners on the drive, deliberately choosing an extra shift or two or three.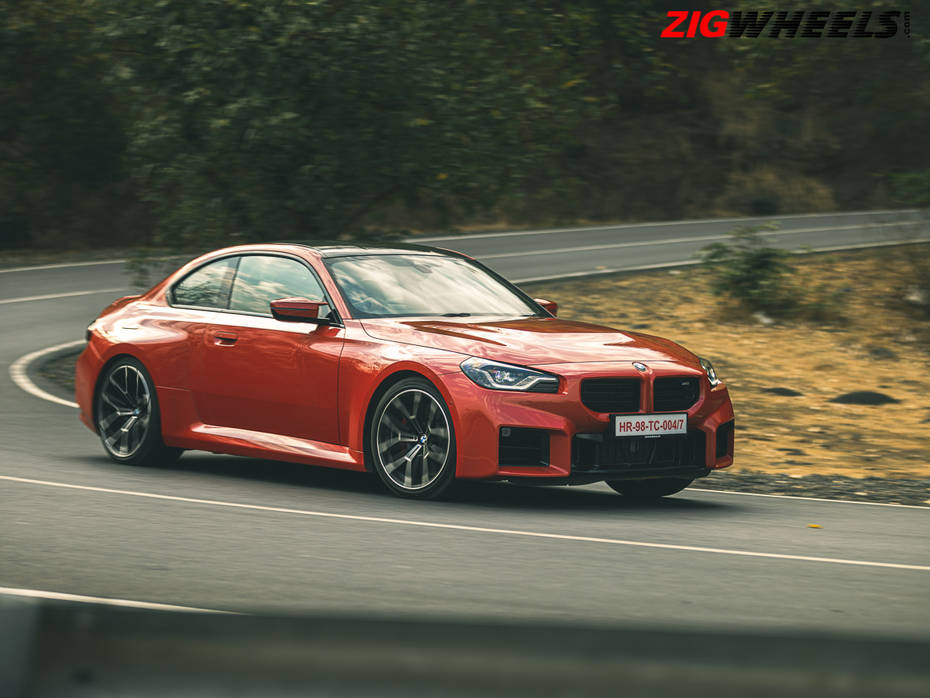 I called it a 'sweet little' car but still plenty have been fat shaming the M2 for it's kerb weight. And for a 'small' car, moving the scales over the 1700kg mark, practically the same weight as the Innova Hycross, a 7-seater family crossover, the M2 must be 'big boned'. But does it impact the way it drives? Well, not really as the suspension is tuned really well, the power is more than adequate, and in my opinion it's all really well balanced.
If it were lighter could it be better? I'm sure it would, the acceleration would be quicker, the turn-in would be even faster but it could also be much more of a handful too. As it is, I really love the fact that it's an easy car to get along with and even when you're using all of its power and performance it feels planted. And that feeling of being in control of it all, to me, is more rewarding than specs on a piece of paper.
Experience Control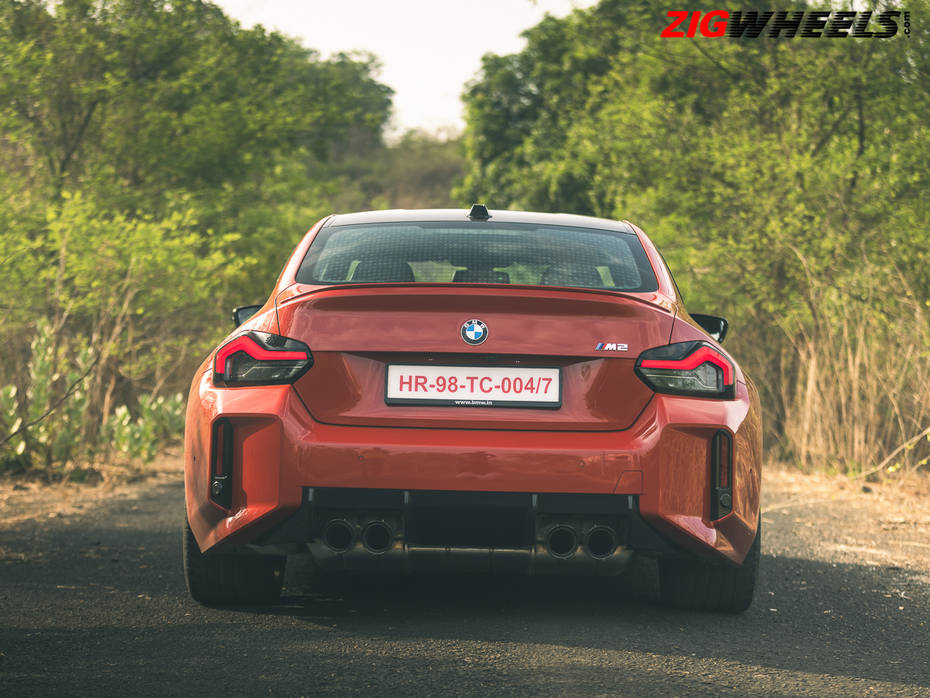 Tricky conditions? Well there's 10 levels of traction control and multiple drive settings to set up the steering, brake feel, engine and gearbox performance to perform the way you want them to. Even a loud button to make the M2 sing a little louder. You really can tune the M2 to drive the way you want it to. And you can also individually set up the two M buttons on the steering like any other M car. So plenty of control here too.
That aural experience this early in the morning is beautiful. The roar of that in-line six belts out loudly from the quad exhausts and echoes out over the hills above. It can't beat a V6 or V8 in quality of voice, but for my sleepy ears, long starved of this kind of titillation, even this throaty soundtrack was like an espresso shot. I was wide awake and looking forward to a good day.
Everyday Ready?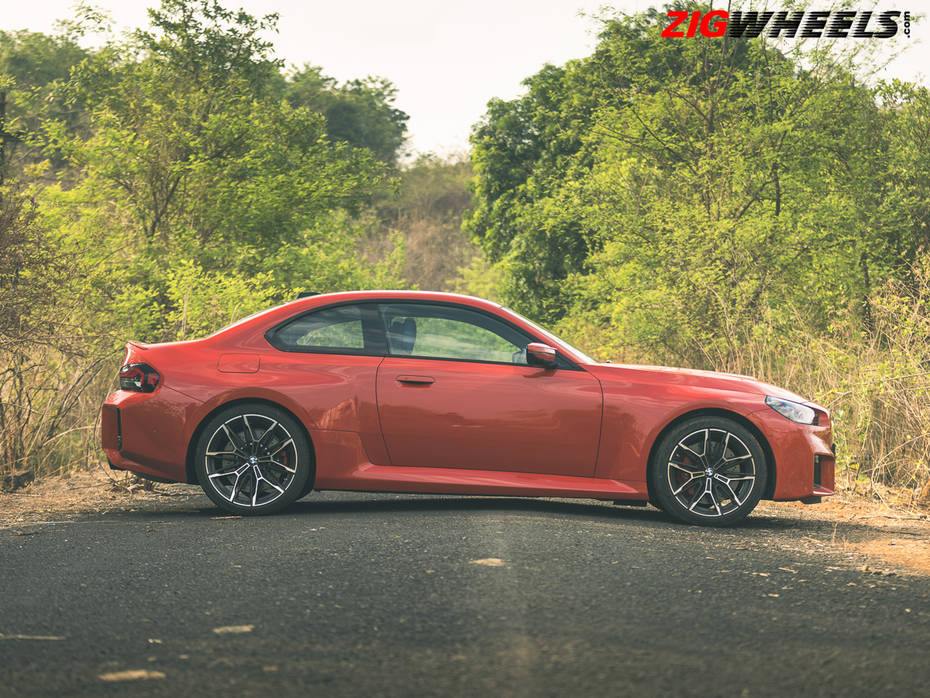 The M2 is quite the practical car for a small family. Four adults will fit in happily, but not really comfortably. There isn't enough headroom in the back for tall occupants and it's not the most comfortable place either with the stiffish suspension setup. But two adults and two kids is more than possible and comfortable with plenty of boot space to make this a family GT car if you need it to be.
For a sporty car with great handling and sporty suspension there's great ground clearance too and it never once scraped on Pune's misshapen speed bumps. Yes, you do have to be careful but you don't need to crawl over them either. So driving it around town all day is a hassle-free affair.
It was a good day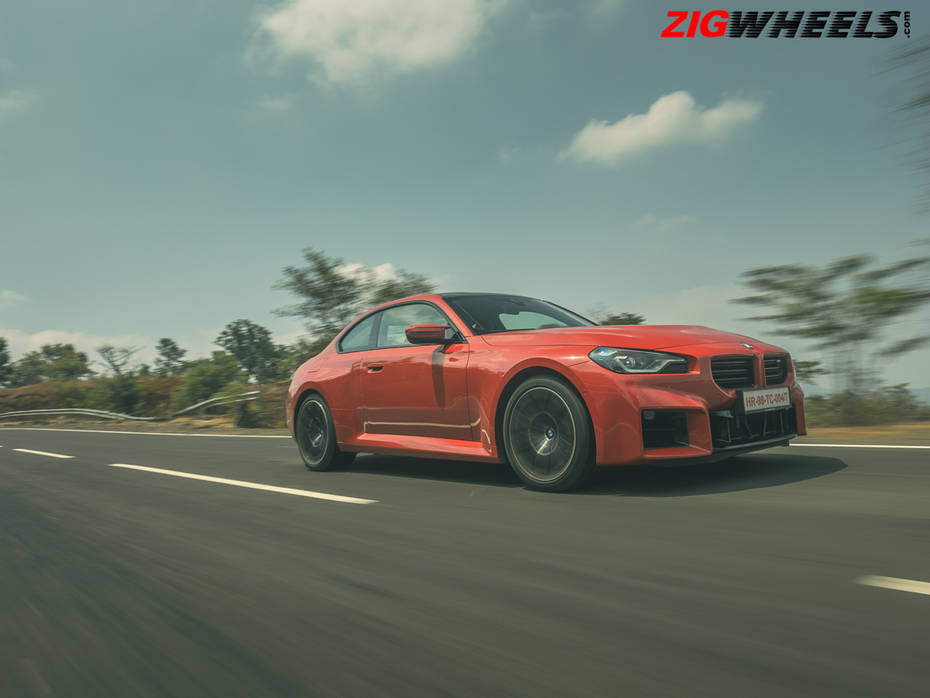 The M2 is a hoot to drive through the twisties that we were shooting on. And it was equally easy to get along with in the city as well. It handles, performs and is as attention grabbing as a stand out sports car that costs Rs 98 lakhs (ex-showroom) should. Yes, some people won't, and from the comments on our social media account, don't like the way it looks. But I really do. There's something old school tuner car-like about those squared off bumpers that makes it much more appealing than its odd-grilled M siblings. If you want a great driving experience with everyday driveability that will plant a smile on your face, then the M2 certainly will keep you smiling. And only if the street cred and your peers' approving nods mean a lot to you, then tick the manual gearbox option.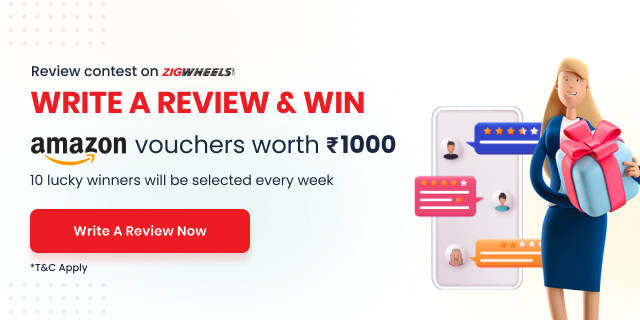 BMW M2 User Reviews
3.7/5
Based on 1 rating & 1 review
Review your vehicle & win ₹ 1000
3.7

BEST CAR FOR RACING

BEST CAR FOR RACING BUT NOT FOR CITY DRIVING

0

Share

BMW M2 Images
Check out detailed
BMW M2 image
gallery of this popular offering by
BMW car
here. Various detailed aspects of the car, including its features, powertrain, and underpinnings can be seen in the pictures here.
19 more
BMW M2 Colours
BMW M2 is available in 3 exciting colours options like Silver, Blue and Red.
Compare M2 with Alternatives
BMW M2 Car News Updates
BMW M2 FAQs
What is the price of the top variant of BMW M2?
What is the EMI of BMW M2 in Delhi?
What are the top competitors of BMW M2?
What is the boot space in BMW M2?
What are the best financing options for BMW M2?
BMW M2 Road Tests