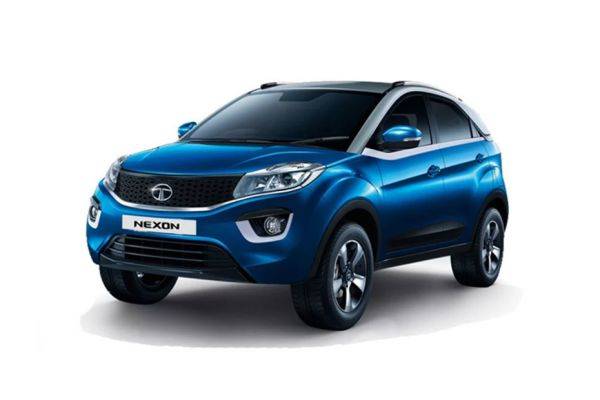 Tata Nexon 2017-2020
Rs. 6.50 - 6.95 Lakh
Discontinued Model since 21 Sep 2020
---
About Tata Nexon 2017-2020
Tata Motors changed the way we looked at the Indian carmaker when it first showcased the Nexon. It might have been a bit rough around the edges when we first drove it, but it also showcased just how far Tata Motors had progressed since it ventured into the passenger vehicle space in India back in 1991. The issues we found with the Nexon petrol manual were rectified in the petrol AMT, a clear indication that Tata seems to be on the right path. The Nexon has always been a looker and the new Etna Orange paint is bound to turn even more heads. The quality of the interiors is pretty impressive, especially in terms of the choice of materials and their soft-touch feel. The Tata Nexon is powered by a set of new-age powertrains: a 110PS/170Nm, 1.2-litre turbocharged petrol engine; and a 110PS/260Nm, 1.5-litre turbocharged diesel engine. Both engines are available with the choice of a 6-speed manual and a 6-speed AMT. The Nexon is the only car in its segment to offer an AMT with both petrol and diesel powertrains. To commemorate Nexon's first anniversary in India, Tata also introduced the Kraz (pronounced 'crazy) trim in two variants, Kraz and Kraz+. Both variants are available with both petrol and diesel engine options and are based on the XM and XT variants respectively. Priced between Rs 6.22-10.66 lakh (ex-showroom Delhi), the Nexon has primarily got the Maruti Vitara Brezza in its crosshairs along with the Ford Ecosport and Mahindra TUV.
Tata Nexon 2017-2020 Overview
Tata will soon update its Nexon sub-4-metre SUV. New BS6 engines and a facelift are what we expect. The Nexon could also get some interior changes. New features are likely to include cruise control, automatic headlamps, and a new instrument cluster. Tata hasn't disclosed when it will launch the updated compact SUV, but we might get to see it at Auto Expo 2020. Meanwhile, the company has revealed the electric version of the Nexon, giving us an idea of what to expect with the facelifted Nexon. Find out all we know about the Nexon EV here.
Tata Nexon 2017-2020 Colours
Cars Similar to Nexon 2017-2020
Must Read Questions & Answers Before Buying Nexon 2017-2020
Q. Can i get 215 tyre fitted in nexon XE
You may go for a big sized tyre but upsizing the size of a tyre is increasingly becoming an obsession with people to create an added visual appeal to their bike. Moreover, It is advisable to go for an upgrade anywhere between the 3% margin for better performance and handling, increased grip and creating a visual appeal. Do take note that upsizing the wheels and tyres may decrease the fuel efficiency of the bike and may result in a speedometer error on the bike if upsizing is not correct. Click on the link to get the nearest service centre and select your city accordingly service center.
215/60 R16 with max load of 690kg should be fine.
Q. Naxon 2021 xz+ booked on Oct. 15,2021 pls tell me when will I get the delivery?
For the availability and booking status, we would suggest you to please connect with the authorized dealer in your city as it depends on their stock book. Follow the link and select your desired city for dealership details.
Book with the well established dealer. So that, incase some one is not buying the ordered vehicle you'll be given with first priority. For me samething happened, I got the XZ+ variant with in a month
I booked nexon xzplus on 24th Oct 2021 and got a call from dealer on 22nd Dec that the car is alloted
Q. It is electric car?
No, the Tata Nexon is not an electric car. Tata has provided the sub-4m SUV with two engine options: a 1.2-litre turbocharged petrol (120PS/170Nm) and a 1.5-litre turbocharged diesel (110PS/260Nm). Both can be paired with either a 6-speed MT or a 6-speed AMT. Meanwhile, Tata Nexon EV is an electric car. The Nexon EV will use Tata's new Ziptron technology. It will get a 30.2kWh battery pack and will offer a claimed range of over 300km. The Nexon EV will support fast-charging and will be offered with an 8-year standard warranty. What's more, it will come with an IP67 waterproof battery pack.
More Questions
Q. Why tata nexon is not better than vitara brezza?
Nexon looks like an upgraded Indica, well most of the tata cars do. Brezza looks more close to a proper SUV. 4 cylinder engine vs 3 cylinder is always debatable. But Suzuki is known for its refinement.Maruti cars age grace fully, and a torque converter automatic is definitely better than the one offered in Nexon.Nexon is still the best alternative to Brezza, I have booked a Brezza automatic Top end and I am waiting eagerly to get it in my parking.
Tata's build quality has always been strong, we all know this, although I agree that the Brezza is better in terms of service But the question is will you take the Maruti's Brezza to the service center repeatedly because of weak build quality or skip many months without servicing of Nexon due to strong build quality of Tata.
Does maruti make own engine?they are using Fiat engine from last 15 years. and you are talking about refinement. brezza has lower ground clearance than mein. brezza is just a waste of money. no good music system no quality driving and no ruggedness. but Tata has all and everything. Think and collect information before saying Nexon an indica
View All Answers
Q. I am bit confused in between Tata Nexon and Hyundai Venue. Which one is good within 11 lakh budget? Also, I am looking for the automatic version, good features and powerful engine.
I recently test drove both Nexon and venue diesel What I liked in venue was the premium interior fit and finish, very comfortable front seats, slightly bigger sunroof, butter smooth refined diesel engine with a very decent mileage. Without its safety rating, could not comment on the platform of the car..With every youtuber and vloggers talking about gncap 5 star safety, I wished to buy Nexon. On an average if I want to get the features what I get in venue sx diesel in Nexon I have to pay an additional premium of 1.8 lakhs.Teek hai, y don we do that for a safe car and decided to test drive the car. The car looked rock solid in the showroom. When I took the car on road, I started felling n number of complaints. My head was touching the roof though am not tall, the clutch was deeper and deeper and If my leg needed a short travel, I needed to push the seat more forward which is not a safe option.Started the engine and the entire car vibrated on starting the engine. Pushed the engine. Biggg turbo lag on 2nd gear. God knows where the 260 NM torque is???? Not punchy at all. Very noisy cabin. When I started saying the sales assistant increased the fan speed and the music volume. Harmans music system was not even upto the level of arkamys music system of venue. So now tell me, should I give the extra premium of 1.8 lakhs and compromise with the poor refinement of the diesel engine and noisy cabin for the lifetime?? I'm not a feature minded guy. While platform is the basement of the car, engine is the heart of the car. I would not prefer Nexon for people who are keen drivers, who love to be in a silent insulated refined cabin with a butter smooth refined diesel engine with a good torque and mileage. Of course safety should not be compromised. But the real fact is No single car is perfect..
As regarding features I would say the Tata Nexon is superior because both have more or less similar features- the important ones. However Nexon has the most important features of space, ground clearance and bigger tyres even in lower variants which enhances the SUV look. As regards the engine the turbo engine in both have their pluses. As regards the automatic the Hyundai has a slight edge. Overall I feel the Nexon has an edge
If you only need car then go for nexon ,but the venue is even supirior then nexon that's for sure interior cabin premium ,even service and responce from Hyundai team is also better than tata, one more thing nexon scored 5 star safety but venue score 4 but both are safer and venue's performance is simply amazing than nexoncongratulations for your new car
View All Answers
Q. What is the actual mileage of Tata Nexon petrol version in traffic, planning to buy immediately?
I have purchased Nexon June 2022 Xma+ petrol and I'm getting mileage of 8km/lt in eco mode in city and highway drive mix. Most of the time in city you will always be on 1st and 2nd gear in automatic car. Even if you shift to manual it still won't let you increase / lower your gear beyond the internal set rpm for each gear allotted All the claims of 15-18 kmpl for nexon automatically are fake, please don't go by them. Also note the drop in rpm between gear shits is huge. Take a test drive of cars with CVT and dual clutch AT to know what I mean. Infact glanza & Baleno with AT had a better transition
I purchased Tata Nexon in Jan 2022, initial 1500km drive was in Hyderabad traffic and mileage was 9 to 12 kmpl. I travelled recently a long trip from Hyderabad to Odisha via Visakhapatnam, travelled 960 KM in one day, 14hrs drive time, Mileage was 15kmpl tank full method, with AC on, most of the drive was in 6th gear and 100speed. I am very happy with my Nexon experience. Hope this review is helpful..
I have brought nexon petrol xm model on 9 November 2020 and I have drive my car 770 kms in highway in eco mode and my car giving 15.1 kms mileage. Driving is very smooth and comfort
View All Answers
More Questions
Nexon 2017-2020 Questions and Answers
Tata Nexon 2017-2020 User Reviews
4.4/5
Based on 548 rating & 205 reviews
Review your vehicle & win ₹ 1000
All

Comfort (36)

Mileage (36)

Performance (29)

Service (20)

Safety (17)

Experience (14)

Looks (13)

Engine (13)

Power (12)

Style (8)

Music (7)
Aggressive pick

It's smooth like butter, Very aggressive pick-up good mileage

4.7

Best car with lot

Best car with lot of features and good music system

1.0

Nexon vehicles

Yes, it's true the looks and features we became so much fan off, were not so smart features after all. In1plain and simple words the common-sense was totally missing from this vehicle.! Yes, you read it correctly,1the common sense is not their at all in TATA NEXON XZ+. First, the Dancing Mirrors…! Scenario:- You just1came out of your home and stepped in your car ….……as soon as you will push the "Start/Stop(SS) Button1only once…….your rear blower will start……? Dude I am sitting in the front…….you should have1started the front blowers….? As mostly it's single passengers sitting in the Cars………so why the hell1in the world you are starting the rear blower first.? Strange it is……! Then for the Front blowers you1press the SS button once again……okay the Ignition is "ON" now, with front blowers….Good…….but1why the hell the Side View mirrors are opening……? I have not even started the car yet and maybe I was just1not going to go anywhere at all………but why the Side View mirrors are opening if I am not going1anywhere.….? Talked to TATA MOTORS……they said it's a Welcome feature in Top variant……so can't do1much about it…! Okay, then I closed the Rear view mirrors by pushing the inner controller downward….cool,1they are close now. Now, I start the Engine to go to my office by pressing the SS button(along with Clutch)1third time, engine starts….perfect…….Side View Mirrors open again…? Dude you just lost it…….It's1insane……I am such a driver that never uses the Rear view mirrors, and always do the lane driving…….!1So, TATA engineers should have given some sort of disabling mechanism for Side View mirrors' traumatic dance1moves again n again……! Keep it simple guys and don't make a mess of such AI integration…….we are1humans and we don't need such repeated welcomes by our daily ride……just for starting1engine…….twice……jeez.! Mockery of the SS Button? Suppose you have just reached somewhere, want to Stop1the car engine, and simply need to wait for someone……….and keep the Blower/ Fan "ON"……….dude1you need to press the SS button three times…….! Just to "Stop the Engine and keep the FAN ON". Let me1do it for you…….First SS Button press shuts the ENGINE OFF(along with Ignition+ FAN+ Rear1Blower-everything "OFF")……….Second Press, re-starts the rear blower…….Third press, re-starts the1front blower / fan for you…….now you can wait for your someone.……! TATA engineers could have just Shut1the Engine off and kept the Fan/ Blower running in the single press…….isn't it simple and easy……!1But TATA don't want you to wait for anybody in your car…….specially with your fan "ON". Or be ready1to press it three repeated times…….! Second, the Central locking……again without common-sense….!1Guys, you're just not safe in TATA NEXON specially the XZ+ model….yes the top variant is specially1designed for only those people who have enough of money to be targeted by robbers again and again……!1Don't believe me…….just trying stopping at any red-light and ….and……and don't try to STOP the1engine……….ever……ever……ever…….forget the fuel economy / environment pollution / fuel1conservation…………don't Switch OFF your engine at any cost…….Because, the moment you will do1this…….NEXON has opened all the four gates for your being vulnerable to robbers outside your car…….!1THIS HAS BEEN THE MOST SHOCKING OF THEM ALL…….! It's been one month now…….I never switched off my1engine at any red-light or anywhere other than my office or my home………I FEEL SCARED…….IN NEXON XZ+.1AS I CANNOT TURN OFF MY ENGINE ANYWHERE AT ALL…….I MUST, IMMEDIATELY PRESS THE LOCK/UNLOCK KEY DOWN BELOW1TO RE-LOCK ALL YOUR DOORS…….AND JUST HOPE THAT YOU ARE FAST ENOUGH THAT NO ROBBER/ MOLESTER / RAPER HOPPED1IN YOUR CAR YOU WILL START FEELING SAFE AGAIN IN YOUR CAR…! Third…….only until you open your drivers'1door unlock lever…….!? Yes, I travel mostly alone from my home to office and then back…….! The moment1I open my(driver) unlock lever….all the doors will open……? Dude this is not Central locking……! If I1need to open all the doors I will use the Lock/Unlock Button on the front console…….! I am just opening my1Doors lever to unlock and TATA has once again left you completely vulnerable……by opening all four1doors……! You can also add My Laptop on the Back seat, lying their with all Car gates open…….for the1uninvited snatcher…….….just waiting to be picked….…….jeez…….….I'm once again scared, even1my laptop is scared now….….! Now you know….why I told that common-sense is missing in this Car.! Fourth,1You cannot leave your Elderly people inside the Car…… in a NEXON XZ+. Yes, don't blame TATA for1this……….you should not bring any Non-technical(or not so tech friendly people along with you in the1NEXON car)……….or teach them to immediately press the Lock/Unlock key(on Dashboard) for closing all doors1& for their own safety. Scenario:- My father/ mother both senior citizens, sitting in the car….me driving1….okay. Now, I stop for a moment to bring something from the Market enroute……they both are still sitting1within the car…….! I think I should leave them with atleast fan/blower "ON"…….or they may suffer1due to lack of ventilation / air.! So, the Ignition is kept "ON"….so the blower can work…….Now you1stepped out of the car, you just pulled your door unlock- lever…….once again all the doors are1open………….immediately teach them to press the Dashboard Key with "Lock/Unlock" Icon on1it………because even if you are carrying the Key in your pocket…….and you try to lock the Car by the1key in your hand from outside…….all the doors will remain open as the Ignition is "ON"….! What good1is the Mainkey button Lock when the Ignition is "ON" – NO Good.! Only way to close "ALL" the doors1in such a scenario….make your not so Tech-friendly old parents….learn some tech finally….…….as TATA1has once again left them totally vulnerable from outside attacks………! I hope you are getting to the main1issues, I'm trying to highlight here……….! Mileage………please don't ask…….not atleast1me….please.….! My car has just ran 500 Kms in total run…….and the average shown in the meter for that1500 kms is 10.0……………….! Yes, the Trip meter which I never reset right from the start………is showing the1average of 10 kms for the whole life distance of 500 kms……! Forget the claims TATA motors / or ARAI did for 17 kms average……! You're most welcome to see my Trip meter with 500kms total Car run at 10.0 kms average.! Live example for you to see. I had a word yesterday at my Dealer he simply said please don't go with the Meter gauge…….they do not show the true picture…….!1Go for full –tank and then do the Mileage calculations. I mean okay……but didn't he meant to say that1the Tata Fixed our NEXON vehicles with Faulty Meters….? On enquiring further he said he is a New joiner from1SKODA Motors….………and he agreed that my above mentioned points are very valid and their must be some1way to disable them through some computer setting….……."but the actual person who can do this is not1present now"…………so maybe tomorrow he replied…….……….when the engineer will come they will1inform me…….!

3.0

Purchased XZA+ on 20/6/2019 from

Purchased XZA+ on 20/6/2019 from Ambattur, Chennai. High vibrations in 1st gear and while reversing from day 1. Weird noise after applying brake from front and back. Complained at service centre - though they are courteous they did not accept that there is a fault in the vehicle. Complained twice to CEO Concorde and Tata Motors. Car was in service centre for 7 days - clutch was defective to be replaced along with fly wheel, for that Service center made me to take AMC Gold which I am not interested but paid to get my car out of service center. Problems still persist - but as per TATA these are normal:1.Swing motion of car like wooden horse toy(min 3 times) after applying brake.2.Weird noises after braking -various types of sounds can"t be explained.3.Engine knocking sound while AMT changes gears from 1 to 2 to 3 - even bus/truck will not have this type of sound. Inconsistent and mis fits in interior plastic -looks premium but of cheap quality plastic - any item you place in glove box, sun glass folder, water bottles in door panels will give sound / vibration.And lastly forget about mileage - in city traffic 6 to16.5(petrol).Complete package of unpleasant driving in city traffic.

4.0

Air pressure

Sharing My Yesterday (18/11/2018) Experience:- Tata Nexon Kraz Plus (Petrol) is Best Level Compact SUV till now as per my 700 Kilometer Local Drive Experience. All Doors Side Rubbers protectors came out easily on dust cleaning. Driver Side Front Pillar visibility issue and creates right side blind spot. Others no issue find in this compact SUV.Very Poor Level Tata Service Centre (Hartron Motors LLP, Sector-18, Gurugram) Washing, Air, Vacuum & Cleaning Service.Never advise to take this Washing & Cleaning service there. Best Quality Services available outside Service Stations at various locations in Gurgaon with cheaper cost within 45-60 minutes maximum.But Tata Service Centre staff don"t know the cleaning process of cars. They don"t wash, air, vacuum service properly.Dust inside cabin after Air Pressure and Tree Leaves left outside Wiper Area after wash remains in car washing, after than vacuum cleaner service also very bad and at last on remaining dust of inside the dashboard, they done the polish work for brightness increasing.Small Mud stains still remains outside the car body, which are very easily removable with wet cloth in-front of them I clean with my finger only.I don"t understand what they have done in my SUV in the name of washing & cleaning from 12:34 PM to 4:45 PM (4 Hours ++ Time Taken and All time I keep standing there and watched all their activities on other cars also.)At last I have took the gate pass, because I have to go somewhere for meeting.As per my experience totally dumb & untrained staff at washing & cleaning service.
Tata Nexon 2017-2020 Expert Reviews

Tata has finally launched the Nexon with an automated manual transmission and here are five things that you need to know about the Nexon automatic
April 19, 2018
By Tushar Kamath
Tata Nexon 2017-2020 Images & Videos