Mercedes-AMG S63 Coupe vs Mercedes-Benz 380 SEC - Past meets Present
Nov 6, 2015
Views : 23210
---
What happens when the brand new S63 AMG coupe meets it's great great grandfather, the legendary Mercedes-Benz SEC! And which one would you rather have? We find out.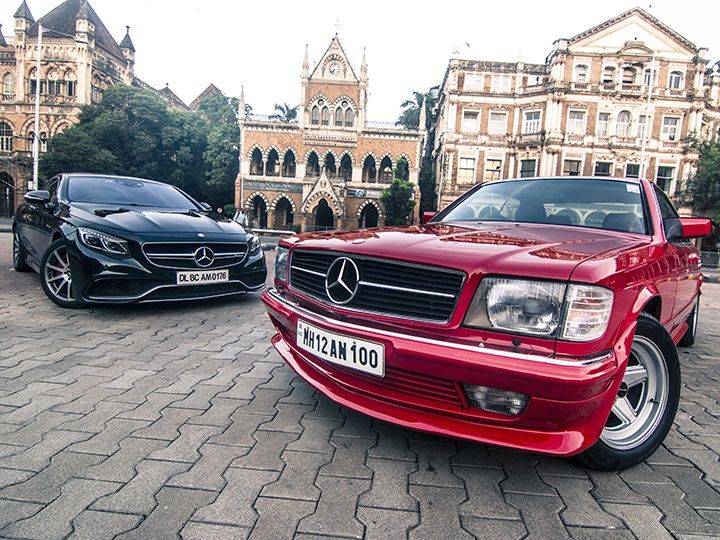 On any given day, if you ask me to choose between the classic and modern version of the same car, chances of me choosing the classic version are pretty damn high. Afterall, the joys (and dismays) of classic car motoring far outweigh the normality of driving a modern car around. I mean, come on, which petrolhead would not like getting grease and grime underneath his or her fingernails after working on their own classic car project just to make sure that it returns the favour by giving you that perfect drive on any given weekend when you feel like having some fresh Brun-Pau and maska (fresh crusty bread with butter) at the Yazdani bakery in South Bombay. But does the equation change when you involve a modern car that costs more than an average house and has almost 600 horses stuffed under the bonnet? Well, we decided to find out.

So the cars in question. First, the brand new Mercedes-AMG S63 Coupe. If trumping everything around it with figures and facts alone was possible, the S63 AMG Coupe would be the king of the hill. With a staggering price tag of Rs 2.6 crore (ex-showroom) and a 5.5-litre twin-turbocharged engine that makes 591PS of peak power and a bonkers 950Nm of peak torque, the S63 Coupe is the kind of car you can lust about all day. So what would be worthy enough to take it on? Well, another S-Class coupe of course, but from the early 80s – the legendary Mercedes-Benz SEC.

The Mercedes-SEC, essentially the coupe version of the W126 S-Class from the late 70s and early 80s, is possibly one of the most lusted after S-Class coupes ever made. This is mainly because the SEC, for its day, had outrageously aggressive styling. And if you ask us, the car still looks as aggressive as it ever was. The one here, a 380SEC belonging to L S Ravi from Mumbai, is a car that I particularly have lusted after for many many years. Of course, as is quite evident, this 380SEC is not one of the standard 11,200 cars that rolled off the factory floor. This one has been dolled up with the full AMG bodykit which includes a sportier front bumper, rear bumper, side skirts and the legendary AMG Penta alloy wheels which were also incidentally used for racing my the factory team.

Although over 30 years apart, the two cars do still share a lot in common. For starters look how both the cars still have the same aggressive front snout that edges forward from the car making them appear to go fast even when standing still. And then there is the stance that clearly has the 'What you lookin' at?' attitude going on all over it.

Mercedes sure seemed to have evolved in terms of their design to an era where almost every single one of their cars look great going down the street, but when you put any modern Mercedes next to an older one, they still manage to look rather meek. The SEC with its no nonsense design is not just a better looking car in our opinion, but also something that manages to invoke a lot more passion into anyone who is remotely into automobiles.

The interiors though are a whole different story. The biggest leap in terms of modern cars is not power or speed or handling finesse, it is refinement. And although the SEC would have been a great car for its day, it does lack that wow factor that the exterior manages to dole out in barrels. In fact, compare the interiors on the SEC to the likes of a W123 Mercedes E-Class and you would be hard pressed to find many differences in terms of design.

The Mercedes S63 AMG though is a class apart. With its aluminum and carbon fibre bits amonst what can only be described as a sea of perfect leather, the S63 is a damn good place to be in. And of course, you do get a really long list of gizmos to play around with. But it is not the leather and the gizmos that gets you, it is the sheer quality of the workmanship which in a way seems almost bespoke!

You cannot compare the way these two drive considering the fact that they are 30 years apart, but getting behind the wheel of a classic Mercedes-Benz 380SEC and a new Mercedes-AMG S63 Coupe aren't as different as you would imagine. For starters, both have large V8 engines that feel leary till you really hold them by the collar and demand performance and both do make their size and sheer magnitude felt. Driving one of these through a city like Mumbai in peak hour traffic is quite the task considering how careful you would have to be of making sure the long overhangs clear pesky cabbies and moronic bikers. Of course, we wont even bother comparing engine facts and figures as it is a pointless exercise, but we do want to mention how the SEC with its older fuel injection still manages to feel like quite a well sorted engine with a great engine note to boot.

As we mentioned earlier, both these cars are huge and cumulatively weigh enough to have their own gravity field. The S63 AMG Coupe and the SEC are NOT sports cars. The only way to classify them is as Gran Tourers. And although driving either from Bombay to Delhi would be quite a task, you could always day dream about doing an impromptu trip from the townhouse in London to the Villa in the South of France with Matt Monro playing on the stereo and a lovely lady by your side.

And that is what these cars are made for. A daydream. Neither of these were a benchmark in performance, handling or even outright speed. But when it comes to sheer lust and the sense of want, both of these would be right on top of most petrolhead's dream car lists for the simple reason that they do not need to shout out to make a statement. So, coming back to our original question. Which one would you have? The classic with the looks and pedigree, or the modern one with the sophistication and performance? Well, although it is hard to ignore those 591 horses, you just cannot ignore the way the SEC looks! And thus, I personally would still go for the Mercedes-Benz SEC every time I was given a choice.
Mercedes-Benz S-Class Video Review
More on Mercedes-Benz S-Class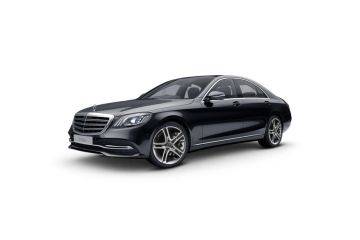 Rs. 1.41 Crore Onwards
Ex-showroom, Delhi
Contact Dealer
View On Road Price
See what our community has to say!
NEW
India's largest automotive community