EMotorad T-Rex, EMX and Karbon Electric Cycles: First Ride Review
Feb 26, 2021
Views : 8435
10 min read
---
By Gaurav

Follow us
EMotorad plans to transform e-mobility with its modern yet affordable range of e-bikes. Are they any good though?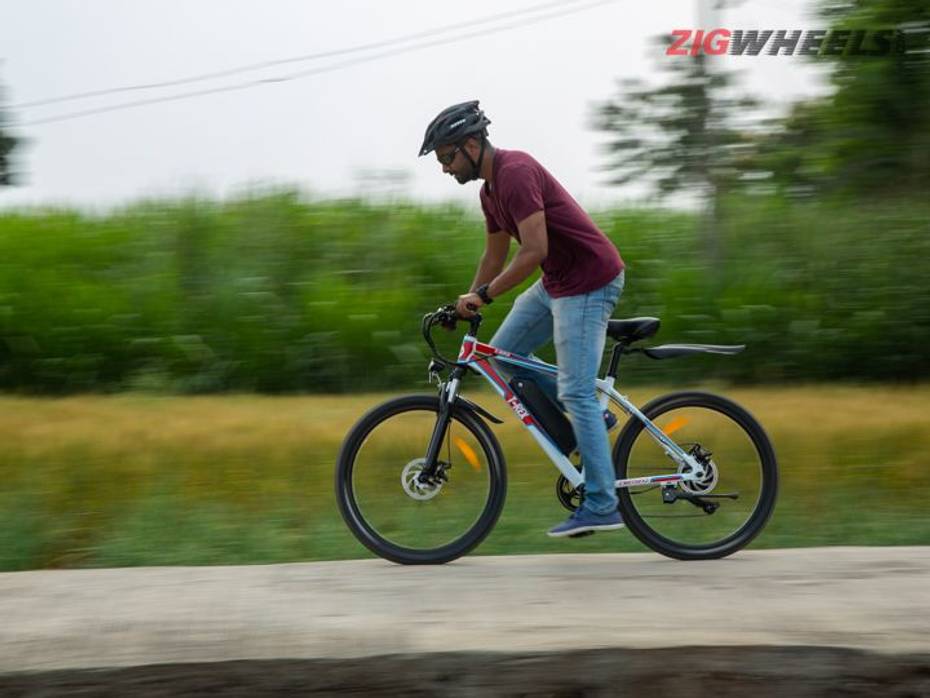 Bicycles have come a long way since the first ones that hit the streets back in 1817. They are a lot lighter, have multiple gears for ease of use and even get suspension to tackle nasty roads now. The addition of an electric powertrain and a battery just seems like the next logical step in evolving them into something more than recreational devices in our fast-paced world. We've already seen a lot of these e-bikes hit our market and have even sampled a couple of them in the past like the Hero EZephyr and the Tronx One.
This time around though, we paid a short visit to one of the newest startups in the country: Pune-based EMotorad, a brand that's striving to revolutionise the e-mobility space in India with its range of e-bikes and e-scooters. The three e-bikes currently on sale are the T-Rex, EMX and the Karbon (a foldable e-bike), each catering to a different market segment. But with all three of them costing as much as entry-level electric scooters, do these e-bicycles really deliver? Are they easy to use and adapt to?
Model lineup and overview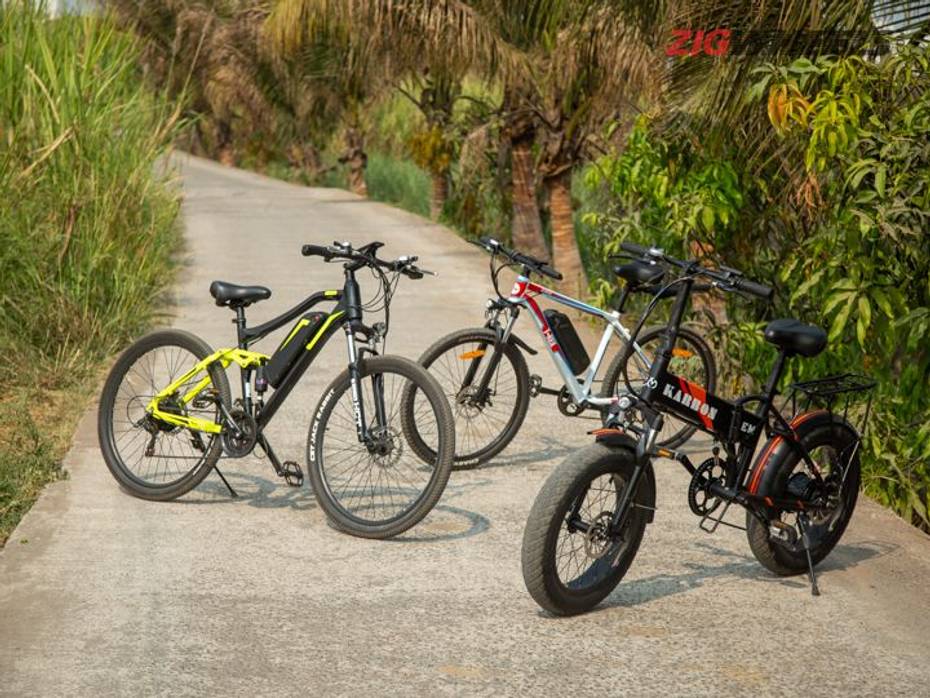 Before we move onto the nitty-gritties of the products, lets give you a quick overview of all three e-bikes, their target audience and design.
The T-Rex is the brand's entry-level hardtail mountain bike that could also double up as your daily commuter. It's simple yet practical. Next up is EMotorad's flagship product, the EMX, which gets a segment-first dual suspension setup (front and rear) featuring preload adjustability. It's light, packs a number of features and is quite comfortable too. Convenience, comfort and ease of use are key highlights of EMotorad, and that's ever so evident in the Karbon. The Karbon on the other hand is a fully foldable bike that can be easily stored in your car and used as and when needed.
The shared bits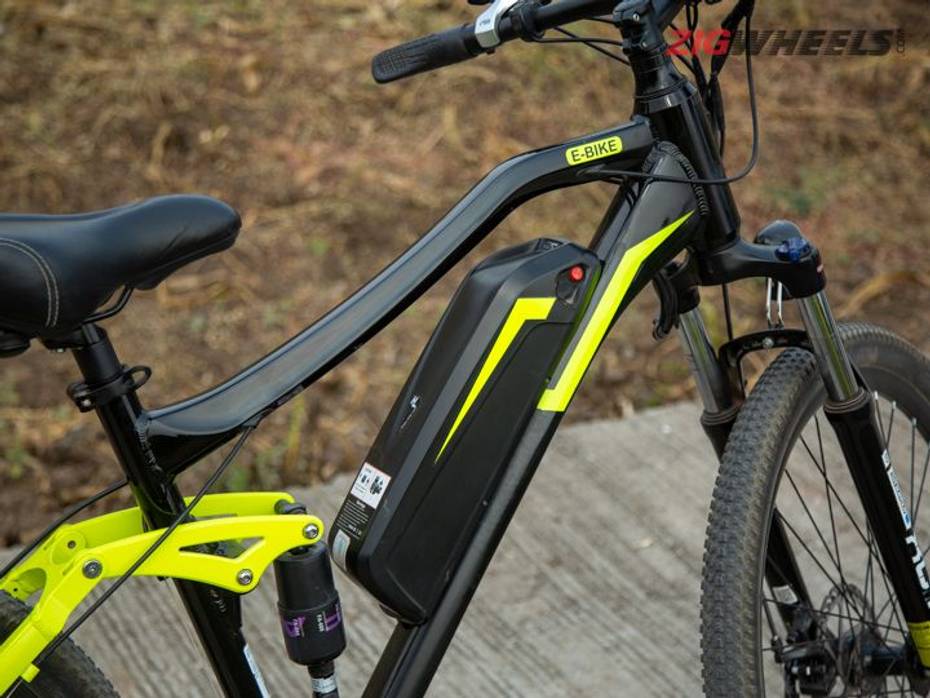 Tying everything together are 6061-grade aluminium frames designed specially for each model. They are light yet rigid enough to endure our tough Indian roads. EMotorad is so confident about their durability that it offers a lifetime warranty on all its frames.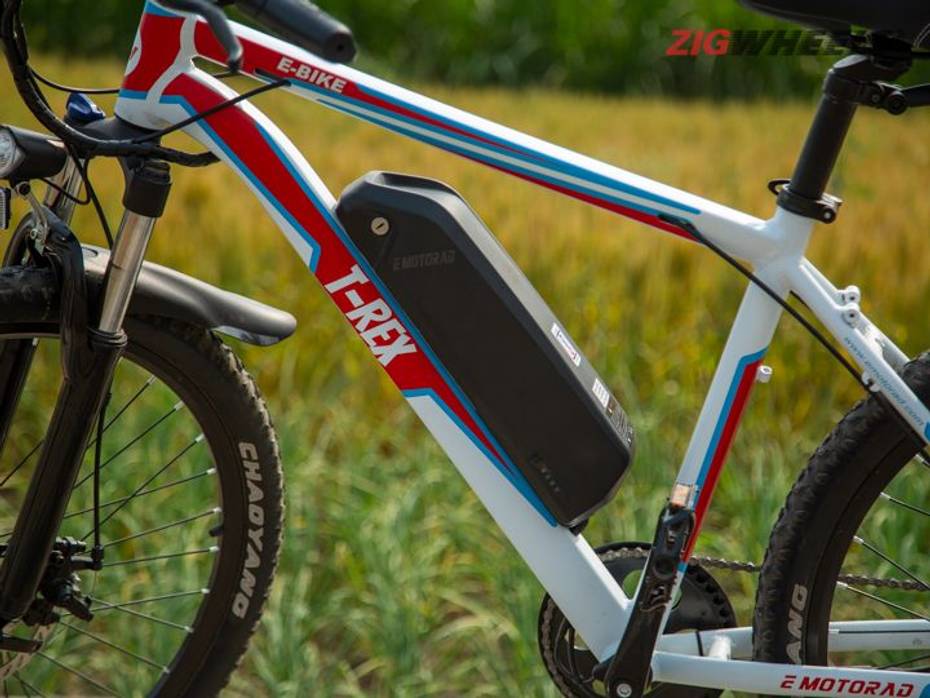 Get latest updates on
the automobile community
All three battery packs and hub motors are IP-67 and IP-68 certified, so you need not worry if you're riding in a heavy downpour or simply washing the bike. The lithium-ion batteries of the T-Rex and EMX can be easily detached using a quick release mechanism, which wasn't possible on the Hero EZephyr. You can charge the battery anywhere using the portable charger (offered as standard). For added convenience, these external batteries have an inbuilt LED charge indicator that displays the current charge state. You can expect a claimed range of upto 45km on purely electric power and over 70km using the pedal assist mode.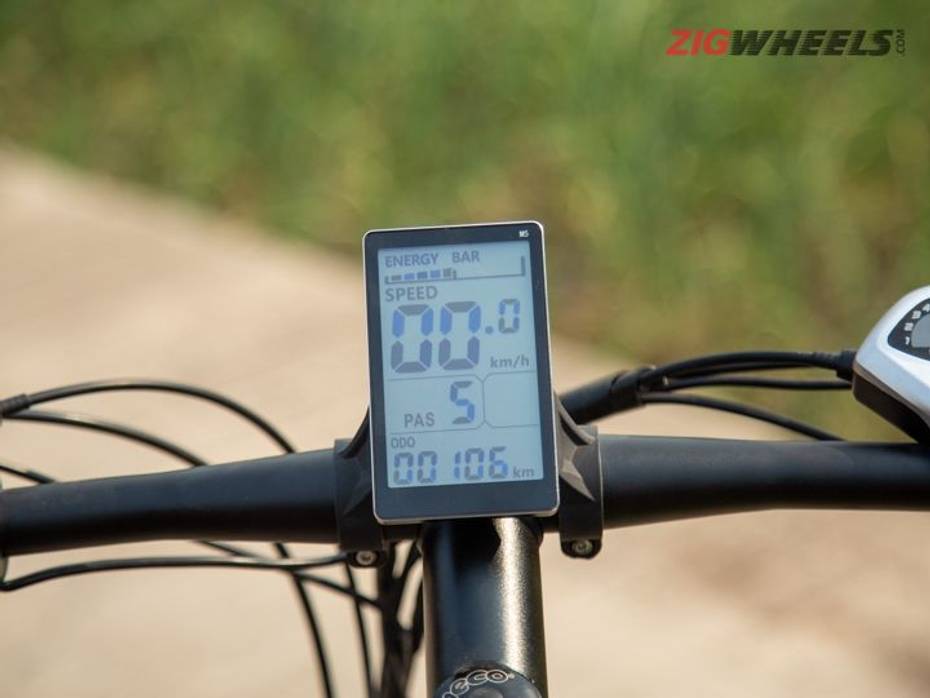 The top speed for all three e-bikes is capped at a respectable 25kmph, which is displayed on a bright multifunction LCD display. Riders can also toggle through a tripmeter, odometer, speedometer, available range, battery charge indicator, ride time, clock and voltage. You can even switch between five levels of pedal assist. EMotorad says it's also working on an IOT app that packs more features, including geofencing and being able to remotely lock the motor.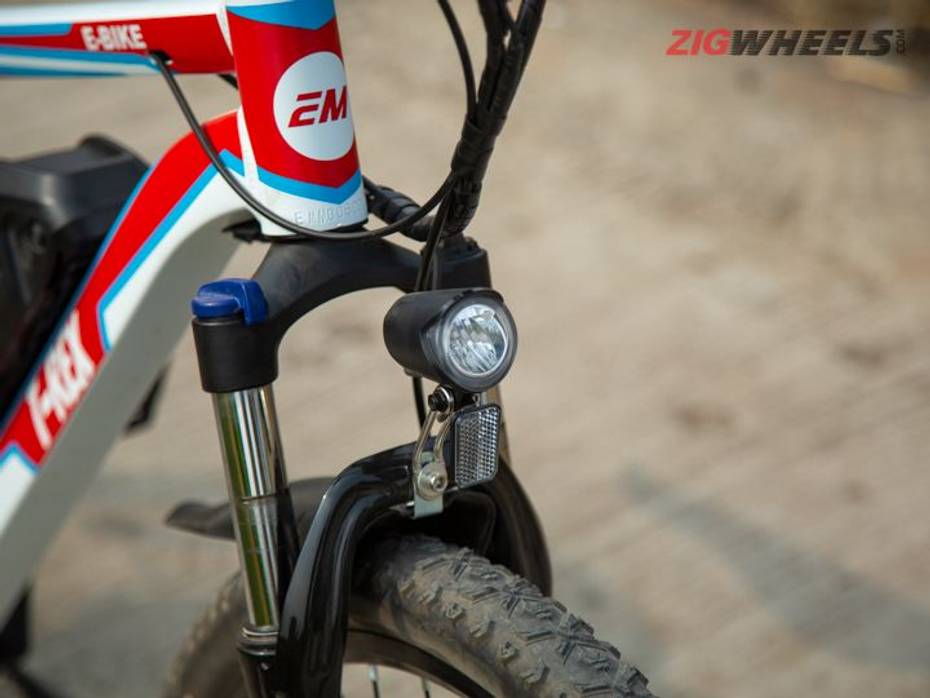 Now features like a bell, headlight and tail light are generally offered as optional extras on e-bikes, but they come as standard on all of EMotorad's products. Also, the 'bell' has been swapped for an electric horn which can be operated using a dedicated button placed on the right-hand side of the handlebar.
What's also interesting is the safety cut-off function which preserves the battery for essentials such as lights and horns when you're nearing the end of its charge cycle.
EMX Specifications
| | |
| --- | --- |
| Battery | 0.374 kW (Samsung Lithium-ion cells) |
| Motor | 250W |
| Power Output | 374W |
| Max Speed | 25kmph |
| Throttle Assist Range | 45km/charge |
| Pedal Assist Range | 70km/charge |
| Charge Time | Full charge in 4 hours |
| Drivetrain | 21-speed Shimano Tourney |
| Brakes | Dual disc brakes |
| Weight | 21kg |
| Display | LCD |
| Lighting | LED headlight & tail light |
| Frame | Aluminium alloy 6061 |
| Front Suspension | Suntour Hydraulic with preload adjustability (lockable) |
| Rear Suspension | Monoshock, preload adjustable |
| Wheel size/Tyres | 27.5" CST Jack Rabbit |
Purpose-built For Indian Roads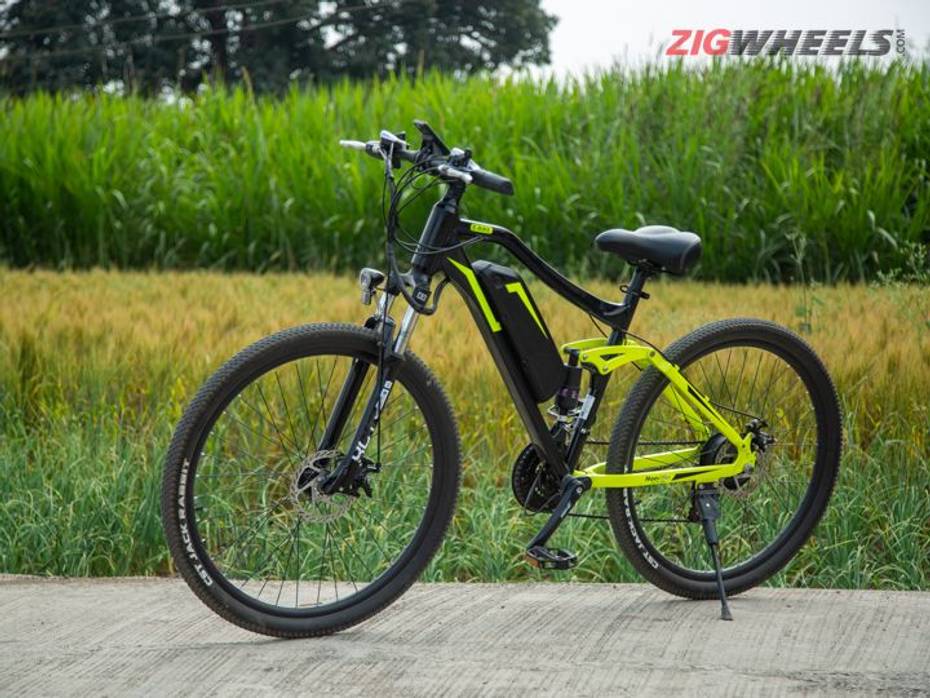 The highlight for me personally has to be the EMX. It just fits my riding needs which comprises a bit of both well-paved and rough roads. And this is where the bike's front and rear suspension setup really comes into play. Both the front and rear shocks do a good job at flattening undulations. It soaks in bumps better than the Tronx and even felt more sure footed over the rough bits.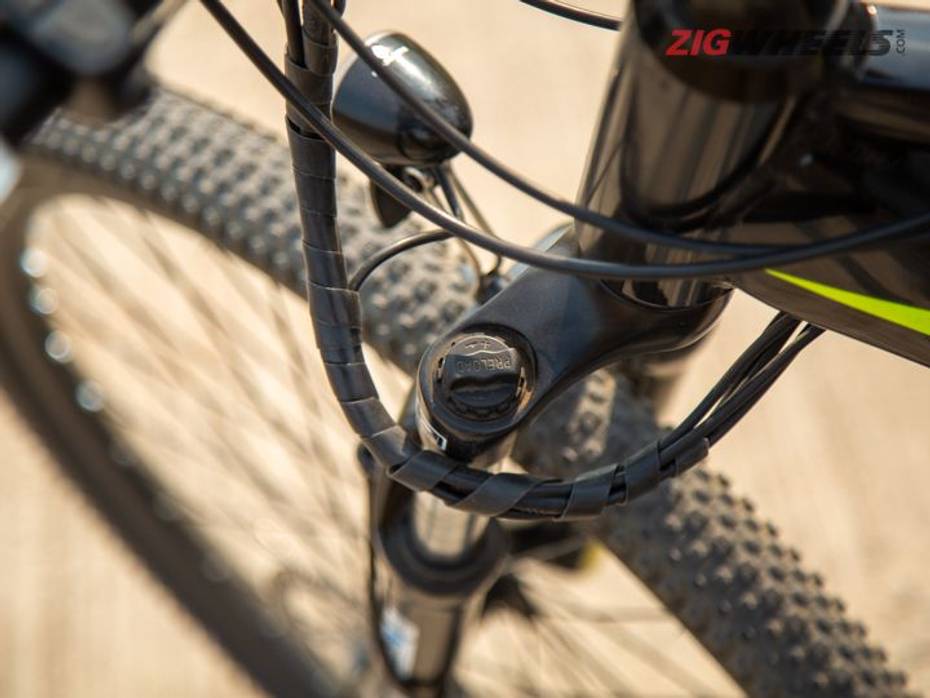 What's also quite useful is the preload settings available at both ends. This allows you to adjust the compression on the fork and monoshock by dialling it up or down to accommodate riders of different weights. The lockout feature on the front fork also allows you to stop the fork from compressing altogether. This is especially useful on tarmac. It feels light and easy to flick around too.
The brakes though aren't the sharpest we've tested. It does offer good progression and feel but lacks bite and leaves you wanting for more. The gears are slick and slot in with every input from the shifter.
Electric Powertrain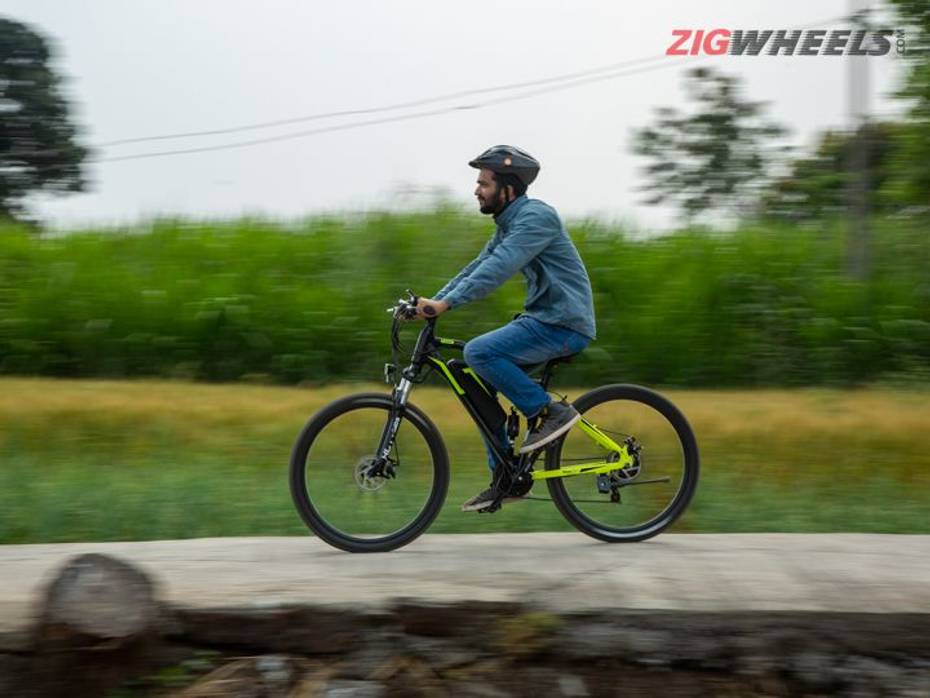 Coming to ease of use, if you're tired and just love a leisurely ride, you could just as easily switch to pedal-assist which essentially gives you a boost from the electric motor with every pedal rotation, thus making riding an effortless affair. You have five modes to choose from: one giving the most assistance to five giving the least. But I must add that the pedal assist kicks in after an entire rotation and that too a bit abruptly, which could take you by surprise.
Alternatively, you could rely just on throttle assist which uses a twist-action function to send power to the hub-motor -- just like a conventional e-scooter.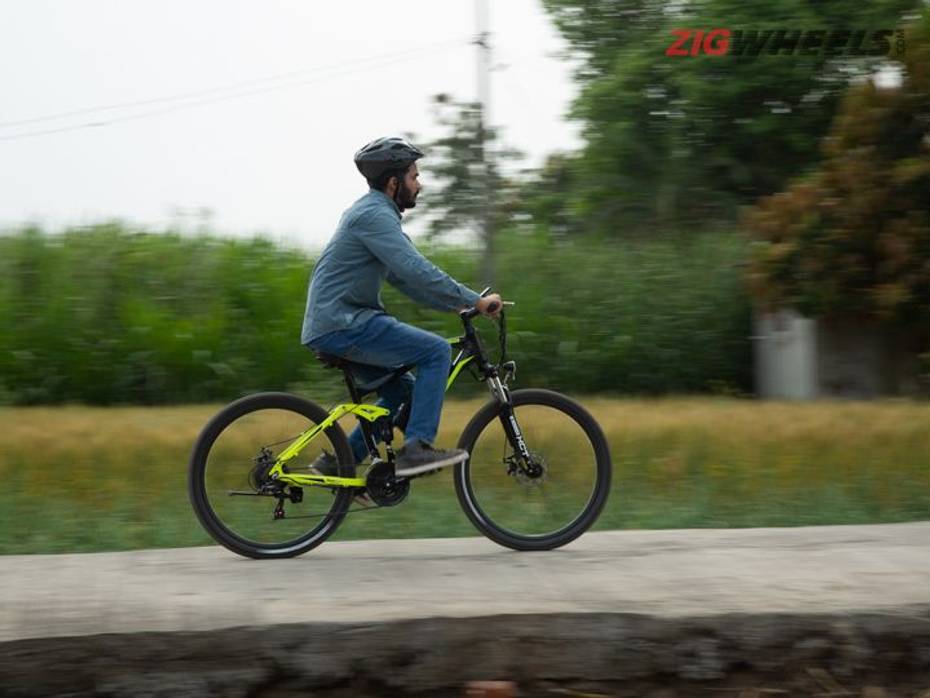 What we loved about the EMX is just how comfortable it is compared to other e-bikes. The seat for instance is a lot roomier and well-cushioned. It offered just the right amount of support for my bottom. Whether it is comfortable enough daily use is something we can only answer once we get the cycle for a longer-duration test. Another notable design aspect you'd appreciate is the wrist support on the handlebar which not only offers better grip but also reduces fatigue.
Constantly Evolving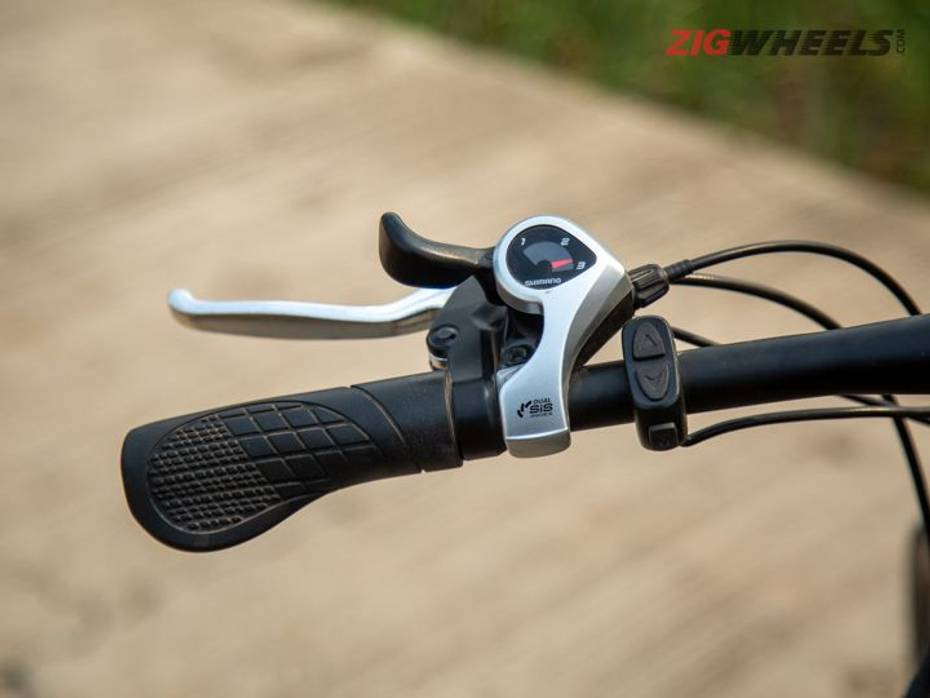 EMotorad mentioned that they realised through customer feedback that delicate components like the slim LCD screen and push buttons were prone to damage during transit. So they switched to a different design. The LCD screen is now more robust and features integrated buttons. It's already in production and is available in the next iteration of the EMX.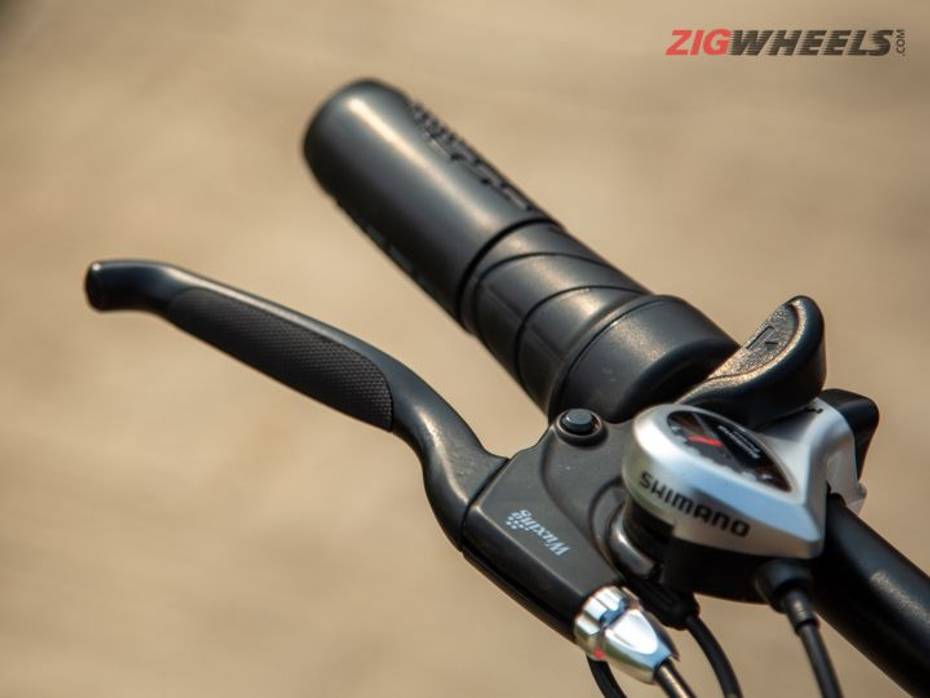 Customers also said the metal brake levers lacked grip and were uncomfortable. To solve this, the company quickly moved to a plastic lever with rubber inserts which are already available with the T-Rex.
T-Rex Specifications
| | |
| --- | --- |
| Battery | 0.281 kW |
| Motor | 250W |
| Power Output | 374W |
| Max Speed | 25kmph |
| Throttle Assist Range | 35km/charge |
| Pedal Assist Range | 50-55km |
| Charge Time | Full charge in 4 hours |
| Drivetrain | 7-speed Shimano Derailleur |
| Brakes | Dual disc brakes (160mm) |
| Weight | 28.3kg |
| Display | LCD |
| Lighting | LED headlight & trail light |
| Frame | Aluminium alloy 6061 (Hardtail) |
| Front Suspension | Oil suspension with 60mm of travel |
| Wheel size/Tyres | Magnesium alloy (26") |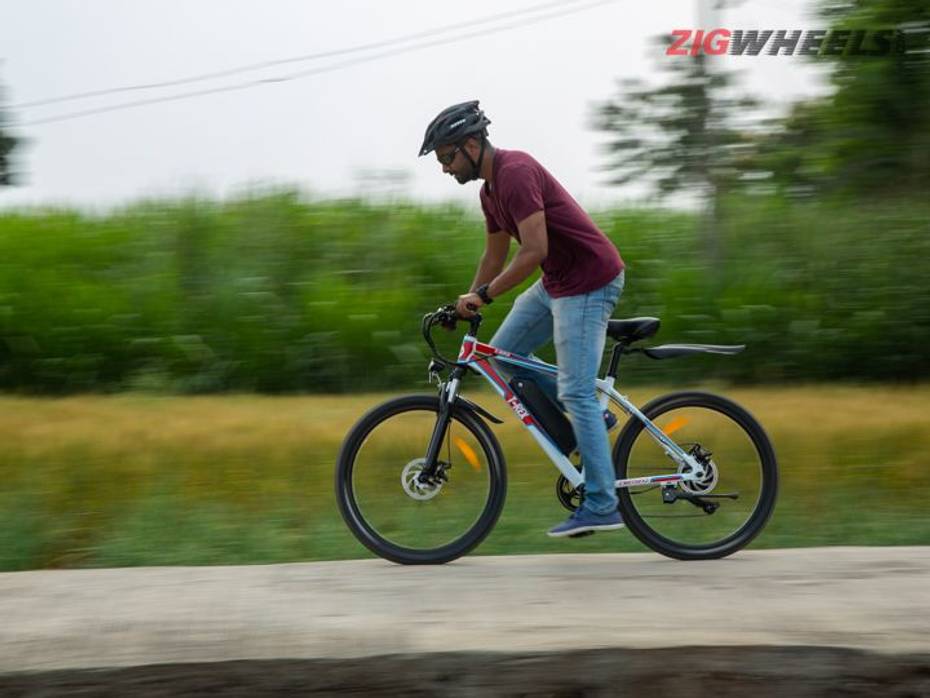 More Accessible
Next up is the T-Rex which could be ridden by almost anyone. It gets smaller 26" tyres thus reducing the overall height of the cycle, making it more accessible for shorter riders. It does pack fewer features but still offers more than enough to meet your needs for daily use.
User-friendly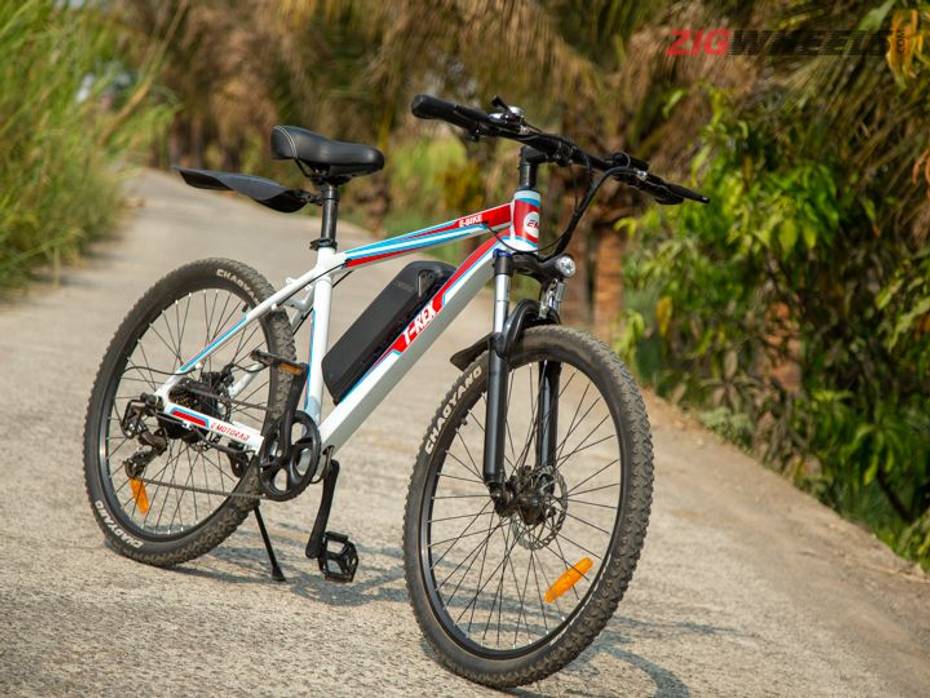 The overall functionality of the cycle is pretty much the same as the EMX. The only difference is its hardtail design which means it's more inclined towards road use, but could hit the trails occasionally. The 7.3kg of extra heft isn't really felt if you ask me. You can only feel the difference once you ride both the EMX and the T-Rex back to back.
The Gremlin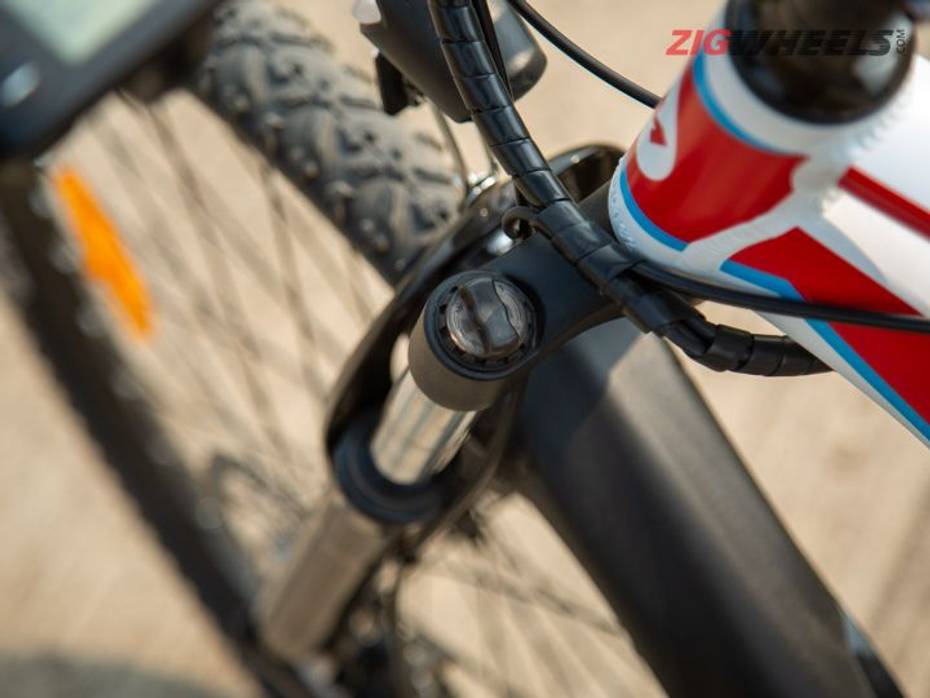 However the difference from the simpler oil suspension setup is instantly noticeable. While it soaks in bumps decently well it isn't as sophisticated as the one on the EMX. The front end does tend to transfer jolts felt from deep potholes or sharp bumps to some extent. There's no preload adjustment either.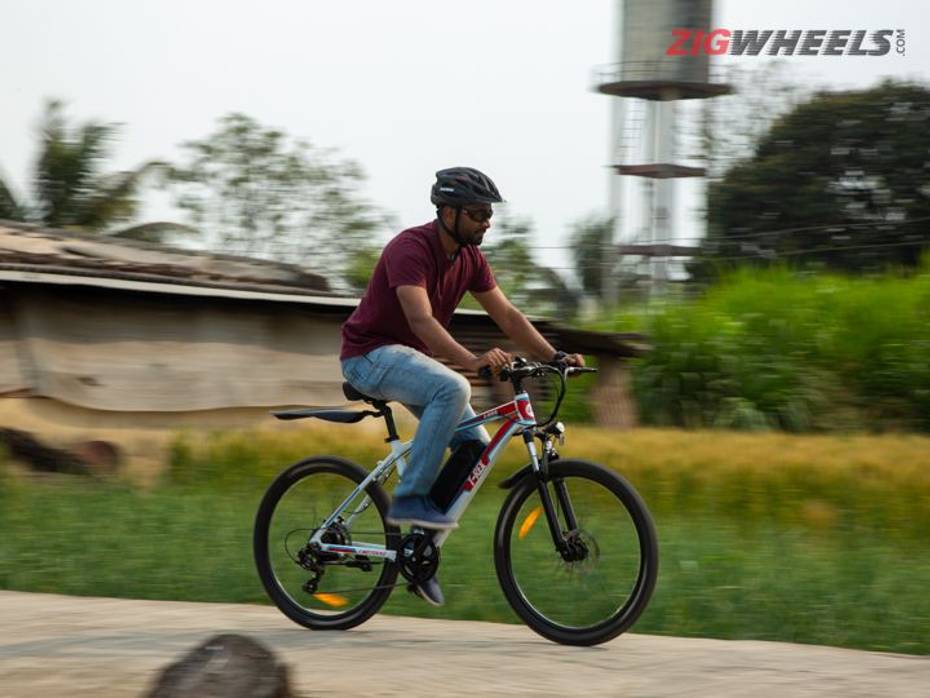 On the bright side, the T-Rex manages to deliver a claimed range of around 55km using pedal assist despite using a smaller battery. That's more than enough for daily commutes. And as mentioned earlier, small design improvements have been made on the T-Rex for better reliability and ease of use. The LCD display for instance is more robust.
Karbon (Doodle) Specifications
| | |
| --- | --- |
| Battery | 0.374 kW (Zhuoneng Lithium-ion cells) |
| Motor | 250W |
| Power Output | 374W |
| Max Speed | 25kmph |
| Throttle Assist Range | 40km/charge |
| Pedal Assist Range | 65km |
| Charge Time | Full charge in 4 hours |
| Drivetrain | 7-speed Shimano Tourney |
| Brakes | Dual disc brakes |
| Weight | 28.3kg |
| Display | LCD |
| Lighting | LED headlight & trail light |
| Frame | Retractable Aluminium alloy |
| Rear luggage rack | Yes |
| F/R fenders | Yes |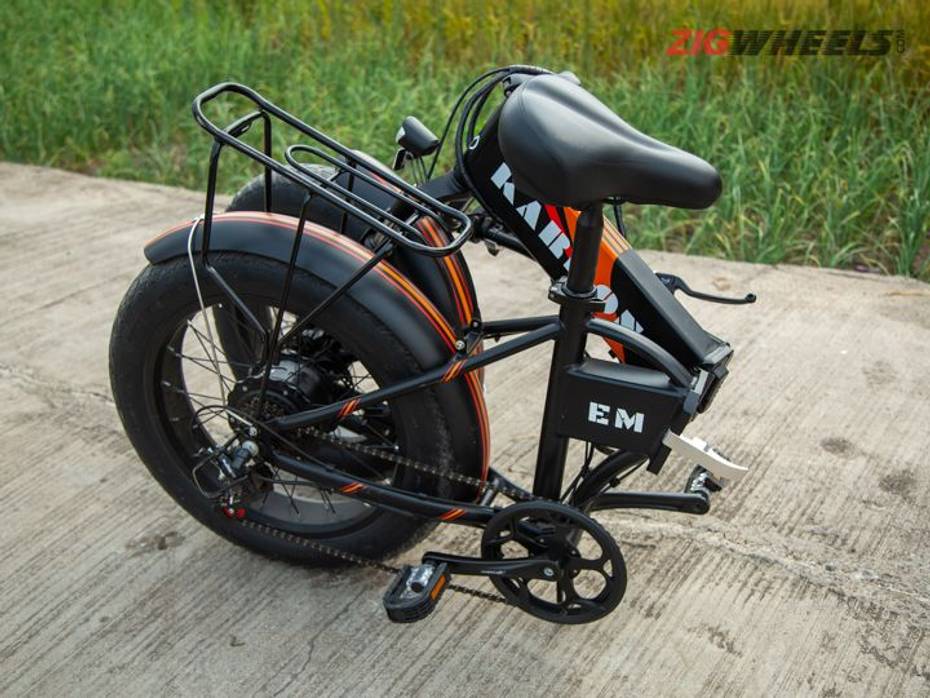 Smaller Footprint
The Doodle is an interesting concept which adds a layer of flexibility. Pop the quick release levers and you can fold down the entire bike to less than half its size in seconds. So you have a much smaller footprint in case you need to store the cycle away for a while or just stash it into the boot of your car and travel someplace more conducive to cycling (we were thinking of Goa). The Doodle looks trendy and is more of a recreational cycle that comes with front and rear fenders and a luggage rack too.
On The Fence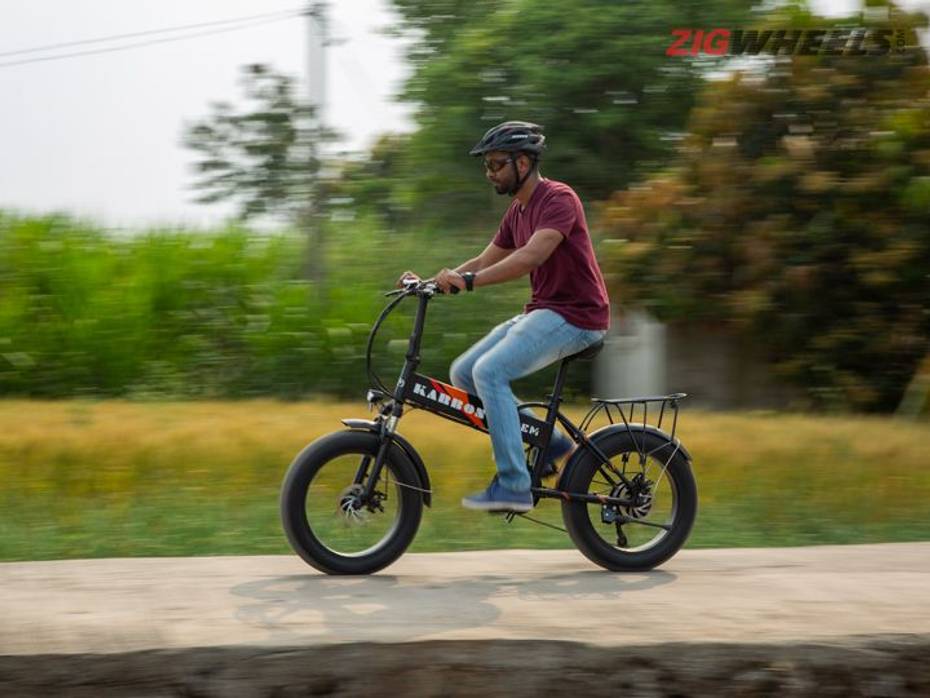 That said, there are certain downsides to the Doodle. For instance, those fat tyres look cool but require more steering and pedalling effort compared to the other two, which tends to get a bit tiring after a while. Moreover, the retractable hinges do tend to rattle a bit over bumps and potholes, which gets a bit annoying over time.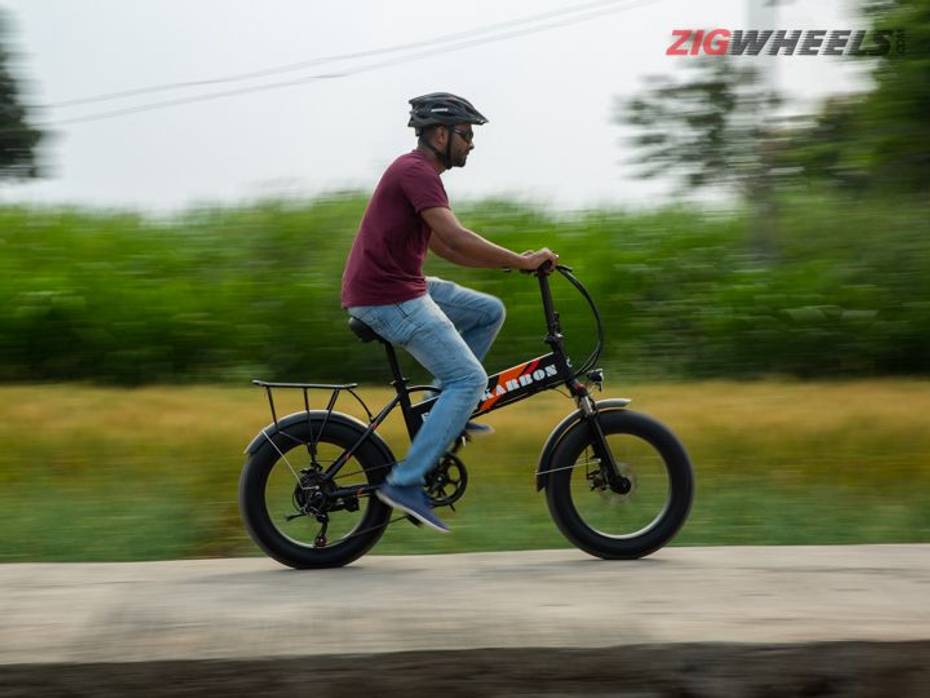 So if you're interested in the Doddle I'd suggest using it on well paved roads, which would change the riding dynamics to a greater extent. The fatter tyres offer a better contact patch, making it more stable compared to conventional cycles.
The Doodle basically gives you the feeling of riding a cruiser -- just sit back, relax, enjoy the view and let the pedal assist do most of the work for you.
Price And Verdict:
| | | |
| --- | --- | --- |
| T-Rex | EMX | Karbon |
| Rs 44,999 | Rs 54,999 | Rs 65,000 |
These e-bikes strike the right balance between flexibility, ease of use and comfort which, in theory, should resonate well with the Indian market. Not to mention, they're well built, constantly evolving thanks to feedback, and could easily be an alternative to ICE-powered scooters. These factors certainly seem to justify their asking price. You could even opt for finance schemes which makes owning them a lot easier on your pocket. The manufacturer's dealership reach is spread across 48 cities with multiple dealerships in each city. Its expansion plans involve opening 200 showrooms in 100 cities by the end of this year. And if you don't have access to an EMotorad dealership, the company will have the bike shipped out to you. It will also provide maintenance, repairs and spares for the bike through its nearest affiliated care centre. All for a cost of course.
Everything's been thought of and that's what impressed us the most. So our first impressions are definitely positive. How well these e-bikes fare in the real world can only be answered through a proper road test. So stay tuned to ZigWheels.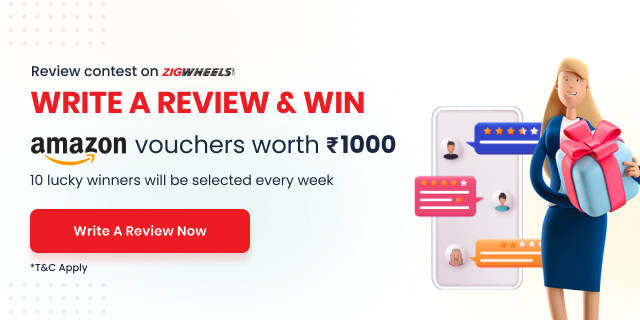 See what our community has to say!
NEW
India's largest automotive community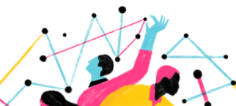 3 Other Things You Might Want To Do