Benelli Leoncino Review
Aug 19, 2019
Views : 11633
---
The Leoncino has become our new favourite Benelli motorcycle. But what makes it so special?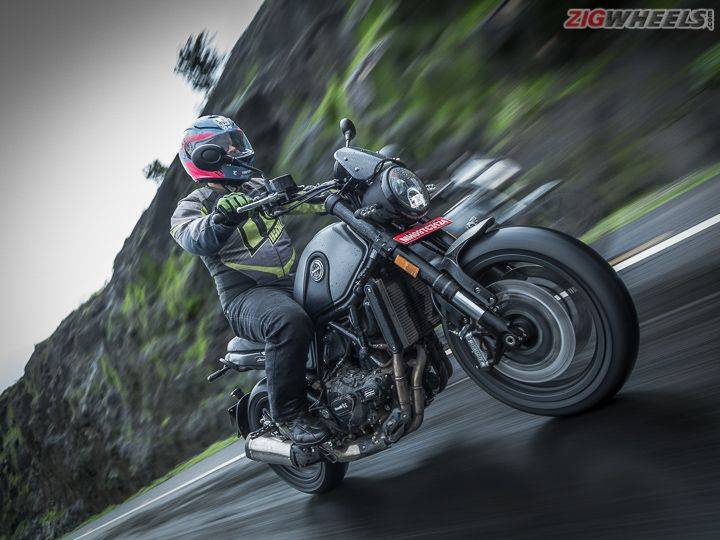 Most times, when you take a good look at a motorcycle, you can figure out what it's all about. But the same can't be said about the Leoncino. Benelli labels this bike as a 'scrambler,' but while that could be applicable to the Trail version of the Leoncino, it's a little difficult to wrap your head around the notion that this standard model is anything other than a road bike, albeit a very unique looking one. After all, it's running proper road-spec tyres, 17-inch alloy wheels and fairly low ground clearance. What the Leoncino is, however, is a very special motorcycle.

The first indication that the Leoncino isn't a run-of-the-mill motorcycle comes from the little Lion of Pesaro ornament on the front fender, which the company says is reserved for only the most special of Benellis. And that's because there's real history here. The Leoncino (or 'Lion Cub' in Italian) was the name of the company's first post-WW2 motorcycle, built back in 1951, and is thus credited with playing a strong role in the brand's revival. The first ever Leoncino was a 125cc two-stroke which won the inaugural 1953 Motogiro d'Italia, beating the 175 MV Agusta in the process. In 1956, a 4-stroke version (still a 125) was released. Over 12 years, 13 different versions of the Leoncino came into being and Benelli produced over 70,000 units in this period. And yes, the very first Leoncino also had that lion ornament on its front fender.
Design and ergonomics

While it might be called a 'lion cub', the bike certainly certainly isn't as small as it looks in the photos. But if you were expecting it to have that 'big bike' feel that Benellis are known for, you might be a bit disappointed. That said, it does have some typically Benelli-style oversized components such as the massive 50mm front fork (the same size as that from a Ducati Diavel), a superbike-rivalling 120-section front tyre, and huge 320mm twin front disc brake rotors. Aside from those bits, the Leoncino does feel like a compact motorcycle that's inviting to short riders as well, thanks to its seat height of just 785mm.

The seat itself is quite wide and can accommodate larger riders well too, although the seat does feel a bit on the stiffer side. But since this seat tapers down towards the front and the bike is quite narrow too, straddling it is a very simple affair. The riding position is very upright, thanks to its tall and very wide bars, and should appeal to a wide gamut of riders. So even though you're seated quite low, the riding position feels commanding, and rather different from other motorcycles you might have ridden.

But it's the design of this Leoncino that really sets it apart from other motorcycles. The 12.7-litre teardrop-shaped fuel tank, the round headlight and the minimal tail all scream neo-retro - almost like the Yamaha XSR900. And there are lots of lovely little details here as well, such as the tail light design, the shape and texture of the seat and even the short exhaust can with its twin oval outlets. Overall build as well as fit-and-finish levels too are better than all other Benellis we've seen so far, with top-notch quality paint, and premium looking badges all around. Compared to others from the company's stables, there are very few plastic panes here, making for a minimal design where the engine takes centre-stage.
Engine and performance

On paper at least, the Leoncino's engine doesn't seem too special. It's the same 500cc liquid-cooled inline-twin that we've experienced on the TRK 502. With 47.5PS coming in at 8500rpm and 46Nm of torque available at 6000rpm, this twin felt a little underwhelming on the TRK. But while the engine and gearbox are identical, the Leoncino runs a larger rear sprocket, effectively shortening the overall gearing.
| | | |
| --- | --- | --- |
| Acceleration | 0-60kmph | 0-100kmph |
| Benelli Leoncino | 3.34 seconds | 8.23 seconds |
| Benelli TRK 502 | 3.03 seconds | 7.29 seconds |
| Royal Enfield Interceptor 650 | 2.87 seconds | 6.54 seconds |

Considering that a dry weight of 186kg (approx 195kg wet) makes the Leoncino almost 40kg lighter than the TRK, performance should be great, right? Surprisingly, it's not. In the run to 100kmph, this little lion is a second slower than the TRK. And when you compare it to the Royal Enfield Interceptor 650, that gap increases to 1.7 seconds. This lack of performance seems inexplicable, especially when our tests are done at the same location with the same test rider. Our test rider did complain that this Leoncino didn't seem to rev as freely as the TRK. So until we get some more information (or another bike to test), we're going to chalk this up to some issue with our test bike.

| | | |
| --- | --- | --- |
| In-gear acceleration | 30-70kmph (3rd gear) | 40-80kmph (4th gear) |
| Benelli Leoncino | 3.92 seconds | 4.78 seconds |
| Benelli TRK 502 | 3.93 seconds | 4.72 seconds |
| Royal Enfield Interceptor 650 | 3.9 seconds | 4.85 seconds |
Thankfully, when it came to our in-gear acceleration tests, in both third and 4th gear, it proved to be on par with both the TRK as well as the Interceptor, although it should've been quicker here as well. But the shorter gearing does allow to carry lower speeds in higher gears compared to the TRK. You can potter around at 30kmph in 5th gear without skipping a beat, making the Leoncino feel at home in the urban jungle.

Things feel great on the highway too. Since the power delivery is extremely linear, the bike pulls smoothly to its redline of a little over 9000rpm. The Leoncino will sit comfortably at 100kmph in sixth gear at just 5000rpm, with 120kmph coming up at 6000rpm. And the motor feels extremely stress- and vibe-free at these speeds, so you can do them all day long. Sure, there are some vibes which can be felt on the pegs at about 5000rpm, but they're so minor that you'll easily be able to ignore them. In typical Benelli fashion, the exhaust sounds great too, especially at high revs. So you'll find yourself downshifting often just to make it rev, even though you don't need to do that for overtaking. The only things that keep the Leoncino from working as a great touring motorcycle are the slightly stiff seat and the lack of wind protection.
Fuel Efficiency

| | | |
| --- | --- | --- |
| Fuel Efficiency | City | Highway |
| Benelli Leoncino | 22.92kmpl | 24.31kmpl |
| Benelli TRK 502 | 30.97kmpl | 33.5kmpl |
Just like its performance, the Leoncino's fuel efficiency too falls behind the TRK, by almost 8-9kmpl in city as well as on the highway. Again, we believe this is down to problems with our particular test bike. But things certainly take a different turn the moment you encounter some, er... turns.
Handling, ride and braking

On a winding mountain road, the Leoncino suddenly comes alive. It's the lightest Benelli we've ridden and while you do feel some of its heft at standstill, it just disappears the moment you get rolling. What aids the Leoncino's handling are its extremely wide bars, which provide massive leverage when pitching it into corners. While we won't describe the way it turns in as quick or sharp, you need very little effort to change directions. Even tossing the bike from one corner to the other in quick succession feels effortless. And it feels rather well settled once leaned over as well, with the Pirelli Angel ST tyres (120/17 R17 at the front and 160/60 R17 at the rear) providing adequate levels of grip. That said, slightly slimmer section tyres with stickier rubber would've elevated the handling experience to a whole new level.

But the way the Leoncino dispatches mid-corner bumps, almost like they don't exist even when carrying high lean angles, totally blew us away. That, and the fact that even with a low ground clearance of 145mm, it didn't scrape its belly on any of our nasty speed breakers. The over-engineered suspension, with a fat 50mm front fork that's rebound-adjustable and a lateral monoshock that's adjustable for rebound and preload, really does a remarkable job of dealing with our roads. That said, the front setup is a little on the softer side, while the rear feels a bit stiff, particularly at slow speeds. The ride does settle once you start moving faster. But given the slightly low suspension travel on offer, you could bottom out the suspension units, especially the front, if you attack really sharp bumps with reckless abandon. On bumpy roads though, the great ergonomics, clearly designed with the 'Trail' version in mind, allows you to stand up really comfortably for long periods of time.
| | | | |
| --- | --- | --- | --- |
| Braking | 60-0kmph | 80-0kmph | 100-0kmph |
| Benelli Leoncino | 15.54m | 26.77m | 44.78m |
| Benelli TRK 502 | 17.63m | 30.71m | 48.29m |
| Royal Enfield Interceptor 650 | 16.49m | 29.80m | 47.21m |

Like we already mentioned, the Leoncino runs ridiculously large 320mm brake rotors at the front, and these are clamped by 4-piston radial calipers. Even the rear rotor is massive, at 260mm. So as you can imagine, braking performance is incredibly strong. From all speeds, the Leoncino stops significantly quicker than the TRK 502 or even the Royal Enfield Interceptor. At slow speeds though, you can't get a good feel from these brakes, coming on suddenly when you go even a little bit hard on the lever. And even ABS intervention seems a bit aggressive when the surface gets even slightly slippery. That said, once speeds build up, it becomes much easier to modulate the brake lever.
Verdict

If I'm being honest, I went into this review expecting another "Benelli" - competent, but not really appealing to my heart. But the Leoncino really took my expectations and threw them out the window. It's one of those bikes which you can't really explain with facts and figures. As cliche as it sounds, the riding experience is just so enjoyable that you start to chalk off its flaws, such as the lack of outright performance, the slightly stiff ride or even the underwhelming switchgear, as "character." In fact, my very first question before I got on the motorcycle, about what category of bike it was - scrambler, naked or retro - stopped mattering, because every time I started riding it, it put a huge smile on my face and I just didn't want to stop. So while I do wish it was a little more affordable (Rs 4.79 lakh ex-showroom India isn't cheap by any means), with every minute I spent with it, it felt more and more worth it.
Benelli Leoncino 500 Video Review
More on Benelli Leoncino 500

Rs. 4.69 Lakh Onwards
Ex-showroom, Delhi
Leoncino 500 Alternatives
See what our community has to say!
NEW
India's largest automotive community