Team Volkswagen Motorsport Has Bittersweet Round 2 Of The ITC Class
---
Looks like the works team will have to fight for the 2019 ITC title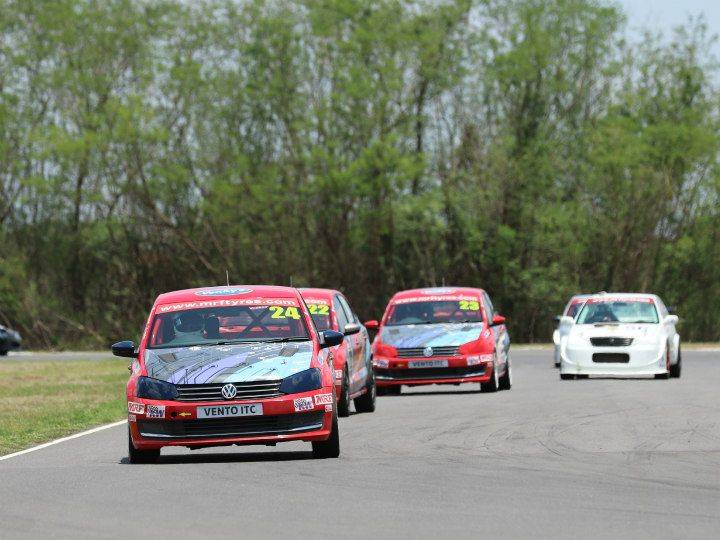 Team Volkswagen had kicked off its maiden entry as a factory team in the MRF MMSC FMSCI Indian National Car Racing Championship's ITC category in style with a clean sweep in Round 1 at Coimbatore running three 1.8-litre turbocharged Vento race cars. With the monstrous early season pace, many pegged the Volkswagen boys to have another strong weekend in Round 2 in Chennai. But it wasn't smooth sailing as many had imagined.
Race 1

It looked like Team Volkswagen was picking up from where it left off in Coimbatore with Dhruv Mohite taking pole position and Kathik Tharani and Ishaan Dodhiwala in 2nd and 3rd to make it another VW lockout for Race 1. However, the race turned out to be a completely different story as 5th place Arjun Balu in his Race Concepts Honda City VTEC showed strong race pace, overtaking all three VW cars and finishing 1st. Karthik Tharani was the sole Volkswagen driver to take the podium in 2nd place while Ishan Dodhiwala finished 4th behind Nikant Ram running an Esteem from Arka Motorsports. Pole sitter Dhruv Mohite had to retire on Lap 3 due to technical difficulties.
Race 2

The top six finishers of Race 1 were placed in a reverse grid for Race 2, which meant Karthik Tharani started 5th and Ishan was 3rd. Dhruv Mohite's bad luck from Race 1 came back to haunt him as a piston failure meant that he couldn't even start Race 2 - further putting the VW team on the backfoot. At the start, Ishan took an early lead from 3rd on the grid and looked to hold on to the lead from Karthik Tharani and Arjun Balu who were chasing him down for the lead. What ensued was a race long battle between the two VW teammates and Arjun Balu, which resulted in Arjun losing ground in an attempt to pass Karthik at Turn 4. Karthik wasted no time and pressed on to take the lead from his teammate and claim the win. He was followed by Ishan and Nikant Ram.

It might've looked like it was a good recovery from Team Volkswagen but there was a massive twist to come afterwards. Karthik Tharani was disqualified from the race after failing to serve a drive-through penalty given for a jump-start. This gave Ishan Dodhiwala the win, Nikant Ram finishing second and Arjun Balu taking the third spot. Kartihik has also been given a one race ban as extra punishment for ignoring the penalty.

The stewards, following the post-ITC race hearing with Tharani, ruled: "The competitor was called to give the explanation as to why he ignored the 'drive through' penalty board for five laps and ignored the 'black flag' for the remaining three laps of the race. In view of the fact that the competitor is a highly-experienced driver and he is also a driver-trainer, the stewards were of the opinion that exemplary sanctions should be imposed on this driver and a sentence of not being permitted a start in the next race of this championship (one race only)."

Overall, it was a bittersweet weekend for the boys at Team Volkswagen Motorsport. They'll be looking to bounce back from this setback when the championship continues its next legs at Round 3 and 4, which will be held in August and October at the MMRT in Chennai.
Also Read:
Recommended Variant :
Vento 1.5 TDI Highline