Brace Yourselves For Volkswagen's Racecar Made In India
by Niraj
Jun 22, 2018
Views : 1390
---
The racecar will be seen competing in this year's National Championship and is based on the VW Vento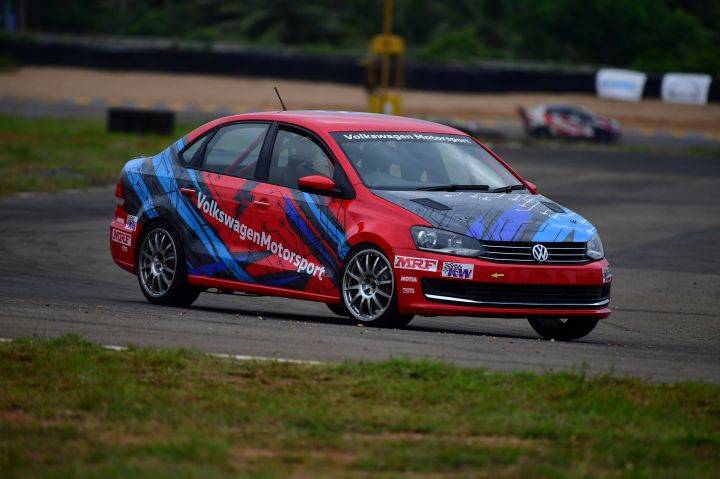 Volkswagen Motorsport India has started developing a Vento-based racecar! These racecars will be developed as per the regulations laid out by FMSCI (Federation of Motor Sports Clubs of India) which allow turbocharged racecars with an engine capacity of upto 2000cc with a minimum weight of 1,150kg and turbo inlet restrictor of 30mm.
Coming to the car itself, the race-spec Vento will be powered by a 1.8-litre TSI engine, coupled with a 3MO sequential gearbox with manual gearshift. Volkswagen states that two prototypes are already in the testing phase and will compete in the this year's National Championship season.
The company claims this initiative will help bring modern cars for motorsports in India, and we couldn't agree more. Here's the carmaker's official press release.

Press Release -
Volkswagen commences development of its all-new touring racecar; TC4-A regulated racecars to be run as a part of Customer Sport Programme
Pune, June 21, 2018: Volkswagen Motorsport India has started development of its TC4-A regulation racecar as part of its customer sport programme. These racecars built as per the new regulations rolled out by FMSCI will fulfil the ASN's vision to bring in modern cars into motorsport in India.
Mr. Sirish Vissa, Head of Volkswagen Motorsport India said, "We have started development on our race spec Volkswagen Vento cars with the new set TC4-A regulations by FMSCI. As part of the testing phase, our two test cars will be driven in this year's National Championship
season." He further added, "Karthik Tharani and Ishaan Dodhiwala are extremely talented drivers and have proven their potential in the previous years with titles to their names. Kathik is also an excellent development driver who has played a crucial role in fine tuning our Ameo Cup race car in the past. The feedback provided by both of them will help us in developing these cars further and get them to a competitive level."
TC4-A regulations are based on existing Indian Touring Car (ITC) regulations and are restricted to turbocharged racecars up to 2,000 cc. The new regulations restrict the minimum weight of the racecar to 1,150 kg and a turbo inlet restrictor of 30mm.
The TC4-A Volkswagen Vento racecar will be powered by a 1.8-litre TSI engine mated to a 3MO sequential gearbox with a manual gearshift lever. Commenting about the performance of the test cars, Mr. Vissa said, "With the limitation of an inlet restrictor, harnessing maximum power from the engine is an added challenge. However, our technical development team is working hard to overcome these obstacles and provide a thoroughbred race car for the future."
Recommended Variant :
Vento 1.5 TDI Highline